By John Hertz: (reprinted from No Direction Home 30)
Two jets' contrails pass
Contrariwise. Look, a hawk
Soars. Freedom, freedom.
Once upon a time in these United States there was a National Broadcasting Company which had a Red and a Blue radio network.
That isn't really the beginning. Earlier the American Telephone & Telegraph Co. had the notion of using its telephone lines for radio.
That isn't the real beginning either. And I wonder how many people dealing with AT&T today know what those letters stand for – or originally stood for.
Anyway, in 1927 the Red Network broadcast a Music Appreciation Hour while schools were in session. Teachers were provided with textbooks. It also aired on Saturdays. Radio station WSM, an affiliate in Nashville, Tennessee, broadcast a Barn Dance just afterward.
Music appreciation then meant what was and still is called classical music. At a barn dance you'd hear country music. I hasten to add I've been a classical-music announcer and programmer, and have won a pair of blue jeans in a country-music dance contest. Blue jeans. None of those expressions is terminologically admirable.
Under "classical music" you might hear grand opera – also not admirable terminologically.
On December 10, 1927, WSM announcer George D. Hay (1895-1968) said at the beginning of the Barn Dance "For the past hour we have been listening to music taken largely from grand opera. We will now present the Grand Ole Opry."
In fact he had come to WSM from WLS in Chicago, Illinois, and was born in Attica, Indiana.
But his dialectal pronunciation was a success. Ninety years later The Grand Ole Opry is the longest-running radio broadcast in U.S. history.
On October 8, 2018, the Opry put on "An Opry Salute to Ray Charles [1930-2004]". This 90-minute program was recorded for later public-television broadcast: 15 Aug 19 on Nashville's station WNPT, then into national syndication beginning 5 Sep. I believe the electronic may now see it here.
He was blind by 1937, learning to write music in Braille, and playing Chopin (1810-1849; one of the greatest classical-music pianists) and Art Tatum (1909-1956; one of the greatest jazz pianists).
In 1954 he arranged, produced, and was on piano in Guitar Slim's million-selling single "The Things That I Used to Do". His own first national hit was "I Got a Woman" (1954; co-written with Renald Richard). By 1957 he was famous enough for a debut album entitled only with his name.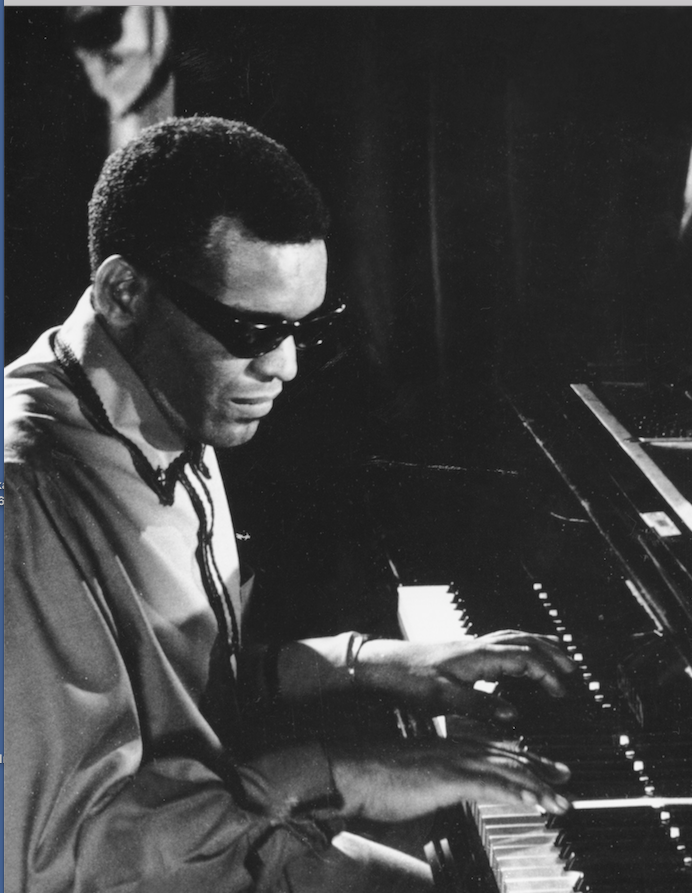 In 1958 he formed the Raelettes choir of women to back him up. Fusing – as some of us would say today – blues, gospel (or "spirituals" – two further expressions more evocative than terminologically admi­rable), and jazz, he was an architect of soul music (or rhythm & blues – both at least better than their predecessor race music).
Also in 1958 he performed at the Newport Jazz Festival (live-recording album Ray Charles at Newport) and released the album Soul Brothers with Milt Jackson (1923-1999) of the Modern Jazz Quartet. He became known as the Genius (The Genius of Ray Charles, 1959; The Genius Sings the Blues and The Genius Hits the Road, 1960; The Genius After Hours and Genius + Soul = Jazz, 1961).
Living in Georgia until 1945, then Florida until 1948, he listened regularly to The Grand Ole Opry. Hoagy Carmichael and Stuart Gorrell wrote "Georgia On My Mind" in 1930. The Genius recorded it in 1960. It was made the anthem of the State of Georgia in 1979. On the B-side, as records were then labeled, of RC's single was "Carry Me Back to Old Virginny" (J. Bland 1878; not to be con­fused with "Carry Me Back to Old Virginia", E. Christy 1847).
His album Modern Sounds in Country and Western Music (1962) sold a million copies and was promptly followed the same year by a Volume 2. "After all," he said, "The Grand Ole Opry had been performing inside my head since I was a kid."
He kept at it – Love Country Style (1970; you'll expect me to note the ambiguity of omitting a comma, and I do); Friendship with Chet Atkins, Johnny Cash, Janie Fricke, Mickey Gilley, Merle Hag­gard, George Jones, Willie Nelson, the Oak Ridge Boys, Ricky Skaggs, B.J. Thomas, Hank Williams Jr. (1984; note, the title song was Cole Porter's, 1939).
So when the Salute's host Darius Rucker said "Being asked to join the Opry six years ago was one of the greatest highlights of my career…. I am moved to see the Opry recognize Ray and the magni­tude of his contribution to country music," he wasn't – ahem – just whistling Dixie.
Sally Williams, the Opry's Senior Vice President and General Manager, said "The Opry [is] thrilled to salute Ray Charles and his passion for [our] music and storytelling." Valerie Ervin, President of the Ray Charles Foundation, said he "had a deep love for country music. I know he would have been extremely proud and grateful for all of the artists who joined us this evening to pay tribute."
Travis Tritt reprised "I'm Moving On" (H. Snow, 1950) which he'd sung with RC in 2002 and RC recorded with the Raelettes in 1959. LeAnn Rimes sang "Fever" (J. Davenport 1956) which RC recorded with Natalie Cole in 2004; Charlie Wilson sang "Unchain My Heart" (B. Sharp 1961), which was recorded first by RC in 1961; Rimes and Wilson sang "Crying Time" (B. Owens 1964) with which RC won two 1967 Grammy Awards.
Rucker sang "Don't Change On Me" (J. Holiday & E. Reeves 1971) which was on Love Country Style. Boyz II Men won a standing ovation with "Georgia On My Mind". Lukas Nelson sang "Seven Spanish Angels" (T. Seals & E. Setser 1984) which his father Willie recorded with RC in 1985.
To close the show everybody sang "America the Beautiful" (K. Bates & S. Ward 1910) which RC recorded in 1972 and by television I saw and heard him perform at the 2001 World Series before 50,000 people to a standing ovation.
And that ain't the half of it.