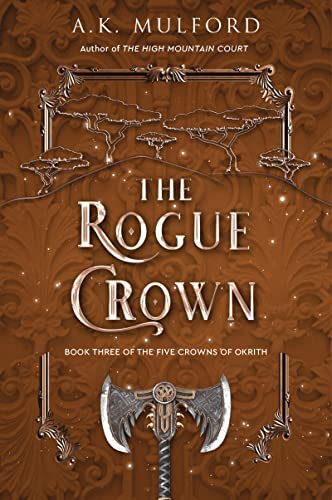 A. K. Mulford is a bestselling fantasy author and former wildlife biologist who swapped rehabilitating monkeys for writing novels. She/they are inspired to create diverse stories that transport readers to new realms, making them fall in love with fantasy for the first time or all over again.
She now lives in New Zealand with her husband and two young human primates, creating lovable fantasy characters and making ridiculous TikToks (@akmulfordauthor).
By A.K. Mulford: If only I knew the first time I picked up The Hobbit, how closely my life would be tied to the world of Tolkien. As a child, I kept a notebook filled with my favorite quotes. (How did I not know I was going to be an author?) The first quote? "Not all who wander are lost." There was everything from 90s rom com lines to Wordsworth poems in that notebook, but Tolkien filled the most pages.
I remember that when I read The Hobbit in fifth grade my mind exploded at the idea of world building. I'll admit, I spent math class filling the margins of my pages with conjugated words in made up languages. At the time I thought it was just more fun to create other worlds than write stories in my own, but the seed was planted and, despite my left turn into wildlife biology, that seed kept growing.
Then the Lord of the Rings movies came out . . . and I watched every single director's cut and behind-the-scenes footage over and over, wishing I could be an elf and live in Middle Earth. Cut to a decade later and I meet a very handsome kiwi chap while living in Guatemala as a wildlife biologist. We moved to New Zealand and there I was, living in Middle Earth. The Hobbit films were being shot at the time and my partner was working on them (!), so I fell even more deeply in love with the art of making fantasy worlds come to life. A CGI version of my pet hedgehog even made it into the films (how's that for a claim to fame?).
I thought that would be it–– I was just a Tolkien-adjacent fan who happened to write high fantasy stories. But the world of Tolkien had one more big adventure for me: having my series picked up by Harper Voyager. Seeing the new covers of the Lord of the Rings books across their socials was such an awe-filled moment for me. If only I could go back and tell that fifth grader making up languages in class that one day her books would be published by the same publisher as Tolkien. (I'd also like to tell my math teacher that me slacking off in class ended up paying off too!). Being an author was my very first big dream––creating stories that transported readers to other realms, where they could get lost in another world for a while, where they could wander through their own imaginations in the same way Tolkien did for me. And here I am, alongside his world.
---
ABOUT THE ROGUE CROWN: A NOVEL (THE FIVE CROWNS OF OKRITH BOOK 3)
Romantasy on an epic scale, A.K. Mulford's newest book follows fae warrior Briata Catullus as she sets out on a mission to investigate the murder of her queen and, upon her arrival at the court, meets an enchanting princess she can't seem to stay away from. The Rogue Crown (10/25) is a tale of star-crossed lovers packed with action and adventure, sure to please the fans who've been anxiously awaiting its release and anyone who loves a good romantic fantasy.
***
The action moves west in A.K. Mulford's romantic, action-packed epic fantasy series, The Five Crowns of Okrith, as young fae warrior Bri investigates the murder of her queen while protecting the beautiful princess she may be falling for.

Determined to uncover who killed the Western Queen, fae warrior Briata Catullus sets out on a mission to defeat the witch hunters and safeguard her princess. But when she arrives at the Western Court, things are even worse than she feared. The icy reception from the fae is the least of her problems—they've heard the prophecy that Bri will seize the crown from its sovereign, and the last thing they want is for her to usurp the throne. No, the witch hunters are out for royal blood, and it will take everything Bri has to keep them at bay.

It doesn't help that, still grieving the loss of her mother, Princess Abalina Thorne is reluctant to allow Bri into her confidence, only agreeing to let her serve as one of her guards at the behest of the princess' cousin.

As the threat of the witch hunters grows, they find themselves thrown together, working closely to uncover the secret plot of their enemies. Along the way, the princess realizes that Bri is one of the few people she can trust. But Bri is determined to forge her own path and prove the prophecy wrong, not letting the beautiful Lina distract her from defeating the witch hunters. She has a duty to the princess, a duty to the Western Court, and a duty to her own destiny.

But what about the duty to her heart? 
A. K. MULFORD ON SOCIAL MEDIA