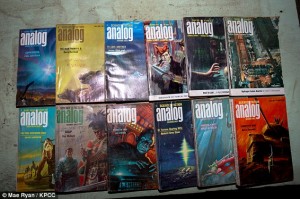 A California couple buying a home in Woodland Hills this month knew it came with a fallout shelter but they were surprised to discover it was perfectly preserved and still fully stocked with vintage supplies.
The shelter was constructed 15 feet underground by nuclear engineer Alvin Kaufman in 1961 in the hope it would let his family ride out a nuclear attack. Kaufman, who died in 2004, had originally planned to build a fallout shelter for his entire block, but his neighbors passed up on the offer.
After seeing the photos in the Daily Mail Gregory Benford declared, "He musta been a fan!"
In case the family got bored while waiting for the radiation to clear above round, they could play a board game or read a dozen copies of Analog science fiction magazine inside their temporary dwelling.
Kaufman obviously was one of the many engineers attracted to Campbell's magazine, but there's no evidence that he was an actifan – at least, the LASFS membership database has no record that Kaufman ever joined his nearest sf club.
[Thanks to Gregory Benford for the story.]