By John Hertz: It's the death-anniversary of Fritz Leiber (1910-1992). He wrote both fantasy and science fiction – all strange; if I may quote a Robert Louis Stevenson story, "Desire of strange things swept him on" ("The Isle of Voices", 1893). Actually that's not fair. I keep objecting when someone attributes what authors write to what they want. Leiber's writing sweeps us on.
Two of my favorites among his science fiction are The Big Time (1958) and The Wanderer (1964). Both won Hugos.
Recently I hear people complaining when attitudes of characters in a story published in the past are other than what we'd aspire to now. I'm partly with this and partly not. I think the first look is at how authors treat their characters. A Filer said the other day I'd not call that book misogynistic. The character is, but the text clearly shows he's an idiot. Then, as another Filer said, Of course it seems laughable to us now. Isn't that a gratifying sign of how far we've come since then? There's more, and Our Gracious Host has encouraged me to explore it, but I'm going to stop there for the moment.
We discussed The Big Time at Denvention III (66th Worldcon) in a set of SF Classics which I called "Wonders of 1958". See this Eddie Jones cover of a German edition.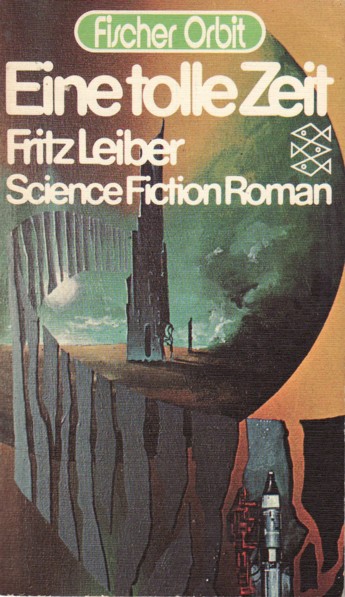 I wrote,
Spiders are the good guys, and our hero is a woman. The first Hero was a woman too, go look up Leander. Indeed this is a very classical book; it preserves the unities of time, place, and persons, which is mighty strange, considering. There's slashing drama, and if you've never been a party girl, it might not be what you think.
We discussed The Wanderer at Renovation (which I always pronounce "Reno-vation"; 69th Worldcon). See this Allison cover of an Italian edition.
I wrote,
Here are a host of viewpoints, a first contact with aliens story as we learn a third of the way in, a look at some favorite notions like "Rovers are free and good" and "Love conquers all", and a breathtaking exercise in climax and perspective.
May I recommend these two books to you?