By Sultana Raza.
Seeking / Restoring Green Gardens of Utopias
As environmental problems caused by industrialisation and post-industrialisation continue to increase, the public is looking for ecological solutions. As pandemics, economic crises, and wars plague our society in different ways, thoughts turn to the good old times. But were they really all that good? People are escaping increasingly into fantastical stories in order to find a quantum of solace. But at what point was there a utopia in our society. If so, at what or whose cost did it exist? Whether or not we ever experience living in a utopia, the idea of finally finding one drives us to continue seeking ideal living conditions.
Mythic utopias
Most myths are about a loss of power and/or balance. The idea of creating a utopia, or for trying to recover a lost one goes back to mythic times. For example, in the great Indian myth, entitled the Ramayana, there's a utopia of sorts within the kingdom of King Dasharatha. But his second queen asks him for a boon, which is to send the king's heir-apparent, Lord Rama into exile in the forest for ten years. That's where trouble begins, and though Lord Rama manages to recover his kingdom, and establish Ramaraj, or good governance, it's not without a price.
Also, in the Mahabharata, there's trouble and outright war between two sets of step-brothers the Pandavas (who are five in number) and the Kauravas (who are one hundred in number). Their ideal world is shattered, and never fully recovers. Lots of heroes on both sides lose their lives, and a lot of fantastical weapons are mentioned in it. Some authors think that the outcome of the war mentioned in these Indian myths was akin to nuclear devastation. The Mahabharata also describes different types of flying vessels, which even had the capability of travelling between places on earth, and also between stars. However, that technology was lost after the great war in the Mahabharata.
Greco-Roman Myths
In the Greek myths, the Hesperides and Elysium are ideal realms where not everyone is allowed to enter. Even heroes have difficulties to enter these spheres. For example, Mount Parnassus, home of the Nine Muses, is supposed to be an ideal, and sacred place in pagan myths.
The prosperous and flourishing city of Troy, which was a utopia of its kind, was lost in Greek myths. Odysseus ended up on the islands of Circe and Calypso respectively, and could have lived in these utopias, but had to leave to go back home. However, he didn't find any peace at Ithaca after his return either. It wasn't his utopia anymore.
Celtic Myths
In the Celtic Myths, the Tuatha Dé Danann (a race of supernatural beings) lose their homeland, which was their own utopia. They are obliged to go underground by the Milesians. There are many stories of paradise lost, also at the individual level in these myths. Lyonesse is an island thought to have disappeared beneath the seas off the coast of Cornwall. Though it was a fair land in the beginning with hard-working folks in it, due to a horrible crime committed by its inhabitants it was sunk beneath the sea by a storm, as a punishment to its people. It's yet another land that disappeared.
Paradise Lost
Biblical stories are about the fall of Man from legendary Eden, and the efforts of human beings to be allowed back into it. Consciousness in the Occident is filled with the idea that our paradise is lost, mainly due to Eve's mistake. However, long before the advent of the three book-based creeds such as Judaism, Christianity, or Islam, all of which outline the story of the fall of man, these kinds of stories abound in myths.
Camelot as Utopia
In the Occident, Arthurian legends are about establishing or seeking utopias. Camelot was a utopia of sorts with its fabled Round Table. All the knights who were allowed to sit at this table were supposed to be equals. But all this was before trouble began. With the fall of King Arthur, the utopia at Camelot dissolved.
The Castle of the Holy Grail was a utopia of sorts for the questing knights. Sir Lancelot wasn't allowed to go in that castle because of his 'sin' with Queen Guinevere. Sir Percival was allowed to go in the castle because he was pure of heart. The Isle of Avalon was also a utopia of sorts and not everyone was allowed to go there. It's Arthur's final resting place and he's supposed to come back from there after being healed, since he's the once and future king.
Camelot; excerpted from Castles. Artist: Alan Lee
Utopia in LOTR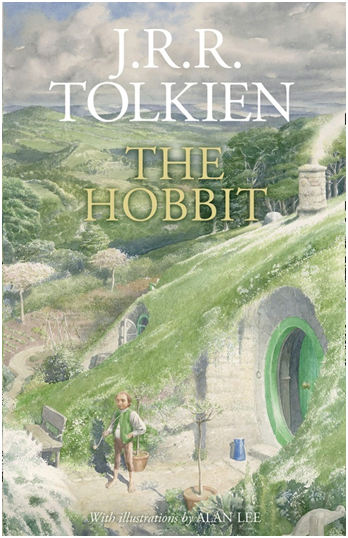 Since Tolkien based his stories on myths and legends, it shouldn't be surprising that the concept of a lost utopia can be found in his Legendarium as well. The new Amazon TV serial, Rings of Power (ROP) will touch upon how the utopia of the Elves was tampered with by Morgoth, and how the Elves spent a long time defending Middle Earth and ultimately their Blessed Realms against threats. Then they defeated Sauron at the end of the Second Age, and then again at the end of the Third Age
Photo above: Rivendell; Artist: Alan Lee
In Middle earth, the Elves founded some peaceful realms such as Doriath, and Gondolin, and later on Rivendell, and Lothlorien which were kept hidden from the enemy. The Shire was a utopia for its inhabitants before it was attacked by Saruman at the end of the Third Age. In a way Tolkien's long saga can be seen as attempts to restore the peace of the utopia in the worlds of the Elves, the Blessed Realms.
Dwarves arrive at Rivendell:
Dwarves have dinner at Rivendell:
The Fellowship reaches Lothlorien:
A utopia of sorts was also restored in Middle-earth when Aragorn became king, with Lady Arwen by his side at the end of the Third Age. And finally all Elves led by Lady Galadriel were able to go back to their version of paradise, ie the Undying Lands.
Utopia in ASOIAF
The world of George RR Martin's A Song of Ice and Fire (ASOIAF)is much darker and grittier than that of Middle Earth. Yet, it can also be interpreted as being that of a search for a lost paradise in a way. Winterfell for its problems was a utopia of sorts for the Stark children.
Feast at Winterfell:
Danaerys Targarayen thought King's Landing and Westeros would become her own personal utopia, but at least in the TV show, that didn't turn out to be the case.
Theon Greyjoy's personal utopia was going to be his native Islands of Pyke, but that turned out to be just a pipe dream. He was pressured by his father to turn upon the Starks who'd treated him so well that he'd forgotten he was supposed to be a hostage there. In fact, once Theon helped turn the relative peace of Winterfell into a dystopia, he had cause to regret his actions very deeply.
Bran Stark thought he would find his own version of utopia beyond the Wall, but that didn't work out for him quite as well as he'd imagined it. Although it's arguable who is really the person on the Iron Throne at the end? Bran Stark or the three-eyed raven controlling him? The three-eyed crow was Ser Brynden Rivers, a Targaryen. So is a Targaryen sitting on the Iron Throne at the end of the GOT TV series? Or are some parts of Bran Stark somewhere inside his own head too?
In the entire series, we're rooting for the Stark children to go back to Winterfell. At last Sansa Stark becomes the ruler and Lady of Winterfell. At least in the Game of Thrones TV series.
Finale for the Stark children:
Utopia in the Percy Jackson series
In the YA Percy Jackson series by Rick Riordan, Camp Hallf-Blood is a safe haven for all the half blood demi-gods. It's located in a hidden place on the north shore of Long Island near NY. Though there's plenty of competition and squabbling between the demi-gods, they all feel protected from monsters and threats from the outer world. The Golden Fleece keeps the place protected.
Training at Camp Half-blood:
Finding strength at Camp Half-blood:
After every adventure, the heroes come back safe and sound to this haven. In the Heroes of Olympus series, Camp Jupiter is another safe place near San Francisco for the demi-gods. These utopias serve as anchoring places for these young protagonists. It also gives them a purpose to defend these mini-utopias when they come under threat. And they have a place to look forward to returning to when their quest or adventure is over.
Search for equilibrium & survival in Dune
In Dune, after the Atreides family is destroyed when they first land on the desert planet, the whole arc of Paul Atreides (and his descendants) is to restore their house to its rightful place in their inter-planetary society. And at least in the beginning to help the Fremen get their independence too. Make Dune a utopia for its inhabitants. Since the series stretches over thousands of years and across many planets, things don't always go according to any one character's plans. However, the overall quest for most protagonists of this series is to restore some kind of balance in society, even if the story stretches across time and space. Things evolve in surprising ways. But at least humanity strives to find better conditions, and is saved from the threat of extinction in the end.
Conclusion
While dystopias may be very much in fashion, a stable and sustainable society can function in the long term in its own version of utopia. Therefore, it can be argued that utopias are more important than dystopias. In fact, if there wasn't a balanced and sustainable society to begin with, then it couldn't be distorted to form a dystopia. For example, in Star Wars, the Empire took over planets and societies which had been functioning independently for years. And the mission to overthrow the evil Empire is a bid to restore balance of power, and/or utopias of different kinds on the planets in its iron grip. Just escaping the oppressive regime of the Empire would be the beginning of a more steady and calmer society on most planets. Utopias also enable growth and evolution both at the individual and the macroscopic levels.
In a way dystopias are dependent on utopias (even distant ones) in order to come into existence. A social structure that is out of balance wouldn't last too long anyway, as it would collapse one way or the other. Most stories are about restoring some kind of stability so that the protagonists can continue to live or exist in a sustainable world.
-The End-
Note: Some of these ideas were mentioned/discussed at the Utopias Panel, entitled 'Better Worlds are Possible' held at Chicon 8 in September 2022. ++ Sultana Raza