By Carl Slaughter:
THE SUPERGIRLS: FASHION, FEMINISM, FANTASY. AND THE HISTORY OF COMIC BOOK HEROINES
By Mike Madrid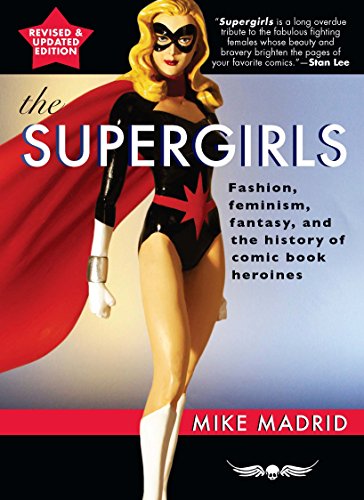 Has Wonder Woman hit the comic book glass ceiling? Is that the one opposition that even her Amazonian strength can't defeat? Entertaining and informative, The Supergirls explores iconic superheroines and what it means for the culture when they do everything the superhero does, only in thongs and high heels.

This much-needed alternative history of American comic book icons—from Wonder Woman to Supergirl and beyond—delves into where these crime-fighting females fit in popular culture and why, and what their stories say about the role of women in society from their creation to now, and into the future.
DIVAS, DAMES & DAREDEVILS: LOST HEROINES OF GOLDEN AGE COMICS
By Mike Madrid
Wonder Woman, Mary Marvel, and Sheena, Queen of the Jungle ruled the pages of comic books in the 1940s, but many other heroines of the WWII era have been forgotten. Through twenty-eight full reproductions of vintage Golden Age comics, Divas, Dames & Daredevils reintroduces their ingenious abilities to mete out justice to Nazis, aliens, and evildoers of all kinds.

Each spine-tingling chapter opens with Mike Madrid's insightful commentary about heroines at the dawn of the comic book industry and reveals a universe populated by extraordinary women—superheroes, reporters, galactic warriors, daring detectives, and ace fighter pilots—who protected America and the world with wit and guile.
VIXENS, VAMPS & VIPERS: LOST VILLAINESSES OF GOLDEN AGE COMICS
By Mike Madrid
Between the covers of Vixens, Vamps & Vipers, fans will rediscover the original bad girls of comics—as fierce and full of surprises as they were when the comic book industry was born. From murderous Madame Doom to He-She, dubbed by io9 as "the most unsung comic book villain ever," Mike Madrid resurrects twenty-two glorious evildoers in fully reproduced comics and explores the ways they both transcend and become ensnared in a web of cultural stereotypes.

Among the deadly femme fatales, ruthless jungle queens, devious secret agents, double-dealing criminal masterminds, and gender-bending con artists are some of the very first women of color in comics. These women may have been overlooked in the annals of history, but—like their superheroine counterparts in Divas, Dames & Daredevils—their influence, on popular culture and the archenemies that thrill us today, is unmistakable.