Sunday, September 3, 1989 at Noreascon Three. Fifth installment of my reminiscences about the once-in-a-generation convention that took place 25 years ago this week.
Sunday In The Park With George: As I set up the Fanzine Sales table Sunday morning in the ConCourse a bearded fan sauntered past with his hands clasped behind him and his chin thrust out, loudly whistling assorted birdcalls. I lost sight of him behind a virtual tree in Jekyll Park.
Tony Ubelhor and I were at the table after the Sunday Brunch when an unfamiliar fan sidled up to the exhibit, standing half hidden by a pillar by the corner table. "Is SF Randomly still being published?" he asked nervously. We said yes, pointing at the issues for sale. With prodding the fan explained, "I was supposed to send them an article, but I haven't done it. Are the editors around?" We told him they had been here and would be back soon – but showing all the disappointment of someone who was out when the collection agency called he slipped back into the crowd and was not seen again.
When Steve Antczak, editor of SF Randomly, returned Tony couldn't resist yanking his chain. "Some Arizona fan asked us if SF Randomly was still publishing. We didn't have the heart to tell him it folded." Antczak yelped excitedly, "We're still publishing!"
Martin Morse Wooster came by the table after his "lightning inspection" of the Moscow in '95 bid party. Moscow, as in Russia, Red Square and Gorby, is Michael Sinclair's brainchild. They had flyers all over the convention. Wooster said he found nobody from the ostensible committee at the party. Martin pieced together the rumors. "Apparently when asked Intourist said 'Swell' and the mayor of Moscow said 'We need the cash.' They haven't talked to any Soviet writers and publishers." Wooster smiled his Evil Commissar smile and in a bad accent said of fans who might go to a Moscow Worldcon, "These are rich people – they deserve the best!"
To attract presupporters Moscow in '95 gave each a mock Soviet passport with red cover and gray pages divided to make room for the rubber-stamped visas Sinclair would enter at each convention where they held a bidding party. If the "Say Da" bid were merely an excuse to throw parties it wouldn't have merited so much attention, but I remembered how the Bermuda Triangle in '88 bidders encouraged people's assumption they were joking until the committee found enough support to permit them to take the wraps off their serious ambition to run a cruise ship Worldcon. Afterwards they laughed their way to a second-place Site Selection finish in a field of four.
At 2:30 Sunday afternoon the ARA snackbar was overflowing with burger smoke sufficient to fill its corner of Hall C and begin to drift through the hall. It was like having an exhibit behind a bus. Rick Foss accused Seth Breidbart of arranging a barbecue in an enclosed room with smoke alarms, but Seth denied it was part of the Hoax Division program. We nervously observed that no alarms had been triggered by the dense pall of smoke. Theresa Renner added her ironic appreciation, "As a vegetarian, if there's one thing I really like it's being in a room full of burning animal fat."
Maia Cowan came by wearing the best button seen at Noreascon Three: "HELLO – MY NAME IS BATMAN. YOU KILLED MY FATHER. PREPARE TO DIE."
WSFS Business Meeting: Business meeting chairman Don Eastlake III lightened the usually pompous tone of the Business Meeting by appointing as his Sergeant-at-Arms a real sergeant. Standing in uniform astride the center aisle was Staff Sergeant Theresa Renner, librarian of the US Marine Band. Theresa wielded her mace, explaining the mace is always symbolic and never used…then set the can of spice on the chair next to her. When a passing smof threw Theresa a salute, Joe Rico prompted, "Tell him not to salute you – you work for a living."
At Saturday's Main Business Meeting the 120 or so fans present were given a lot of individual items to deal with, but tended to dispose of them rather expeditiously with the guidance of Eastlake and his timekeeper Rick Katze.
Three amendments to the WSFS Constitution passed by NOLAcon II were presented for ratification by Noreascon Three members. The voters rejected an expanded definition of WSFS membership. They defeated the rule which would have prevented a North American Worldcon Zone from being passed over successively (as the Western zone was in 1987 and 1990). They approved the technical language expressing the term of office for members of the Mark Registration Committee.
New amendments fared poorly. Two new Hugo categories were promptly disposed of, known in shorthand as the "otherwise ineligible materials" Hugo, and the "Worldcon rescuers" Hugo. Also failing was the proposal to expand the existing Best Nonfiction Hugo to cover "science or natural philosophy" as well as science fiction, inspired by Noreascon's decision not to allow Stephen Hawking's A Brief History of Time as a nominee. A motion to extend the lead time for Site Selection voting from three to four years failed 55-63.
Advocates like Mike Wallis were disappointed that the proposed changes to the Best Professional Artist Hugo were not enacted. Nor were they rejected, but the amendment was downgraded to a resolution and Jo Thomas' offer to run the new category as the one-shot Hugo 1990's ConFiction is permitted by the constitution could have clashed with other plans of the Dutch committee. The original scheme would have replaced Best Pro Artist with three Hugos for Best Book Cover, Best Magazine Cover and Best Interior Illustration. Some fans persisted in searching for a nonexistent role for convention art show entries in this amendment, helping to cloud the issue.
Don Eastlake committed the blooper of the weekend while trying to explain NASFiC by-mail voting procedures when he uttered, "…at that point the ballots are fixed…" The Business Meeting howled at this bit of in-humor.
The Mark Registration Committee terms of Bruce Pelz, Fran Skene and Tim Illingworth expired this year. They ran against Martin Hoare, Craig Miller and Bruce Farr. All incumbents were re-elected.
The Sunday Business Meeting announced the Site Selection results – letting the cat out of the cellophane bag.
Orlando having finished the race uncontested, when Joe Siclari came up to announce MagiCon's information there was a momentary sense of anticlimax before parliamentarian Kent Bloom gave the cue for a last bit of business by the DC in '92 committee. Bloom, a member of the withdrawn DC bid, looked down from the dais and said with a big smile, "We would like to formally tender our surrender."
At the same time Robert J. McIntyre, on bended knee, presented Siclari with some triangular-folded red, white and blue bunting salvaged from the Republican convention in New Orleans that had decorated DC parties. Shutterbugs made them re-enact the moment quite as the Marine flag-raising at Iwo Jima was restaged for photographers.
Sunday was also "question time" for representatives of next year's Worldcon, ConFiction in The Hague. Someone asked about progress report delivery problems. A NESFAn who'd helped mail the Dutch PRs, which arrived as a bulk shipment at Logan Airport, said some of the packages were received waterstained: "I can't imagine how that happened on an airplane, and I don't want to think about it."
The Masquerade: Noreascon's Masquerade emcee was the feisty Pat Kennedy. Among his announcements he said, "We have no smoking. If I can quit, you can quit."
There were 55 entries in the masquerade. The panel of judges was Mike Symes, D. Jeanette Holloman, Patricia Mercier Gill, Janet Wilson Anderson and Ann Layman Chancellor. Workmanship judge was Peggy Kennedy.
Some of the humorous entries are most prominent in memory. "The Gravity Research Institute" came on stage about eight strong wearing utilityman's orange coveralls draped with elaborate electronic apparatus and carrying tricorders and other gadgets. One of the party dropped a yellow-striped brick on the ground. The researchers stared significantly as it struck the stage and rolled over, scribbed notes, and hurried on to their next test.
Darth Vagrant lumbered on stage to the Empire Strikes Back theme, black helmeted but carrying a Hefty bag. When the music changed to the Batman theme, though, he plucked off his helmet to reveal the purple cowl beneath, and ran offstage to fight crime.
Takayana, the Costumer from Hell, wore clashing colors and examples of every masquerade cliché, one leg in gartered stocking, a green fur hindleg, a sequined ruff, a wig and so on.
The "Mermaid With A Vengeance" was said to be "seeking diplomatic exchange" with the Exxon Corporation: she balanced on her green tail, brandishing a bow and arrow.
Best In Show went to Deborah K. Jones' "Dread Warrior," inspired by the ceramic sculpture "Streamline Robot" by Toby Buonagurio.
The 1989 Hogu Ranquet: Considering the Ranquet is virtually always held at a local McDonald's – which this year looked deceptively like a Burger King a block from the Hynes Auditorium – there could be no more appropriate Hogu guest than the author of "Why I Left Harry's All-Night Hamburger Stand." Guest of Honor Lawrence Watt-Evans said, "This proves I finally made it. I wasn't sure – last year I won one of those joke awards…." Putting the importance of literature in its proper perspective, Watt-Evans observed that Tolkien's Lord of the Rings has sold 11 million copies, "Which is about one-quarter of the people who watched every episode of My Mother The Car."
Such dignitaries as Julie Evans, Martha Soukup, Brian Burley and Tom Galloway listened to Elst Weinstein explain the Hogu selection procedure. Said Elst, "The voting system has changed over the years." Yes, we used to count them. Somebody shouted, "Don't worry – I'm from Brooklyn – I have plenty of postal money orders!"
Too bad, actually: this was a strictly-cash operation. With 60 people on hand there were tidal waves on a sea of green making sure a broad spectrum of favorites (or whatever the right antonym may be) won. . I was a bit self-conscious sitting in the Boylston Street Burger King while someone ran through the aisle waving a dollar bill and shouting, "Dianetics! Dianetics!" Elst made one small exception to the cash-only rule: he accepted an Exxon credit card – cut in half – as worth $5 voting credit in a category where the oil company was nominated.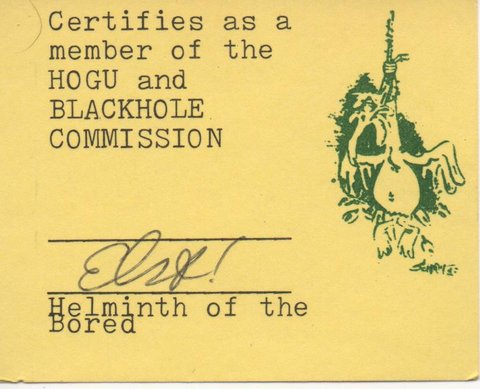 There was a commotion when Elvis made an appearance at the Hogus. It seems some local college group had picked the same hamburger joint at the same time and was conducting some meeting of their own when Elvis passed by to tell them hello. It was promptly dubbed the Best Hoax Appearance at a Hogu Ranquet.
Stupidity Is Also A Crime: Four huckster tables were hit by thieves during Noreascon Three, taking two copies of a limited edition of Stephen King's Gunslinger, two other King rarities (one a British edition), and a signed limited edition Batman worth over $2,000.
One of the victimized dealers has a shop in the city. A man walked in and asked the employee at the counter would he be interested in buying one of the rarities at a good price? Aware of the theft, the employee said sure, they probably wanted to buy the book but needed the manager's approval. A time was set for the fan to return to transact the sale.
While Boston police were still jumping all over the first fan, two others walked in with more stolen collectibles for sale saying, "Say, I understand you bought some stuff like this from my friend…."