By Rich Lynch: It shouldn't come as a surprise, to anyone who knows me, for me to say that I like museums. A lot. Art museums, history museums, science museums, cultural museums, you name it. They're all good. Nicki and I live in the D.C. area so we have a membership to the Smithsonian Institution. If we lived in New York City, I know we'd be members of the Metropolitan Museum, the Brooklyn Museum, and the Museum of Modern Art. And also one other place.
That would be the Museum of the Moving Image. It's located over in Queens, adjacent to the Kaufman Astoria Studios, and as far as I can tell it seems to be a mostly undiscovered gem. It's not huge as museums go, with just under 100,000 square feet of exhibit space (MoMA, by comparison, is more than seven times larger), but it makes very effective use of the room it has. An example of this is MotMI's core exhibition, "Behind the Screen", which might be best described as an immersive stroll through the various stages of making movies, television shows, and online productions such as creating a soundtrack, lighting, model making, special effects, and editing. There are small studios where visitors to the museum can try their hand at doing stuff like voice-overs, foley sound effects, and rudimentary stop-motion animation.
And in addition to all this, "Behind the Screen" is also a walk through history. There are more than a thousand items from the museum's permanent collection on display, things like film and television cameras from decades past, costumes, set design models, and even some media-tie in merchandise from long ago. And going all the way back to the very beginning, there is even a viewing station that shows a short featurette about the French scientist and physiologist Étienne Jules Marey, who in the early 1890s created some of the very earliest moving image productions (it was called 'chronophotography' back then). All in all, this exhibition is perhaps the best one in existence anywhere for introducing the layman to the historical background and overall creative processes of how moving image productions are made.
But that's not what we came to MotMI to see.
Besides the core exhibition, the museum also has room for two additional special interest exhibitions. One of them, "The Jim Henson Exhibition" (which I described in a previous essay back in 2020), has been so popular that it's going to be there indefinitely. That was most certainly worth another visit, with all its puppets, costumes, storyboards, and film/TV clips which guide you through the career of Jim Henson and explore his creative processes. But we didn't linger there. Instead, we spent some quality time with Rick, Daryl, Carol, Maggie, Michonne, Negan, and other post-apocalyptic survivors in MotMI's other special exhibition, "Living with The Walking Dead".
Before I go any further I should mention that Nicki and I are big fans of The Walking Dead television show. We've seen every episode of the original series and also all of the spin-off series. And we're not nearly the only ones – TWD at one point in its run was the third most-watched show on television in the U.S.A., behind only The Big Bang Theory and Sunday Night Football. So it was a very pleasant surprise during our recent visit to The Big Apple when we discovered that MotMI (with the support of the AMC cable TV network which had aired the series) had organized a large retrospective about TWD which, according to the museum's website, "addresses the origins, production, fandom, and impact" of the show.
There was far more to see than I had expected, and a lot of it takes you right down into the 'guts' of the show. Very literally so – MotMI has posted a disclaimer on its website that reads: "Please note: this exhibition features material depicting graphic violence and other potentially disturbing images and is intended for mature audiences." Among the items on display are clothes covered with zombie blood and innards (make that seemingly covered, even though it sure looked real to me). TWD is not shy about showing violence that occurs during the zombie apocalypse, and the exhibition was not shy about including depictions of it on video screens that were spread around the exhibition. Some of the objects shown in those video clips were on display, one example being Negan's barbed wire-wrapped baseball bat 'Lucille' which he had used in numerous acts of lethal brutality. There was an explanatory placard for the prop: "The rubber bat on display is rigged with a cavity for a packet of fake blood, which explodes upon contact creating a vivid, gruesome effect." No surprise that the practical special effects for the show are high-end.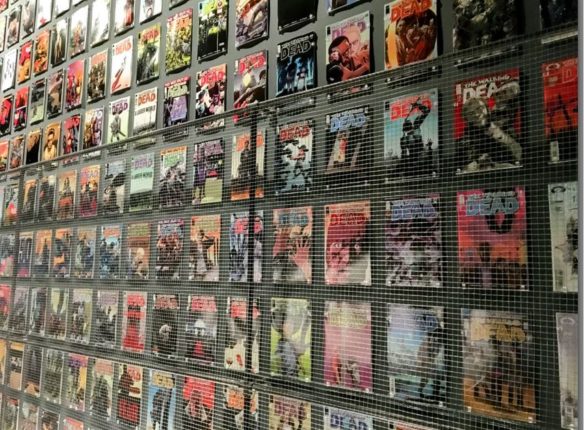 But there was far more to the exhibition than just blood splatter, and that included cinematic and other popular culture forerunners. As stated by the museum's website: "Living with The Walking Dead explores the cinematic and literary antecedents of the series." There were homages to other zombie movies including Night of the Living Dead, but what initially caught my attention was in the hallway leading into the exhibition – mounted on the wall was an array of every issue of Robert Kirkman's TWD comic book series that the TV series was based on. As for what individual episodes of TWD were based on, there were some illuminating displays on that as well. Concept art, costumes galore, storyboards, animatronic zombie body parts, and annotated drafts of shooting scripts all provided an interconnected narrative on how the broad concept for an episode of the show becomes, in the end, a polished production, filled with painstaking detail, that advances the overall story arc.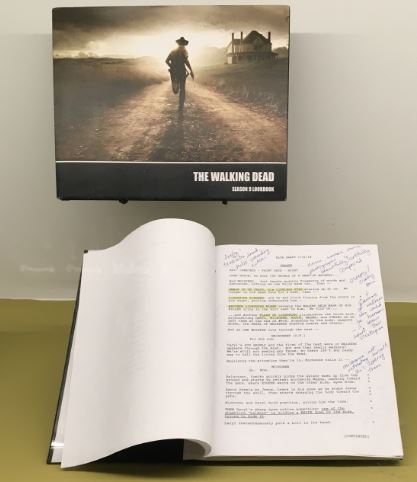 Hey, I came away really impressed! If I were an aspiring film student I'd consider the three exhibitions of MotMI as master classes that would help me begin a career. As for me, I've always been fascinated by the movie-making process, so much so that I'm usually an avid viewer of any TV series or special which illuminates the creative process. This was as much up-close-and-personal to such behind the scenes activity as I've ever been. For anybody not already involved in the motion picture industry, this is surely the next best thing.
---
The last day for the "Living with the Walking Dead" exhibition is January 22nd. If you're a fan of the show and are in the NYC area, make plans to see it before it closes!