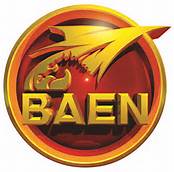 Baen Books has announced the top ten finalists for the 2018 Jim Baen Memorial Short Story Award. The Grand Prize will be presented at the 2018 International Space Development Conference in Los Angeles, CA the weekend of May 24-27.
"The goal of this contest is to encourage writers to create exciting and positive stories about humankind's near future in space," said William Ledbetter, contest administrator. "The stories all take place within the next fifty or sixty years and show the challenges and wonders that await us as we explore and colonize the solar system. Our winners can be novices or professionals; we just care about a well told story."
This year's top ten Jim Baen Memorial Award finalists (in alphabetical order) are:
Stewart C Baker
Gustavo Bondoni
Jonathan Edelstein
C Stuart Hardwick
Stephen Lawson
Angus McIntyre
Wendy Nikel
Julie N. Novakova
Patrice Sarath
Martin L. Shoemaker
The contest is judged by top Baen editors and best-selling author David Drake, who read the entries "blind" with no author information included, so the winners are picked solely by merit of the stories. Over the years, the contest has developed an international character. In addition to the United States, entrants have hailed from Argentina, the Czech Republic, Sweden, the United Kingdom, Australia, Canada, France, Algeria, Switzerland, New Zealand, Spain, and Morocco.
A collection of sixteen of the best stories from the first ten years of this contest, The Jim Baen Memorial Award: The First Decade, came out last November.