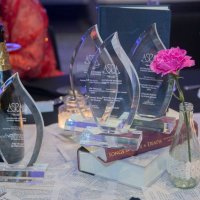 The finalists for the 2019 Australian Romance Readers Awards were announced January 15.
ARRA members will now vote for their favourite in each category. Winners will be announced in Sydney on March 7.
Here are the finalists of genre interest:
Favourite Paranormal Romance 2019
My Solace by Alanea Alder
Primal Instinct by Ally Parker
Unforsaken by Cassie Laelyn
Wolf Rain by Nalini Singh
Wrath by Lana Pecherczyk
Wrecked Intel by Mandy M Roth
Favourite Sci Fi, Fantasy or Futuristic Romance 2019
Archangel's War by Nalini Singh
Sweep of the Blade by Ilona Andrews
The Whisperers of Evernow by Heidi Catherine
Wicked Wings by Keri Arthur
The complete list of finalists is at the link.