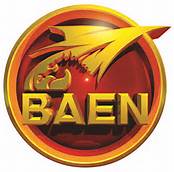 Baen Books announces the top ten finalists for the 2019 Baen Fantasy Adventure Award for best original fantasy short story. They are:
"Breach of Contract" by Anne Leonard
"Demons on the Canadian Frontier" by Shannon Walker
"FedEx" by Sam Robb
"In the City of Dreadful Joy" by Misha Burnett
"In the House of Rain and Gale" by Joelle Douthit
"The Dormer Trees" by Sarah Totten
"The Dragon is Blind" by Sam Muller
"The Laughing Folk" by Steve DuBois
"The Storm Stone" by Kevin Harkness
"Treason Properly" by J. J. Cragun
Started in 2014, this is the sixth annual Baen Fantasy Adventure Award. This award honors stories that best exemplify the spirit of adventure, imagination, and great storytelling in a work of short fiction containing an element of the fantastic, whether epic fantasy, heroic fantasy, sword and sorcery, or contemporary fantasy. The stories are judged anonymously.
The Grand Prize and Second and Third Place Winners will come from among these ten finalists, and will be announced on July 6, 2019, at SpikeCon during the Baen Traveling Roadshow. SpikeCon will take place from July 4-7 in Layton, UT, and is home to Westercon 72, NASFiC 2019, the 1632 Minicon, and Manticon 2019.
Author of the Grand Prize story receives an award trophy, a prize box filled with Baen merchandise, and paid professional rates for first publication rights. The winning story will be featured on Baen.com main webpage from August 15th through September 15th, 2019, and will be available in the Baen Free Library thereafter.