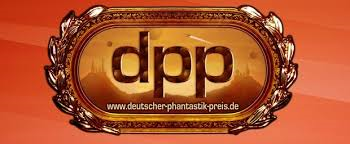 The Deutscher Phantastik Preis 2019 shortlist was posted September 16. Voting is open through October 31 to determine the winners in each category.
The award honors speculative fiction published for the first time in German language during the previous year.
The winners of the DPP 2019 will be honored at BuchBerlin on November 23.
Deutscher Phantastik Preis Longlist
Bester deutscher Roman / Best German Novel
Die Chroniken von Azuhr: Die weiße Königin — Bernhard Hennen — Fischer Tor
Die Flammen von Enyador — Mira Valentin — BoD
Sturmtochter: Für immer verboten — Bianca Iosivoni — Ravensburger
Houston Hall: Schatten der Vergangenheit — Mary Cronos — Feelings
Das Vermächtnis der Grimms – Wer hat Angst vorm bösen Wolf / Nicole Böhm / Drachenmond Verlag
Bestes deutschsprachiges Romandebüt / Best debut novel in German
Bloody Mary Me: Blut ist dicker als Whiskey — M. D. Hirt — Carlsen Dark Diamonds
Der Welten-Express — Anca Sturm — Carlsen Verlag
Ein Königreich aus Feuer und Eis — Leni Wembach — Carlsen Impress
Die Prinzessin der Elfen: Bedrohliche Liebe — Nicole Alfa — Carlsen Impress
Der fünfte Magier: Schneeweiß — Christine Weber — Selfpublishing
Bestes deutschsprachiges Jugendbuch / Best German language youth book
Die Krone der Dunkelheit — Laura Kneidl — Piper
Loa – Die weiße Mambo — Petra Reneé Meineke — Sad Wolf Verlag
Thalamus — Ursula Poznanski — Loewe Verlag
Das Flüstern des Waldes — Mira Valentin und Kathrin Wandres — Carlsen Impress
Bestias: Die Bestien Chroniken 1 — Greg Walters — BoD
Bester internationaler Roman / Best international novel
Der Outsider — Stephen King — Heyne
Elfenkrone — Holly Black — cbj Verlag
Scythe: Der Zorn der Gerechten — Neal Shustermann — Sauerländer
Die Rabenringe – Odinskind — Siri Petterson — Arctis Verlag
Children of Blood and Bone: Goldener Zorn — Tomi Adeyemi — FJB
Beste deutschsprachige Kurzgeschichte / Best German short story
Totenpfade — Jenny Wood — Art Skript Phantastik
Houston hat Probleme — Markus Heitkamp — Talawah Verlag
Schicht im Schacht — T. S. Orgel — Amrun Verlag
Unter der Erde — Janna Ruth — pako Verlag
Das letzte Erwachen — Swantje Oppermann — pako Verlag
Beste Deutsche Anthologie / Best German anthology
Noir Anthologie (1) — Mica Baram u. a. — Sadwolf Verlag
Magische Kurzgeschichten. Winter Romanze / Sandra Schwarzer / Schwarzer Drache Verlag
The P-Files — Hrsg: Sascha Eichelberg — Talawah Verlag
Schnittergarn: Die Anthologie des Todes — Marc Hamacher — Leseratten Verlag
Geschichten aus den Herbstlanden — Fabienne Siegmund u. a. — Verlag Torsten Low
Bestes deutschsprachiges Hörspiel/Hörbuch / Best German Language Radio Play / Audiobook
Bestias — Greg Walters — Marco Sven Reinbold — Ronin Hörverlag
Die Chroniken von Azuhr – Die Weiße Königin — Bernhard Hennen — Wolfgang Wagner — Argon Verlag
Spiegelsplitter — Ava Reed — Hanna Baus, Frank Stieren — Carlsen Audio
Die Legende von Enyador (Teil 1) — Mira Valentin — Robert Frank — Audible Studios
Aurafeuer – Das Erbe der Macht (1) — Andreas Suchanek — Clemens Benke — SAGA Egmond
Beste deutschsprachige Serie / Best German Language Series
Perry Rhodan — Chefredakteur Klaus N. Frick — Pabel Moewig
Die Phileasson-Saga — Bernhard Hennen & Robert Corvus — Heyne
Das Erbe der Macht — Andreas Suchanek — Greenlight Press
Die Chroniken von Chaos und Ordnung — J. H. Prassl — Acabus Verlag
Die Grimm-Chroniken — Maya Shepard — Sternensand Verlag
Bester deutschsprachiger Grafiker /Best German-speaking Graphic Artist
Die letzten Zeilen der Nacht — Alexander Kopainski — Drachenmond Verlag
Die Krone der Dunkelheit — Guter Punkt — Piper
Sturmtochter- Für immer verboten — Carolin Liepins — Ravensburger
Götterherz — Jaqueline Kropmanns — Sternensand Verlag
Timeless Uncertainty- Im Bann des Feindes — Tociljdesign by Michelle Tocilj — Sadwolf
Bestes deutschsprachiges Sekundärwerk / Best German Language Secondary Work (i.e., Related Work)
Es lebe Star Trek – Ein Phänomen, zwei Leben — Björn Sülter — Verlag in Farbe und Bunt
Die Überschreitung der Gegenwart: Science Fiction als evolutionäre Spekulation — Wolfgang Neuhaus — Golkonda
Geek! Magazin — various — Panini
Das komplette Marvel-Universum: Der verrückte Reiseführer durch alle Welten, Dimensionen und Galaxien — various — Heel
Das Science-Fiction-Jahr 2018 — Herausgeber Michael Görden — Golkonda
Bester deutschsprachiger Comic / Manga / Best German Language Comic / Manga
Myre-Die Chroniken von Yria (Buch 2) — Text und Zeichnungen Claudya Schmidt — Splitter
Robotormärchen, Ein seltsamer Tag (1) — Text Olaf Brill, Zeichnung Michael Vogt — Atlantis
Captain Berlin — Text Jörg Buttgereit, Zeichnung Fufu Frauenwahl — Weissblech Comics
Sterne sehen — Asja Wiegand — Zwerchfell Verlag
Capacitas — Marika Herzog — Eigenproduktion
Sonderpreis 2019: Beste Übersetzung / Special Award 2019: Best Translation
Das Gold der Krähen — Leigh Bardugo – tr. Michelle Gyo — Dromer Knaur
ta'puq mach – Der kleine Prinz auf Klingonisch & Deutsch — Antoine de Saint-Exupéry – tr. Lieven L. Litaer — Der Verlag in Farbe und Bunt
Das Labyrinth von London — Benedict Jacka – tr. Michelle Gyo — Blanvalet
Scythe-Reihe — Neal Shusterman – tr. Pauline Kurbasik & Kristian Lutze — Sauerländer
Children of Blood and Bone-Reihe — Tomi Adeyemi – tr. Andreas Fischer — Fischer