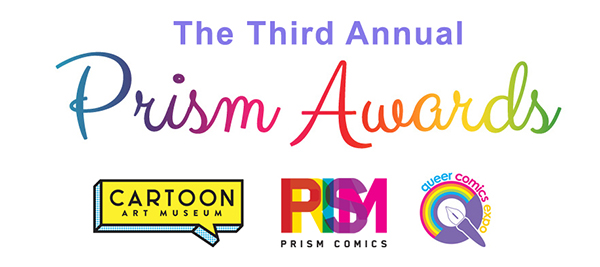 The 2019 Prism Awards for Excellence in LGBTQ+ Comics were announced during a panel at San Diego Comic-Con on July 18.
The Prism Awards are presented to comic works by queer authors and works that promote the growing body of diverse, powerful, innovative, positive or challenging representations of LGBTQAI+ characters in fiction or nonfiction comics.
The awards are administered by Prism Comics, The Queer Comics Expo, and the Cartoon Art Museum.
The 2019 Prism Award winners are:
SHORT FORM
WEBCOMIC
SMALL TO MIDSIZE PRESS
MAINSTREAM
ANTHOLOGY
The judges who read and evaluated this year's submissions are:
Short Form Judges: Mey Valdivia Rude (writer at them, Autostraddle); Joamette Gil (Heartwood: Non-binary Tales of Sylvan Fantasy); Sfé R. Monster (The Beyond Anthologies)
Webcomic Judges: Matt Lubchansky (The Nib); Ajuan Mance (Gender Studies); Zora Gilbert (Dates: An Anthology of Queer Historical Fiction Stories, Books 1 and 2)
Small to Midsize Press Comic Judges: Juliette Capra (Crowded); Noella Whitney (Dates: An Anthology of Queer Historical Fiction Stories, Book 2 ); Heidi MacDonald (editor-in-chief of Comicsbeat)
Mainstream Publisher Comic Judges: Brian Andersen (Stripling Warrior); AJ Real (writer, Advanced Death Saves); Jack Baur (Librarian, Berkeley Public Library)
Anthology Judges: e jackson (Flux); Hazel Newlevant (Sugar Town); Rob McMonigal (founder and head writer at Panel Patter)
The Prism Awards Organizing Team: Ted Abenheim (Prism Comics); Nina Taylor Kester (Queer Comics Expo, Cartoon Art Museum); Maia Kobabe (Gender Queer: A Memoir).