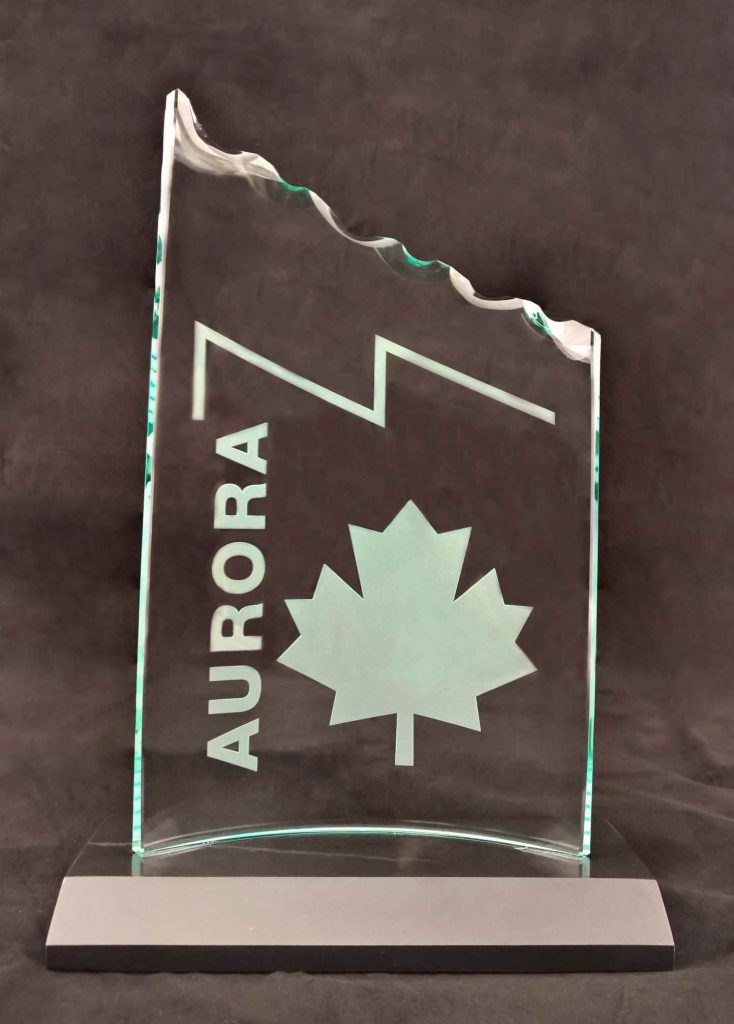 The 2020 Aurora Awards finalists have been announced. The awards are nominated by members of the Canadian Science Fiction and Fantasy Association, for Science Fiction / Fantasy works done in 2019 by Canadians. The top five nominated works were selected. Additional works were included where there was a tie for fifth place.
The Aurora Awards voters' package will be available for CSFFA members to download on the week of May 18th. Voting for the awards will begin on June 20. Both the voters' package and the ballot close at 11:59 pm EDT on July 25.
The awards ceremony will be held online in conjunction with When Words Collide (Calgary) on August 15.
Best Novel
Haunting The Haunted by E. C. Bell, Tyche Books
The Gossamer Mage by Julie E. Czerneda, DAW Books
A Brightness Long Ago by Guy Gavriel Kay, Viking Canada
The Quantum Garden by Derek Künsken, Solaris Books
Jade War by Fonda Lee, Orbit Books
Gods of Jade and Shadow by Silvia Moreno-Garcia, Del Rey
Best Young Adult Novel
Wolf's Bane by Kelley Armstrong, K.L.A. Fricke Inc
The Brilliant Dark: The Realms of Ancient, Book 3 by S.M. Beiko, ECW Press
The Ehrich Weisz Chronicles: Metamorphosis by Marty Chan, Fitzhenry & Whiteside
Bursts of Fire by Susan Forest, Laksa Media Groups Inc
Murder at the World's Fair by MJ Lyons, Renaissance
Best Short Fiction
This Is How You Lose the Time War by Amal El-Mohtar and Max Gladstone, Saga Press
Clear as Quartz, Sharp as Flint by Maria Haskins, Augur Magazine, issue 2.1
Alice Payne Rides by Kate Heartfield, Tor.com Publishing
Little Inn on the Jianghu by Y.M. Pang, The Magazine of Fantasy & Science Fiction, September
Modigliani Paints the World by Hayden Trenholm, Neo-Opsis, Issue #30
Blindside by Liz Westbrook-Trenholm, Amazing Stories, v. 77, issue no. 1, Fall
Best Graphic Novel
The Handmaid's Tale: The Graphic Novel by Margaret Atwood and Renee Nault, McClelland & Stewart
Krampus is My Boyfriend! by S.M. Beiko, Webcomic
It Never Rains by Kari Maaren, Webcomic
Carpe Fin: A Haida Manga by Michael Nicoll Yahgulanaas, Douglas & McIntyre
Dakwäkãda Warriors by Cole Pauls, Conundrum Press
Best Poem/Song
The Girl Who Loved Birds by Clara Blackwood, Amazing Stories Magazine, v. 76, no. 3, Spring
At the Edge of Space and Time by Swati Chavda, Love at the Speed of Light, Ancient Hound Books
Steampunk Christmas by David Clink, Star*Line, v. 42, no. 4., Fall
The Day the Animals Turned to Sand by Tyler Hagemann, Amazing Stories Magazine, v. 76, issue no. 3, Spring
Totemic Ants by Francine P. Lewis, Amazing Stories Magazine, v. 77, issue no. 1, Fall
Beauty, Sleeping by Lynne Sargent, Augur Magazine, issue 2.2
Bursts of Fire by Sora, theme song for book trailers
Best Related Work
PodCastle by Jen R. Albert and Cherae Clark, Escape Artists Inc.
Nothing Without Us by Cait Gordon and Talia C. Johnson, Renaissance
Neo-opsis Science Fiction Magazine edited by Karl Johanson
Lackington's Magazine,edited by Ranylt Richildis (online)
Dave Duncan's Legacy by Robert Runté, On Spec Magazine issue 111
Augur Magazine, Issue 2.1, 2.2 and 2.3 published by Kerrie Seljak-Byrne
On Spec Magazine, Diane L. Walton, Managing Editor, The Copper Pig Writers Society
Best Visual Presentation
The Umbrella Academy, Steve Blackman, Dark Horse Entertainment
V Wars (Season 1), William Laurin and Glenn Davis, High Park Entertainment
Killjoys (Season 5), Michelle Lovretta and Adam Barken, Temple Street Productions
Murdoch Mysteries (Ep. 10-18/Season 12 and Ep. 1-9/Season 13), Peter Mitchell and Christina Jennings, Shaftesbury Films
Van Helsing (Season 4), Jonathan Lloyd Walker, Nomadic Pictures
Best Artist
Samantha M. Beiko, cover for Bursts of Fire
James F. Beveridge, cover for Fata Morgana and cover for On Spec #112
Lynne Taylor Fahnestalk, A Rivet of Robots in On Spec Magazine and Cartoons in Amazing Stories
Nathan Fréchette, covers for Renaissance Press
Dan O'Driscoll, covers for Bundoran Press and cover for On Spec Magazine #110
Best Fan Writing and Publications
R. Graeme Cameron, weekly columns in Amazing Stories (online)
R. Graeme Cameron, Polar Borealis, Issues #9 to #12, editor
Jennifer Desmarais, Travelling TARDIS, JenEric Designs
Steve Fahnestalk, weekly columns in Amazing Stories (online)
Ron S. Friedman, Will Voyager 1 leave the Milky Way?, Quora
Christina Vasilevski, Books and Tea
Best Fan Organizational
KT Bryski and Jen R. Albert, ephemera reading series, Toronto
Brent Jans, Pure Speculation Science Fiction and Fantasy Festival, Edmonton
Derek Künsken and Marie Bilodeau, co-chairs, Can-Con, Ottawa
Randy McCharles, chair, When Words Collide, Calgary
Sandra Wickham, Creative Ink Festival, Burnaby, BC
Best Fan Related Work
Brandon Crilly and Evan May, Broadcasts from the Wasteland, podcast
Kari Maaren, Music on YouTube Channel
Derek Newman-Stille, Speculating Canada
Joshua Pantalleresco, Just Joshing, podcast
Edward Willett, The Worldshapers, podcast