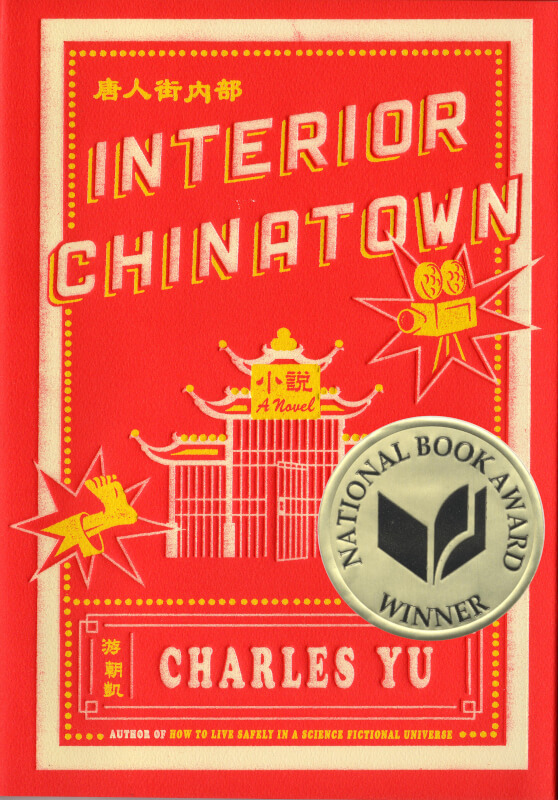 Congratulations to Charles Yu, winner of the National Book Awards fiction prize for his novel Interior Chinatown. The awards were announced online on November 18.
Although his prize-winning book is not genre, Charles Yu himself is well-known to sff readers as the author of How to Live Safely in a Science Fictional Universe and the short-story collections, Sorry Please Thank You and Third Class Superhero. Also, joining series editor John Joseph Adams, he was guest editor of the Best American Science Fiction and Fantasy 2017.
Here's the publisher's description of Interior Chinatown.
Willis Wu doesn't perceive himself as a protagonist even in his own life: He's merely Generic Asian man. Sometimes he gets to be Background Oriental Making a Weird Face or even Disgraced Son, but he is always relegated to a prop. Yet every day he leaves his tiny room in a Chinatown SRO and enters the Golden Palace restaurant, where Black and White, a procedural cop show, is in perpetual production. He's a bit player here, too, but he dreams of being Kung Fu Guy—the most respected role that anyone who looks like him can attain. At least that's what he has been told, time and time again. Except by one person, his mother. Who says to him: Be more.

Playful but heartfelt, a send-up of Hollywood tropes and Asian stereotypes, Interior Chinatown is Charles Yu's most moving, daring, and masterly novel yet.
The judges called the book "a bright, bold, gut punch of a novel. Written in the form of a screenplay with porous boundaries, Yu's wonderfully inventive work spotlights the welter of obstacles its everyman protagonist must confront in a profoundly racist, rigidly hierarchical world as he does his best—in the story of his own life—to land a decent role."
Other category winners were:
Young people's literature
King and the Dragonflies by Kacen Callender
Translated literature
Tokyo Ueno Station by Yu Miri, translated from Japanese by Morgan Giles
Poetry
"DMZ Colony" by Don Mee Choi
Nonfiction
The Dead Are Arising: The Life of Malcolm X by Les Payne and Tamara Payne
Each finalist receives a prize of $1,000, a medal, and a citation from the panel. The five category winners receive $10,000 and a bronze sculpture.