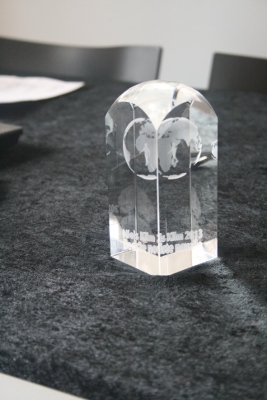 On September 6 the winners of this year's Niels Klim Awards were announced in a ceremony during the annual Danish fantastika convention, Fantasticon, which was a virtual con this year. No physical trophies were given out.

The winners are:
TRANSLATED
Armageddon år 2419 (Armageddon 2419 A.D.), Philip Francis Nowlan (Michael Pilgaard), Pilgaard
PUBLISHING FOR CHILDREN AND YOUNG
Den Rustne Verden 1: Flugten fra Danmark (Rusty World 1: The escape from Denmark), Adam O., Høst & Søn
NOVELETTE
"Jeg ved godt, du er der" ("I Know that You're There"), A. Silvestri, Jeg ved godt, du er der, Calibat
SHORT STORY
"2060: Organisatorisk borgerskab" ("2060: Organizational Citizenship"), Jannik Landt Fogt, Himmelskibet 57, Fantastik
The award is presented annually after nomination and voting among Danish science fiction readers. This was the ninth time the prize was given out. The nominees this year was a varied group of writers, new and more established, Danish and Foreign.

The five categories together cover shorter science fiction texts (less than 40,000 words) published in Danish for the first time the previous year. (This year no novellas were published.)

The practical circumstances are mostly handled by Lise Andreasen (member of Science Fiction Cirklen among other qualifications), and her blog is the primary information source.
[Thanks to Lise Andreasen for the story.]