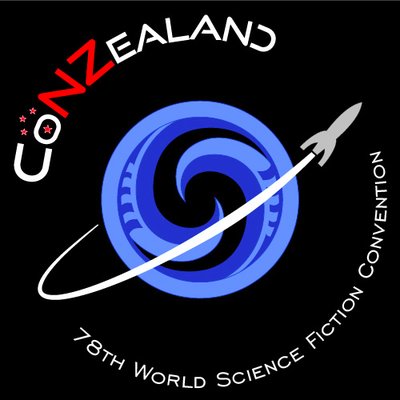 By Kevin Standlee: The WSFS Business Meeting was probably the shortest such meeting ever held, albeit not the smallest, despite fears of being able to achieve the quorum of 12 members of WSFS physically present. Because New Zealand isn't in internal lockdown, members of CoNZealand who were in Wellington could attend the meeting were induced to do so by the provision of coffee/tea/snacks, and in the end apparently 23 people attended. That means their meeting had more people attending that were at the WSFS Business Meetings held at Nippon 2007 in Yokohama.
With none of the originally-announced WSFS Business Meeting staff able to attend M. Darusha Wehm agreed to act as Moderator (or "Emergency Holographic Chair" as I put it), working from a "script" supplied by Business Meeting Chair Kent Bloom. The intention was to deal quickly with the small number of things that couldn't wait, and postpone everything else to next year.
Those people attending Virtual CoNZealand could follow a text description of the Business Meeting by Daniel Spector (who was attending) on the convention's Discord at #major-events. This makes more sense than one might think, in that functionally, the Business Meeting is more like a small Event than a program item. People like me who are suffering from WSFS Withdrawal Syndrome (I've not missed a single session of any WSFS Business Meeting going back to 1989.) could at least follow along.
According to the descriptions from Daniel and the tweets from Soon Lee, shortly after a quroum was achieved, the Preliminary Business Meeting was called to order. It took four minutes to receive all reports, unanimously approve the Hugo Award eligibility extensions (see http://www.wsfs.org/wp-content/uploads/2020/07/2020-WSFS-agenda-20200714.pdf p.25), continue all existing ad hoc committees as currently constituted, adopt blanket debate times for everything, and adjourn the preliminary meeting so that people could attack the coffee/tea service.
When the Main Business Meeting convened ten minutes later, things went even faster. The Site Selection results (announced the previous day) were received and the ballots ordered destroyed, which is the technical point at which time the election is final, not that there was any chance of there being a protest. Question Time for conventions and bids was waived.
The meeting effectively postponed the ratification of all pending constitutional amendments for one year. (There is more than one way to do this, and we won't know exactly which was was used until we see the recording/get the minutes, but one possible route would have been to unanimously agree to reject ratification of every proposal and then immediately pass all of those same items as new proposals, resetting their ratification clocks.) There was no new constitutional business.
Because the election of the Mark Protection Committee members is in the Standing Rules, not the Constitution, it can and was waived. This means that the three seats whose terms ended this year went vacant. The MPC will meet via Zoom (open to any attending CZ member; it's listed in the Grenadine schedule) just before Closing Ceremonies. Per existing authority in the rules, the MPC plans on appointing the three people whose terms ended this year (John Coxon, Linda Deneroff, and Dave McCarty) to temporarily fill those three vacant seats until next year's Business Meeting, where the BM will need to elect six people instead of the usual three, with three people being elected to two-year terms.
With all constitutional business resolved, the Main Business meeting adjourned, having lasted about two minutes. It is possible to get a lot of stuff done if every single person in the room agrees to it and does not raise an objection to it.
---
Soon Lee's Twitter coverage thread starts here.