(1) GET ON BOARD. Join the mission and have your name engraved on NASA's Europa Clipper spacecraft as it travels 1.8 billion miles to explore Europa, an ocean world that may support life. Sign your name today to the… "Message in a Bottle".
NASA's Message in a Bottle campaign invites people around the world to sign their names to a poem written by the U.S. Poet Laureate Ada Limón. The poem connects the two water worlds — Earth, yearning to reach out and understand what makes a world habitable, and Europa, waiting with secrets yet to be explored. The campaign is a special collaboration, uniting art and science, by NASA, the U.S. Poet Laureate, and the Library of Congress.

The poem is engraved on NASA's robotic Europa Clipper spacecraft, along with participants' names that will be stenciled onto microchips mounted on the spacecraft. Together, the poem and names will travel 1.8 billion miles on Europa Clipper's voyage to the Jupiter system. Europa Clipper is set to launch from NASA's Kennedy Space Center in October 2024, and by 2030, it will be in orbit around Jupiter. Over several years, it will conduct dozens of flybys of Jupiter's icy moon Europa, gathering detailed measurements to determine if the moon has conditions suitable for life….
(2) SURE, BUT DOES IT REALLY HAVE A FUTURE? "Alien nation: will the franchise's new movie really cut all links to the past?" – the Guardian's Ben Childtries to read the tea leaves.
…So what do you do when a sci-fi franchise has been poor to average for more than 30 years, yet everyone who has ever seen Ridley Scott's gloomy yet exhilarating Alien (1979) or its all-American, gonad-swinging sequel Aliens (from James Cameron), is somehow still desperate for more? District 9 film-maker Neill Blomkamp clearly had the right idea in 2015, when without any apparent encouragement from Fox he decided he would make his own Alien film set in the wake of Aliens and before it all went wrong for Fincher. His idea was to bring back Sigourney Weaver's Ripley (who died in Alien 3 but was restored as about a dozen freaky clones in Resurrection) along with Michael Biehn's Hicks and potentially even Carrie Henn's Newt.

It didn't happen, not just because the original stars would all have been a bit ancient, but because Fox put the kibosh on the whole concept. But somebody somewhere at Disney (which bought Fox and the rights to Alien in 2017) was clearly paying attention. For what's this we hear from a Variety report this week? The new Alien movie, Fede Alvarez's Romulus, will be neither a sequel nor a prequel, but rather a new film set between Alien and Aliens.

Speaking at the Gotham awards, star Cailee Spaeny told the trade bible: "It's supposed to slot in between the first movie and the second movie, adding: "They brought the same team from Aliens, the James Cameron film. The same people who built those xenomorphs actually came on and built ours. So getting to see the original design with the original people who have been working on these films for 45-plus years and has been so much of their life has been really incredible."

How then, is this going to work? Well, there are 57 years between the events of the two movies, which Ripley spent drifting in space in a state of stasis. What might have happened in the meantime? …
(3) MEDICAL UPDATE. Erwin "Filthy Pierre" Strauss fell down 3-5 steps on flight of stairs while at SMOFCon and was taken by paramedics to a local Providence, RI hospital as a precaution.
Kevin Standlee reports, "I was the one on the scene when he fell (I was walking up the interior stairwell between the programming space and the ground floor of the Providence Marriott) while he was walking down the stairs and slipped, piling up in a heap on the landing. He never lost consciousness and remained alert and responsive, but after initially recovering a bid and starting to get up, announced that his neck hurt enough that he wanted me to call 911."
Kevin has a longer post about it on his Dreamwidth blog. He adds, "I have no further update on his condition, but I'm hopeful that he'll be okay. He reported nothing that sounded like anything broken, just bruised."
(4) THEIR ONE DEMAND. "'Gay Furry Hackers' Breached a Nuclear Lab to Demand Catgirl Research" reports Them.
A collective of self-professed "gay furry hackers" breached databases at a nuclear research laboratory in Idaho this week and released thousands of human resources records. Their only ransom demand? The lab must begin a catgirl research program.

SiegedSec, the hacker collective that attacked government systems in five states earlier this year, claimed responsibility for infiltrating the Idaho National Laboratory (INL) in a Telegram post on November 16. According to its website, INL is one of the country's largest nuclear research facilities and maintains the Advanced Test Reactor, which is used for both medical and military programs.

The records, which contain names, addresses, and Social Security numbers of employees and other users, were released through SiegedSec's Telegram channel and confirmed to be authentic by the INL and East Idaho News.

"meow meow meow meow meow meow meow […] woah so much crunchy data :3" SiegedSec wrote on Telegram. "we're willing to make a deal with INL. if they research creating irl catgirls we will take down this post."

SiegedSec rose to prominence in 2022 with several hacks protesting the overturning of Roe v. Wade. The hacker collective has since claimed responsibility for breaching government and NATO computer systems, as well as those of private companies, including software company Atlassian. They said their attacks on state governments earlier this year were in retaliation to those states' anti-transgender laws. Since October, the group has also embarked on what it calls #OpIsrael, claiming responsibility for a string of cyber attacks on Israeli satellites, industrial systems, and telecommunications companies….
(5) UPDATED WSFS RULES AVAILABLE. The WSFS website has posted the latest draft of the Rules of the World Science Fiction Society with changes ratified by the Chengdu Worldcon Business Meeting. These include the Best Game or Interactive Work Hugo and its cross-references.
(6) DIAZ Q&A. [Item by Steven French.] From the Guardian's interview with the Pulitzer Prize-winning novelist: "Hernan Diaz: 'The Tintin books were problematic but they were also gorgeous and gripping'":
The book I am currently reading

Sly Stone's memoir, Thank You (Falettinme Be Mice Elf Agin). And today I also read the first chapter of Joanna Russ's The Female Man.
Good choice!
(7) DOES THIS STORY DRAG ON? No, it apparently flies right along. "'House of the Dragon': Season 2 Cast & Teaser Trailer Revealed" at Deadline.
… House of the Dragon is set 172 years before the events of Game of Thrones and tells the story of House Targaryen. The two released posters for Season 2 are setting up an epic war between the Targaryens and the Hightowers following the crazy Season 1 finale that saw tragedy befall the former (R.I.P Prince Lucerys Velaryon) at the hands of the latter (Prince Aemond Targaryen)….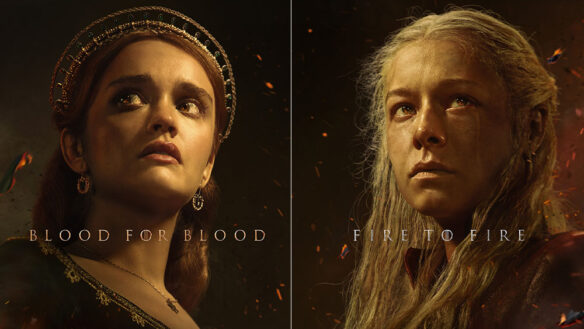 And according to Gizmodo's article "House of the Dragon's Season 2 Trailer Is All-Out Dragon War":
…The first season ended with Lucerys (Elliot Grihault) getting eaten by Vhagar and his mother Rhaenyra (Emma D'Arcy) swearing revenge for her loss. Thus begins the Targaryen civil war known as the Dance of Dragons, which will run throughout the second season as the Green and Black factions of the family go head to head against one another. As the trailer shows us, there shall indeed be dragons and their riders engaging in fiery, bloody warfare, along with the requisite scheming, sex, and glares. And at least one gruesome part of the books is confirmed to be showing up in the new season, so longtime fans have that to look forward to….
(8) HOW NOT TO OPEN MOUTH AND INSERT FOOT. BookRiot knows "What Not To Say to Bookstore Employees". Soon you will, too.
"Wow, you must love your job; you get to sit around and read all day. I am so jealous." It's a personal pet peeve of mine when people TELL you that "you must love your job." Like, it's a job. I am giving away my free time for money to be here. And people tend to say it to those of us who work in the arts — which, sure, maybe people who work in the arts DO more often love their jobs. But the work is chronically undervalued and underpaid, and so people constantly telling you that "you must love your job" when you work in the arts feels like the collective culture telling you that because you get so much joy from your job, you don't even really need to be paid for it. You just do it for the passion!!! The more specific response to this sentence is that working in a bookstore is not the "I wish I could just be paid to read all day" utopia that we all imagine it to be. Yes, there are great parts of the job. But most people who work in bookstores don't sit around and read all day. It's still customer service, and it's still inventory, and it's still packing up returns and orders and creating spreadsheets and data entry and and and. You get it….
(9) ON THE ROAD AGAIN. The National Motor Museum at Beaulieu in the UK presents "Doctor Who's futuristic Whomobile, Bessie and original Dalek feature in 60th anniversary display" through February 2024. The ClassicCars.com Journal tells more in a post here.
The National Motor Museum at Beaulieu is set to transport visitors through time and space with the unveiling of a new temporary display featuring the most iconic vehicles from the beloved British sci-fi series, Doctor Who. From the sleek and stylish Bessie to the futuristic Whomobile and a menacing Dalek, this collection marks the 60th anniversary of the series and opened to visitors on November 23, 2023.

Heading the line-up is none other than Bessie, the Third Doctor's trusty yellow roadster. Bessie's first appearance was in Doctor Who and the Silurians in early 1970 and appeared regularly with the Third Doctor, played by Jon Pertwee. It also made single appearances in Fourth, Seventh, Eighth and Eleventh Doctor stories. Familiar to fans of the classic era, Bessie has become synonymous with the Doctor's adventures….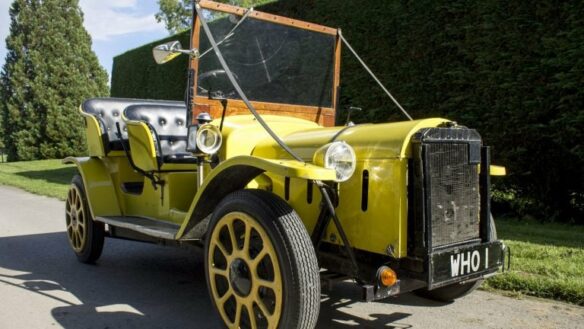 …Zooming in from the 1970s, the display presents the Whomobile, a custom-designed vehicle created for the Doctor by the brilliant minds at UNIT, the United Nations Intelligence Taskforce. A sleek blend of style and functionality, the Whomobile is a testament to the Doctor's ability to traverse the cosmos. It made its first appearance in Invasion of the Dinosaurs broadcast in January and February 1974. The vehicle's only other appearance was in Planet of the Spiders, which was the final adventure for Jon Pertwee's Third Doctor and would see him regenerate as Tom Baker's Fourth Doctor.
(10) WB RECOGNIZES ANIMATION UNION. Deadline reports "Warner Bros Discovery Welcomes WB Animation & Cartoon Network Unionization".
David Zaslav has been preaching the gospel of Tinseltown labor peace since the SAG-AFTRA strike ended, and now the Warner Bros Discovery CEO is putting his money where his mouth is when it comes to his own backyard.

Almost five months after dozens of Warner Bros. Animation and Cartoon Network production workers began their efforts to unionize with The Animation Guild, WBD this week has recognized the move.

"After months of discussions with the studio, I am proud that we were able to reach an agreement with Warner/Discovery for representation of animation production workers at Warner Bros. Animation and Cartoon Network Studios," said TAG IATSE Local 839 Business Representative Steve Kaplan to Deadline today.
(11) RETURN TO SENDER. "Never mind returning the Parthenon marbles – Britain wants this lot back!" The Guardian has a little list. "It's all very well Greece wanting its rightful treasure – but the Brits have left some pretty good artefacts lying around the planet. Surely it's time they came home?"
As Rishi Sunak continued his war of words with the Greek government and threw a tantrum at PMQs on Wednesday, what cunning plan might he deploy to appease Tory headbangers and distract the electorate?

The row kicked off when Sunak cancelled a meeting with Greek PM Kyriakos Mitsotakis, after the latter said that Britain's retention of a portion of the Parthenon marbles was like "cutting the Mona Lisa in half". Mitsotakis was invited to see Oliver Dowden instead, to which he unsurprisingly replied "óchi efcharistó" (no thanks).

The ensuing furore may just have planted an idea in Sunak's mind. After all, there are some on the Tory right who probably regret the Stone of Scone going north of the border in 1996 after centuries on display as Plantagenet war booty at Westminster Abbey.

The list of treasures actually stolen from the UK, given our former imperial power, is unsurprisingly small. But there are a number of either lost or stolen items, some entering the realm of mythology, others not. These include Excalibur, the earthly remains of Arthur, Alfred the Great, and Oliver Cromwell, the Three Crowns of East Anglia (immortalised in MR James's A Warning to the Curious), Joseph of Arimathea's staff and the Great Seal James II slung in the Thames during the Glorious Revolution of 1688. After his unfortunate death at the hands of Native Hawaiians, Captain Cook was supposedly baked (not to eat) and his bones hidden; also in the Pacific during the same era, The Bounty was scuppered and sunk at Pitcairn by the mutineers.
So what artefacts can the UK government demand the return of – even if we gave them away in the first place?
Here's one of the items.
11. AA Milne's actual Winnie-the-Pooh (New York)

Like Paddington Bear (isn't he Peruvian?) Winnie-the-Pooh is an British icon. So to find the poor fellow and friends Tigger, Piglet, Kanga, and Eeyore on display in New York's Public Library is nothing short of a disgrace. We say free the Pooh Five – prisoners in Manhattan since 1956!
(12) TODAY'S BIRTHDAY.
[Written by Cat Eldridge.]
Born December 2, 1971 — Frank Cho, 52. And tonight, we have Frank Cho. Surely many of you are familiar with the delightful obviously genre Liberty Meadows strip which he wrote and illustrated with its cast of not quite charming talking beasties and resident therapist to them Brandy Carter who Cho says is artistic crossing between Lynda Carter and Bettie Page. It ran from '97 to '01 with some additional material for a few years after that. Here's a Liberty Meadows strip.
Only in The Dreaming Library does this exist…he stated his comic career working for Penthouse Comix along with Al Gross and Mark Wheatley. The three of them, likely after a very long weekend, thought up a six-part "raunchy sci-fi fantasy romp" called The Body, centering on an intergalactic female merchant, Katy Wyndon, who can transfer her mind into any of her "wardrobe bodies", mindless vessels that she occupies to best suit her mediations with the local alien races that she encounters while traveling the galaxy trading and trying to become wealthy.
The story was never published for several reasons. Even Kathy Keeton at Penthouse who published the raunchiest comics I've seen this side of The Hustler wasn't interested.
And then there's Jungle Girl Comics which was created by Frank Cho, James Murray, and Adriano Batista. Think a female Tarzan. Cho loves young females in bikinis that barely cover the parts that need covering.
Unlike Marvel, he wrote nothing at all, the cover art work he did there was definitely worth seeing, so at just let's do just that. His work there, well, other than the Harley Quinn covers which are decidedly on the silly edge of things are traditionally skewed and the Green Arrow one I've choose is certainly is too. And here it is. Yes I'm a really big Green Arrow fan, he's one of my favorite DC characters, particularly the modern take on him.  Here's a variant cover he did for volume 8, number 1 of that series.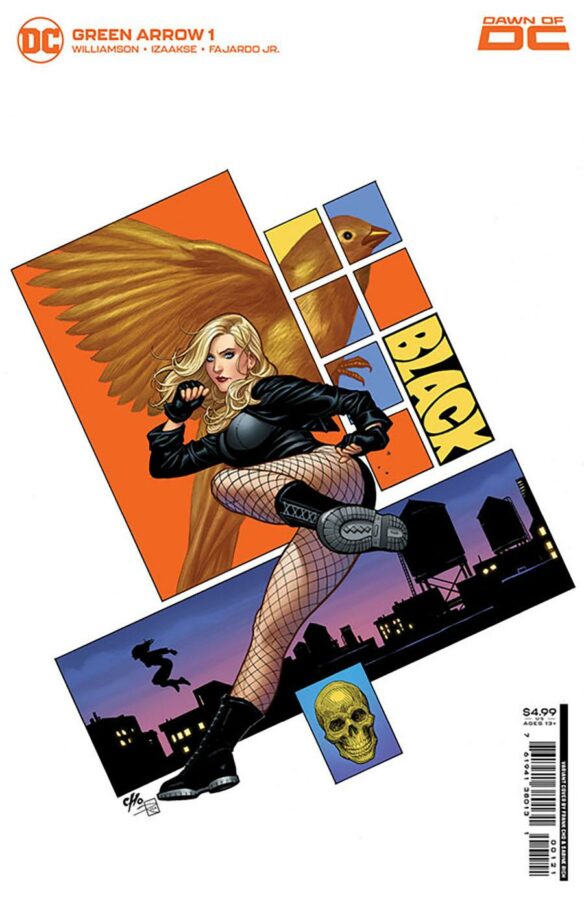 Name a character, Hulk, Spider-Gwen, Hellboy, Red Sonja, New Avengers, Batman, Harley Quinn, and Cho has likely had a hand in it.
(13) COMICS SECTION.
Grickle. Bruce D. Arthurs says, "Thought F770 readers might enjoy this cartoon from Graham Annable I came across on Mastodon. He's also on Instagram & Tumblr. Quite a few genre-related cartoons."
Tom Gauld squeezes in a lot of fun here:
(14) INTELLIGENT SFF ANIMATION. Camestros Felatpton would hate for you to miss "Pluto (Netflix)".
…It is the future (and arguably an alternative history) and humanity lives side by side with intelligent robots. Some robots are big machines, others very human like and some shift bodies (giant mech at work and human-like body at home). Robots have only recently acquirred civil rights, including the right to have families and bring up robot children. The world in general is just getting over the trauma of a recent (three years prior) war in central asia between the nation of Persia (which is depicted more like Iraq than Iran) and the United States of Thracia (basically the USA).

Inspector Gesicht is a very human-like detective with Europol and is given the task of investigating two recent murders: a famous and popular Swiss robot and a human who was instrumental in securing civil rights for robots. In both cases the killer left the victims heads adorned with horns…
(15) BOOKEND. Cute as the dickens. "Bilbo Baggins Home" from Geometryk.
Refresh your bookshelf, add a charming little world to your room, and also a wonderful collection and decoration. Let's stop using those old, ordinary bookends, okay?
(16) CELLING POINT. [Item by Steven French.] The beginning of The Rise of the Anthrobots:
Scientists have developed tiny robots made of human cells that are able to repair damaged neural tissue1. The 'anthrobots' were made using human tracheal cells and might, in future, be used in personalized medicine….

Levin and his team grew spheroids of human tracheal skin cells in a gel for two weeks, before removing the clusters and growing them for one week in a less viscous solution. This caused tiny hairs on the cells called cilia to move to the outside of the spheroids instead of the inside. These cilia acted as oars, and the researchers found that the resulting anthrobots — each containing a few hundred cells — often swam in one of several patterns. Some swam in straight lines, others swam in circles or arcs, and some moved chaotically.

To test the anthrobots' therapeutic potential, Levin and his colleagues placed several into a small dish. There, the anthrobots fused together to form a 'superbot', which the researchers placed on a layer of neural tissue that had been scratched. Within three days, the sheet of neurons had completely healed under the superbot. This was surprising, says study co-author Gizem Gumuskaya, a developmental biologist also at Tufts, because the anthrobot cells were able to perform this repair function without requiring any genetic modification. "It's not obvious that you're going to get that kind of response," she says….
From "Tiny robots made from human cells heal damaged tissue" in Nature.
(17) BLINDED BY THE LIGHT. [Item by SF Concatenation's Jonathan Cowie.] This week's Nature has a newsy article on space junk and its light pollution. Yes, it's getting to be a problem, but for the most part the article is the same old, same old. (We at SF2 Concatenation even had a piece on space junk in our first (print) edition way back in 1987.)
However this week's Nature news piece has a decidedly SFnal conclusion: our species might be trapping itself on Earth! (Behind a paywall.) "Bright satellites are disrupting astronomy research worldwide".
Any collisions in orbit will release many pieces of debris travelling at several kilometres per second, which can cause further collisions, and could lead to a runaway collisional cascade referred to as the Kessler syndrome. This is the worst-case scenario: the onset of full Kessler syndrome would prevent the use of communication, weather, science and astronautical satellites in low Earth orbit for decades. And it is unclear whether a spacecraft could even be launched successfully through the debris shell to enable travel to other planets. Humans would effectively be trapped on Earth by space junk, with multiple tonnes of vaporised metal being added to the upper atmosphere every day through re-entry.

Below: An astronomical picture of a galaxy marred by satellite trails. The research article which instigated this piece is here.
(18) EYEBALL ATTRACTORS. JustWatch lists the top 10 streaming programs for November 2023.
(19) SPELL CHECKING. "The 'Agatha: Darkhold Diaries' Featurette is Online, and It Reveals What's in Store for Agatha" – all explained at The Mary Sue.
So what does the preview reveal?

First off, we see Agatha in her new costume: an updated, more modern-looking version of her purple dress from WandaVision. However, we also see her in a couple of her Westview looks, including her '80s-era workout leotard. The sets seem to be new, though, so it's possible the show may reveal more of Wanda's hex from WandaVision. After all, when WandaVision ended, Agatha was still caught in Wanda's spell….
The slug with the video adds:
Emmy-nominee Kathryn Hahn reprises her role as Agatha Harkness for a brand new Disney+ Marvel series launching later in 2024. Agatha: Darkhold Diaries will reveal more about the character first introduced in Marvel Studios' WandaVision. Jac Schaefer, who served as head writer and executive producer on WandaVision, returns for Agatha: Darkhold Diaries.
[Thanks to Andrew Porter, John King Tarpinian, Chris Barkley, Kevin Standlee, Cat Eldridge, SF Concatenation's Jonathan Cowie, and Mike Kennedy for some of these stories. Title credit belongs to File 770 contributing editor of the day Cat Eldridge.]