(1) THEY'RE THE TOPS. Charlie Jane Anders' picks as "The 10 best science fiction and fantasy novels of 2023" are live at the Washington Post. (Registration required.)
People sometimes say science fiction basks in optimism for a better future, while fantasy is about nostalgia for an imaginary past. But this year's most notable fantasy books worked to uncover historical crimes, while science fiction warned of coming evils.

The good news? The best sci-fi and fantasy books of 2023 will give you hope and strength in the toughest times….
This is Anders' favorite:
'To Shape a Dragon's Breath,' by Moniquill Blackgoose

This remains my favorite book of the year. An Indigenous girl, Anequs, becomes the first person on Masquapaug island to hatch a dragon's egg in generations, which means she's forced to attend the dragon-rider academy run by the Anglish colonizers. If Anequs can't learn to behave like a proper Anglish girl, her adorable baby dragon will be put to death. A fascinating alternate history of North American colonization and a nuanced investigation of who gets left out of "civilization" form a worthy backdrop to a coming-of-age story that is cozy and hair-raising in equal measure.
(2) NOW AN EX-X USER. John Scalzi told Whatever readers today, "Yup, Done With the Former Twitter".
Elon Musk, the most unfathomably insecure and pathetic billionaire the world has ever seen, has gone mask-off antisemite, and that means that while I had already reduced my participation on the former Twitter, now I'm off it entirely. I'm keeping the account so that no one can swoop in and take a screenname that's been associated with me for the last fifteen years, but no more posting, and no more participation. Until and unless the service is sold to someone who isn't Musk (and possibly even then, depending), I'm out, I'm through, I'm done….

4. Leaving the former Twitter is also at this point more than a little bit of a relief. I've noted above that I restricted my use of it recently to just career news and updates, but even doing that has become an increasing depressing and unpleasant chore, like having a storefront in a part of town where the windows are increasingly soaped up and the sidewalks are full of trash, and there are a bunch of Nazis on the corner, leering at cars driving by. It was no fun, in a place where I used to have fun. It was, finally, time to go. So I've gone….
Best Fan Writer Hugo finalist Örjan Westin also announced today that Micro SF/F is off of X:
And Thomas M. Wagner of SFF180 : Science Fiction and Fantasy Book Reviews will drop off tomorrow.

(3) WHERE TO FIND NEXT YEAR'S VIRTUAL WORLDCON. The Glasgow 2024 Worldcon has announced what platforms they will use for their "Online Convention" experience.
… Our technical platform will be based on Hopin Events from RingCentral for video streaming and Discord for text interaction and community forums.

We will be providing more details on the platform in January 2024…
For those who will be attending the Worldcon in person, Glasgow 2024 also has posted their "Disease Mitigation Policy". It's too long and detailed for an excerpt to serve, so please click through to read the document.
(4) A BOLT FROM THE BLUE. "The quest for Zeus' lightning begins in new 'Percy Jackson and the Olympians' trailer" at MSN. Premieres Dec. 20 on Disney+.
Adapted from Rick Riordan's "The Lightning Thief," season 1 of the new Disney series sets our demigods on their first big journey — and introduces Lin-Manuel Miranda's Hermes.

What do you do when one of the most powerful weapons in existence goes missing? If you're the Greek gods of Olympus, the answer is simple: Have a bunch of kids go look for it….

Based on Rick Riordan's best-selling book series of the same name, Percy Jackson and the Olympians portrays a world in which the children of gods and humans gather at a sanctuary called Camp Half-Blood to hone their skills and learn how to defeat monsters such as the Minotaur, who makes its debut in the trailer. Season 1 will be drawn from Riordan's first book in the series, The Lightning Thief….
(5) JMS Q&A. Gizmodo interviews "J. Michael Straczynski on Harlan Ellison's Epic Sci-Fi Legacy".
io9: How did you narrow down Ellison's work for this collection? Considering how prolific and highly lauded he is, I'd think you couldn't even collect his award winning stories without filling two massive volumes.

J. Michael Straczynski: It was a process. I started with the stories that won the most awards—and there are a lot of those. Then I asked, "What are the fan favorites?" and "Which were Harlan's favorites?" Then, after aggregating all the material, I wrestled with the combination of stories that would provide readers with the best perspective on Harlan's body of work. Because he wrote all kinds of stories, I think it's important for readers to understand the breadth of his work. From the horror and bite of The Whimper of Whipped Dogs and I Have No Mouth and I Must Scream, to the humor of I'm Looking for Kadak, to the gentle fantasy of On the Downhill Side, and the semi-autobiographical storytelling in All The Lies That Are My Life—they're all there. I wanted the stories to serve as an entry point for readers who might not be familiar with Harlan's fiction, and my hope is that these stories will drive readers to his other works….
(6) EXTERMINATE! IN LIVING COLOUR. "Doctor Who reveals first look at new colourisation of The Daleks" – and the Radio Times posted BBC images from the work.
… The original episode's black-and-white visuals have been colourised for the new version and it will also feature a new score from composer Mark Ayres and new sound design.

The new colourisation will air on BBC Four on Thursday 23rd November – the date that marks six decades since Doctor Who's first transmission….
(7) STEM SCHOLARSHIP CREATED. The American Institute of Aeronautics and Astronautics' AIAA Foundation is partnering with Blue Origin's nonprofit Club for the Future to provide a $10,000 scholarship each year to one high school senior who has demonstrated an interest in pursuing a career in aerospace engineering. The scholarship is known as "AIAA and Club for the Future's Resilient Student Scholarship." Students can apply here. Applications are due by January 31, 2024.
Any high school senior enrolling in a STEM program at a college, university, or technical institution who matches other qualifying criteria will be eligible. In addition to the $10,000 award, the recipient will be matched with an AIAA professional member to serve as a mentor. The scholarship will be offered to high school seniors who are AIAA members; high school membership in AIAA is free. The scholarship is specifically designed to empower and inspire students who have faced unique challenges, including but not limited to: students with disabilities; from underrepresented racial and ethnic backgrounds, gender minorities, or disadvantaged socioeconomic circumstances; and first-generation college students.

Students who apply for this scholarship will be asked to describe why they are interested in aerospace and write about their vision for their future career in the aerospace field. They also must submit a short personal essay on their values of compassion, tenacity, and resilience, and how they have used one or all of these traits to problem-solve or accomplish something in their life.

This scholarship follows other support for aerospace young talent development provided to the AIAA Foundation by Blue Origin's Club for the Future, including a $1 million grant in 2021 for educational programs….
(8) ASIMOV'S AD. Is there a way they can deliver on this? Three of these four writers are dead.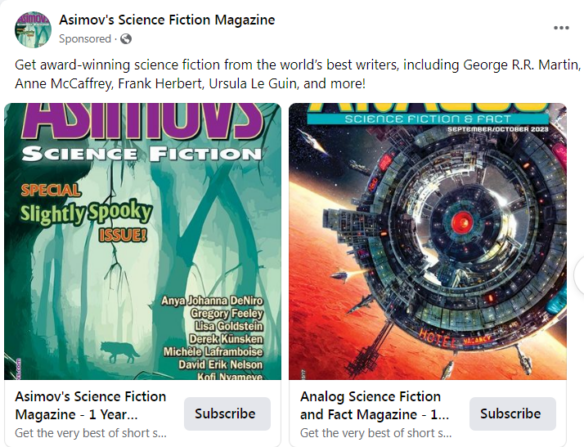 (9) TODAY'S BIRTHDAYS.
[Compiled by Cat Eldridge.]
Born November 16, 1939 — Tor Åge Bringsværd, 84. Writer, Editor, and Fan from Norway who co-founded Norwegian fandom. He and his university friend Jon Bing were huge SF readers in a country where SF publishing did not exist, so they founded, in 1966, the still-existing Aniara science fiction club and its fanzine at Oslo University. In 1967, they produced an SF short story collection Ring Around the Sun, which is known as the first science fiction by a Norwegian author. In 1967, they persuaded Gyldendal, the leading Norwegian publisher, into launching a paperback SF line with themselves as editors. Between then and 1980, this imprint released 55 titles which included the first Norwegian translations for many authors, such as Aldiss, Bradbury, Le Guin, and Leiber. He quit university to become a full-time SF writer, and since then has accumulated an impressive array of awards, including the Norwegian Academy Award, the Ibsen Award, and the Norwegian Cultural Council Award. (JJ)
Born November 16, 1942 — Milt Stevens. Law Enforcement Analyst, Fan, Conrunner, and Filer. Excerpted from Mike Glyer's tribute to him: "Milt attended his first Los Angeles Science Fantasy Society meeting in 1960 at the age of 17. By 1970 Milt was President of LASFS – he signed my membership card when I joined. He was somebody to look up to who also became a good friend. Milt won the Evans-Freehafer Award for service to the club in 1971. He was on the LASFS, Inc. Board of Directors for a couple of decades, and was Chair for around five years. After the original LASFS clubhouse was bought in 1973 Milt dubbed himself the 'Lord High Janitor,' having taken on the thankless task of cleaning the place. Milt was among the club's few nationally-active fanzine publishers and fanpoliticians. He put out an acclaimed perzine called The Passing Parade. He coedited and bankrolled later issues of my fanzine Prehensile. For many years he was a member of the Fantasy Amateur Press Association (FAPA). He was Chair of LA 2000, the original Loscon (1975), and later the 1980 Westercon. And he co-chaired L.A.Con II (1984), which [held] the attendance record. He was made Fan GoH of Loscon 9 and Westercon 61." (Died 2017.) (JJ)
Born November 16, 1952 — Candas Jane Dorsey, 71. Canadian writer who's the winner of the Prix Aurora Award, and the Otherwise Award for gender-bending SF, for her Black Wine novel. She's also won a Prix Aurora Award for her short story, "Sleeping in a Box". She's one of the founders of SF Canada was founded as an authors collective in the late Eighties as Canada's National Association of Speculative Fiction Professionals. At the present time, she appears to have little available from the usual digital suspects.
Born November 16, 1952 — Robin McKinley, 71. Beauty: A Retelling of the Story of Beauty and the Beast was her first book. It was considered a superb work and was named an American Library Association Notable Children's Book and an ALA Best Book for Young Adults. Rose Daughter is another version of that folktale, whereas Spindle's End is the story of Sleeping Beauty, and Deerskin and two of the stories that you can find in The Door in the Hedge are based on other folktales. She does a superb telling of the Robin Hood legend in The Outlaws of Sherwood. Among her novels that are not based on folktales are Sunshine, Chalice and Dragonhaven. Her 1984 The Hero and the Crown won the Newbery Medal as that year's best new American children's book. She was married to Peter Dickinson from 1991 to his death in 2015, they lived together in Hampshire, England where she still lives. They co-wrote two splendid collections, Water: Tales of Elemental Spirits and Fire: Tales of Elemental Spirits. I'd be very remiss not to note her Awards, to wit a Newbery Honor for The Blue Sword, then a Newbery Medal for The Hero and the Crown, a World Fantasy Award for Anthology/Collection for Imaginary Lands, as editor, a Phoenix Award Honor Book for Beauty and a Mythopoeic Fantasy Award for Adult Literature for Sunshine. Impressive indeed!
Born November 16, 1962 — Darwyn Cooke. Canadian comics artist, writer, cartoonist, and animator. His work has garnered myriad Eisner, Harvey, and Joe Shuster Awards. He did the art on Jeph Leob's Batman/The Spirit one-off, and did everything including the cover art on the most delicious Catwoman: Selina's Big Score. Cooke adapted for IDW five of Donald Westlake's Richard Stark penned hardboiled Parker novels. (Died 2016.)
Born November 16, 1976 — Lavie Tidhar, 47. The first work I read by him was Central Station which won a John W. Campbell Memorial Award for Best Science Fiction Novel. It certainly deserved that accolade! The next work by him I experienced was The Bookman Histories in which Mycroft Holmes is murdered and, well, everything of a pulp nature gets tossed into alternate history England. Both absolutely brilliant and completely annoying at the same time. Unholy Land is another of his fascinating alternate histories. The last work I read by him was Neom, a sequel of sorts to Central Station, which might be one of his best works, period.
(10) COMICS SECTION.
(11) SCION OF GAMERGATE. [Item by Mike Kennedy.] The man just convicted of assaulting Nancy Pelosi's husband has blamed his initial radicalization on anti-feminist gamers on YouTube. "Man Who Attacked Nancy Pelosi's Husband Says Anti-Feminist Gaming YouTubers Radicalized Him" at Gamespot.
David DePape, who assaulted former US House Speaker Nancy Pelosi's husband Paul, has stated that anti-feminist gaming content on YouTube led him to radicalization.

A report from KQED quotes DePape's testimony on the third day of the federal trial against him, in which he described the process of his radicalization. DePape claimed that he once politically opposed Trump, until he began consuming right-wing conspiracy media. DePape was an avid gamer who encountered videos about the misogynistic harassment campaign Gamergate while looking up walkthroughs and tips.

DePape said, "I'd look up a [strategy to defeat a video game] boss, and it'd be a total different person, and these people would talk about how toxic Anita Sarkeesian is, over and over and over. I wanted to find out what was going on here. I wanted to get both sides of the story."

This led to him consuming more and more right-wing internet content. DePape would listen to YouTubers and podcasters like James Lindsay, Jimmy Dore, and Glenn Beck for at least six hours a day, and even longer on weekends. While listening, he would play video games on mute in the Richmond garage where he lived without basic amenities like a bed and shower….
(12) USE THE TORT, LUKE. "Star Wars developer strikes back at class-action claim" reports Axios.
A class action complaint over a Star Wars video game's missing content should be dismissed in part because the lead plaintiff already got a rebate, the game's developer has argued in court.

Why it matters: The novel suit is seeking damages because a game maker didn't deliver on the promise they offered when promoting their game.

Details: The case, Malachi Mickelonis v. Aspyr Media, Inc., revolves around the cancellation of the "Restored Content DLC," a free update that had been planned for the 2022 Nintendo Switch re-release of beloved 2004 role-playing game Star Wars: Knights of the Old Republic II.
The update would have restored storyline content that was infamously cut before the original game shipped. Those missing bits have so far been available only on the PC version via a mod made by fans who salvaged the content from the game's code.
Aspyr announced in June it was canceling the DLC, and offered download codes for other Star Wars games to compensate.
In July Mickelonis sued, saying he "felt completely duped" and sought damages over alleged violations of California consumer law. Late last month, the suit was modified to include 17 more plaintiffs.
Driving the news: Aspyr Media asked a court last month and this month to toss out the suit, according to court filings reviewed by Axios….
(13) AI SPEAKS FOR THE DEAD. The late French singer Edith Piaf will narrate her own biopic with a voice re-created by AI. The Piaf estate approved. "Edith Piaf AI-Generated Biopic in the Works at Warner Music" in Variety.
"La Vie en robots"? More than 60 years after her death, legendary French singer Edith Piaf will come to life in a new biopic that will use AI to recreate her voice and image.

Warner Music Group announced that it has partnered with Piaf's estate for "Edith," set to be a 90-minute film set in Paris and New York from the 1920s to the '60s. (Piaf, known as the "Sparrow of Paris," died Oct. 10, 1963.) The film will be narrated by an AI-generated facsimile of Piaf's voice and promises to "uncover aspects of her life that were previously unknown."

"Animation will provide a modern take on her story, while the inclusion of archival footage, stage and TV performances, personal footage and TV interviews will provide audiences with an authentic look at the significant moments of Piaf's life," the music company said in announcing the project….
(14) ARSENIC AND OLD PAGES. American Bookbinders Museum delivers a webinar about "The Poison Book Project" on November 18.
Dr. Melissa Tedone will discuss the discovery of arsenic in Victorian-era bookcloth and how this discovery influences our understanding of Euro-American bookbinding materials and manufacture. The Poison Book Project investigates the use of toxic heavy metals (including arsenic, chromium, lead, and mercury) in mass-produced 19th-century books. Come learn how and why toxic compounds were used in bookbinding and how the Poison Book Project is using crowd-sourced data to enhance our understanding of this aspect of book history. Melissa will also share how to identify potentially 'poison books,' tips for safer handling, and how interested bibliophiles can contribute to this research.

… Melissa is the lead conservator of the Poison Book Project, an investigation of toxic colorants in nineteenth-century Victorian bookcloth, and a founding co-chair of the Bibliotoxicology Working Group. "BibTox" is an international cohort of conservators, conservation scientists, librarians, and health and safety professionals who are developing best practices for the identification and management of historical bookbinding collections with potentially toxic components.
(15) VIDEO OF THE DAY. Fanac.org has posted a video conversion of a Sixties fan film "Frankenstein…[a not so gory version]" produced in 8mm by the Delta SF Film Group.
This 1963 fannish production of "Frankenstein … [a not so gory version]" from the Delta SF Film Group, starts with a panorama across a mad scientist's lab featuring "Entrails of Aldiss" and "bheer". It's an entertaining and complete story in less than 4 minutes, starring British fans of the day. You'll be (un)amazed at the special effects, the pathos of the story and its shocking ending. It's good fun, and Delta group went on to produce many more short films. Bill Burns, who provided this and other Delta Films tells us "The individual films date from 1963 to 1970, and were made on 8mm silent film to which a magnetic stripe was later added and the sound dubbed on. They were then shown mercilessly at club meetings and Eastercons, and suffered accordingly." For more about the Delta SF Film Group, see the Fancyclopedia article and see the text of Bill's talk at Manunicon (2016 Eastercon) at https://efanzines.com/Alien/indexd.htm
[Thanks to Chris Barkley, Cat Eldridge, SF Concatenation's Jonathan Cowie, Lise Andreasen, Steven French, Mike Kennedy, Andrew Porter, and John King Tarpinian for some of these stories. Title credit belongs to File 770 contributing editor of the day Daniel Dern.]