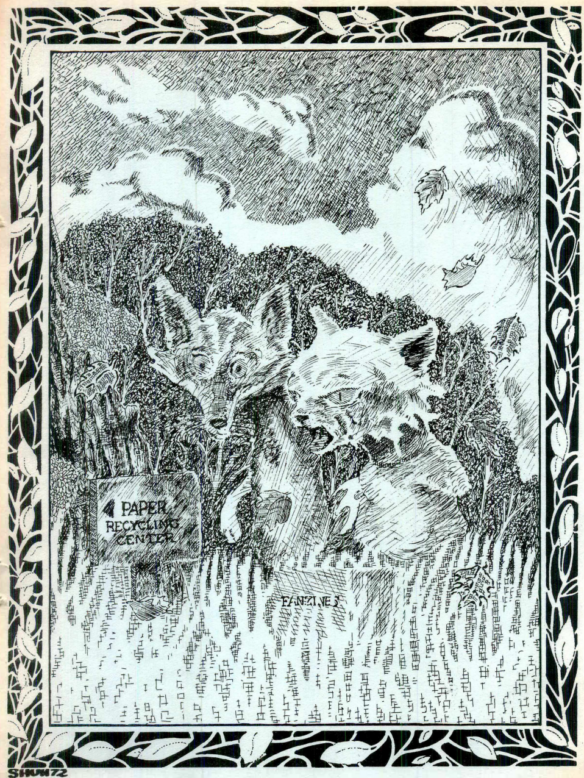 By Gary Farber: Holy mother of Ghu-Ghu, Foo-Foo, and Roscoe!
I sent Jim Shull a Friend Request a few years ago after noticing him on Facebook and realizing that he must be the great fan artist of the 1970s, whose work filled fanzines such as Energumen, Xenium, Outworlds, The Spanish Inquisition, and so many other fanzines of that era that it seems as if he must have given "fillostrations" to nearly every quality fan publisher of the time.
Best known then as "James Shull."
He also graciously sent me illos that I used in my crappy little fanzines when I was a teenager.
He wasn't just prolific, but one of the most talented fan artists to ever grace science fiction fanzine fandom, being nominated for the Best Fan Artist Hugo no less than five times: 1973, 1975, 1976, 1977, and 1978.
As well, he was nominated for the Best Serious Fanartist in the classic fanzine FAAn Awards (set up by a committee of peers that included well over a dozen well-known faneditors and fanzine fans; I was the administrator of the very last iteration — sort of) in 1975, 1976, 1977, and 1978. (Technically the "Fanzine Activity Achievement Awards." And not to be confused with the FAAN Awards subsequently given out by the CORFLU convention; these were earlier.)
Sometime after that he seemed to disappear from fandom.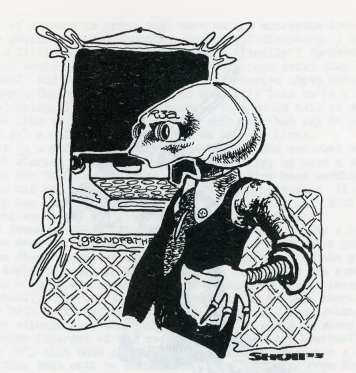 I never noticed him posting on Facebook and more or less forgot that he was on here. His entire set of posts to this day consists of only a handful of photos.
He has "only" 243 Friends on FB and we have only two mutual Friends, Hank Luttrell and Leah A. Zeldes, which did help confirm for me that he was the Jim Shull I knew from fandom when I first noticed his FB presence, many years ago now.
So I was just reading a Washington Post piece looking back on "Why Disney's pricey Star Wars hotel is such a galactic failure."
And around the 30th 'graph, I read: "The intense experience created a niche audience for the Starcruiser, said former Imagineer Jim Shull, who retired in 2020 after more than three decades."
And I thought: No! I couldn't be! Could it? Could that be OUR Jim Shull? The former fan who was so esteemed in science fiction fandom, who sent little old me fan illustrations when I was barely a kid? The fan artist so renowned and appreciated in our little world of science fiction fanzines almost fifty years ago?
Was he now Twitter Jim Shull, the Disney "Imagineer for 33 years"?
The Jim Shull whose barebones entry (as so many entries are) in Fancyclopedia III says:
(March 9, 1952 – ) James Shull, a fan artist, was particularly active in the 1970s. His distinctive and well-executed art seemed like it appeared in nearly every major fanzine. He published the fanzine Crifanac and was co-editor of The Essence.
The Jim Shull so modest that there's no entry whatsoever for him in Wikipedia?
I found his website, https://jimhshull.com/ titled "Creative City: Random Musings On Disney And More."
And… no, it wasn't our Jim Shull.
Aww, who am I kidding? OF COURSE IT TURNED OUT to be "our" Jim Shull!
While his small blog is filled with entries and photos of Disney parks, his entry from September 22nd, 2022 gave it away:
The Name Change.

Sharp eyed readers will note that the name of this blog has changed. No, the purpose of the blog didn't change, just the name, because I have embraced the spirit of adaptive reuse. I have resurrected the name used decades ago for one of my fanzines. And, for those of you who don't know or recall fanzines they were a form of communication among fans (thus the name) in the age before the internet.

Mimeo, ditto or hectograph these self made and self distributed publications connected people before social media. And some of the people connected went on to careers in the industry that they wrote about. The image here is by Tim Kirk, a person who enjoyed an important and productive career at Walt Disney Imagineering. Tim's art work is the cover to an even earlier fanzine of mine entitled 'Esoteric', and makes word play on my name.

So, the title has changed but not the purpose.
And his first post on his blog, dated January 22nd, 2022, includes:
…and I was lucky to be a participant or be a witness during a period of over three decades when The Walt Disney Company extended their theme park resort locations from four to twelve standing on the sites during construction of Euro Disneyland through Shanghai Disneyland Resort. In my career I've been a theme park designer, animation story director, a syndicated comic strip writer, and other 'stuff'.

This is my place to delve deeper into the stories of projects and my experiences being part of bringing them to life. We'll begin shortly.
A Tweet of his from September 21st, 2021:
So: OH MY FUCKING GOD, nice to see you, Jim Shull! How the hell are you?
And thanks for those fillos!
I can't help but be reminded of 1976, when I started sending mail — "snail mail" was the only kind of mail of our day, if you weren't on DARPA-net — to Richard Bergeron at the Dakota apartment building in Manhattan, began getting mail back, and then went by his apartment to drop off two large boxes of sf fanzines of the last five or so years, hoping to tempt him back into active fanzine fandom. Which worked, and resulted in Bergeron's resuming publishing, including the massive 500-page-plus volume of Warhoon collecting most of the works of Walt Willis.
Classic fanzine fandom was always a small world, and its remnants are even smaller, but it was and is — or at least can be — a proud and lonely thing to be a fan.
Examples of James Shull's work can be found at Fanac.org in its files for such fanzines as Energumen, Outworlds, Prehensile, Xenium, and Spanish Inquisition.
[Reprinted from Facebook with permission.]
---
ENDNOTE: Here are the paragraphs from the Washington Post article "Why Disney's Star Wars hotel failed" that reference Jim Shull:
The intense experience created a niche audience for the Starcruiser, said former Imagineer Jim Shull, who retired in 2020 after more than three decades. The ideal guest had to be a Star Wars fan who was willing to drop a wad of cash on less-than-luxury accommodations. Some visitors found windowless rooms, bunk-bed setups and the lack of a pool unappealing.

"No matter how good the product is, no matter how good the hotel was, there just aren't enough people who could come night after night to make that a success financially," he said.

… Shull said that based on his decades of experience at the company, he would estimate investments in Galactic Starcruiser reached nearly $1 billion between construction, tech development and operation. Disney has not said how much the project cost and declined to address the $1 billion estimate. The company acquired the Star Wars rights in a $4.5 billion deal for Lucasfilm in 2012….

… Shull said the company would have examined every option before shutting down such a major enterprise. He also said that if the Starcruiser were losing money now, the company would not want it to lose money in the next fiscal year, which starts in October….