(1) UNCLE HUGO'S NEWS. Don Blyly's latest email says a sign for Uncle Hugo's has finally been installed on the west side of the building. He hopes the new awnings will be installed on the front of the building within the next few weeks, replacing the ones with the old tenant's name.
Blyly also pointed out that a couple of the local TV stations have done reports on the Uncles re-opening. "You can see the new building, Ecko acting as store dog, and me explaining things to the camera."
Minneapolis TV station KARE 11 has the text on its website, and the video on YouTube: "The Uncles are back: After burning to the ground, beloved Minneapolis bookstores find new home".
"I had more and more people who were saying, 'Please, please reopen. We can't find anything like what you were offering,'" Blyly said.

Blyly originally opened Uncle Hugo's Science Fiction Bookstore in 1974. While attending law school and reading constitutional law in the library, Blyly decided he needed something fun to do as a pastime. He had about $1,500 in student loan money left and decided to use it to open a bookstore.

After opening Uncle Hugo's, customers came to him requesting the same type of concept but for mysteries. When Blyly couldn't find anyone interested in doing it, he opened Uncle Edgar's Mystery Bookstore at a separate location in 1980.

Eventually, both bookstores were housed in the same building off of Chicago Avenue. That remained the Uncles' home until the building burned down in the early morning hours of May 30, 2020.
Here's the report aired by Minneapolis CBS affiliate WCCO: "Beloved sci-fi bookstore, in business since the '70s, reopens".
(2) FANTASTIC FICTION AT KGB FUNDRAISER. Matt Kressel says the "Fantastic Fiction reading series at the KGB Bar" Gofundme needs a push to get over the finish line.
Thank you to all those who've donated so far! We're more than two-thirds of the way to our goal of funding the series for three more years! We have just under $2,000 left to go. Can you help us reach our goal this week?
(3) SEAT OF FAME. Richard Wilhelm offers Facebook readers the opportunity to claim a piece of history.
Is anyone interested in owning a piece (actually, three pieces) of Science Fiction history? We have a couch and two matching chairs to give away to someone. They are a set from the 30s; overstuffed with mohair upholstery and carved wood arms. They were owned by my folks, authors Kate Wilhelm and Damon Knight, since the 1960s, and just about every author you've heard of from the realm of Science/Speculative Fiction mid-century forward, has sat in these at one time or another. Yes, there's a caveat… They all need TLC to bring them back to excellent condition. Plus, you'd need to pick them up in North Portland.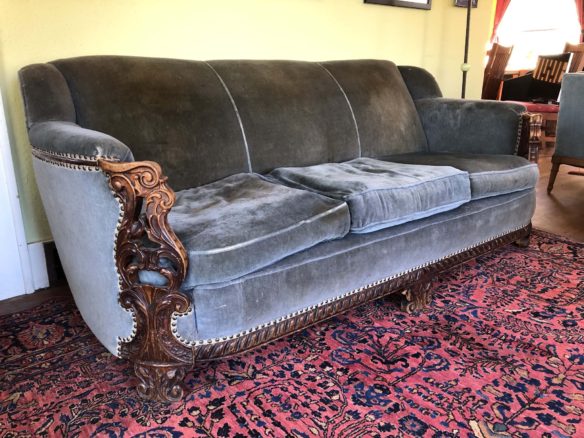 (4) DISNEY V. FRANCE. The Guardian explains why Disney is resisting France's protective regulations. "Disney threatens to bypass French cinemas unless release rules are relaxed".
Disney is to release Black Panther: Wakanda Forever in French cinemas next month but has warned that future blockbusters may go straight to its streaming service, Disney+, unless France relaxes film distribution rules….

…Earlier this year, Disney took a stance against the French "windowing" system, which is designed to protect its industry and national TV industries, sending the animated action adventure Strange World straight to Disney+.

Films that are not released in French cinemas are not subject to the restrictive windowing regulations. In January, French film authorities shortened the window between film release and availability on subscription streaming services to 15 months but Disney was not a signatory of the new deal.

Disney said it had decided to push ahead with the cinema release of the Black Panther sequel because the French authorities have acknowledged that the windowing system "needs to be modernised"….
(5) EMIGRATING TO MARS. [Item by Martin Morse Wooster.] This is from an interview with Elon Musk by Financial Times editor Roula Khalaf, behind a paywall in the October 8 Financial Times. X is Elon Musk's son.
Musk's biggest worry is the preservation of life beyond Earth. His solution is to populate Mars. 'Something will happen to Earth eventually, it's just a question of time. Eventually the sun will expand and destroy all life on Earth, so we do need to move at some point, or at least be a multi-planet species,' he says. 'You have to ask the question: do we want to be a space-flying civilisation and a multi-planet species or not?' I'm not sure what i think but Musk is emphatic. 'It's a question of what percentage of resources we should devote to such an endeavour? I think if you say 1 per cent of resources, that's probably a reasonable amount.

Would Musk himself join the pioneering colony on Mars? 'Especially if I'm growing old, I'll do it. Why not?' he says. But how useful would he be to Mars if he's too old? 'I think there's some non-trivial chance of dying, so I'd prefer to take that change hen I'm a bit older, and saw my kids grow up. Rather than right now, when little X is only two-and-a-half. I think he'd miss me.'
(6) HANDMADE BY MARTIANS. Meanwhile, the Guardian observes artists who are exploring what life might be like if a human colony was established on Mars. "An other-worldly art project: the artists furnishing a Martian house".
There is a "Martian guitar" manufactured out of recycled pieces of wood and metal with an amp fashioned from a coffee pot. A surprisingly comfortable chair, plus rug and curtains, have been created out of the sort of parachute material a Mars landing craft may have used.

The bedding in the sleeping pods has been decorated with dyes from plants, while a "mist shower" has been made using bits of hose and garden irrigation sprays.

Over the last 10 weeks, the people of Bristol have been taking part in an other-worldly art project – to furnish a "Martian house" that materialised, golden and gleaming, on the harbour-side in Bristol during the summer only using recycled and repurposed objects….
(7) THE PLANET WITH PUMPKINS. The previous two items perhaps set the mood for us to link to Library of America's "Story of the Week", Ray Bradbury's "The Emissary". It's a Halloween tale, not a Mars story, so the segue isn't completely smooooth. Here's an excerpt from the introduction.
"Halloweens I have always considered wilder and richer and more important than even Christmas morn," Ray Bradbury wrote in an article for the October 1975 issue of Reader's Digest. "1928 was one of the prime Halloween years. Everything that was grandest came to a special climax that autumn."

Ray Bradbury was eight years old that year, and his beloved Aunt Neva, 19 years old and recently graduated from high school, owned a Model-A Ford. Sometime around October 20, he recalls in his essay, she said to Ray, "It's coming fast. Let's make plans." She drove him and his brother, Skip, around the countryside to collect pumpkins, corn sheaves, and other decorations to embellish their grandparents' house for the upcoming festivities. "Then, everything set and placed and ready, you run out late from house to house to make certain-sure that each boy-ghost remembers, that each girl-become-witch will be there." The big night arrived . . . and then it was over.

"365 darn days until Halloween again. What if I die, waiting?" Ray complained.

"Why, then," Skip responded, "you'll be Halloween. Dead people are Halloween."
(8) STAND BY FOR SCIENCE FICTION IN REAL LIFE. "Next pandemic may come from melting glaciers, new data shows" – the Guardian has the story.
The next pandemic may come not from bats or birds but from matter in melting ice, according to new data.

Genetic analysis of soil and lake sediments from Lake Hazen, the largest high Arctic freshwater lake in the world, suggests the risk of viral spillover – where a virus infects a new host for the first time – may be higher close to melting glaciers.

The findings imply that as global temperatures rise owing to climate change, it becomes more likely that viruses and bacteria locked up in glaciers and permafrost could reawaken and infect local wildlife, particularly as their range also shifts closer to the poles.

For instance, in 2016 an outbreak of anthrax in northern Siberia that killed a child and infected at least seven other people was attributed to a heatwave that melted permafrost and exposed an infected reindeer carcass. Before this, the last outbreak in the region had been in 1941.

To better understand the risk posed by frozen viruses, Dr Stéphane Aris-Brosou and his colleagues at the University of Ottawa in Canada collected soil and sediment samples from Lake Hazen, close to where small, medium and large amounts of meltwater from local glaciers flowed in….
(9) EDGAR ALLAN POE NEWS. [Item by Martin Morse Wooster.] This is a group that is trying to create a national theater for Poe's works and is having a performance as a fundraiser in Baltimore. They have a trailer! "Poe's Blood, Sweat & Fears".
(10) MEMORY LANE.
1990 — [By Cat Eldridge.] Ray Bradbury Theater's "And the Moon Be Still as Bright" (1990)
It was so cold when they first came from the rocket into the night that Spender began to gather the dry Martian wood and build a small fire. He didn't say anything about a celebration; he merely gathered the wood, set fire to it, and watched it burn. — opening words of "And the Moon Be Still as Bright"
Ahhhh Bradbury. So have I mentioned that I'm madly in love with the fiction that he wrote? Well I am. Damn great stuff it is. And he himself was a wonderful individual as well.
So this Scroll we're looking at the Ray Bradbury Theater's production of "And the Moon Be Still as Bright" thirty-two years ago. It was first published in Thrilling Wonder Stories in the June 1948 issue where it would've cost you twenty cents, and three dollars today adjusted for inflation, still a bargain I'd say. It would become part of The Martian Chronicles when that was first published by Doubleday two years later. It was the lead story there.
OK SPOILERS LIKE AUTUMN LEAVES ABOUND NOW.
This is the third of the Mars expeditions and they find nothing but leaves. Leaves that are actually the ashes of the Martins all killed by a human disease. One member of the expedition is so outraged by this as he thinks that he can foresee how humanity and its culture will supplant all which remains of Mars.
He being an archaeologist vows to become a Martian himself so he goes off to a nearby town to study what he thinks is Martian culture and wage a one-man war against humanity. Of course the only humans are his fellow crew whose defilement of Mars he hates. He kills several when he returns to them.
Studying the other is a long passion in archaeology and anthropology as Le Guin as noted more than once. It's interesting to Bradbury use it here in telling a story. And yes it often ends this badly.
END OF SPOILERS. JOIN ME BY THE FIRE FOR SOME MULLED CIDER.
David Carridine as Spender is absolutely perfect here though the rest of the cast are really little than barely sketched out. The production values are ok but it really didn't convince me that they were anywhere but on a backlot in California. But then Star Trek with a much higher budget didn't either.
Look I think Bradbury is one of the great writers and be forewarned that this is one of his more brutal undertakings from start to finish. It's not one of his comfortable stories at all.
Want to watch it? You're spoiled for streaming choices as it is on Amazon, Freevee, Peacock, Pluto and Vudu which might well be a record.
(11) TODAY'S BIRTHDAYS.
[Compiled by Cat Eldridge.]
Born October 19, 1921 — George Nader. In 1953, he was Roy, the leading man in Robot Monster (a.k.a. Monster from Mars and Monsters from the Moon) acknowledged by him and others to be the one of the worst SF films ever made. He showed up in some decidedly low budget other SF films such as The Human Duplicators, Beyond Atlantis and The Great Space Adventure. Note: contrary to popular belief, Robot Monster is not in the public domain. This movie is under active copyright held by Wade Williams Distribution. (Died 2002.)
Born October 19, 1940 — Michael Gambon, 82. Actor of Stage and Screen from Ireland who is best known to genre fans as Professor Albus Dumbledore from the Hugo-nominated Harry Potter films (a role he picked up after the passing of Richard Harris, who played the character in the first two films). He also had roles in Toys (for which he received a Saturn nomination), Mary Reilly, Sleepy Hollow, and the Hugo finalist Sky Captain and the World of Tomorrow. He has had guest roles in episodes of The Jim Henson Hour, Doctor Who, and Tales of the Unexpected, and played an acerbic storyteller and possibly tomb robber in Jim Henson's The Storyteller. He has also done voice roles in animated features including Fantastic Mr. Fox, Paddington, and The Wind in the Willows, in which he voiced very nicely The Badger.
Born October 19, 1943 — L.E. Modesitt, Jr., 79. Writer of more than 70 novels and 10 different series, the best known of which is his fantasy series The Saga of Recluce. He has been Guest of Honor at numerous conventions, including a World Fantasy Convention. He won a Neffy for his Endgames novel, and a Utah Speculative Fiction Award for his Archform: Beauty novel.
Born October 19, 1943 — Peter Weston. Writer, Editor, Conrunner, and Fan from England who founded the Birmingham Science Fiction Group (the longest-lived fan group in the U.K.), and chaired several conventions, including the 1979 Worldcon. His fanzines Zenith and Speculation received 8 Hugo nominations, and his memoir With Stars in My Eyes: My Adventures in British Fandom was a finalist for the Hugo Award for Best Related Book. He was the TAFF delegate in 1974, was Guest of Honor at several conventions, was given a Lifetime Achievement Award by the long-running fanzine convention Corflu, and received the Doc Weir Award (the UK Natcon's Life Achievement Award). (Died 2017.) (JJ)
Born October 19, 1945 — John Lithgow, 77. He enters SF fame as Dr. Emilio Lizardo / Lord John Whorfin in The Adventures of Buckaroo Banzai Across the 8th Dimension. He'll later be in Santa Claus: The Movie, Harry and the Hendersons, Shrek, Rise of the Planet of the Apes, Interstellar and the remake of Pet Sematary. Oh, and he voiced The White Rabbit on the Once Upon a Time in Wonderland series! He of course is Dick Solomon in 3rd Rock from the Sun. And for true genre creds, he voiced the character of Yoda in the NPR adaptations of The Empire Strikes Back and Return of the Jedi.
Born October 19, 1946 — Philip Pullman, 76. I'll confess that I like his Sally Lockhart mysteries, both the original versions and the Billy Piper-led series, far more than I enjoy the Dark Materials series as there's a freshness and imagination at work there I don't see in the latter. Oh, some of the latter is quite good — I quite enjoyed Lyra's Oxford and Once Upon a Time in The North as the shortness of them works in their favor.
Born October 19, 1948 — Jerry Kaufman, 74. Writer, Editor, Conrunner, and Fan who, while in Australia as the DUFF delegate, created a Seattle bid for the Australian Natcon which actually won the bid (temporarily, for a year, before it was overturned and officially awarded to Adelaide). He was editor of, and contributor to, numerous apazines and fanzines, two of which received Hugo nominations. With Donald Keller, he founded and ran Serconia Press, which published criticism and memoirs of the SF field. He served on the Board of Directors of the Clarion West Writers Workshop and served as Jurist for the James Tiptree, Jr., Memorial Award. He has been Fan Guest of Honor at several conventions, including a Westercon. (JJ)
Born October 19, 1990 — Ciana Renee, 32. Her most known genre role is as Kendra Saunders / Hawkgirl on Legends of Tomorrow and related Arrowverse series. She also showed up on The Big Bang Theory as Sunny Morrow in "The Conjugal Configuration", and she played The Witch in the theatrical production of Daniel Wallace's Big Fish: A Novel of Mythic Proportions. She was also Elsa in the theatrical production of Frozen.
(12) THE QUEER ANTICAPITALIST AFROFUTURIST HIP HOP MUSICAL EXTRAVAGANZA YOU'VE ALL BEEN WAITING FOR. [Item by Olav Rokne.] Look, I'll admit it, I'm full-on campaigning to see Neptune Frost get shortlisted for a Hugo Award. It's a supremely complex, layered, and challenging piece of cinema. It tackles a wide variety of social justice issues that need to be addressed within fandom (human rights, exploitation, the marginalization of the Global South). And it is the product of creative voices who have all-too-often been silenced in fandom and in broader discourse.
Put bluntly, this isn't the feel-good Hollywood corporate refined product that often ends up on awards ballots. This is a raw anarchic kaleidoscope of narrative art that takes work to understand and appreciate. I've seen it three times, and keep finding new layers to appreciate. Like, I'm still mentally chewing on the line "To imagine hell is a privilege."

Honestly, it's kind of great.
The four of us from my blogging group who watched it all argued about the content for most of a year before being able to craft a review: "A Unanimous Gold Mine Of Subtext" at the Hugo Book Club Blog.
If you've ever wondered what it would be like if Sun Ra and Samuel R. Delany had tried to make The Matrix, the answer is something like Neptune Frost….
(13) NIGHTMARE AT 351,000 FEET. This excerpt from Shat's memoir discusses his trip into space aboard Blue Origin. "William Shatner: My Trip to Space Filled Me With Sadness" in Variety.
So, I went to space.

Our group, consisting of me, tech mogul Glen de Vries, Blue Origin Vice President and former NASA International Space Station flight controller Audrey Powers, and former NASA engineer Dr. Chris Boshuizen, had done various simulations and training courses to prepare, but you can only prepare so much for a trip out of Earth's atmosphere! As if sensing that feeling in our group, the ground crew kept reassuring us along the way. "Everything's going to be fine. Don't worry about anything. It's all okay." Sure, easy for them to say, I thought. They get to stay here on the ground.During our preparation, we had gone up eleven flights of the gantry to see what it would be like when the rocket was there. We were then escorted to a thick cement room with oxygen tanks. "What's this room for?" I asked casually.

"Oh, you guys will rush in here if the rocket explodes," a Blue Origin fellow responded just as casually.

Uh-huh. A safe room. Eleven stories up. In case the rocket explodes.

Well, at least they've thought of it….
(14) IMMERSIVE MIYAZAKI. [Item by Martin Morse Wooster.] In the Washington Post, three reporters led by Michelle Ye Hee Lee visit the Studio Ghibli theme park which has just opened. "We visited Studio Ghibli's long-awaited theme park. It's a sensory delight."
… Don't expect rides or human-sized characters posing for photos. The vision for the 494-acre park is unique to the vision of Hayao Miyazaki, the studio's 81-year-old co-founder, and is an homage to his legacy as a groundbreaking animator and creator. (The idea came about in 2017 after Miyazaki made what seemed to be his final retirement announcement, though he is now working again.)

The result is believed to be Japan's first "hybrid park," built around an existing public space to minimize harm to the environment. Mindful of sustainability, its creators sourced as many materials as possible locally. The main attraction — Ghibli's Grand Warehouse — is converted from an indoor pool attached to an indoor skating rink.

As with Ghibli films, you cannot help but appreciate the nature surrounding you. It's designed so that you feel like you are living in an actual Ghibli world, rather than visiting a fantasy. The result: a sensory overload that is peaceful at the same time….
(15) NAME THAT DECADE. I was looking at a fanzine recently added to the archives at Fanac.org. Can you guess the decade when this evergreen argument was uttered?
Why do you consider that those readers of science fiction who might vote if they didn't have to join the Worldcon to do so would add so much to the validity of the voting? Like most award contests (though not all of them) the HUGO election is a popularity contest, and all sorts of factors come into play to influence the voters — including when he gets around to voting, what his friends are touting, and even what particular temperament he is in that morning — rather than merely the literary merit of the book under discussion. So the addition of one more pack of popularity selectors is not going to raise the quality very much. Might as well give the con members the voting privilege so they'll help the con in its early money-raising stages.
It comes from Bruce Pelz' Rache 6 published in March 1962.
(16) ON THE TUBE IN BRITAIN. Some all-time classics included here."From the Triffids to Blake's 7 and Ghostwatch: the BBC's greatest cult classics". The Guardian makes its picks.
The Beeb has seemingly spent a century trying to scar the nation. Here are its most influential – and most terrifying – cult hits so far.

R.U.R. (Rossum's Universal Robots) (1927 on radio, 1938 on TV)

Sadly nothing survives of either production beyond the listings in the Radio Times, but in February 1938 an excerpt of Karel Čapek's play R.U.R. (Rossum's Universal Robots) was broadcast on the BBC's fledgling television service. The play gave the English language the word "robot" and is widely credited as the first ever piece of television science-fiction. The BBC made a radio version in 1927, and would remake the play several times over the years in both mediums, including in 2022.
(17) LET US NOW PRAISE FAMOUS MEN. Netflix dropped a vignette in which Wednesday stars Jenna Ortega, Catherine Zeta-Jones, and showrunners Alfred Gough and Miles Millar discuss the creative genius that Tim Burton brings to the series.
(18) VIDEO OF THE DAY. [Item by Martin Morse Wooster.] In "Honest Trailers: She-Hulk, Attorney-At Law," the Screen Junkies say that She-Hulk "fights the half of humanity Thanos forgot to worry about — men," including "dating-App dinguses" who think "How much do you dead lift?" is a good line for picking up She-Hulk. The show "isn't as bad as the Twitter-bashers made it out to be, but isn't good enough to defend." But after that statement, Epic Voice Guy faces his greatest foe — the YouTube algorithm!
[Thanks to Cat Eldridge, Mike Kennedy, Martin Morse Wooster, JJ, Olav Rokne, Jeffrey Smith, Steven French, John King Tarpinian, Andrew Porter, Chris Barkley, and Michael Toman for some of these stories. Title credit belongs to File 770 contributing editor of the day Daniel Dern.]