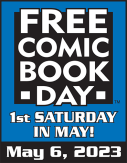 FREE COMIC BOOK DAY DRAWS NEAR. May 6 is Free Comic Book Day, a single day when participating comic book specialty shops across North America and around the world give away comic books to anyone who comes in. Check out the Free Comic Book Day Catalog and see what's available. Different shops have policies on how many free comics you can receive, but you will receive at least one free comic if you enter a participating shop location. Use the Store Locator tool to find the shop near you.
MARVEL'S FREE COMIC BOOK DAY TITLES. Marvel's contribution to this year's Free Comic Book Day is packed with new beginnings including a prelude to the X-Men's next era, Fall of X; an introduction to Jonathan Hickman's bold upcoming projects, G.O.D.S. with Valerio Schiti and Ultimate Invasion with Bryan Hitch; the debut of a new Venom villain, and so much more.
Marvel Comics will also spotlight creators and characters from different cultures and communities in a special installment of the Marvel's Voices program, Free Comic Book Day: Marvel's Voices, and deliver all-ages Spider-Man adventures in Free Comic Book Day 2023: Spidey & His Amazing Friends #1 so that even the youngest readers won't go home empty handed!
FREE COMIC BOOK DAY 2023: AVENGERS/X-MEN #1
Be the first to arrive at this year's game-changing Hellfire Gala in a story by the current X-Men creative team: writer Gerry Duggan and artist Joshua Cassara. This year's HELLFIRE GALA will be more dramatic than ever, and the tragic events of the night will lead mutantkind directly into FALL OF X.

Then join Duggan and superstar artist Javier Garrón as they reassemble the Avengers Unity Squad to navigate the dangers of FALL OF X and solve the mystery of the new Captain Krakoa in a prelude story to their upcoming run of UNCANNY AVENGERS. This action-packed story will also feature the debut of the STARK SENTINELS, a new line of mutant hunters who cause major havoc on the night of the Gala and in the pages of Duggan's INVINCIBLE IRON MAN.

And score a sneak peek at one of the most talked about launches of the year, Jonathan Hickman and Valerio Schiti's G.O.D.S., an extraordinary epic at the crossroads of magic and science where Marvel's cosmic pantheon will be boldly reimagined.
FREE COMIC BOOK DAY 2023: SPIDER-MAN/VENOM #1
Dive into the next story arc of Zeb Wells' run of AMAZING SPIDER-MAN with a story that sees the return of two classic Spidey villains! Featuring incredible art by Patrick Gleason, this thrilling story also unleashes the full potential Spider-Man's new suit!

Then, web-swing over to the symbiote side of things with current VENOM masterminds, Al Ewing and Cafu! The pair will pull back the curtain on a secret chapter in symbiote history where an experiment went horribly wrong…. Say hello to new Venom villain, FLEXO!

And get a glimpse into Jonathan Hickman and Bryan Hitch's ULTIMATE INVASION, a saga that begins with a daring mission to revive the Ultimate Universe but ends with the promise of something all-new and vastly different than anything that's come before…
FREE COMIC BOOK DAY 2023: MARVEL'S VOICES #1
Spotlighting creators and characters across Marvel's diverse and ever-evolving universe, this book will include a range of stories from previous Marvel's Voices issues that star Ms. Marvel, Luke Cage, Wave, and more! Plus a brand-new Ironheart adventure by writer John Jennings and Paris Alleyne that debuts her deadly new nemesis, KHEM!
FREE COMIC BOOK DAY 2023: SPIDEY & HIS AMAZING FRIENDS #1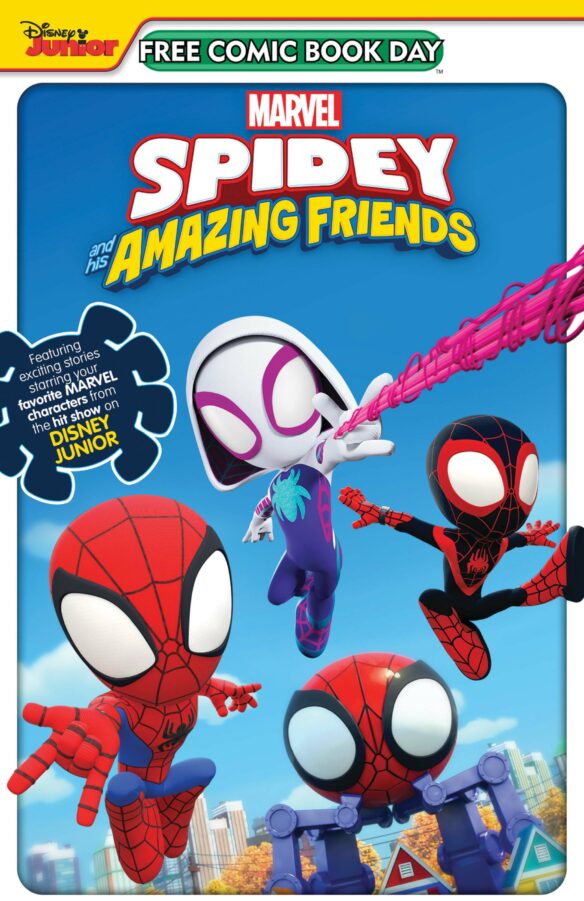 Swing into adventure with Spidey, Ghost-Spider, and Miles as they face off against Green Goblin, Doc Ock and more in this spectacular special. Filled with easy-to-read comic stories based on the hit Disney Junior show, this book is perfect for the youngest readers aged 5-7. Young fans will even be able to test their wall-crawling skills with thrilling interactive activity pages! Kids will love this not-to-be-missed comic: the perfect primer for the newest generation of Spider-Fans!
Check out the covers now. For more information, visit Marvel.com.
[Based on a press release.]