(1) THE SIX-BODY PROBLEM. There's a new trailer out for China company Tencent's production of The Three-Body Problem, which is fueling comparisons with another adaptation forthcoming from Netflix. Will Netflix' Benioff and Weiss, veterans of Game of Thrones, overlook Chinese cultural subtleties? Will China's censors allow Tencent to address all of them? Variety begins with a gloss of the trailer: "Tencent's First 'Three-Body Problem' Trailer Sparks Netflix Rivalry":
…The new Tencent trailer opens with an exchange between two off-screen male voices.

"Have significant accidents ever happened to you in your life?" one asks. "No," the other replies. "Then your life is a sort of accident," the first continues. "But isn't that the case for most people?" the second voice asks, and the first responds, to a backdrop of ominous music with deep foghorn-type blasts that would feel at home on the "Tenet" soundtrack: "Then most people's lives are all accidents."

In a final line, a woman's voice says: "This is the end of humanity."
Several companies have been trying to produce adaptations of Liu Cixin's novel.
Tencent nabbed the rights to adapt the story into a TV series way back in 2008. Now, its version is entering a crowded playing field.

There are at least two other "Three-Body Problem" adaptations in the works in China, including a film backed by IP rights holder Yoozoo Group that may have fallen permanently to the wayside and an animated take from Gen Z- and anime-leaning platform Bilibili.

Netflix struck its own deal with Yoozoo to create an English-language adaptation, announcing the project last September. The American version is being co-created by "Game of Thrones" big shots David Benioff and Dan Weiss alongside Alexander Woo ("True Blood"), and will be directed by Hong Kong's Derek Tsang ("Better Days").
Chinese social media is pressuring Tencent to do a good job:
"'Three-Body' is a story full of Chinese elements told by we Chinese from our Chinese perspective and ways of thinking …to express Chinese people's values, worldview and view of the universe. These things are very hard for foreigners to express — only we are able to do it," wrote one popular comment in response to Tencent's Weibo recent post about the new trailer.

It was outranked by the top comment, liked 27,000 times. It read: "Buck up — you better not lose to Netflix's nonsense version."

While nationalist users maintained that only a Chinese production could capture the essence of the story, the novel is set during the Cultural Revolution, which could pose a problem for censors in a Chinese retelling.
Incidentally, here is the trailer Bilibili released in 2019 for its anime adaptation of The Three-Body Problem.
(2) CHIP IN. M.C.A. Hogarth is closing in on the $10K stretch goal of a Kickstarter launched to fund a collection of MilSF short stories set in her Peltedverse: To Discover and Preserve by M.C.A. Hogarth. Two days left – you might want to get in on this.
Alysha Forrest, my oldest Peltedverse character, needs some love, aletsen. Not only does she need some, she deserves it. Though fewer in number than the books comprising the Eldritch canon, the Stardancer/light milsf books of the Peltedverse sell well and without nearly the advertising the Eldritch canon has. I have a bunch of short stories that belong to this side of the timeline, but they're all Patreon extras or newsletter gifts… and I get questions about where new readers can find them all the time! That means it's time to collect them for retail. And while I have five stories (enough to credibly issue a single volume), they're pretty short and could use some friends.
Hogarth has given fans this incentive to push the Kickstarter past $10K:
…if we do, rather than continuing to pad the collection indefinitely, I will promise to finish writing the latest Alysha novel. This is the only way to guarantee you see it within the next year, since it's otherwise indefinitely backburnered….
(3) CLI-FI. The Arizona State University Center for Science and the Imagination today premiered a prerecorded video event, "Cli-Mates: Climate Futures Conversations from Scotland," in collaboration with the Scottish SF magazine Shoreline of Infinity. The event features the SF authors Kim Stanley Robinson, Ken MacLeod, Xia Jia, Libia Brenda, Gabriela Damián Miravete, Tendai Huchu, and Hannah Onoguwe, along with several scholars and editors.
During the UN Climate Change Conference, or COP26 (1-12 November, 2021), the eyes of the world are on Glasgow, Scotland, where nations, civil-society groups and activists are meeting to determine the shape of global action in the face of the climate crisis. At this moment, perhaps more than any other, we need creatively expansive thinking about possible futures—stories that help us chart a path towards a just, equitable, sustainable global civilization.
(4) FOUNDATION FX. Apple TV+ shows how it's done in "Foundation — Bringing Visions To Life Featurette".
From the start, the world's most dedicated visual effects artists and costume designers established that Foundation would be a show unlike any other on TV.
(5) ONE-TIME OPPORTUNITY. [Item by Bruce D. Arthurs.] I came across this interesting-sounding item on Twitter: On November 18, the Smithsonian Archives department presents Yesterday's Tomorrows: Visions of the Future on Film, a 1984 film that was part of a NMAH exhibit on "how past visions of the future continue to impact our present and inspire even further futures", plus commentary from current conservator William Bennett. This is part of the Smithsonian 175th Film Fest, presenting films from the Smithsonian archives.
Due to copyright restrictions, viewers will need to register for a Zoom webinar; the presentation won't be streamed or saved on YouTube.
(6) FROM AREA 57. "Heinz Debuts 'Marz Edition' Ketchup Made With Tomatoes Grown in Mars-Like Conditions" reports Smithsonian Magazine.
On Monday, Heinz revealed its first bottle of "Marz Edition" ketchup, a special recipe made with tomatoes grown in extreme temperature and soil conditions similar to the Red Planet. The team of scientists behind the celestial sauce, which is the product of two years of research and development, says the delicious achievement also advances the possibility of long-term food production on Mars.

"We're so excited that our team of experts have been able to grow tomatoes in conditions found on another planet and share our creation with the world," Cristina Kenz of Kraft Heinz said in a statement. "From analyzing the soil from Martian conditions two years ago to harvesting now, it's been a journey that's proved wherever we end up, Heinz Tomato Ketchup will still be enjoyed for generations to come."…
Also note that The Late Show with Stephen Colbert last night included a "cold open" of Hunt's trying to one-up Heinz with Uranus catsup—"The best tasting thing to come out of Uranus."
(7) MEDIA BIRTHDAY.
1966 — Fifty-five years on NBC, Star Trek's "The Corbomite Maneuver" first aired. It was the tenth episode of the first season, and it was written by Jerry Sohl who had previously written for Alfred Hitchcock Presents, The Outer Limits, The Invaders, and The Twilight Zone. (His other Trek scripts were "Whom Gods Destroy" and "This Side of Paradise".) It was the first episode that was filmed in which Kelley played Dr. Leonard McCoy, Nichols played Lt. Uhura and Whitney played Yeoman Rand, though we first saw them in "The Man Trap". Clint Howard, brother of Ron Howard, played Balok, and Ted Cassidy, who was Gorn in "Arena" and the android Ruk in "What Are Little Girls Made Of?", voiced the Balok puppet here. So did critics like it? No idea as I can't find any contemporary reviews of it though media critics now love it. Most put it in their top twenty of all the Trek series episodes. It was nominated for a Hugo at NyCon 3, the year that "The Menagerie" won. "The Naked Time" was also nominated that year.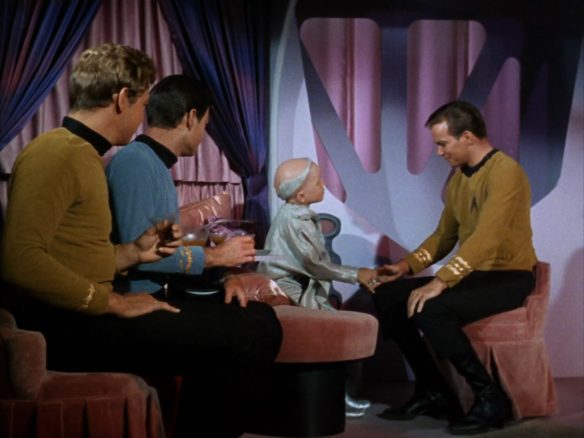 (8) TODAY'S BIRTHDAYS.
[Compiled by Cat Eldridge.]
Born November 10, 1924 — Russell Johnson. Best known in what is surely genre for being Professor Roy Hinkley in Gilligan's Island. His genre career started off with four Fifties films, It Came from Outer Space, This Island Earth, Attack of the Crab Monsters and The Space Children. He would later appear in both the Twilight Zone and Outer Limits. On ALF, he would appear as Professor Roy Hinkley in "Somewhere Over the Rerun".  (Died 2014.)
Born November 10, 1932 — Roy Scheider. First genre role was as Dr. Heywood R. Floyd in 2010, the sequel to 2001: A Space Odyssey. His other major genre performance was as Captain Nathan Bridger in the SeaQuest DSV series. He also has roles in The Curse of the Living Corpse (his first acting role, a very low budget horror film), one of The Punisher films, Dracula III: Legacy and Naked Lunch which may or may not be genre.  I do not consider the Jaws films to be genre, but you may do so. (Died 2008.)
Born November 10, 1943 — Milt Stevens. Today is indeed his Birthday. On the day that OGH announced his unexpected passing did a wonderful post and y'all did splendid commentary about him, so I'll just send you over there. (Died 2017.)
Born November 10, 1950 — Dean Wesley Smith, 71. Editor of Pulphouse magazine which fortunately Black Gate magazine has provided us with a fascinating history which you can read here. Pulphouse I first encountered when I collected the works of Charles de Lint who was in issue number eight way back in the summer issue of 1990. As a writer, he is known for his use of licensed properties such as StarTrek, Smallville, Aliens, Men in Black, and Quantum Leap. He is also known for a number of his original novels, such as the Tenth Planet series written in collaboration with his wife, Kristine Kathryn Rusch. 
Born November 10, 1955 — Roland Emmerich, 66. Usually I don't touch upon SJW affairs here (well I do when I want to) but he's very strong campaigner for the LGBT community, and is openly gay so bravo for him!  Now back to his genre credits.  The Noah's Ark Principle was in '84 by him written and directed by him as his thesis after seeing Star Wars at the Hochschule für Fernsehen und Film München. Moon 44 followed which likely most of you haven't seen but now we get to his Hollywood films, to wit Universal Soldier, The High Crusade (yes, the Poul Anderson novel — who's seen it?), Stargate, Independence Day… no, I'm going to stop there. Suffice it to say he's created a lot of genre film. And oh, he directed Stonewall, the 2015 look at that historic event which I know isn't genre or genre adjacent but is worth noting. 
Born November 10, 1960 — Neil Gaiman, 61. Where to start? By far, Neverwhere is my favorite work by him followed by the Sandman series and Stardust. And I sort of liked American Gods. Coraline is just creepy. By far, I think his best script is Babylon 5's "Day of The Dead" though his Doctor Who episodes, "The Doctor's Wife" and "Nightmare in Silver" are interesting, particularly the former. 
Born November 10, 1971 — Holly Black, 50. Best known for her Spiderwick Chronicles, which were created with fellow writer and illustrator Tony DiTerlizzi, and for the Modern Faerie Tales YA trilogy.  Her first novel was Tithe: A Modern Faerie Tale. (It's very, very good.) There have been two sequels set in the same universe. The first, Valiant, won the first Andre Norton Award for Young Adult Science Fiction and Fantasy.  Doll Bones which is really, really creepy was awarded a Newbery Honor and a Mythopoeic Fantasy Award.  Suffice it to say if you like horror, you'll love her. 
Born November 10, 1982 — Aliette de Bodard, 39. Author of the oh-so-excellent Xuya Universe series. Her Xuya Universe novella "The Tea Master and the Detective" won a Nebula Award and a British Fantasy Award, and was nominated for the Hugo and World Fantasy Award. "The Shipmaker", also set herein, won a BSFA Award for Best Short Fiction. Her other major series is The Dominion of the Fallen which is equally lauded. She's nominated for a Hugo this year for her "The Inaccessibility of Heaven" novelette. 
(9) COMICS SECTION.
(10) TAKE THE CASH AND THE CREDIT, TOO. [Item by David Doering.] I caught a reference on Cracked about writer credits and comics. A fan asserted that comic writers only starting get credit regularly thanks to Marv Wolfman. I thought, hmmm… Really?
What do you know? It's true. The Comics Code Authority in the 60s banned mention of "wolfman" in comics, BUT "In DC Comics' House of Secrets #83, the book's host said that the story was told to him by 'a wandering wolfman.'" Comically [pun intended], DC then credited the story to "Marv Wolfman", making the reference OK by the CCA.
After that, writers asking and getting credit for their stories. See full details and scans of the comics at CBR.com: "Comic Book Urban Legends Revealed #119".
(11) FALSE GRIT. Joel Haver assures us "You'll never find a more sandy planet of sand." So this is a Dune parody, you assume? Hell no, it's a Star Wars parody – go figure.
(12) TAKING THE MICK OUT. "Guardians of the Galaxy: Cosmic Rewind Blueprints Leaked Online" – and Blog Mickey has a bucket full of what leaked.
A set of blueprints reportedly belonging to the Guardians of the Galaxy: Cosmic Rewind attraction have leaked online. The attraction, which has been under construction for more than 4 years, will open sometime in 2022 at EPCOT. The blueprints pull the curtain back a bit on a project that Disney has only slowly revealed information about. It's unclear how accurate the blueprints are to the final product, but lets take a look….

…As we saw in early construction photos, roller coaster track weaves throughout the building, but the blueprints show just how much track is inside.

It's unclear how much of the roller coaster track is for the actual attraction, and how much is for the storage, but the majority of the attraction will take place in the large gravity building that was built from scratch for this attraction….
(13) THE GALACTIC HERO BILL. John Scalzi revealed his true net worth today. Don't you agree that "Billions and billions" is a phrase that suits an sf writer very well?
(14) SHOW NO MERCY. James Davis Nicoll's latest Young People Read Old SFF introduces the panel to Ursula K. Le Guin's 1971 "Vaster Than Empires and More Slow."
"Vaster" takes place in Le Guin's Hainish setting, where for the most part other worlds are inhabited by variant humans seeded in the ancient past by the Hainish. "Vaster" is an exception: first contact here is not between two branches of humanity but between humans and something very alien. Let's see what the Young People make of it!
Sort of like a Beat Bobby Flay episode, the young judges record a split decision.
(15) LOST IN SPACE TRAILER. Official trailer for the third and final season of Lost in Space. All episodes drop December 1 on Netflix.
(16) UNHOBBLING THE HUBBLE. [Item by Mike Kennedy.] This latest problem started 23 October. NASA seems cautiously optimistic that the Hubble can make a full recovery. WIRED has the story: "NASA Tries to Save Hubble, Again".
THE HUBBLE SPACE telescope, one of the most famous telescopes of the 20th and 21st centuries, has faltered once again. After a computer hardware problem arose in late October, NASA engineers put Hubble into a coma, suspending its science operations as they carefully attempt to bring its systems back online.

Engineers managed to revive one of its instruments earlier this week, offering hope that they will end the telescope's convalescence as they restart its other systems, one at a time. "I think we are on a path to recovery," says Jim Jeletic, Hubble's deputy project manager.

The problem began on October 23, when the school bus-sized space probe's instruments didn't receive a standard synchronization message generated by its control unit. Two days later, NASA engineers saw that the instruments missed multiple such messages, so they put them in "safe mode," powering down some systems and shuttering the cameras.

Some problems are fairly easy to fix, like when a random high-energy particle hits the probe and flips a bit on a switch. But when engineers encounter an unknown problem, they're meticulous. The slow process is designed to protect Hubble's systems and make sure the spacecraft continues to thrive and enable scientific discovery for as long as possible. "You don't want to continually put the instruments in and out of safe mode. You're powering things on and off, you're changing the temperature of things over and over again, and we try to minimize that," Jeletic says.

In this case, they successfully brought the Advanced Camera for Surveys back online on November 7. It's one of the newer cameras, installed in 2002, and it's designed for imaging large areas of the sky at once and in great detail. Now they're watching closely as it collects data again this week, checking to see whether the error returns. If the camera continues working smoothly, the engineers will proceed to testing Hubble's other instruments….
(17) VIDEO OF THE DAY. [Item by Martin Morse Wooster.] In "Eternals Pitch Meeting" on Screen Rant, Ryan George, in a spoiler-filled episode, has the writer say he has characters including "a speedster, a lady with ancient weapons, and a super-strong guy who shoots beams from his eyes." The producer asks, "Yeah, yeah, and Batman and Aquaman. Are you sure you're in the right office?" The writer also can't explain why introducing 10 superheroes we've never seen before can't be done in an eight-hour Disney Plus show instead of a single movie.
After Avengers Endgame, Marvel has the massive task of not only continuing their surviving heroes' stories, but also making audiences care about all new characters and all-new universe-threatening events. Their latest movie Eternals takes on the gargantuan challenge of introducing ten new superheroes AND explaining why they're only showing up now. This thing's getting complicated. Eternals definitely raises some questions. Like should this have been a Disney Plus show? Why do the Eternals only have important conversations at Golden Hour? Why is introducing humans to weapons not considered interfering in their affairs? Wouldn't the Celestials be interested in stopping Thanos if they need a massive population to birth celestials? Why didn't Kumail have a shirtless scene after all that work!? What have these post-credit scenes become?! To answer all these questions and more, step inside the Pitch Meeting that led to Eternals! It'll be super easy, barely an inconvenience.
[Thanks to Mike Kennedy, Martin Morse Wooster, JJ, John King Tarpinian, N., Chris Barkley, Lise Andreasen, David Doering, Joey Eschrich, Bruce D. Arthurs, M.C. Hogarth, Andrew Porter, Michael Toman, and Cat Eldridge for some of these stories. Title credit belongs to File 770 contributing editor of the day Jon Meltzer.]