(1) OCTAVIA BUTLER BIRTHDAY MONTH. The Los Angeles Public Library and The Huntington are commemorating Octavia E. Butler's birthday throughout June in a joint celebration of her work, her legacy, and her community.
The virtual events listed below are all free, open to the public, and family-friendly, ideally for ages 10 and up.
(2) CHAMBERS ON TOUR, AT YOUR COMPUTER. Becky Chambers is doing a virtual tour for her upcoming book A Psalm for the Wild-Built. Tor.com has information about it, including links to the independent bookstores hosting each stop on the tour. It looks like she'll be appearing in tandem with different SFF authors on Zoom at each of the three "stops" — Martha Wells, Sarah Gailey, and T.J. Klune + Alix E. Harrow. "Join Becky Chambers on Tour for A Psalm for the Wild-Built".
In A Psalm for the Wild-Built, it's been centuries since the robots of Panga became self-aware and walked into the wilderness. When one walks right into the life of a tea monk named Dex, an entirely unexpected connection is formed. The robot wants to know what people need. But how can one person answer that question? As Sarah Gailey said, "This is a book that, for one night, made me stop asking 'what am I even for?' I'm prescribing a preorder to anyone who has ever felt lost. Stunning, kind, necessary."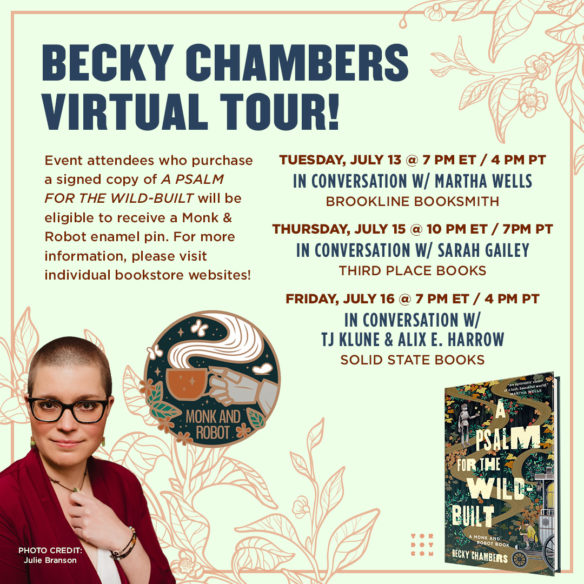 (3) POST-PANDEMIC BOX OFFICE. Variety reports "'A Quiet Place Part II' Smashes Pandemic Era Records":
…The movie business is breathing a little easier after Paramount's A Quiet Place Part II roared to $57 million over the Memorial Day Weekend. It's a sign that cinemas are back after more than a year of pandemic era closures, capacity restrictions, and skittish customers.
Deadline says, "That's a number which isn't too far from the $60 million which the John Krasinski-directed sequel was anticipated to do in its three-day opening pre-pandemic."
(4) REJECTION SLIP-UP. Remember, it's not paranoia if they're really out to get you. Joe Vasicek lays out his evidence in "Short Stories, Author Blacklists, and Navigating Woke Science Fiction".
Last year, I had a short story published in the anthology Again, Hazardous Imaginings: More Politically Incorrect Science Fiction. Not only was it one of my highest paying short story sales to date, but it also made it onto the Tangent Online 2020 Recommended Reading List with a *** rating, their highest tier. Only 13 out of 293 stories on the list received that honor—and making the list at all was an accomplishment!

But a funny thing happened after the anthology came out: for a stretch of several months, I stopped receiving personalized rejections for my short story submissions, and instead got only form rejections. Normally when I write a cover letter for a short story submission, I mention the last three markets that I was published in. For example: "My stories have recently appeared in Again, Hazardous Imaginings; Twilight Tales LTUE Benefit Anthology, and Bards and Sages Quarterly (forthcoming)." In a typical month, I'll get maybe a dozen or so form rejections and a couple of personalized rejections, depending on how many stories I have out on submission.

Back in March, I started to notice that I wasn't getting any personalized rejections. Suspecting that my publication credit in Again, Hazardous Imaginings wasn't helping me, I decided to change things up and only list my publication credits for stories listed in Locus Magazine's Year In Review issue. My thinking was that all of the Hugo and Nebula eligible markets give their yearly reports in that issue, and since all of the editors want to acquire stories that are likely to win awards, a publication credit in one of those markets is more likely to get them to pay attention.

Lo and behold, I started getting personalized rejections again….
(5) YOUNG PEOPLE. In the latest Young People Read Old SFF, James Davis Nicoll turns the panel loose on "The Longest Voyage" by one of my favorite writers, Poul Anderson.
… Anderson's curious views of the narrative role of women at the time of writing surely do not pertain to The Longest Voyage because The Longest Voyage contains no women to speak of. As well, Anderson has chosen for the setting an Earthlike moon of a gas giant, perhaps the first plausible example of such a world I recall encountering. Perhaps this story highlights Anderson's strengths in a way to which the Young People will respond?
(I can't bear to look!)
(6) HIGHER-TECH CONEHEADS. [Item by Martin Morse Wooster.] Even Daleks, after a hard day of extermination, need to take an ice cream break!
(7) MEDIA BIRTHDAY.
June 1, 1984 — On this day in 1984, Star Trek III: The Search for Spock premiered. It was written and produced by Harve Bennett, and directed by Leonard Nimoy. It starred William Shatner, DeForest Kelley, James Doohan. George Takei, Walter Koenig, Nichelle Nichols, Merritt Butrick and Christopher Lloyd. Critics generally loved it and thought Nimoy caught the feel of the series; audience reviewers at Rotten Tomatoes currently give it a 61% rating. It would finish third at Aussiecon Two behind 2010: The Year We Made Contact which won the Best Dramatic Presentation Hugo and Ghostbusters which came in second.
(8) TODAY'S BIRTHDAYS.
[Compiled by Cat Eldridge and John Hertz.]
Born June 1, 1858 – Frank Ver Beck. Wood engravings; illustrations for Collier's, The Ladies' Home Journal,Scribner's; superlatively, animals, sometimes in a style eventually called anthropomorphic. Twenty books, e.g. A Handbook of Golf for Bears, and in particular Baum's Magical Monarch of Mo. (Died 1933) [JH]
Born June 1, 1914 — George Sayer. His Jack: C. S. Lewis and His Times which won a Mythopoeic Scholarship Award for Inkling Studies and is considered one of the best looks at that author. He also wrote the liner notes for the J. R. R. Tolkien Soundbook, a Cadmeon release of Christopher Tolkien reading from excerpts from The Silmarillion, The Hobbit and The Lord of The Rings. (Died 2005.) (CE)
Born June 1, 1928 — Janet Grahame Johnstone, and Anne Grahame Johnstone. British twin sisters who were children's book illustrators best remembered for their prolific artwork and for illustrating Dodie Smith's The Hundred and One Dalmatians. They were always more popular with the public than they were critics who consider them twee. (Janet died 1979. Anne died 1988.) (CE)
Born June 1, 1940 — René Auberjonois. Odo on DS9. He's shown up on a number of genre productions including Wonder Woman, The Outer Limits, Night Gallery, The Bionic Woman, Batman Forever, King Kong, Star Trek VI: The Undiscovered Country, Enterprise, Stargate SG-1 andWarehouse 13. He's lent both his voice and likeness to gaming productions in recent years, and has done voice work for the animated Green Lantern and Justice League series. (Died 2019.) (CE)
Born June 1, 1947 — Jonathan Pryce, 74. I remember him best as the unnamed bureaucrat in The Adventures of Baron Munchausen. He's had a long career in genre works including Brazil, Something Wicked This Way Comes as Mr. Dark himself, Pirates of the Caribbean: The Curse of the Black Pearl and Pirates of the Caribbean: At World's End as Governor Weatherby Swann, The Brothers Grimm, in the G.I. Joe films as the U.S. President and most recently in The Man Who Killed Don Quixote as Don Quixote. (CE)
Born June 1, 1947 – Adrienne Fein. One of three Founding Mothers of CMUSFS (Carnegie Mellon Univ. SF Society). Introduced Arthur Hlavaty to apas . Known as a loccer (loc or LoC = letter of comment, the blood of fanzines) but no slouch as a fanartist, e.g this cover for Granfalloon 1 and interiors there, this one for It Comes in the Mail 18, interiors for Riverside Quarterly. (Died 1990) [JH]
Born June 1, 1947 – Chris Moore, age 74. Four hundred sixty covers, fourscore interiors. Collection, Journeyman. Here's a cover for The Stars My Destination; one for The City and the Stars; one for Hexarchate Stories. Here's his story. [JH]
Born June 1, 1948 – Mike Meara, age 73. Nova Award for Best Fanwriter. Administered the FAAn (Fan Activity Achievement) Awards at Corflu 32 (fanziners' con; corflu = mimeograph correction fluid, once indispensable). Fanzine, A Meara for Observers. [JH]
Born June 1, 1954 — Michael P. Kube-McDowell, 67. A filker which gets major points in my book. See him with The Black Book Band here: "Back in Black". And yes, I'm stalling while I try to remember what of his I've read. I'm reasonably sure I've read both of his Isaac Asimov's Robot City novels, and now I can recall reading Alternities as well. God, it's been twenty years since I read him. I'm getting old. (CE)
Born June 1, 1958 – Ian Gunn. Seven dozen interiors in Banana Wings, Focus, and like that; in Program Books for ConFrancisco the 51st Worldcon, ConAdian the 52nd, Aussiecon 3 the 57th; logo for The Frozen Frog; 10 Ditmars (one won by a story!), 2 FAAn (Fan Activity Achievement) Awards, 1 Hugo at last. (Died 1998) [JH]
Born June 1, 1965 — Tim Eldred, 56. Author and illustrator of Grease Monkey, a most excellent humorous take on space operas and uplifting species. As an illustrator alone, he was involved in Daniel Quinn's superb The Man Who Grew Young. (CE)
Born June 1, 1994 – Caighlan Smith, age 27. Two novels, two shorter stories. Has read A Doll's House, Les Misérables, Frankenstein, two Gormenghast books (the third on its way). [JH]
(9) COMICS SECTION.
(10) BIG BEZOS IS WATCHING. According to The Guardian, "Amazon US customers have one week to opt out of mass wireless sharing".
Amazon customers have one week to opt out of a plan that would turn every Echo speaker and Ring security camera in the US into a shared wireless network, as part of the company's plan to fix connection problems for its smart home devices.

The proposal, called Amazon Sidewalk, involves the company's devices being used as a springboard to build city-wide "mesh networks" that help simplify the process of setting up new devices, keep them online even if they're out of range of home wifi, and extend the range of tracking devices such as those made by Tile.

But Sidewalk has come under fire for the apparent lack of transparency with which Amazon has rolled out the feature, as well as the limited time available for users to complete the tricky process required to opt out. Other critics have expressed concerns that failing to turn the setting off could leave customers in breach of their internet service provider's terms and conditions.

"Amazon Sidewalk is a shared network that helps devices work better," the company said in a Q&A document for users. "In the future, Sidewalk will support a range of experiences from using Sidewalk-enabled devices, such as smart security and lighting and diagnostics for appliances and tools."…
(11) CHAPTERS TAKES THE CASH AND LETS THE CREDIT GO? [Item by James Davis Nicoll.] I somehow overlooked Donna Scott's Best British SF series, now in its fifth year. Went to Chapters Indigo to order it. Chapters credits the anthologies to various famous male authors.
(12) JDA'S SPORTS REPORT.
(13) REVENGE IS A DISH BEST SERVED OLD. [Item by Mike Kennedy.] "Ancient Athenian Curse Jar Contained Dismembered Chicken And List Of Intended Victims" at IFL Science. I particularly love the article's turn of phrase, "perhaps you need to lift your vengeance magic game."
Have you ever hated someone so much you sacrificed a chicken in the hope its slaughter would empower a curse, then carved the targets' names into the pot holding the chicken and buried it for more than 2,000 years? If not, perhaps you need to lift your vengeance magic game, because someone not only did that but also found 50 people they hated enough to score a place on the pot's exterior. We don't know whether the curse worked, but it must be conceded all the intended victims are dead.

The pot (or "chytra") buried between 325 and 270 BCE in a corner of a building in the Athenian Agora provides insight into the uses of magic at the time. Almost a century after Socrates and Plato, the home of ancient reason and learning still had people practicing something mystical.

Having been dug up in 2006 from a corner of the Athenian Agora's Classical Commercial Building, the chytra has finally been described by Dr Jessica Lamont of Yale University.

Under the wonderful title "The Curious Case of the Cursed Chicken", Lamont has described her findings in Hesperia. The pot contained the head and lower limbs of a chicken, but this was no remnant of a meal. A large iron nail has been stuck through the underside, its wide circular head sealing the entrance, and a small coin has since fused to the nail head. "This assemblage belongs to the broader realm of Athenian binding curses, which, … aimed to 'bind' or inhibit the physical and cognitive abilities of its human targets," Lamont writes. These were usually written on lead tablets, but the nail and animal sacrifices were common features.

More than 30 of the names are still legible, some of them familiar while others were previously unknown from Athens. The handwriting suggests at least two people carved the names, something Lamont says is "largely unprecedented in Greek curse tablets". Other writing could include the actual curse and up to 25 names, but only scattered letters can be read….
(14) ON TOP OF OLD SMOKEY. The Pasadena Museum of History knows where you can find the humble artifacts left behind by a historic science experiment: "Lookout Mountain and the Speed of Light".
The first lookout tower of the Angeles Forest was erected on Lookout Mountain No. 2 in 1913 and was active until 1927 when it was moved to Sunset Peak. Today, one will find on Lookout Mountain, in addition to a sign and a register, three in-line concrete blocks. The tallest of these, forty-two inches high, has a metal tablet marked "ANOTONIO 1922" and one of the smaller blocks, twenty-six inches high, has an unmarked survey point. If a sight is taken in a westernly direction over these two points, it will align to a spot on Mt. Wilson, marked on topo maps as "Michelson." These blocks supported a mirror system for an exacting experiment by America's first Nobel Prize winner, A.A. Michelson, in the years 1922 to 1926 to determine the speed of light.

The speed of light had been measured before, but never on such a spectacular scale or with as much accuracy. At station "MICHELSON" on Mt. Wilson; an octagonal mirror was mounted on a rotor that reflected a light beam to the station "ANTONIO" on Lookout Mountain, nearly twenty-two miles distant; then reflected back to another facet of the octagonal mirror, where it was reflected in the observer's eye….
(15) VIDEO OF THE DAY. In "Honest Trailers: Army of the Dead" on YouTube, the Screen Junkies say this new Zack Snyder film has robot zombies, brain zombies, and "the awesome zombie-killing saw," and a team of mercenaries that has six "damaged bad-asses," "two fun-loving bad-asses" and "the world's most obvious traitor. But Snyder, free of studio control, still can't figure out how to focus his film!"
[Thanks to John Hertz, Mike Kennedy, Nina Shepardson, James Davis Nicoll, Andrew Porter, Martin Morse Wooster, JJ, Michael Toman, John King Tarpinian, and Cat Eldridge for some of these stories. Title credit belongs to contributing editor of the day Peer.]