(1) OVERCOMING REJECTION. Her rejection slips are a key part of the display: "Malorie Blackman's career honoured in British Library exhibition" in the Guardian.
"To my great embarrassment, I've just discovered that I have been holding onto your novel, HACKER, since February 1990", read a letter to Noughts & Crosses author Malorie Blackman from the senior commissioning editor of Simon & Schuster, dated nearly two years later. "I'm afraid we are not publishing any teenage novels in the near future". The printed letter, addressed to "Marlorie", with the extra "r" struck through in pen, was one of 82 rejection letters the writer received before her first book was published.

Hole-punched and stored in a ring binder, the letter is now on display at a British Library exhibition about Blackman, who has gone on to write more than 70 books for children and young adults, including the million-selling Noughts & Crosses series. The rejections folder is one of the artefacts that the author is most excited for the public to see, she says. "I hope that does encourage people."…

…The exhibition traces Blackman's young adulthood: the Lewisham homeless shelter she lived in aged 13 is pictured; the comics she turned to as a "shield against the real world" are displayed. In the local library, which she says "saved my life", she would read novels, including classic fiction – the likes of Jane Eyre. Later, at 22, she came across Walker's The Color Purple – the first novel she had read that was written by a Black author and featured Black protagonists. "It had a profound effect on me," says Blackman. "She was a Black woman author. They existed!"…
(2) MEDICAL UPDATE. Jane Yolen suffered a fall the other day and required surgery. Her daughter Heidi has been posting updates on Facebook and says the surgery went great.
(3) REVENGE IS A DISH BEST SERVED BY PROCESS SERVERS. "'Squid Game: The Challenge' Contestants Threaten Lawsuit After Claiming They Suffered Hypothermia & Nerve Damage During Filming" reports Deadline.
Squid Game: The Challenge contestants are threatening legal action against Netflix and producers after claiming they were injured during the filming of the game show.

A British personal injuries law firm is representing two unnamed players who say they suffered hypothermia and nerve damage while shooting in cold conditions in the UK.

Express Solicitors said in a press statement that it had sent letters of claim to Studio Lambert, the co-producer of Netflix's Squid Game: The Challenge.

The contestants' allegations concern their experience shooting the show's opening game 'Red Light, Green Light,' in which players must evade the attention of a menacing robotic doll.

The game was filmed at Cardington Studios, a former Royal Air Force base in Bedford, during a cold snap in Britain. Netflix confirmed at the time that three of 456 players required medical attention.

Express Solicitors, which specializes in no win no fee claims, said its clients risked their health by having to stay motionless for long periods during the shoot as they attempted to stay in the competition….
(4) AUTHORS' RIGHTS IN THE AGE OF AI. [Item by Francis Hamit.] The Authors Licensing and Collecting Society is the UK outfit that manages the Public Lending Right. I've been a member for several years and get regular payments for my photocopying royalties, something that does not exist in the U.S.
The ALCS' two-page white paper "Authors and AI principles" is the most sensible thing I've seen yet about AI and Authors' rights. 
First on the list of principles:
1. Human authors should be compensated for their work and have transparent information of uses of their work – new technologies and types of uses should respect the established precedent that there must be fair payment for use and transparency regarding how works have been used.

There should be no use without payment. While many systems of remuneration reflect the ways in which we consume media at the time, the principles of copyright remain: that authors should share in the enjoyment of their work, especially financially. Licensing continues to be an effective way to adapt to, support and remunerate a wide range of uses of original works. As authors works are often used in ways to develop AI technology, authors must also have transparent information regarding when and how their work has been used….
(5) DIY DALEK. Dr. Glyn Morgan pays tribute to fans in a post to the UK Science Museum blog — "Building for the Fans: Daleks and Doctor Who".
…Fans are the lifeblood of any creative endeavour, but this is particularly powerful point for science fiction: were it not for the continued enthusiasm from fans then Doctor Who might have died never to be regenerated after initially leaving the air in 1989, or after the underperforming TV-movie in 1996 (starring the criminally underrated Paul McGann)….

…Along with the Doctor's equally iconic TARDIS, the Dalek is a firm favourite construction project for fans and has been since they first appeared, inspiring people's creativity and technical innovation at home. Indeed, building your own Dalek became such a recognised rite of passage for fans that the BBC issued official instructions on how to build your own as part of a Radio Times special issue celebrating the tenth anniversary of Doctor Who in 1973. The article suggested that the project would be particularly good 'as an exercise for a well-equipped school, using the resources and facilities of several departments- woodwork, metalwork, art and so on.' The practicality of the design was tested by students of London's Highbury Grove School (now City of London Academy Highbury Grove): 'With help from their staff, they produced [a] magnificent black-and-orange specimen in two weeks, at a cost of £12', which is a considerable saving on the approximately £250 the 1963 originals cost: although the Radio Times models were designed to be static, not operational TV props. Either way, I suspect it would cost a little more now….
(6) HOW HAS THE LAST WHO ANNIVERSARY SPECIAL AGED? Very well decrees Gizmodo's James Whitbrook in "10 Years Later, Doctor Who's 'Day of the Doctor' Still Hits".
For a show that is about the capability to be everywhere and anywhere, any period in time, Doctor Who is a show that is arguably burdened with context. Now 60 years old today, the thought of navigating any of its stories without an awareness of its place in that history is almost unthinkable. But every once in a while, in a very long while, Doctor Who wields that context to set itself free.

That's the paradox—as well as the philosophy of John Rawls—that sits at the heart of "The Day of the Doctor," Doctor Who's 50th anniversary special that climaxed a blockbuster period of celebrations for the series 10 years ago tonight. It is, of course, almost impossible to think of "Day" outside of this context—metatextually, we now know so much of what almost happened during its production and ideation that it's almost a miracle to revisit the final product and not deem it miraculous for simply existing.

…And it is about the weight of context. The tragic heart of "Day of the Doctor" is John Hurt's aforementioned "War" Doctor: the regeneration that took part in the Time War, an incarnation left to banished memories out of the shame of what he had to do to end the conflict between the Time Lords and the Daleks once and for all, one petrified to even call himself a Doctor for the hurt he wielded to do so. Following him on the eve of the final days of the conflict as he steals a weapon of mass destruction from his own people—the Moment, a weapon so powerful, so horrifying, it developed its own conscience to almost stop itself from being—the War Doctor's arc is one about wrestling with the weight of his own personal history, a push and pull that haunts him, and is compacted when he comes face to face with his future: two further incarnations of himself that yes, still feel the pain of the Time War, a pain muted in some ways, but still, a future for himself that exists beyond the horrifying task he has burdened himself with…
(7) TODAY'S THING TO WORRY ABOUT. "Robot Takes Order at Wendy's. It Catches an 'Attitude'" claims the Daily Dot.
Wendy's has started rolling out its new AI chatbot system that is supposed to be handling customer orders at the drive thru. However, according to one TikTok video, what was intended to be a seamless transition turned into a comical and frustrating experience.

The video, which was posted by Macey (@maceitrain) this week, kicks off with Macey already mid-order, requesting a Coke. The Wendy's robot promptly responds with a simple, "Anything else?"

The TikToker then proceeds to modify her order. "Can I make the junior bacon cheeseburger Biggie bag a medium, please?" she says.

After each update to the order, the robot mechanically repeats, "Anything else?"

…The video has since accumulated over 944,200 views with over 550 comments. Some commenters were not overly impressed by the speed of the new ordering system.

"I feel like that took longer than having a human take the order," one commenter said….
(8) MARTY KROFFT (1937-2023). Marty Krofft, who partnered with his older brother Sid to build a kids' TV empire around shows like The Banana Splits Adventure Hour, H.R. Pufnstuf and Land of the Lost, died November 25. The Hollywood Reporter profile is here.
The Kroffts followed Pufnstuf with The Bugaloos (1970-72), the Claymation series Lidsville (1971-73), Sigmund and the Sea Monsters (1973-75) and Land of the Lost (1974-76)…

Indeed, the Kroffts' style was so popular that McDonald's copied it to create Mayor McCheese and McDonaldland for an early '70s advertising campaign. The Kroffts sued, winning a reported seven-figure settlement in 1977….

…Marty joined his brother full-time in 1958 after Sid's assistant left, and they opened Les Poupees de Paris, an adults-only burlesque puppet show that played to sold-out crowds at a dinner theater in the San Fernando Valley….

Les Poupees went on the road and played world's fairs in Seattle in 1962, New York in 1964 and San Antonio in 1968. It featured 240 puppets, mostly topless women, and Time magazine called it a "dirty puppet show."

After that, it was so popular, "we couldn't even get our own best friends in the theater," Sid said. It drew an estimated 9.5 million viewers in its first decade of performances….
(9) TODAY'S BIRTHDAYS.
[Written by Cat Eldridge.]
Born November 25, 1926 — Poul Anderson. (Died 2001.) Need I say that he's one of my favourite writers? I'm reasonable sure that along with Heinlein, Bradbury and Le Guin that he was the first of the writers that I read extensively. And as Algis Budrys said in his Galaxy review column of February 1965, "we will all soon realize he has for some time been science fiction's best storyteller."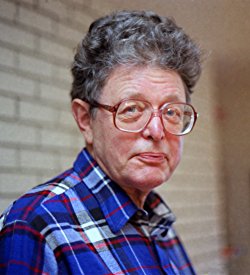 Poul was really, really prolific which will mean that I'm not going to detail everything he did here. Indeed, ISFDB list twenty-three novels and an amazing thirty-three collections of his short stories! So where to start? 
Well in my case, that is quite easy as my go to works by him when I want to be entertained at length by great storytelling is the Technic History stories with those of Nicholas van Rijn and Dominic Flandry being the ones I like the best. Not that other stories aren't excellent in their own as they are.
Now there's the ever so fun Hoka novels (Earthman's Burden and Star Prince Charlie) and the Hoka! short stories, a sequel to the first novel, that were co-written with Gordon R. Dickson. 
I've always enjoyed his Time Patrol stories as they're some of the best such tales that were ever written. These of course, as are all of his short stories, to found in The Collected Short Works of Poul Anderson that NESFA published. All seven volumes are now available as epubs!
What's next? Orion Shall Rise remains one of my most read novels by him. It's part of his Maurai & Kith series, a most interesting future history. The short stories, also excellent, were collected in, not surprisingly, his Maurai & Kith collection.
I was surprised to find that Operation Chaos and Operation Luna actually had a handful of short stories as well, six to be exact, one written by Eric Flint. I shall need to seek them out. Another set of novels that I've read several times. 
Let's not forget The Unicorn Trade that he and Karen collaborated on. Such a wonderful collection it is.
Yes, there's lots more, but I'm going to finish off with A Midsummer Tempest which is always a delight to experience.
No, I didn't forget he won seven Hugo Awards and three Nebula Awards. All well deserved.
And if you go here, you get to hear the delightful story of Karen and her role role in filk songs. I'm told that Poul had a fine singing voice. I wonder if there's any recording of him and her singing.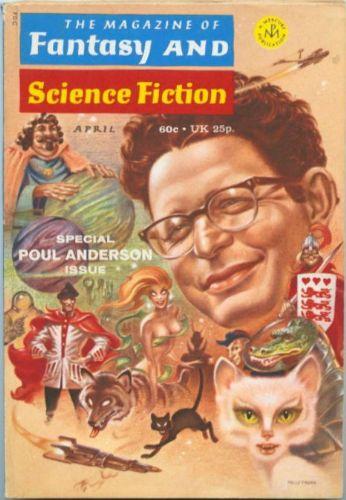 (10) MONITORING WHO MEDIA. [Item by SF Concatenation's Jonathan Cowie.] More from Beeb.  Alas you have to have a BBC Sounds account to download in this case… "Doctor Who: 60 years of Friends and Foes".
As Doctor Who celebrates its 60th anniversary, Sue Perkins explores how the programme has reflected our social history across the decades both on and off screen. From advances in technology to politics, violence, gender and sexuality.
Featuring archive footage, interviews and new conversations with showrunner Steven Moffat, script editor Andrew Cartmel, former companions including Anneke Wills, Katy Manning and Janet Fielding, and the voice of the Daleks Nicholas Briggs along with Dalek Operator Barnaby Edwards. Also, there's analysis from several academics who have published books on the subject.
Sue examines how progressive the show has been, questioning if our favourite time traveller has kept with the times.
(11) BEWARE SPOILERS. If you have already seen the newest Doctor Who special, or don't care about spoilers, you're a candidate to read this Inverse profile about the latest iteration of the sonic screwdriver: "54 Years Later, The Oldest TV Sci-Fi Hero Just Got A Massive Tech Upgrade".
(12) CULTURAL CORNER. Lavie Tidhar tweeted a fresh humorous sendup of the classic poem.
(13) VIDEO OF THE DAY. "Tolkien explains on BBC how he started The Hobbit" is a brief clip from a 1968 interview.
[Thanks to Mike Kennedy, Andrew Porter, John King Tarpinian, Chris Barkley, Cat Eldridge, and SF Concatenation's Jonathan Cowie for some of these stories. Title credit belongs to File 770 contributing editor of the day Patrick Morris Miller.]