(1) WISCON 2024 HIATUS. There will be a WisCon in May 2023, but the signs point to there not being one next year: "WisCon on break in 2024 – A chance to recover and plan" at the WisCon Blog.
The Board of WisCon's parent non-profit, SF3, and the WisCon ConCom have come to a consensus that we won't be planning to run a WisCon as usual in 2024: our leadership bench is very thin, and with the ongoing pandemic and challenging political situation in the US, folks are getting worn out. We need some time to rest and figure out how we can continue WisCon in a sustainable way. If you want to be involved paving a path to the next WisCon, join us for a planning session this Memorial Day Weekend and make sure you're subscribed to our newsletter, where we'll be posting updates.

We're still absolutely putting on a con this May, and we're going to do our very best given the people and resources we have available! We know this is scary and a big change, but we believe it gives WisCon the best chance to continue in the long run. Huge thanks to everyone who has volunteered their time and donated funds to enable us to host WisCon both last year and this year!

If you haven't registered for WisCon yet, now is a great time! Both of our amazing Guests of Honor, Martha Wells (she/her) and Rivers Solomon (fae/faer), are planning to attend in person, and so far we've sold about 200 in-person memberships out of our 600 person cap on in-person attendance. Register to attend WisCon online or in person and complete our Panel Interest Survey by 3/10 to tell us what kind of programming you want to attend at WisCon.
(2) KGB. Fantastic Fiction at KGB reading series hosts Ellen Datlow and Matthew Kressel present Scott Lynch and Elizabeth Bear on March 8 at the KGB Bar.
Scott Lynch
Scott Lynch's debut novel The Lies of Locke Lamora was nominated for a World Fantasy Award and is now in its 36th US printing, sixteen years later. His shorter work has appeared in multiple anthologies, and he recently provided an introduction for the Tor Books reissue of John M. Ford's The Dragon Waiting. His next works in the Gentleman Bastard milieu will be More Than Fools Fill Graves (novella) and The Thorn of Emberlain (novel). Scott lives in Massachusetts with his wife, SF/F legend Elizabeth Bear, plus four cats and a horse.
Elizabeth Bear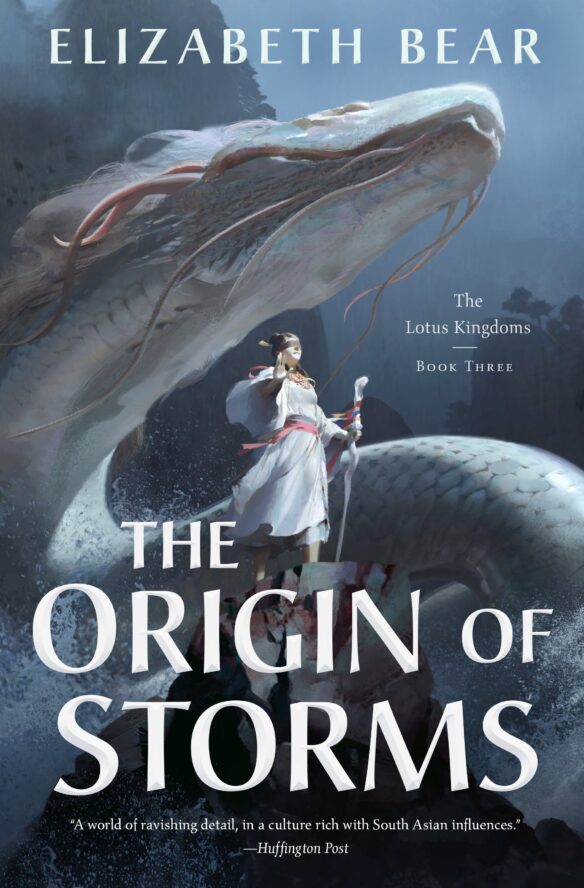 Elizabeth Bear is the Hugo, Sturgeon, Astounding, and Locus Award-winning author of more novels, articles, and short fiction than she likes to think about. Her most recent books are Machine and The Origin of Storms. She lives in Massachusetts with her husband, SF/F legend Scott Lynch, plus four cats and a very small horse.
Where: KGB Bar, 85 East 4th Street, New York, NY 10003 (Just off 2nd Ave, upstairs)
When: March 8, 2023, 7:00 p.m. Eastern.
(3) SHORT FICTION SPECIALTY. The Speculative Literature Foundation is taking registrations for "Writing the SFF Novelette" with instructor Alec Nevala-Lee, a Zoom class being held March 25 from 10:00 a.m.-12:30 p.m. Central. Max 30 students. Cost $60.
The novelette (between 7,500 and 17,500 words long) can be a challenging but rewarding form for SFF writers. As a novel in miniature, it requires authors to think about narrative structure in ways that differ from the specific requirements of the short story, with a more complex plot that frequently falls into distinct acts. Because a novelette can be written in a shorter timeframe than a full novel, it allows writers to develop and refine skills that will be useful for longer projects, while also providing a form that is deeply rewarding in itself. This workshop will focus on idea generation, structure, and editing with an emphasis on the novelette, as well as elements of craft that can be applied to fiction of any length.
(4) DOTSON READING. Space Cowboy Books hosts an online reading and interview with J. Dianne Dotson author of The Shadow Galaxy on Tuesday March 21 at 6:00 p.m. Pacific. Get your copy here. Register for the reading free here.
A mesmerizing first collection, THE SHADOW GALAXY features short stories and poetry spanning magical realism, science fiction, fantasy, horror, and Appalachian tales. With stories and poetry spanning three decades of work, the author taps into journeys both fantastical and deeply personal. Categories include Shadow Shores: Tales from the Sea; Other Futures: Tales of the Galaxy and a Place Called Earth; Into the Darkest Hollow: Tales of Horror; Love and Other Moments: Traces of the Heart; Far Appalachia: Tales from the Ancient Mountains; and Resonant Thoughts: Some Poetry.
(5) OLIVIER AWARDS. Genre leads the field this year: "'My Neighbour Totoro' Dominates Olivier Award Nominations" reports the New York Times.
A stage adaptation of "My Neighbour Totoro," an animated Japanese children's movie filled with fantastical creatures, emerged on Tuesday as the front-runner for this year's Olivier Awards, Britain's equivalent of the Tonys.

The show, which ran at the Barbican Theater in London and included numerous giant puppets, secured nine nominations for the awards — more than any other play. Those included nods for best comedy, best director for Phelim McDermott and best actress for Mei Mac as a girl who discovers a magical world near her home….
(6) COMING ATTRACTIONS. Mrs. Davis is a Peacock original that will begin streaming April 20.
"Mrs. Davis" is the world's most powerful Artificial Intelligence. Simone is the nun devoted to destroying Her. Who ya got?
(7) CONTROVERSY OVER ATTEMPTED REVIEW OF HOGWARTS LEGACY. [Item by Dann.] Girlfriend Reviews is a YouTube channel that provides reviews based on the perspective of a girlfriend watching her boyfriend playing various games. Shelby and Matt received a free evaluation copy of Hogwarts Legacy which they used. When they attempted to review the game on their Twitch channel, activists brigaded the comments section. Additionally, they were reported to various platforms for promoting "hate". In their video below, they state that they lost their Reddit group/subReddit. It looks as if that access has been restored since then.
The Girlfriend Reviews review of Hogwarts Legacy is really more about their experience with activists swarming their media streams with insults and false claims to get their accounts closed by the social media hosts. Shelby states that she has other concerns about Hogwarts Legacy related to anti-Semitism and that she should be free to interrogate those concerns without running afoul of other activists with other concerns.
A quote from the video:
…Nobody wants to be labeled pro-child labor for tweeting from their iPhone any more than they want to be labeled transphobic for downloading Hogwarts Legacy, especially if how they vote on Election Day says something different than how they vote on the PlayStation store. And then there's me and Matt, two video game critics who received a review copy of Hogwarts Legacy for free. It is our job to appraise video games while providing commentary on any controversies surrounding them and if you've ever watched our show you should know that we don't hold any punches when it comes to calling out injustice. This channel has always been committed to creating a safer space for women in The Gaming Community…
(8) MEMORY LANE.
1935 – [Compiled by Cat Eldridge.]
John Dickson Carr's The Hollow Man is a locked room mystery narrated by his investigator Gideon Fell. First published in 1935 by Hamish Hamilton in the U.K., it has the much reprinted locked room lecture in which Fell addresses the reader. He sets out the various ways in which murder can be committed in what appears to be a locked room or otherwise seemingly impossible situation.
Fell was the protagonist of twenty-three rather good novels. Carr was said to have modeled him upon G. K. Chesterton who wrote the Father Brown stories as his physical appearance and personality were similar to those of Doctor Fell.
All of the Fell mysteries are intensely descriptive of Thirties London with sharply drawn characters and fascinating stories. They were considered cozy crimes novels, a description I'm not quite sure I agree with.
Highly recommended.
Among our usual suspects, Kindle and Kobo have it, but not Apple Books. Seven have been made into audiobooks but alas not The Hollow Man.
And now the rather startling Beginning to The Hollow Man…
THE THREAT
To the murder of Professor Grimaud, and later the equally incredible crime in Cagliostro Street, many fantastic terms could be applied-with reason. Those of Dr Fell's friends who like impossible situations will not find in his case-book any puzzle more baffling or more terrifying. Thus: two murders were committed, in such fashion that the murderer must have been not only invisible, but lighter than air. According to the evidence, this person killed his first victim and literally disappeared. Again according to the evidence, he killed his second victim in the middle of an empty street, with watchers at either end; yet not a soul saw him, and no footprint appeared in the snow.
Naturally, Superintendent Hadley never for a moment believed in goblins or wizardry. And he was quite right – unless you believe in a magic that will be explained naturally in this narrative at the proper time. But several people began to wonder whether the figure which stalked through the case might not be a hollow shell. They began to wonder whether, if you took away the cap and the black coat and the child's false-face, you might not reveal nothing inside, like the man in a certain famous romance by Mr H. G. Wells. The figure was grisly enough anyhow.
The words 'according to the evidence' have been used. We must be very careful about the evidence when it is not given at first hand. And in this case the reader must be told at the outset, to avoid useless confusion, on whose evidence he can absolutely rely. That is to say, it must be assumed that somebody is telling the truth-else, there is no legitimate mystery and, in fact, no story at all.
Therefore it must be stated that Mr Stuart Mills at Professor Grimaud's house was not lying, was not omitting or adding anything, but telling the whole business exactly as he saw it in every case. Also it must be stated that the three independent witnesses of Cagliostro Street (Messrs Short and Blackwin, and Police-constable Withers) were telling the exact truth.
Under these circumstances, one of the events which led up to the crime must be outlined more fully than is possible in retrospect. It was the key-note, the whip-lash, the challenge. And it is retold-from Dr Fell's notes, in essential details exactly as Stuart Mills later told it to Dr Fell and Superintendent Hadley. It occurred on the night of Wednesday, February 6th, three days before the murder, in the back parlour of the Warwick Tavern in Museum Street.
(9) TODAY'S BIRTHDAYS.
[Compiled by Cat Eldridge.]
Born March 1, 1915 — Wyman Guin. Ok, occasionally doing these Birthdays results in me being puzzled and this is one of those times. In 2013, he was named as recipient for the Cordwainer Smith Rediscovery Award at ReaderCon 24. When I look him up, I find that he wrote a single novel and seven stories according to the folks at ISFDB. I've not read him. So, was he that good? Should I seek out his novel, The Standing Joy, and add it to my reading list? His short stories are available at the usual digital publishers, but the novel still isn't. (Died 1989.)
Born March 1, 1923 — Andrew Faulds. He's best remembered as Phalerus in Jason and the Argonauts in which he was in the skeleton fight scene that featured model work by Ray Harryhausen. He appeared in a number of other genre films including The Trollenberg Terror, The Flesh and the Fiends and Blood of the Vampire. He had one-offs on Danger Man and One Step Beyond. Oh, and his first acting gig was as Lysander in A Midsummer's Night Dream. (Died 2000.)
Born March 1, 1930 — Eddie Hice. One of the original Red Shirts on Star Trek. He appeared in two episodes, first as a Red Shirt in "The Day of The Dove" and then having the same role in "Wink of an Eye". I don't recall either episode well enough to remember his fate in those stories. He had an extensive genre history showing in Batman twice, including once playing The Riddler, he was in Get Smart nine times, six as an actor and three as stunt double (his career as a stunt double was much longer and extensive than his acting career), The Beastmaster and voice work on the animated Lord of The Rings. (Died 2015.)
Born March 1, 1938 — Michael Kurland, 85. His The Unicorn Girl was the middle volume of the Greenwich Village trilogy by three different authors, the other two being Chester Anderson and T.A. Waters. (And yes, they're available from the usual suspects.) Kurland has also written genre novels including Ten Little Wizards and A Study in Sorcery, set in the world of Garrett's Lord Darcy. His other genre novels are Ten Years to Doomsday (written with Chester Anderson), Tomorrow Knight, Pluribus and Perchance.
Born March 1, 1946 — Lana Wood, 77. She's best remembered as Plenty O'Toole in Diamonds Are Forever. She was in The Wild Wild West as Vixen O'Shaughnessy in "The Night of the Firebrand" and Averi Trent in "The Night of the Plague" episodes. She was in both up the CBS televised Captain America films playing Yolanda, and she was still active in the genre as little three years ago playing a character named Implicit in Subconscious Reality.
Born March 1, 1950 — David Pringle, 73. Pringle served as the editor of Foundation during the Eighties and helped found Interzone durning that time. The Glasgow Worldcon committee gave Pringle a Special Award for his work on Interzone. With Malcolm Edwards and Ian Watson, he also edited Foundation: The Review of Science Fiction from the late Seventies through the mid Eighties. Besides his various guides to the genre such as The Ultimate Encyclopedia of Fantasy, I see early on that he did a lot of work on J.G. Ballard such as Earth Is the Alien Planet: J. G. Ballard's Four-Dimensional Nightmare and J. G. Ballard: A Primary and Secondary Bibliography. I also note that he's not published anything listed on ISFDB in the field of late. Any idea why?
Born March 1, 1952 — Steven Barnes, 71. Co-writer with Niven of the Dream Park series. I read the first two when they came over forty years ago, not bad at all. Their Heorot series is quite good too. I've not read him on his own so cannot say how he is as a solo writer. For TV, he's done work for The Outer Limits, Andromeda and Stargate SG-1. His "A Stitch In Time" episode of The Outer Limits won an Emmy Award.
(10) COMICS SECTION.
The most recent xkcd mentions fandom and fan service…just not in the traditional manner.
(11) THERE ARE THUNDERCATS IN OUR FUTURE. [Item by Dann.] A trailer has dropped for the Thundercats movie that is supposed to be released in 2023. Henry Cavill is one of those actors that I could watch warm soup on a stove and be entertained. The trailer doesn't reveal much about the plot of the movie but the graphics are good.
(12) IS THERE ENOUGH SCIENCE IN THE UNIVERSE TO MAKE THIS HAPPEN? "Back to the father: the scientist who lost his dad – and resolved to travel to 1955 to save him" – a science article in the Guardian.
Prof Ronald Mallett thinks he has cracked time travel. The secret, he says, is in twisting the fabric of space-time with a ring of rotating lasers to make a loop of time that would allow you to travel backwards. It will take a lot more explaining and experiments, but after a half century of work, the 77-year-old astrophysicist has got that down pat.

His claim is not as ridiculous as it might seem. Entire academic departments, such as the Centre for Time at the University of Sydney, are dedicated to studying the possibility of time travel. Massachusetts Institute of Technology (MIT) is working on a "time-reversal machine" to detect dark matter. Of course there are still lots of physicists who believe time travel, or at least travelling to the past, is impossible, but it is not quite the sci-fi pipe dream it once was.

However, the story of how Mallett, now emeritus professor at the University of Connecticut, reached this point could have been lifted straight from a comic book. A year after losing his father, Boyd, at the age of 10, Mallett picked up a copy of HG Wells's The Time Machine and had an epiphany: he was going to build his own time machine, travel back to 1955 and save his father's life.

Mallett still idolises his dad, and thinks about him every day. He had been exceptionally close to Boyd, whom he describes as a handsome, erudite and funny "renaissance man" who would try to inspire curiosity in Mallett and his two brothers and sister. "When he passed away, it was like this light went out. I was in shock," Mallett says down the line from his study in Connecticut….
(13) INSPIRATION POINTS. Will Higginbotham takes New York Times readers on a tour of "Where the Lion and the Witch Met the Hobbit" – Oxford.
…Is this where Lewis found inspiration for Narnia? "No one knows for sure, but the timeline makes sense," Mr. Walters said. In the early 1940s, Lewis was a lay theologian, and he occasionally gave sermons in St. Mary's, just a few feet away. "Perhaps he left one evening through the side door and walked straight out onto this," Mr. Walters said, gesturing to what's become known as the Narnia Door….
(14) VIDEO OF THE DAY. Peter Pan & Wendy trailer.
"Peter Pan & Wendy," a live-action reimagining of the J.M. Barrie novel and the 1953 animated classic, will begin streaming April 28, 2023, exclusively on Disney+. Check out the teaser trailer and key art for the original movie directed by David Lowery ("The Green Knight," "Pete's Dragon"), and get ready to experience the timeless adventure featuring the beloved characters like never before. "Peter Pan & Wendy" introduces Wendy Darling, a young girl afraid to leave her childhood home behind, who meets Peter Pan, a boy who refuses to grow up. Alongside her brothers and a tiny fairy, Tinker Bell, she travels with Peter to the magical world of Neverland. There, she encounters an evil pirate captain, Captain Hook, and embarks on a thrilling and dangerous adventure that will change her life forever.
[Thanks to John King Tarpinian, Chris Barkley, Dann, Rich Lynch, Steven French, SF Concatenation's Jonathan Cowie, Andrew Porter, Michael Toman, Cat Eldridge, and Mike Kennedy for some of these stories. Title credit belongs to File 770 contributing editor of the day Daniel Dern.]