(1) ACTORS AND STUDIOS REACH AGREEMENT. "SAG Strike Ends: Actors & Studios Reach Deal On New Three-Year Contract" reports Deadline.
After 118 days of the actors guild being out on strike, SAG-AFTRA and the studios on Wednesday reached a tentative deal on a new contract that could see Hollywood up and running again within weeks.

The strike will be over as of 12:01 a.m. PT on Thursday, November 9, we hear.

Culminating a dramatic day of studio earnings results and deadline ultimatums, the actors guild's 17-member negotiating committee unanimously voted this afternoon to recommend a tentative agreement to the SAG-AFTRA board.

Specific details of the deal are expected to be revealed when the agreement goes to the board Friday.

Coming just less than a month after Writers Guild members overwhelmingly ratified their own agreement with the Alliance of Motion Picture and Television Producers, SAG-AFTRA's deal is the culmination of the latest round of renewed negotiations that began October 24. Indicating the seriousness and stakes of the negotiations, Netflix's Ted Sarandos, Disney's Bob Iger, NBCUniversal's Donna Langley and Warner Bros Discovery's David Zaslav frequently directly participated in the talks.

The tentative agreement follows the studios responding last Friday to the guild's last comprehensive counter with a self-described "historic" package. That was succeeded less than 24 hours later by an expanded group of studio leaders — including execs from Paramount, Amazon, Apple and more — joining the Gang of Four to brief SAG-AFTRA on the AMPTP's offer, which was said to include big gains in wages and bonuses as well as sweeping AI protections….
(2) ELUSIVE PEACE. "'The good guys don't always win': Salman Rushdie on peace, Barbie and what freedom cost him" – an article by Salman Rushdie in the Guardian. (This is an edited extract from Salman Rushdie's acceptance speech for the German peace prize awarded to him at the Frankfurt book fair last month.)
… What do we do about free speech when it is so widely abused? We should still do, with renewed vigour, what we have always needed to do: to answer bad speech with better speech, to counter false narratives with better narratives, to answer hate with love, and to believe that the truth can still succeed even in an age of lies. We must defend it fiercely and define it broadly. We should of course defend speech that offends us, otherwise we are not defending free expression at all….
(3) F&SF COVER. The Magazine of Fantasy and Science Fiction's Nov-Dec 2023 cover art is by Alan M. Clark.
(4) GHOSTBUSTERS TRAILER. The teaser trailer for Ghostbusters: Frozen Empire dropped today.
In Ghostbusters: Frozen Empire, the Spengler family returns to where it all started – the iconic New York City firehouse – to team up with the original Ghostbusters, who've developed a top-secret research lab to take busting ghosts to the next level. But when the discovery of an ancient artifact unleashes an evil force, Ghostbusters new and old must join forces to protect their home and save the world from a second Ice Age.
(5) NASA+ STREAMING SERVICE. [Item by Dan Bloch.] NASA launched their own streaming service today. "NASA's ad-free, no-cost streaming service launches this week – what to know" reports Fox 35 Orlando. The service's URL is: NASA+.
NASA's highly-anticipated streaming service is ready to take off, and viewers can experience the platform starting Wednesday, Nov. 8.

In a post on X, formerly Twitter, the space agency said NASA+ is a free, family friendly service that doesn't require a subscription or have ads and features Emmy-winning live shows and original series.
(6) CARIBBEAN PANTHEOLOGY CALLS FOR SUBMISSIONS. Oghenechovwe Donald Ekpeki has opened submissions to Between Dystopias: The Passage To Caribbean Pantheology.
OD Ekpeki Presents is accepting submissions of fiction, poetry, essays, articles and reviews from October 16th to February 11th for The Passage To Caribbean Pantheology, a speculative fiction anthology, edited by Oghenechovwe Donald Ekpeki, Tonya Liburd, E.G. Condé and Fabrice Guerrier. Publication date is in 2024.

Call: We define Caribbean Pantheology as stories spoken, sung, or written that evoke the wonder, horror, and joy of the Caribbean experience. Caribbean Pantheology will receive, read, translate and publish stories in all varieties of English (including Creole and Spanglish), Spanish, and French that engage with the diverse spiritual traditions of creators living in the Caribbean or its many diasporas. Between myth and legend, the fantastical and the speculative, the supernatural and the real, we seek stories that defy genre boundaries (fantasy, magical realism, surreal, the weird, speculative, science fiction) and the colonial borders that have long divided our islands into "Anglophone", "Francophone", and "Hispanophone" communities. Like the Caribbean, our pantheology is a meshwork of continents, deities, and languages, forged in the violence of colonialism, chattel slavery, and indentured labor. More than our scars, we Caribbean people are foundries of creativity and revolution. Like the maroon refuges built by our ancestors, we are spun from Indigenous (Garifuna, Guanahatabey, Kalinago, Taíno), African, Asian, and European traces. As such, we welcome stories that confront the spiritual wounds of our pasts, celebrate the rich traditions of our present, and imagine our flourishing futures. Send us your archipelagic tales of Soucouyants and Brujas; Orishas and Cemís; Loogaroos and Behikes; Jumbees and Ciguapas; Anansi and Chupacabras.

Eligibility: We seek works created by Caribbean people or anyone with ancestral or migratory ties to the region. If you are a marginalized creator, we encourage you to submit your work to us. We will reject any submissions that promote colorism, shadeism, or racism, to any degree. Please do not send us content generated by artificial intelligence applications.

Payment: $.08 per word up to 1,000 words; $.01 per word for longer submissions; $50 flat rate for poems, essays, articles and reviews.

Rights requested: All world English, French and Spanish rights, exclusive for one year after publication.

Submit to: [email protected]

This anthology will be co-published by OD Ekpeki Presents, the first Pantheology imprint, as a part of the larger body of Pantheology projects. OD Ekpeki Presents is an imprint of Jembefola Press, which has published projects which have won and been nominated for the Hugo, Locus, World Fantasy, British Fantasy, British Science Fiction, and other awards. It's run by Oghenechovwe Donald Ekpeki and you can contact him for collaborations on any of the pantheology projects here.
(7) MEMORY LANE.
1944 — [Written by Cat Eldridge based on a selection by Mike Glyer.]
Killdozer is where our Beginning comes from this time. It's by Theodore Sturgeon, a writer that I have a great deal of admiration for. More Than Human, an IFA Award winner, and The Dreaming Jewels are both amazing novels as are both of his produced Trek scripts, "Shore Leave" (one of my favorite ones) and "Amok Time", a Hugo nominee. Let's not overlook that he wrote a mystery as he ghost-wrote the Ellery Queen mystery novel, The Player on the Other Side.
Yes, that's being terribly selective, but his career produced some hundred reviews plus more than one hundred and twenty short stories and eleven novels so it's hard not to be selective, is it? So it is impressive indeed.
Killdozer, a novella, was first published in Astounding Science Fiction in November of 1944. The cover art was by William Timmins. The novel was published inside in three parts with artwork by Paul Orban.
It won a Retro Hugo at CoNewZealand.
Now for the Beginning…
Before the race was the deluge, and before the deluge another race, whose nature it is not for mankind to understand. Not unearthly, not alien, for this was their earth and their home.
There was a war between this race, which was a great one, and another. The other was truly alien, a sentient cloudform, an intelligent grouping of tangible electrons. It was spawned by mighty machines in some accident of a science before our aboriginal conception in its complexities. And the machines, servants of the people, became the people's masters, and great were the battles that followed. The electron- beings had the power to warp the delicate balances of atom-structure, and their life-medium was metal, which they permeated and used to their own ends. Each weapon the people developed was possessed and turned against them, until a time when the remnants of that vast civilization found a defense—
An insulator. The terminal product or by-product of all energy research—neutronium.
In its shelter they developed a weapon. What it was we shall never know, and our race will live— or we shall know, and our race will perish as theirs perished. For, to destroy the enemy, it got out of hand and its measureless power destroyed them with it, and their cities, and their possessed machines. The very earth dissolved in flame, the crust writhed and shook and the oceans boiled. Nothing escaped it, nothing that we know as life, and nothing of the pseudolife that had evolved within the mysterious force- fields of their incomprehensible incomprehensible machines, save one hardy mutant…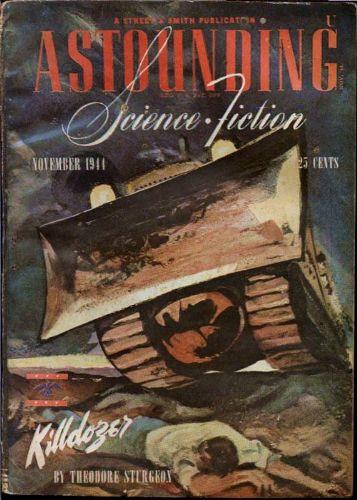 (8) TODAY'S BIRTHDAYS.
[Compiled by Cat Eldridge.]
Born November 8, 1847 — Abraham "Bram" Stoker. You know that he's author of Dracula but did you know that he wrote other fiction such as The Lady of the Shroud and The Lair of the White Worm? Of course you do, being you. The short story collection Dracula's Guest and Other Weird Stories was published in 1914 by Stoker's widow, Florence Stoker. (Died 1912.)
Born November 8, 1906 — Matt Fox. I'm here to praise him as an illustrator of those magazines that published the stories of such writers as Robert Bloch, Manly Wade Wellman and Ray Bradbury. The covers by Fox were of course intended to lure you to magazine rack, pick up the magazine and purchase it. Such was what he did for Weird Tales from November 1944 to July 1950. After that, during the Fifties and Sixties he worked for Atlas Comics, inking and penciling Journey into Mystery, World of Fantasy, Tales of Suspense and Journey into Unknown Worlds. It is thought that his last known published work is an advertisement, printed in 1967, for original mail-order glow-in-the-dark posters. (Died 1988.)
Born November 8, 1918 — Raymond E. Banks. Some thirty stories, many published in shorter form as well, often under mostly not so clever pseudonyms such as Ray Banks and Ray E. Banks. The novels, all three of them, got renamed multiple times, so Lust in Space became Ultimate Transform and The Moon Rapers. Did I mention he really liked including sex scenes in his writing hence such titles as Lust in Space. His writing did sell well perhaps because of the sex scenes. Most of the short stories were printed in slicks, so called at time because the magazines were printed on smooth, high-quality glossy paper. I can't find anything of his being in-print now in any format. (Died 1996.)
Born November 8, 1932 — Ben Bova. He's the author of more than one hundred twenty fiction and nonfiction books. He won six Hugo Awards as editor of Analog, along with once being editorial director at Omni. Hell, he even had the thankless job of SFWA President. (Just kidding. I think.) I couldn't hope to summarize his literary history so I'll single out his Grand Tour series that though it's uneven as overall it's splendid hard sf, as well as his Best of Bova short story collections put out recently in three volumes on Baen. What's your favorite works by him? (Died 2020.)
Born November 8, 1955 — Jeffrey Ford, 67. Winner of seven World Fantasy Awards including for The Fantasy Writer's Assistant and Other Stories, an excellent collection, and The Shadow Year which in turn is an expansion of "The Botch Town", a novella that also won a WFA. His Nebula winning novelette, "The Empire of Ice Cream", can be heard here. Did you know that he has written over one hundred and thirty short stories? A wide selection of his writing are available at the usual digital suspects.
Born November 8, 1956 — Richard Curtis, 57. One of Britain's most successful comedy screenwriters, he's making the Birthday List for writing "Vincent and the Doctor", a most excellent Eleventh Doctor story. He was also the writer of Roald Dahl's Esio Trot which isn't really genre but it's Roald Dahl which sort of make it genre adjacent. And he directed Blackadder which certainly should count as genre.
(9) DRAGON CHOW. "Millie Bobby Brown Snaps Into Action in First 'Damsel' Poster", which is shared by Collider.
…In Damsel, Brown stars as Elodie, a young woman who thinks she's hit the jackpot after accepting her dream proposal from the most eligible bachelor in all the land. Excited about her new life, Elodie has the rug pulled out from under her when she realizes the entire engagement has been a clever ruse. Seeking to pay back an old debt to a dangerous and bloodthirsty dragon, Elodie's new family only wanted her as a sacrifice to the fire-breathing beast. After being tossed into the dark and dank pit, it's sink or swim for Elodie after realizing that no one is coming to save her, and she must be her own hero….
(10) ZELDA IS NEXT GAME TO GET A FILM ADAPTATION. "Zelda Live-Action Movie Announced by Nintendo, Director Wes Ball" – Variety has the story.
Hollywood, meet Hyrule.

Nintendo is developing a live-action film based on The Legend of Zelda, creator and game developer Shigeru Miyamoto announced.

The gaming legend took to Nintendo's official X/Twitter account to write, "This is Miyamoto. I have been working on the live-action film of The Legend of Zelda for many years now with Avi Arad-san, who has produced many mega hit films."

He continued, "I have asked Avi-san to produce this film with me, and we have now officially started the development of the film with Nintendo itself heavily involved in the production. It will take time until its completion, but I hope you look forward to seeing it."The movie will be directed by Wes Ball, who helmed the "Maze Runner" trilogy and the upcoming "Kingdom of the Planet of the Apes," written by "Jurassic World" screenwriter Derek Connolly and produced by Miyamoto, whose involvement in 2023's "The Super Mario Bros. Movie" helped make it a groundbreaking box office success. Ball also produces with Joe Hartwick Jr. under their Oddball Entertainment banner….
(11) MOBY FORMAT. The New York Times brings word that "Orcas Sink Fourth Boat Off Iberia, Unnerving Sailors".
The yacht Grazie Mamma II carried its crew along the coastlines and archipelagos of the Mediterranean. Its last adventure was off the coast of Morocco last week, when it encountered a pod of orcas.

The marine animals slammed the yacht's rudder for 45 minutes, causing major damage and a leak, according to Morskie Mile, the boat's Polish operators. The crew escaped, and rescuers and the Moroccan Navy tried to tow the yacht to safety, but it sank near the port of Tanger Med, the operator said on its website.

The account of the sinking is adding to the worries of many sailors along the western coast of the Iberian Peninsula, where marine biologists are studying a puzzling phenomenon: Orcas are jostling and ramming boats in interactions that have disrupted dozens of voyages and caused at least four boats in the past two years to sink….
(12) UP ABOVE THE WORLD SO HIGH. "Humanity Just Witnessed Its First Space Battle" says Gizmodo.
Early last week, Israel's Arrow 2 missile system successfully intercepted and destroyed a suborbital ballistic missile suspected of launching from Yemen. It's a notable technological achievement, but one with potentially serious legal and geopolitical implications.

The Israeli Defense Force (IDF) shot down an Iranian-manufactured ballistic missile using its Arrow 2 anti-missile system, Haaretz reported. The incident happened on Tuesday, October 31, with Yemeni forces possibly targeting Eilat, an Israeli city on the coast of the Red Sea. The Telegraph claims the missile was intercepted and destroyed above the Kármán line, which at 62 miles (100 kilometers) above sea level is widely recognized as the boundary of space.

There have been many earlier instances of missile-on-missile interceptions above the Kármán, according to Harvard-Smithsonian astronomer Jonathan McDowell. However, all previous cases involved interceptors targeting missiles launched by the same party for testing purposes, whereas this is the first occurrence of a missile successfully intercepting an incoming missile from an adversary in space, McDowell, an expert on space launches, explained to Gizmodo over email.

…Haaretz reports that the destroyed missile was a Qadar, an enhanced version of Iran's Shahab 3 missile, and it says that the incident represents the farthest range attack attempted by the Houthis to date at an estimated 994 miles (1,600 kilometers), but the exact launch point is not yet known. The incident is possibly "the first combat ever to take place in space," as The Telegraph reports….
(13) JURASSIC POOP. SYFY Wire knows how excited you'll be to hear the news: "Woolly Rhino Genome Recovered from Fossilized Hyena Poop".
When John Hammond cooked up the idea for Jurassic Park, he needed the skills of the world's brightest geneticists and a little help from the fossil record. The earliest additions to the fledgling park were enabled by preserved DNA locked inside prehistoric mosquitoes trapped in orbs of amber. The basic premise was pretty simple: if you can't get DNA straight from the source, look for another animal who ate the DNA you want.

Later, InGen scientists working for the updated Jurassic World facility found ways to extract DNA from other sources, including directly from well-preserved specimens, allowing them to expand their resurrected prehistoric menagerie. Now, InGen scientists (and real-world scientists) have a new source of extinct DNA: fossilized poop.
Ancient Hyenas Ate Woolly Rhinos and Pooped Out Their DNA

Getting usable DNA from dinosaurs 66 million years after the fact might be too much to ask for, but DNA from more recently deceased animals like the dodo, the woolly mammoth, and the woolly rhinoceros is well within our possibility. But some extinct genomes are easier to recover than others….
(14) BOMBS AWAY. Forbes says "The Final 'The Marvels' Trailer Is Transparently Desperate".
Marvel is bracing for impact as The Marvels is shaping up to be one of the MCU's biggest box office bombs, really no matter what the quality of the film ends up being. It's the wrong film at the wrong time for the MCU, and early pre-sales have it tracking below DC's disastrous The Flash.

So, Marvel and Disney are now pulling out all the stops. And by that I mean releasing a "final" trailer for the film that is so transparently desperate it actually hurts to watch. And I say that not as some weird Brie Larson-hater but as someone who is genuinely looking forward to the film (more Iman Vellani as Kamala!).

The trailer sheds the lighthearted tone of the older spots and appears to be trying to make this a direct continuation of Avengers Endgame. It opens with multiple scenes of Tony Stark and Steve Rogers, both of whom have both left the MCU at this point, flashing back to their final battle against Thanos, while reminding us that yes, Captain Marvel was also there….
And yet Deadline's reviewer Valerie Complex praises it highly: "'The Marvels' Review: A Cosmic Triumph Grounded In Sincerity And Humanity".
In an era where the Marvel Cinematic Universe frequently shuttles between multiverse escapades and interplanetary conflicts, Nia DaCosta's The Marvels emerges as a breath of fresh air, eschewing bombast for a nuanced exploration of its characters. DaCosta, alongside writers Megan McDonnell and Elissa Karasik, anchors the superhero spectacle in the tangible and personal, making the extraordinary feel accessible and grounded….
[Thanks to John King Tarpinian, Chris Barkley, Oghenechovwe Donald Ekpeki, Dan Bloch, Steven French, Lise Andreasen, Cat Eldridge, SF Concatenation's Jonathan Cowie, Mike Kennedy, and Andrew Porter for some of these stories. Title credit belongs to File 770 contributing editor of the day Bill.]