(1) ANCIENT VIDEO GAMES PLAYABLE AGAIN. Cnet makes a nostalgic discovery as "Internet Archive releases 2,500 MS-DOS games so you can relive the '90s".
If you loved playing retro MS-DOS games from the '90s like 3D Bomber, Zool and Alien Rampage, you can now replay those, and many more, with the latest update from Internet Archive.

On Sunday, Internet Archive released 2,500 MS-DOS games that includes action, strategy and adventure titles. Some of the games are Vor Terra, Spooky Kooky Monster Maker, Princess Maker 2 and I Have No Mouth And I Must Scream.
Internet Archive software curator Jason Scott wrote on the site's blog:
The update of these MS-DOS games comes from a project called eXoDOS, which has expanded over the years in the realm of collecting DOS games for easy playability on modern systems to tracking down and capturing, as best as can be done, the full context of DOS games – from the earliest simple games in the first couple years of the IBM PC to recently created independent productions that still work in the MS-DOS environment.

What makes the collection more than just a pile of old, now-playable games, is how it has to take head-on the problems of software preservation and history. Having an old executable and a scanned copy of the manual represents only the first few steps. DOS has remained consistent in some ways over the last (nearly) 40 years, but a lot has changed under the hood and programs were sometimes only written to work on very specific hardware and a very specific setup. They were released, sold some amount of copies, and then disappeared off the shelves, if not everyone's memories.

It is all these extra steps, under the hood, of acquisition and configuration, that represents the hardest work by the eXoDOS project, and I recognize that long-time and Herculean effort. As a result, the eXoDOS project has over 7,000 titles they've made work dependably and consistently.
(2) THE WORD. Courtesy of ScienceFiction.com we learn that the Oxford English Dictionary's "New Words List for October 2019" has loaded up on Star Wars terms. There are also a lot of additions you'd think would have gone into the OED years ago. Here are some of the October selections:
Jedi, n.: In the fictional universe of the Star Wars films: a member of an order of heroic, skilled warrior monks who are able to harness the mystical power of…
kapow, int.: Representing the sound of an explosion, a gunshot, a hard punch or blow, etc. Also in extended use, conveying the suddenness or powerful effect of an…
lightsabre, n.: In the fictional universe of the Star Wars films: a weapon resembling a sword, but having a destructive beam of light in place of a blade. Also: a…
Padawan, n.: In the fictional universe of the Star Wars films: an apprentice Jedi (see Jedi n.). Also (often humorously) in extended and allusive use: a youthful…
force, n.1 sense Additions: With the and chiefly with capital initial. In the fictional universe of the Star Wars films: a mystical universal energy field which certain…
They, pron. sense 2c: Used with reference to a person whose sense of personal identity does not correspond to conventional sex and gender distinctions, and who has typically asked to be referred to as they (rather than as he or she).
(3) ANTHOLOGY CROWDFUNDING. A Kickstarter appeal to raise $8,300 to fund publication of Vital: The Future of Healthcare launched October 15. The anthology, a collection of short stories featuring the future of health and medicine, will include works from notable authors such as David Brin, James Patrick Kelly, Paolo Bacigalupi, Seanan McGuire, Annalee Newitz, Caroline Yoachim, Alex Shvartsman, Eric Schwitzgebel, Congyun Gu, and others. Backers will receive exclusive rewards such as advanced copies and other perks for early support of the project. The campaign will last until November 14, 2019.
The idea for "Vital: The Future of Healthcare" was first conceived by RM Ambrose who will serve as editor of the book. He saw a need and opportunity to use fictional stories to address real life challenges. "Medical science continues to advance, but for many, healthcare has never been more broken," says Ambrose. "This book will use the power of storytelling to explore and inspire solutions to the problems that government and even the tech industry have struggled to fix."

Other writers are in discussion to be part of the project, with the goal of securing support from about 10 additional authors.
Once published, all proceeds from the sale of Vital will be donated to Loma Linda University Health, a global leader in education, research and clinical care.
Book editor RM Ambrose is Assistant Fiction Editor at the Hugo Award winning "StarShipSofa" podcast. He attended Taos Toolbox in 2017 and is an Affiliate Member of Science Fiction and Fantasy Writers of America (SFWA).
(4) THUMB OUT. Behind a paywall, Financial Times book columnist Nilanjana Roy's piece in the October 5 Financial Times is about the 40th anniversary of The Hitchhiker's Guide To The Galaxy.
He (Adams) was as much a futurologist, a wizard of predictions, as he was a writer. In the late 1970s, he dreamed up an 'Electronic Thumb"–a device that looked like a large electronic calculator on which you could summon up a million 'pages'–and perhaps my favourite robot of all time, Marvin the depressive Paranoid Android.

The first online translation service, Altavista'a 1995 Babelfish, was named after the fictional fish that translates languages in Hitchhiker when Arthur Dent sticks it in his ear. Deep Thought, the computer developed in the 1990s to play chess, was named in homage to Adams's computer, which takes seven and a half million years to answer the question, 'What is the meaning of life?' (Forty-two, as every Hitchhiker fan knows.)
(5) INSIDE STORY. Tim Goodman says people who have never read the graphic novel before may get lost: "'Watchmen': TV Review" at The Hollywood Reporter.
It's difficult to fully describe the visual and storytelling audacity behind HBO's Watchmen, a series that warps perception in keenly original ways. It's based on the late-1980s cult comic books of the same name (co-created by Alan Moore and Dave Gibbons), then given a wholly different spin by Damon Lindelof (Lost, The Leftovers), a superfan of the source material but a wildly creative force of his own. This latest version (there was also a Zack Snyder movie in 2009) is simultaneously unique — it will certainly bring in fans of Lindelof's work and HBO's pedigree — and true to the spirit of the comics.

The challenge that Lindelof and HBO face is a pretty simple one: Watchmen will be utterly confusing without at least some passing knowledge of the origin story. This is a tale that begs for context, no matter how compelling and wonderfully baroque Lindelof's telling is. So, yes, if you know nothing about Watchmen other than HBO's tantalizing trailers (and a standout cast that includes Regina King, Tim Blake Nelson, Don Johnson, Jean Smart, Jeremy Irons and others), you'd be well-served, at the very least, by reading the Wikipedia backstory. (Lindelof himself has said that if the series has new fans scrambling to discover the original work, that will be reward enough.)
(6) A THRONE OF METAL, AT LEAST. Actress Maisie Williams graces the latest cover of Metal.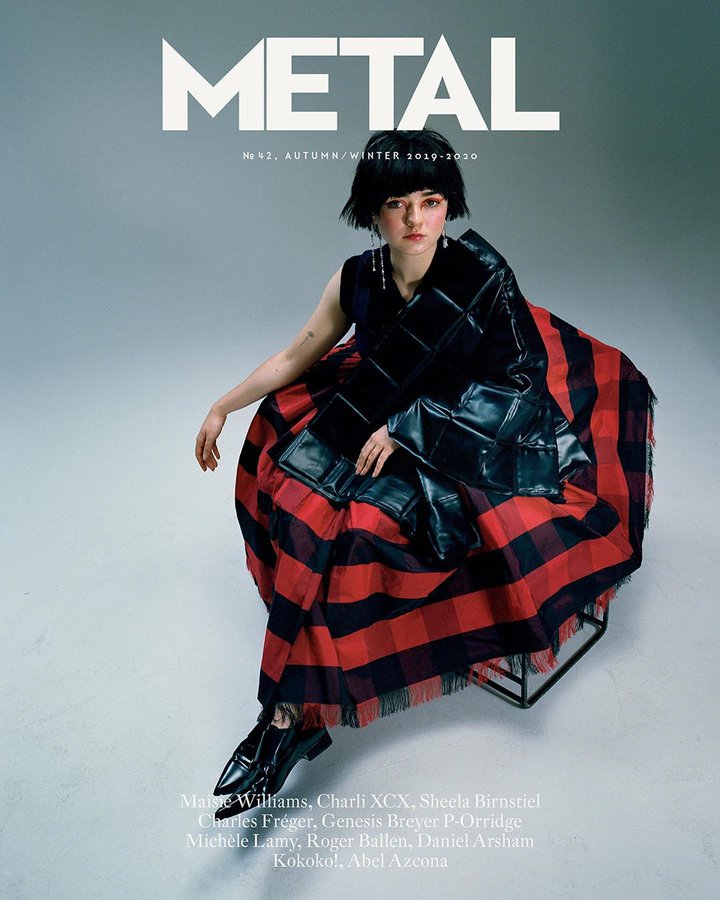 (7) PEOPLE ARE THE WORST. The Hollywood Reporter's Chris Gardner was on hand for the soiree: "Jordan Peele Explains His Attraction to Horror: 'There Is an Evil Embedded Into Our DNA'".
The director shared the Hammer Museum stage with honoree Judy Chicago, presenters Gloria Steinem and Roxane Gay and performers Beck and Chris Martin at the record-setting Gala in the Garden fundraiser….

[Jordan Peele] He also dished out some of his early inspirations from the silver screen — with a nod to Martin Scorsese's recent controversial statements about what qualifies as "cinema."

"I can buy the premise for a second that this is a deserved thing, after all I spent so many hours growing up watching great cinema and absorbing art house classics of the 20th century like Ghostbusters 2, Gremlins 2, and Chud 2, all the twos," he joked. "That's my pathway of this great thing that Martin Scorsese calls cinema."

He then got serious by expanding on his creative motivations.

"My passion is to entertain. I dream less about making a commentary about society than I do about getting a laugh or getting a scream or scaring anybody. Any audible noise that an audience can make, that's my passion," he explained. "Apparently to either get at something important or to just simply make people laugh, it involves a search of the same thing and that's truth."

Peele said that as he grew up, his perspective on life became "a little cynical," and he found new truth in the exploration of what he refers to as "the human demon."

"This is the idea that no matter what there is, whatever you do, there is an evil embedded into our DNA. It crystallizes when we get together. It's in our tribalism, our nationalism, and our capitalism, our mob mentality, our obsession with categorization. We're so good at masking our own evil from ourselves and so my obsession evolved to pulling down this mask," he continued. "I figured why not try to reveal the truth in my language. Do it as entertaining as I could. I found early on that this would require a certain amount of vulnerability. if I was going to tap into fears that would resonate with others, I would need to explore and understand my own fears and my own faults."
(8) DON'T TOY WITH FANS. Vanity Fair demands to know "Where's Rose? Star Wars Fans Want Kelly Marie Tran's Hero on More Merch". Tagline: The first major female Asian character in the galactic saga was missing from many products for The Rise of Skywalker. Here's what happened.
Laura Sirikul was on a mission. To the rest of the world, it was just October 4, but to movie fans like her, it was a galactic holiday—Triple Force Friday, when toys and merchandise from three upcoming Star Wars projects finally went on sale.

Sirikul ventured to big-box retailers around Pasadena, California, in search of items featuring her favorite character: Rose Tico, the quick-witted engineer played by Kelly Marie Tran. After hitting Target, Walmart, Hot Topic, and the Disney Store, Sirikul found herself asking a question that has since become a hashtag on social media: #WheresRose?

At the end of September, preview videos hyping the new merchandise showed a white T-shirt using the word "Rebel" as a backdrop for the character as she struck a heroic pose. "That 'Rebel' shirt was at the Disney Store, but she wasn't on it," Sirikul told Vanity Fair. "There was no Rose Tico at the mall."
(9) TODAY IN HISTORY.
October 15, 1951 — I Love Lucy made its television debut on CBS. Not genre in any sense at all but still worth noting. Desi appeared in a short called "The Fountain of Youth" which is genre. Although Lucy didn't do any genre, their series was the foundation for Desilu Productions which eventually brought Star Trek to TV.
(10) TODAY'S BIRTHDAYS.
[Compiled by Cat Eldridge.]
Born October 15, 1911 — James H. Schmitz. Writer of short fiction of a space opera setting, sold primarily to Galaxy Science Fiction and Astounding Science-Fiction. Sources laud him for his intelligent female characters. His collections are available on iBooks or Kindle. (Died 1981.)
Born October 15, 1919 — E.C. Tubb. A writer of at least 140 novels and 230 short stories and novellas, he's best known for the Dumarest Saga. His other long running series was the Cap Kennedy stories. And his short story "Little Girl Lost" which was originally published in New Worlds magazine became a story on Night Gallery. (Died 2010.)
Born October 15, 1924 — Mark Lenard. Sarek, father of Spock, in Trek franchise. Surprisingly he also played a Klingon in Star Trek The Motion Picture, and a Romulan in an episode of Star Trek. He also had one-offs on Mission Impossible, Wild Wild West, Otherworld and Planet of The Apes. (Died 1996.)
Born October 15, 1926 — Ed McBain. Huh, I never knew he ventured beyond his mystery novels but he published approximately 24 genre stories and 6 SF novels between 1951 and 1971 under the names S. A. Lombino, Evan Hunter, Richard Marsten, D. A. Addams, and Ted Taine. ISFDB has a list and I can't say I know any of them. Any of y'all read them? (Died 2005.)
Born October 15, 1932 — Virginia Leith, 87. The head in The Brain That Wouldn't Die. Really. Truly.
Born October 15, 1947 — Lynn Lowry, 72. She is perhaps best known for her work in such horror films as George A. Romero's The Crazies, David Cronenberg's Shivers, Paul Schrader's Cat People and David E. Durston I Drink Your Blood. Some of these are truly in bad taste.
Born October 15, 1955 — Tanya Roberts, 64. Stacey Sutton in A View to Kill. Quite the opposite of her role as Kiri in The Beastmaster. And let's forget in the title role of Sheena: Queen of the Jungle.
Born October 15, 1969 — Dominic West, 50. Jigsaw in the dreadful Punisher film, Punisher: War Zone. His first SFF role was as Lysander in A Midsummer Night's Dream which is the same year he shows up as Jerus Jannick in The Phantom Menace, and he was Sab Than on John Carter. His latest SFF role was as Lord Richard Croft in the Tomb Raider reboot.
(11) COMICS SECTION.
Off the Mark shows that this Halloween, if you won't go to Mount TBR, your Mount TBR might come to you.
(12) NOT TANK MARMOT. In "Wildlife Photographer of the Year winners showcase stunning scenes from nature", CNN describes the winning photo:
It could almost be a scene from a slapstick comedy: a marmot stands frozen in fear, slack-jawed and balanced on one foot, as it suddenly notices a charging fox.

The dramatic image, captured with perfect timing by Chinese photographer Yongqing Bao, has won the prestigious Wildlife Photographer of the Year award, given out annually by London's Natural History Museum.
(13) CHOCOLATE WITH YOUR PEANUT BUTTER. John Connolly speaks up "In Defense of the Supernatural in Detective Fiction" at CrimeReads.
Some months ago, I had dinner in New York with an old friend, one of the most senior figures in the American mystery community. We tend to differ on almost every subject under the sun, food and wine apart, but it is possible to disagree without being disagreeable, and I like to think that we have both mastered that art, for the most part.

Toward the end of the evening, my friend suggested that I had made two errors in my career. One was the decision not to write exclusively in the mystery genre, but to explore other areas of writing. This, he felt, had damaged me commercially—although, as I pointed out to him, it had benefited me creatively. My second error, he believed, was to have mixed the mystery genre with the supernatural. Whatever its benefits or disadvantages to me, either commercially or creatively, he believed that this simply should not have been done. For him, the supernatural had no place in the mystery novel, and there are many in mystery community who share his opinion.
(14) LAST LAUGH. BBC shares "The graveside joke that had everyone laughing at a funeral". (Also video.)
A dad's message from beyond the grave has touched the hearts of thousands online.

Shay Bradley, 62, had a dying wish that had his family and friends laughing at his funeral in Dublin.

In a video that has received more than 136,000 upvotes on Reddit, the former Irish defence forces veteran pretends to be trapped inside his coffin and is heard knocking frantically, trying to get out

Coming from a speaker on the ground his voice boomed from his grave: "Hello, hello, hello… let me out!" There is then some swearing which sends the mourners into fits of laughter.

He goes on to sing: "Hello again, hello. I called to say goodbye."
(15) STAY FROSTY. "His Dark Materials: Behind the scenes of the TV adaptation".
Ahead of the eight-part dramatisation of the first of Philip Pullman's best-selling His Dark Materials novels, the BBC's Sian Lloyd describes her sneak-preview behind-the-scenes set visit earlier this year.

Huddled around braziers filled with warm coals or sitting with blankets wrapped over shoulders, close to a hundred shivering extras are trying to keep the cold at bay.

They are the Gyptians, the nomadic closely-knit boat-dwelling tribe at the centre of Pullman's trilogy, who are about to get some disturbing news.

In the real world, we're on the site of a former ironworks in Blaenavon in the south Wales valleys. There's snow on the ground, and temperatures are still plummeting.

Cast members and crew have gathered for the opening scenes from the series, which covers the events of the novel Northern Lights, and which receives its premiere in London on Tuesday.
(16) GIVE YOU JOY. From BBC: "His Dark Materials: Lin-Manuel Miranda's Welsh 'joy'"
Relocating to south Wales to film His Dark Materials was a "joy", Hamilton creator and star Lin-Manuel Miranda has said.

The TV adaptation of Sir Philip Pullman's trilogy is being screened in London before being broadcast on BBC One in November.

The actor plays Lee Scoresby in the series, which was made by production company Bad Wolf in Cardiff.

Miranda shared his love of Wales on social media during filming.
(17) COVER ARTIST. Would you like to hear Andy Partridge's "Music inspired by the art of Richard Powers", the famed sff artist and 1991 Worldcon guest of honor?
A Long time ago, in a library far away, (well, Swindon, actually), a shy schoolboy who loved books but was a slow reader, borrowed three science fiction books per week. He didn't read them. Instead, mesmerised by the covers, he imagined his own stories to match the cover paintings which he stared at intently for hours.

Invited to tell his classmates about the books he'd read, neither they nor the teachers spotted the invention. Few, if any, teachers read sci-fi and even though the early 1960s may have been a peak point for the excitement surrounding mankind's initial steps beyond the Earth, teachers would sooner bore any potential interest in books out of children with Charles Dickens rather than risk capturing their imagination with Philip K Dick.

Decades passed. The moon was reached and then, it seemed, forgotten. The faraway galaxies became the stuff of mainstream cinema and TV. Books celebrating the work and art of an earlier generation of sci-fi writers and illustrators appeared. The boy in the library of the early 1960s, now a man in a comic book/graphic novel shop at the end of the first decade of a new millennium, discovered a book about Richard M. Powers and became a time traveller, transported back to the smell of the paper, the plastic protective library book coverings and the universe laid out, jigsaw like, on his bed. Richard M. Powers had been the principal artist, illustrator among illustrators and guide to unleashing Andy Partridge's imagination among the stars and galaxies.

Andy's response was to record a sort of soundtrack to the paintings which had been so inspirational to him. The resulting album conjures, via 12 enigmatic pieces – akin to a virtual Musique concrete (with the computer/editing process replacing the more cumbersome scissors/tape method) – a musical accompaniment to the variety of alien landscapes which Powers illustrated so profusely….
(18) LITTLE KNOWN STUFF. "William Shatner beams in with hit TV show at 88" on AFP says that Shatner's paranormal mysteries show The UnXplained has been picked up for a second season on the History Channel and that Shatner's secret for being productive at 88 is to "keep taking on projects."
Shatner beamed into Cannes in southern France on Tuesday to beat the drum for the series — which tries to explain some of the mysteries of the world around us — at MIPCOM, the world's biggest entertainment market.

"A friend of mine once received a call from someone who had passed away," he said. Finding answers to such strange phenomena "was what this show is all about", he told reporters.
[Thanks to John King Tarpinian, JJ, Chip Hitchcock, Cat Eldridge, Mike Kennedy, Martin Morse Wooster, Michael Toman, and Andrew Porter for some of these stories. Title credit goes to File 770 contributing editor of the day Xtifr.]