(1) THE LAST DAY. Macmillan Publishers is moving from the Flatiron to the Equitable Building and taking Tor.com with it. Seanan McGuire commemorates the departure in her story "Any Way the Wind Blows".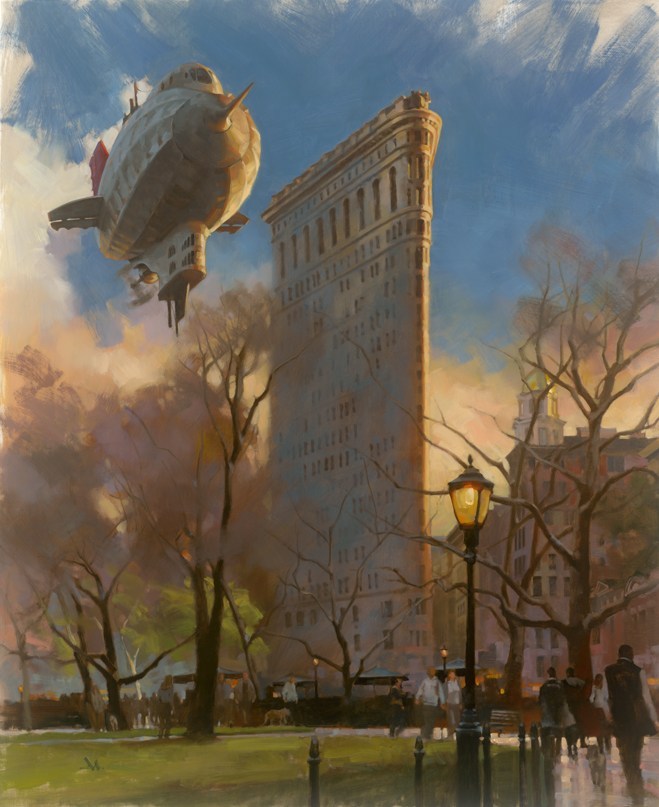 "Captain?"

I turn. Our navigator is looking over his shoulder at me. Well. One of his heads is. The other is still watching the curved window that makes up the front of our airship, crystal clear and apparently fragile. Most people who attack us aim for that window first, not asking themselves how many protections we'd put on a sheet of glass that size. The fact that it's not a solid mass of bugs doesn't seem to be the clue it should.

"What is it?"

He smiles uncertainly. "I think I see the Flatiron."
Tor Books also posted a group shot taken outside the building here.
(2) PITT THE YOUNGER SEEKS PITT THE ELDER. Ad Astra comes to theaters in September 2019.
Astronaut Roy McBride (Brad Pitt) travels to the outer edges of the solar system when he finds his missing father, played by Tommy Lee Jones, has been doing threatening experiments in space. He must unravel a mystery that threatens the survival of our planet. His journey will uncover secrets that challenge the nature of human existence and our place in the cosmos.
(3) FROM DEEP IN THE FILES. Baen Ebooks is distributing the English translation of a nonfiction work Judgment in Moscow by Vladimir Bukovsky on its retail ebook site, as well as offering a selection of other ebooks from Judgment in Moscow publisher, Ninth of November Press.
Bukovsky spent years in the Soviet gulag, finally being released to the West in 1976. In 1991, Boris Yeltsin's government asked Bukovsky to serve as an expert witness at a possible trial of the Communist Party. Bukovsky combed through the archives, scanning and copying much of the material there, and, after the trial became a dud, smuggled the material out of Russia. Judgment in Moscow is a behind the scenes look at these original documents which detail how the Soviet leadership and the Communist Party kept the Russian nation enslaved, accompanied by Bukovsky's commentary elucidating the extent of the evil recorded therein.

Judgment in Moscow is based on the trove of Communist Party archives that Bukovsky spirited away before access was shut down. These contain elaborate details of Soviet meddling in Western politics, and it also details Western complicity in Soviet Russia's program of totalitarian oppression. Originally written in Russian, Judgment in Moscow was seen as a major indictment of political treachery both inside and outside the USSR.
Baen's press release says:
Western publishers, including Random House in America, backed down from publishing an English translation out of what appears in hindsight cowardice and fear of offending the emerging new Russian oligarchy. Now after years with no translation available, a new English version has finally been created with Bukovsky's wholehearted participation.
(4) THE HITS OF SIXTY-FOUR. At Galactic Journey, Cora Buhlert details the unexpected popularity in West Germany of movies adapted from the crime novels of Edgar Wallace – someone better remembered in America as the creator of King Kong. [June 4, 1964] Weird Menace and Villainy in the London Fog: The West German Edgar Wallace Movies.
…Wallace villains are never just ordinary criminals, but run improbably large and secretive organisations with dozens of henchmen. At least one of the henchmen is deformed or flat out insane, played either by former wrestler Ady Berber or a charismatic young actor named Klaus Kinski, who gave the performance of his life as a mute and insane animal handler in last year's The Squeaker.

The crimes are extremely convoluted, usually involve robberies, blackmail or inheritance schemes and are always motivated by greed. Murder methods are never ordinary and victims are dispatched via harpoons, poison blow guns, guillotines or wild animals. The villains inevitably have strange monikers such as the Frog, the Shark, the Squeaker, the Avenger, the Green Archer or the Black Abbot and often wear a costume to match. Their identity is always a mystery and pretty much every character comes under suspicion until the big reveal at the end. And once the mask comes off, the villain is inevitably revealed to be a staunch pillar of society and often a member of Sir John's club.
(5) GLORIOUS COVER. Alex Shvartsman posted a cover reveal for his debut novel, Eridani's Crown. It's a beauty.
The full wraparound cover was drawn and designed by Tomasz Maronski.
(6) HE'S IN THE HALL. SYFY Wire reveals "Batman first inductee to Comic-Con HOF".
Holy Hall of Fame, Batman! The Caped Crusader is robbin' all the other comic book superheroes to seize the illustrious distinction of becoming the very first inductee into the new Comic-Con Museum's inaugural class of honored comics characters.

The Dark Knight will hold the door for all the rest of the museum's first, still-unannounced heroic batch, DC revealed in a press release announcing "The Gathering," a July fundraising event for the new museum. Located near the site of San Diego Comic-Con in the city's Balboa Park, the Comic-Con Museum (or CCM) will be a 68,000-square-foot shrine to all things heroic and villainous, drawing on decades of rich history from the pages of comics, graphic novels, and more.

"On the occasion of Batman's 80th anniversary, a ceremony honoring DC's most popular super hero will be the centerpiece" of the July 17 event, which is timed to help kick off this year's San Diego Comic-Con.
(7) DARK PHOENIX. On Jimmy Kimmel Live, Sophie Turner, James McAvoy, Jennifer Lawrence, Michael Fassbender, Jessica Chastain, Nicholas Hoult and Tye Sheridan talk about making Dark Phoenix together and reveal some of their on-set antics.
(8) FINANCIAL OMENS. Our Designated Financial Times Reader Martin Morse Wooster peered behind the paywall at Dan Einav's interview with Michael Sheen and David Tennant about Good Omens.
Stars are usually personally held accountable when a series fails to meet the expectations of the fans–and lovers of fantasy and sci-fi are often notoriously implacable,  To say that a screen adaptation of "Good Omens" has been hotly anticipated is to understate the extent of the fervour Gaiman's devotees have for his work.

Do the actors feel anxious about a potential backlash?  'I read the book when it first came outm so I'm one of those fans and I've felt the weight of expectation,' says Sheen.  "But Neil has said all the way through that he's not making it for the fans, he's making it for Terry."

Tennant, who is no stranger to opinionated fans from his days as Doctor Who, is a little more blunt,  'You can't make TV which pleases what people's preconceived notions might be.  You just have to make something you feel proud of and works for people who haven't read the book.
(9) WHERE IS EVERYBODY? Likewise behind a paywall, at Commentary, astrophysicist Ethan Siegel argues in "Are We Alone In The Universe?" that the likelihood there is life elsewhere in the universe is vanishingly small.
When we ask the big question–where is everybody?–it's worth keeping a great many possibilities in mind.  Aliens might be plentiful, but perhaps we're not listening properly.  Aliens might be plentiful, but they might self-destruct too quickly to maintain a technologically advanced state.  Aliens might be plentiful, but they may choose to remain isolated.  Aliens might be plentiful, but they might purposely choose to exclude Earth and their inhabitants from their communications.  Aliens might be plentiful, but the problems of interstellar travel might be too difficult to overcome.

But there's another valid possibility that we must keep in mind, as well:  Aliens may not be there at all.  The probability of the three vital leaps, as described above, is enormously uncertain.  If even one of these three steps is too cosmically impossible, it may well be that in all the universe, there's only us.
(10) BRADBURY REMEMBERED. [Item by Robert Kerr.] "Ray died 7 years ago today. I know he'd like to be remembered, but he'd like to be remembered with joy. Among Ray's many accomplishments was writing the script for the Epcot attraction Spaceship Earth. This picture was taken in 1982 at the opening of Epcot. Ray took a bus or train to get to Florida, but he had to get back to L.A. faster than a bus or train could get there. Ray was a self-proclaimed coward who didn't conquer fears very well. He never drove a car his entire life, and at 62 he was going to get on a plane for the first time. He said they put a bunch of martinis in him and loaded him onto the plane. To commemorate the occasion of Ray's first time on a plane, some Disney animators drew a piece showing Ray on a plane, martini in hand, with Mickey Mouse sitting next to him. Ray kept that piece on display in his study for the rest of his life."
(11) TODAY'S BIRTHDAYS.
[Compiled by Cat Eldridge.]
Born June 5, 1908 — John Russell Fearn. British author and one of the first British writers to appear in American pulp magazines. A prolific author, he also published novels as Vargo Statten and with various pseudonyms such as Thornton Ayre, Polton Cross, Geoffrey Armstrong  and others. As himself, I see his first story as being The Intelligence Gigantic published in Amazing Stories in 1933. His Golden Amazon series of novels ran to over to two dozen titles, and the Clayton Drew Mars Adventure series that only ran to four novels. (Died 1960.)
Born June 5, 1928 — Robert Lansing. He was secret agent Gary Seven in the "Assignment: Earth" on Star Trek. The episode was a backdoor pilot for a series that would have starred Lansing and Teri Garr, but the series never happened.  He of course appeared on other genre series such as The Twilight Zone, Journey to the Unknown, Thriller and Alfred Hitchcock Presents. (Died 1994.)
Born June 5, 1946 — John Bach, 73. Einstein on Farscape, the Gondorian Ranger Madril in the second and third movies of The Lord of the Rings film trilogy. Also a British body guard on The Chronicles of Narnia: Prince Caspian. And he was the body double for shooting for Saruman in place of Christopher Lee, who was unable to fly to New Zealand for principal photography on The Hobbit film series
Born June 5, 1960 — Margo Lanagan, 59. Tender Morsels won a World Fantasy Award for best novel, and Sea-Hearts won the same for Best Novella. She's an alumna of the Clarion West Writers Workshop In 1999 and returned as a teacher in 2011 and 2013.
Born June 5, 1976 — Lauren Beukes, 43. South African writer who's the author of a number of SF novels. Zoo City won the 2011 Arthur C. Clarke Award, The Shining City, about a time travel serial killer and the woman who catches him, is being adapted as a series in South Africa, and Moxyland is a cyberpunk novel set in a future Cape Town.  Very impressive! 
(12) WHO WRITER OUSTED FROM ANTHOLOGY. Gareth Roberts has been "dropped from an upcoming Doctor Who anthology over 'offensive' transphobic tweets" BBC Books has confirmed.
Parent company Ebury confirmed that Roberts' contribution to Doctor Who: The Target Storybook, will not feature….

Ebury's decision to drop Roberts over his tweets, which it says conflicts with its "values as a publisher", has sparked debate on social media.
Gareth Roberts defends and explains himself and the terminology he used in a "Statement on BBC Books and Transgenderism" on Medium.
(13) CURRENCY EVENTS. In "If We Told You Neal Stephenson Invented Bitcoin, Would You Be Surprised?" on Reason.com, Peter Suderman says, in a survey of Stephenson's novels, says that in The Diamond Age and Cryptonomicon, Stephenson "described the core concepts of cryptocurrency years before Bitcoin became a technical reality."
For nearly three decades, Stephenson's novels have displayed an obsessive, technically astute fascination with cryptography, digital currency, the social and technological infrastructure of a post-government world, and Asian culture. His novel Anathem is, among other things, an elaborate investigation into the philosophy of knowledge. His new book, Fall; or, Dodge in Hell, pursues these themes literally beyond the grave, into the complications of estate planning and cryogenics.
(14) CALLING LONG DISTANCE. Drop by the Richard M. Nixon Presidential Library and Museum between now and January 12, 2020 to see the phone he used to call the Moon in the interactive exhibit Apollo 11: One Giant Leap for Mankind.
Artifacts and objects featured in the exhibit include:
Buzz Aldrin's penlight used in the Lunar Module and Apollo 11 patch worn on the surface of the moon
NASA X-15 silver-gleaming pressure suit used to train Neil Armstrong and America's first astronauts in the 1950s
Moon rocks from the lunar surface, acquired during the Apollo 15 and Apollo 17 missions
Oval Office telephone that President Nixon used to call Neil Armstrong and Buzz Aldrin as they explored on the lunar surface
Presidential Medal of Freedom Award presented to astronaut Michael Collins by President Nixon
Original of President Nixon's draft speech prepared in the event of a "moon disaster"
A 3-D printed, life-sized statue of Neil Armstrong in his space suit, as he climbed down the ladder of the Lunar Module on the moon
A giant, exact recreation of an Apollo mission command module
(15) HUGO CONTENDERS. Garik16 progresses with "Reviewing the 2019 Hugo Nominees: Best Short Story ".
6th Place On My Ballot:.  "The Secret Lives of the Nine Negro Teeth of George Washington" by P. Djèlí Clark (Fireside Magazine, February 2018)

This Story can be found HERE.

Thoughts:  This story won the Nebula Award, and I don't think it's a bad pick for the award, which is a testament to the strength of this ballot.  It's a fantasy story about nine slaves' lives and hopes, with the teeth taken from them as the gateway to their stories (and the effects of those teeth on George Washington) – with those slaves' lives having various degrees of fantasy elements, all fitting the themes of those realistic slave-lives.  Still, I think it probably works the least of these six as a cohesive whole, even if the individual parts of this story are excellently done (with the final part reclaiming the supposedly noble action of Washington to free his slaves on his deathbed, in a really nice touch).
(16) NOT EXACTLY THE BURNING BUSH. NPR discusses the means of "Getting Fire From A Tree Without Burning The Wood".
A scientist walks up to a cottonwood tree, sticks a hollow tube in the middle and then takes a lighter and flicks it. A jet of flame shoots out from the tube.

It seems like a magician's trick. Turns out, there's methane trapped in certain cottonwood trees. Methane is the gas in natural gas. It's also a powerful greenhouse gas.

So how does it get inside towering trees like the ones on the campus of the Oak Ridge National Laboratory in Tennessee?

"The wood in this particular species naturally has this condition called wetwood, where it's saturated within the trunk of the tree," says the lighter-flicking scientist, Oak Ridge environmental microbiologist Christopher Schadt.

This wetwood makes for a welcoming home for all sorts of microorganisms.

…Some of those organisms turned out to be species of archaea that are known methane producers. So it's not the trees themselves that are making the methane, it's the microbes living in the trees.

…Because methane is such a potent greenhouse gas, Cregger says, it's important to see how much of it the trees are actually producing.

This raises the surprising notion that trees could actually be contributing to global warming. Yes, these trees remove carbon dioxide from the atmosphere, but could the methane be making things worse?
(17) CLARKE'S FOURTH LAW? BBC wonders "Does pornography still drive the internet?".
Consider the opening lines of The Internet is for Porn, a song from the Broadway musical Avenue Q.

Kate Monster: "The internet is really, really great."

Trekkie Monster: "For porn!"

…Credible-seeming statistics suggest that about one in seven web searches is for porn. This is not trivial – but of course it means that six in seven web searches are not.

The most-visited porn website – Pornhub – is roughly as popular as the likes of Netflix and LinkedIn. That's pretty popular but still only enough to rank 28th in the world when I checked.

But Avenue Q was first performed in 2003, an age ago in internet terms, and Trekkie Monster might have been more correct back then.

New technologies often tend to be expensive and unreliable. They need to find a niche market of early adopters, whose custom helps the technology to develop.

Once it is cheaper and more reliable, it finds a bigger market, and a much broader range of uses.

There is a theory that pornography played this role in the development of the internet, and a whole range of other technologies. Does it stack up?
(18) GIMME THAT REAL OLD-TIME RELIGION. Beer helps: "How Iceland recreated a Viking-age religion".
The Ásatrú faith, one of Iceland's fastest growing religions, combines Norse mythology with ecological awareness – and it's open to all.

…The 'blót', as the changing-of-the-season ceremony is known, began with the lighting of a small fire, which flickered in the breeze as the congregation listened to Old Norse poetry and raised the beer-filled horn to honour the Norse gods. Elsewhere on the island, similar ceremonies, I was told, were taking place.

The blót had been organised by the Ásatrú Association of Iceland, a pagan faith group that is currently one of the country's fastest growing religions, having almost quadrupled its membership in a decade, albeit from a low base of 1,275 people in 2009 to 4,473 in 2018.

The congregation, which comprised a few dozen souls, including a Buddhist and a Hindu guest, had gathered near a sandy beach on the outskirts of Reykjavik, next to the city's domestic airport, to celebrate the first day of the Icelandic summer. It was 25 April, slightly chilly and mostly overcast. Rain looked likely….
(19) WITH WINTER COMES ICE. The whole Game of Thrones cast raps in A Song of Vanilla Ice and Fire – Game of Thrones x Ice Ice Baby.
[Thanks to Lenore Jean Jones, John King Tarpinian, Mike Kennedy, Cat Eldridge, JJ, Chip Hitchcock, Carl Slaughter, Martin Morse Wooter, and Andrew Porter for some of these stories, Title credit goes to File 770 contributing editor of the day Jayn.]