(1) NEVER GIVE UP HOPE. That's Sultana Raza's advice in an "Essay on writing life" at Facebook.
If people see someone giggling away on a bus for no apparent reason, they tend to back away, wondering how crazy that person might be. Unless that person happens to be typing away on their tiny mobile. Depending on the flow of words coming, I can type my stories in buses, trams or trains. Sometimes even in crowded cafes where no one knows me, which is the case right now, with a 90s song blaring away in the background. Usually though, I tend to type away at night, when I have the impression I have unlimited time, and no interruptions. However, as soon as I go on the internet to research something, it's easily an hour or so before I notice I've been page surfing, reading up related trivia. So I wait till I have a few points to research before I jump in the whirlpool of research.

Though I've been writing from school days, my very first note-book got lost when I moved away from India….
(2) KGB. Fantastic Fiction at KGB reading series hosts Ellen Datlow and Matthew Kressel present Livia Llewellyn and Craig Laurance Gidney in a YouTube livestream event on Wednesday, September 16 at 7 p.m. Eastern.
Livia Llewellyn
Livia Llewellyn is a writer of dark fantasy, horror, and erotica, whose short fiction has appeared in over 80 anthologies and magazines. Her collections, Engines of Desire and Furnace have both received Shirley Jackson Award nominations for Best Collection, and her short story "One of These Nights" won the Edgar Award for Best Short Story. She lives in Jersey City.
Craig Laurance Gidney
Craig Laurance Gidney is the author of the collections Sea, Swallow Me and Skin Deep Magic; the novels Bereft and A Spectral Hue and numerous short stories. Both his collections and A Spectral Hue were finalists for the Lambda Literary Award and Bereft won both the Bronze Moonbeam and Silver IPPY Awards. Hairsbreadth, a fairy tale novel, is currently serialized on Broken Eye Books. Craig is a lifelong resident of Washington, DC.
(3) CURSES. Stephanie Merry and Steven Johnson have a piece in the Washington Post about readers commenting on the books they read this summer: "What the country is reading during the pandemic: Dystopias, social justice and steamy romance" T. Andrew Wahl of Stanwood, Washington read Chuck Wendig's Wanderers.
"I read this epic pandemic tome when it came out last summer, and it scared the hell out of me. At the time, it was just a well-crafted sci-fi thriller. Now it feels prophetic as we're living through just about every plot twist in the book…Damn you, Chuck Wendig: It's time to write a happy book about the world recovering and everything being all right!"
(4) BLACK PANTHER FREE. The Verge spread the word that "Black Panther titles are free right now on Comixology". (I made this screencap an hour ago.)
Amazon-owned cloud-based comic book platform Comixology appears to be offering a wide selection of Marvel's Black Panther comics for free this weekend. The unannounced sale was noticed by tweeters and Redditors; many Marvel comics related to the fictional African country Wakanda, where Black Panther is set, are available for free.

It's not clear how long the "sale" will last, however; there doesn't appear to have been any official announcement.
(5) TODAY'S DAY.
From memoirs to sci-fi; there are so many different types of books out there today, so use Read a Book Day to find the perfect book for you to really get stuck into. Read on to discover everything that you need to know about Read a Book Day and the different ways that you can celebrate this date….
(6) MEDIA BIRTHDAYS.
September 6, 1953 — The Hugo awards are first presented in 1953 at the 11th Worldcon in Philadelphia. (According to its Program Book the con had no official nickname, however, The Long List calls it Philcon II.) Alfred Bester's The Demolished Man won Best Novel and Best Professional Magazine  jointly went to  Astounding Science Fiction as edited by John W. Campbell, Jr. and  Galaxy as edited by H. L. Gold.  Best Cover Artist (Hannes Bok and Ed Emshwiller), Best Interior Illustrator (Virgil Finlay), Excellence in Fact Articles (Willy Ley), Best New SF Author or Artist (Philip José Farmer) and  #1 Fan Personality (Forrest J Ackerman) rounded out the Hugos. Toastmaster was Isaac Asimov. The Convention guide is here.
September 6 , 1989 — On this day in 1989, Doctor Who began  its twenty-sixth and final season of the original run on BBC. The Seventh Doctor was portrayed by Scottish actor Sylvester McCoy, here in his third season. That was the same time as his two predecessors but not nearly as long as the Fourth Doctor who went seven seasons, the longest to date. It began with Ben Aaronovitch's Battlefield" story and ended with Rona Munro's "Survival" story. (She would write the Twelfth Doctor story, "The Eaters of Light", making her the only writer to date to have worked on the old and new eras of the show.) BBC would not aired another Doctor Who story until the "Rose" aired on the 26th of March, 2005 with actor Christopher Eccleston as the Ninth Doctor.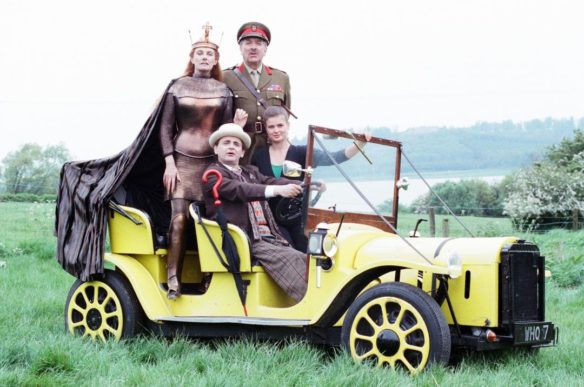 (7) TODAY'S BIRTHDAYS.
[Compiled by Cat Eldridge and John Hertz.]
Born September 6, 1904 – Groff Conklin. One of our first and finest anthologists; also poetry, nonfiction, outside our field. The Best of SF appeared months before Healy & McComas' great Adventures in Time and Space; forty more; also the monthly 5-Star Shelf in Galaxy 1950-1955. Perhaps his best, besides The Best, are A Treasury of SF, The Big Book of SF, Possible Worlds of SF, Omnibus of SF, SF Adventures in Dimension. Barry Malzberg said "the most important science fiction anthologist through the years [when] its previously magazine-bound masterpieces were being systematically located…. all our postwar history exists in the penumbra of his work." (Died 1968) [JH]
Born September 6, 1936 – James Odbert, 84. Half a dozen covers, a hundred thirty interiors. Here is Home From the Shore. Here is the Spring 94 Fractal. Here is the Minicon 10 Program Book. Here is an illustration for Sturgeon's "Talent". Here is his Three of Swords in Bruce Pelz' Fantasy Showcase Tarot Deck (each card done by a different artist in that artist's own manner). Artist Guest of Honor at Empiricon V, Balticon 46. [JH]
Born September 6, 1943 — Roger Waters, 77. Ok, I might well be stretching it in saying that Pink Floyd genre. The Wallis maybe. And quite possibly also The Division Bell with its themes of communication. Or maybe I just wanted to say Happy Birthday Roger! (CE)
Born September 6, 1946 – Halmer Haag. Chair of Balticon 25, 35; Balticon's Gaming Czar; Ghost of Honor at Balticon 44. Instigator of the Baltimore in '98 Worldcon bid, which succeeded and became BucCONeer (56th Worldcon). BSFS (Baltimore SF Soc.) Board of Directors. (Died 2009) [JH]
Born September 6, 1951 – Val Lakey Lindahn, 69. Thirty covers, two hundred ten interiors; two short stories; many with co-artists e.g. Artifact, John Lakey, Ron Lindahn; more outside our field. Here is the Sep 83 Analog. Here is The Asimov Chronicles. Here is "Time On My Hands". Here is Fire from the Wine-Dark Sea. One Gaughan, one Chesley. [JH]
Born September 6, 1953 — Elizabeth Massie, 67. Ellen Datlow who's now doing the most excellent Year's Best Horror anthology series was the horror editor for Year's Best Fantasy & Horror where she selected Massie's "Stephen" for the fourth edition. A horror writer by trade, she's also dipped deeper into the genre by writing a female Phantom graphic novel, Julie Walker is The Phantom in Race Against Death! and a Buffy the Vampire Slayer: Power of Persuasion novel. (CE)
Born September 6, 1953 — Patti Yasutake, 67. She's best remembered for her portrayal of Nurse Alyssa Ogawa in the Trek universe where she had a recurring role on Next Generation and showed up in Star Trek Generations and Star Trek First Contact. In doing these Birthdays, I consulted a number of sites. Several of them declared that her character ended her time as a Doctor. Not true but it made for a nice if fictional coda on her story. (CE)
Born September 6, 1966 – Ellen Key Harris-Braun. Yale summa cum laude. Certified professional midwife. Editor at Del Rey; started DR Internet Newsletter. After DR, independent On-line Writing Workshop. "Some of what is great about Ellen … believing in things, making them happen with grace and perseverance". (Died 2016) [JH]
Born September 6, 1972 — Idris Elba, 48. He was Heimdall in the Thor franchise, as well as the Avengers franchise as well. First genre role was as Captain Janek in Ridley Scott's Prometheus and later he was in Pacific Rim as Stacker Pentecost. And let's not forget him as the Big Bad as Krall in Star Trek: Beyond. (CE)
Born September 6, 1972 — China Miéville, 48. My favorite novels by him? The City & The City which won a Hugo at Aussiecon 4 is the one I've re-read the most followed closely by Kraken. Scariest by him? Oh, that'd King Rat by a long shot. And I'll admit the dialect he used in Un Lun Dun frustrated me enough that I gave up on it. I'll hold strongly that theNew Crobuzon series doesn't date as well as some of his other fiction does. Now his writing on the Dial H sort of horror series for DC was fantastic in all ways that word means. (CE)
Born September 6, 1976 — Robin Atkin Downes, 44. Though he's made his living being a voice actor in myriad video games and animated series, one of his first acting roles was as the rogue telepath Byron on Babylon 5. He later show up as the Demon of Illusion in the "Chick Flick" episode of Charmed and he's got an uncredited though apparently known role as Pockla in the "Dead End" episiode of Angel. He does the voice of Edward in Hansel & Gretel: Witch Hunters, and he's Angelo on Suicide Squad. (CE)
Born September 6, 1979 – Anna Sheehan, 41. Young Shakespeare Players of Madison. Technical degree in commercial goldsmithing. A Long, Long, Sleep winning a Golden Duck, it and sequel No Life But This, based on Sleeping Beauty; Spinning Thorns a re-telling. Ranks Harold and the Purple Crayon above The Long Dark Tea-Time of the Soul. [JH]
(8) SPIN ME A YARN. The Raksura Colony Tree hosts "The [email protected] Gallery".
Organized by Jan Bass and Monique Lubberink, CoNZealand had a lovely community craft project planned: Yarnbombing along the routes connecting the different venues in Wellington. I posted about this earlier this year. Then 2020 happened, and CoNZealand had to go virtual. The project pivoted to yarnbombing wherever the contributors lived and sending in pictures and/or video of the results. We certainly could do with a bit more colour in our lives this year!

We ended up with a lovely display of everybody's contributions in the Virtual Exhibits Hall at CoNZealand. With the kind permission of the contributors involved, I'd like to share the fun with all of you. Click on the pictures to see a close-up and title!
(9) THE DYING OF ART. Eater Los Angeles mourns the loss of another famous place with art on the walls: "Moore's Deli, Hollywood Animator Hangout and Burbank Staple, Closes After Ten Years".
Ten-year-old Valley restaurant Moore's Delicatessen has closed permanently, just shy of its October anniversary. The longtime restaurant was a haven for Hollywood animators in the Burbank area, and featured a ton of hand-drawn artwork on the walls of a back room.
(10) CHECK YOUR DRAWERS. The Guardian asks"Are aliens hiding in plain sight?"
In July, three unmanned missions blasted off to Mars – from China (Tianwen-1), the US (Nasa's Mars 2020 Perseverance Rover) and the United Arab Emirates (Hope). The Chinese and American missions have lander craft that will seek signs of current or past life on Mars. Nasa is also planning to send its Europa Clipper probe to survey Jupiter's moon Europa, and the robotic lander Dragonfly to Saturn's moon Titan. Both moons are widely thought to be promising hunting grounds for life in our solar system – as are the underground oceans of Saturn's icy moon Enceladus.

Meanwhile, we can now glimpse the chemical makeup of atmospheres of planets that orbit other stars (exoplanets), of which more than 4,000 are now known. Some hope these studies might disclose possible signatures of life.

But can any of these searches do their job properly unless we have a clear idea of what "life" is? Nasa's unofficial working definition is "a self-sustaining chemical system capable of Darwinian evolution". "Nasa needs a definition of life so it knows how to build detectors and what kinds of instruments to use on its missions," says zoologist Arik Kershenbaum of the University of Cambridge. But not everyone thinks it is using the right one.

Astrobiologist Lynn Rothschild of Nasa's Ames research centre in California sees a cautionary tale in AA Milne's story from Winnie-the-Pooh, in which Pooh and Piglet hunt a Woozle without knowing what it looks like and mistake their own footprints for its tracks. "You can't hunt for something if you have no idea what it is," she says.
(11) MULAN'S SCREEN HISTORY. In the Washington Post, Martin Tsai gives a backgrounder on non-Disney versions of the Mulan legend, including the fourteen other films about Mulan, with the most recent Chinese version, with the most recent Chinese version being Jingle Ma's Mulan: Rise Of A Warrior (2009). "The live-action 'Mulan' is not the first retelling of the legend. Or the second. Or the sixth."
…Since her story first graced the big screen in 1926, the folk heroine has, under different interpretations over the course of a century, come to variously emblematize filial piety, patriotism, feminism and, perhaps inadvertently, cultural commodification. Given that Hua Mulan may not be an actual historical figure, faithfulness has seldom been a point of contention in the reworkings of "The Ballad of Mulan" in every form and medium — including literature, music, dance, theater, martial arts and television, as well as film — as expanding on those 330 words necessitates artistic license.
(12) UNPUTDOWNABLE. If Popsugar is right that these are "12 Sci-Fi Books About Pandemics That You Won't Be Able to Put Down", you'll need to learn to do a lot of things with your feet.
For some people, the scariest science-fiction books involve alien attacks, rebellious robots, and malevolent technology. For others, sci-fi is truly at its best when it introduces an unseen killer: a deadly disease. While fictitious, pandemic novels hit a little bit closer to home than tales of time travel and parallel universes because — unlike most anything written by Nnedi Okorafor or Octavia Butler — they reflect a very possible reality, even if the stories are a little more fantastical. Novels about inexplicable viruses and devastating pathogens definitely shouldn't be overlooked by sci-fi-lovers (or really anyone), and these 12 books about pandemics are some of the best out there….
(13) FACE ART. The worldwide mask industry now boasts two for fans of the Inklings, a Narnia map mask and a Hobbit book cover mask.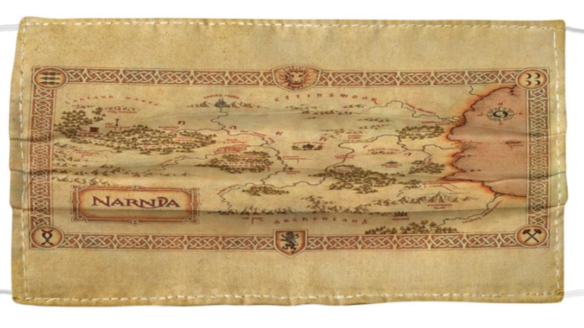 [Thanks to JJ, John King Tarpinian, Mike Kennedy, Michael Toman, Andrew Porter, Martin Morse Wooster, John Hertz, and Cat Eldridge for some of these stories. Title credit goes to File 770 contributing editor of the day Daniel Dern.]