(1) SOLO MENU. Bold NEW menu inspired by Solo: A Star Wars Story. Fat, salt, sugar, and Star Wars. What could be better?

(2) USAGE. How many Lego is two? Ann Leckie gives her answer. The thread starts here:
PSA: If you have to continually point out that some language thing that nearly everyone does is wrong (singular they, nauseous/nauseated, "wrong" plurals, etc), you might wanna reconsider–"lots of fluent speakers do it that way" is sufficient authority.

— Ann Leckie ? (@ann_leckie) April 5, 2018
(3) GUGGENHEIM FELLOWS. The Guggenheim Fellows named for 2018 include fiction writer China Miéville, nonfiction writer Roxane Gay, and in Fine Arts, Elizabeth LaPensee, a writer, artist and game creator who earlier won a Tiptree Fellowship.
(4) WRITERS OF THE FUTURE. The 34th Annual L. Ron Hubbard Achievement Awards Gala for  the winners of the Writers and Illustrators of the Future will be held in Los Angeles on Sunday, April 8. Celebrities attending include Nancy Cartwright, Marisol Nichols, Catherine Bell, Jade Pettyjohn, Stanley Clarke and Travis Oates.
(5) NESFA SHORT STORY CONTEST. The New England Science Fiction Association is running the fifth annual NESFA Short Story Contest. The deadline for submissions in July 31.
The purpose of this contest is to encourage amateur and semi-professional writers to reach the next level of proficiency.
Mike Sharrow, the 2018 contest administrator, sent this pitch —
Attention aspiring writers! Do you like to write science fiction or fantasy stories? Are you a new writer, but not sure if you're ready for the big time? Then you're just the kind of writer we're looking for! The New England Science Fiction Association (NESFA for short) is running a writing contest. Prizes include free books, and a grand prize of a free membership to Boskone. More important though is that we offer free critiques of your work. Our goal is to help young & aspiring writers to improve their writing, so you can become our new favorite writer! Check out our website for details.
(6) TODAY IN HISTORY
April 5, 1940 — One Million B.C. premiered
(7) TODAY'S BIRTHDAY BOYS
Born April 5, 1917 — Robert Bloch. Steve Vertlieb reminds everyone, "Bloch would have turned one hundred one (101) years of age today.  Wishing one of Horror fiction's most legendary writers a joyous 101st Birthday in the Heavenly shower stall of The Bates Motel in Heaven."
Born April 5, 1926 – Roger Corman
(8) COMIC SECTION.
Mike Kennedy says this Tom the Dancing Bug is either a loving tribute to 2001: A Space Odyssey or scary as hell. Or maybe both.
(9) KGB READINGS. Fantastic Fiction at KGB reading series hosts Ellen Datlow and Matthew Kressel present  Livia Llewellyn and  Jon Padgett on Wednesday, April 18, 7 p.m. at the KGB Bar in New York.
Livia Llewellyn

Livia Llewellyn is a writer of dark fantasy, horror, and erotica, whose short fiction has appeared in over forty anthologies and magazines and has been reprinted in multiple best-of anthologies and two Shirley Jackson Award-nominated collections, Engines of Desire and Furnace. You can find her online at liviallewellyn.com, and on Instagram and Twitter.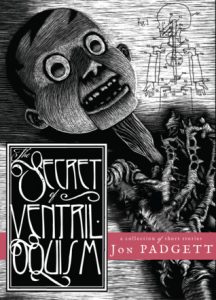 Jon Padgett

Jon Padgett is a professional ventriloquist. His first short story collection, The Secret of Ventriloquism, was named the Best Fiction Book of the Year by Rue Morgue Magazine. He has work out or forthcoming in Weird Fiction Review, PseudoPod, Lovecraft eZine, and in the the anthologies A Walk on the Weird Side, Wound of Wounds, Phantasm/Chimera, and For Mortal Things Unsung. Padgett is also a professional voice-over artist with over forty years of theater and twenty-five years of audio narration experience. Cadabra Records will soon be releasing 20 Simple Steps to Ventriloquism, a story written and narrated by Padgett.
(10) AVOIDING UNPRODUCTIVE GENERALIZATIONS. Annalee Flower Horne suggests this is a subject where it helps to get more specific – jump on the thread here.
It's really weird to see discussions of how "US sff cons" do programming. The US is huge. We have many cons. It's hard to make useful generalizations about the quality and focus of their content.

— Annalee Flower (@leeflower) April 5, 2018
(11) GARDEN OF HOLES. Theory said there should be smaller holes around the monster Sgr A*; now there's confirmation: "Dozen black holes found at galactic center".
"The galactic centre is so far away from Earth that those bursts are only strong and bright enough to see about once every 100 to 1,000 years," said Prof Hailey.

Instead, the Columbia University astrophysicist and his colleagues decided to look for the fainter but steadier X-rays emitted when these binaries are in an inactive state.

"Isolated, unmated black holes are just black – they don't do anything," said Prof Hailey.

"But when black holes mate with a low mass star, the marriage emits X-ray bursts that are weaker, but consistent and detectable."
(12) EARWORMS FOR WHALES. Bowheads appear to have more-complex songs than the famous humpbacks: "The whales who love to sing in the dark".
Over the course of three years, the whales of the Spitsbergen population produced 184 unique song types. The vocalisations were detected 24 hours a day throughout most of the winter each year.

"The alphabet for the bowhead has got thousands of letters as far as we can tell," Prof Kate Stafford, lead author of the study published in the Proceedings of the Royal Society, told BBC News.

"I really think of humpback whale songs as being like classical music. Very ordered. They might last 20 – 30 minutes. An individual [bowhead] song might only be 45 seconds to 2 minutes long, but they'll repeat that song over and over again," the University of Washington researcher added.
(13) GIVING MARS HIVES. NASA will throw a little cash at this idea: "NASA Wants To Send A Swarm Of Robot Bees To Mars".
A Japanese-American team of engineers is working to send a swarm of bee-inspired drones to the Red Planet with new, exploratory funding from NASA. Yes, bees on Mars. The team calls the concept "Marsbees."

NASA selected the idea as part of its "Innovative Advanced Concepts" program, which annually supports a handful of early concept ideas for space exploration. The team of researchers will explore the possibility of creating a swarm of bees that could explore the Martian surface autonomously, flying from a rover. The rover would act as centralized, mobile beehive, recharging the Marsbees with electricity, downloading all the information they capture, and relaying it to Earth's tracking stations. They describe the Marsbees as "robotic flapping wing flyers of a bumblebee size with cicada-sized wings." Those oversized wings, in relation to their bodies, compensate for the density of Mars' atmosphere–which is much thinner than Earth's.
(14) BLACK PANTHER OVERCOMES ANOTHER BARRIER. According to The Hollywood Reporter: "'Black Panther' to Break Saudi Arabia's 35-Year Cinema Ban".
Black Panther is set to make some more history.

Marvel's record-breaking superhero blockbuster — which has already amassed north of $1.2 billion since launching in February — will herald Saudi Arabia's long-awaited return to the cinema world, becoming the first film to screen to the public in a movie theater in the country since it lifted a 35-year cinema ban.
(15) INCREDIBLES 2. Bravo, Edna is a fresh pitch for Disney/Pixar's Incredibles 2, which opens in theatres June 15.
Icon. Artist. Legend. Edna Mode is back, dahlings.
(16) ROWAN ATKINSON. Universal Pictures followed up yesterday's teaser with a full-length Johnny English Strikes Back trailer.
[Thanks to JJ, Carl Slaughter, Cat Eldridge, Mike Kennedy, John King Tarpinian, Martin Morse Wooster, Chip Hitchcock, Steven J. Vertlieb, Matthew Kressel, Jeff Smith, and Andrew Porter for some of these stories. Title credit goes to File 770 contributing editor of the day jayn.]