(1) WIKIPEDIA. What an amazing coincidence (or not)! Amazing Stories is Wikipedia's Featured Article today. I hope it gives Steve Davidson's Kickstarter a boost.
(2) WISCON. The WisCon Member Assistance Fund is rising money through sales of t-shirts etc. with this design: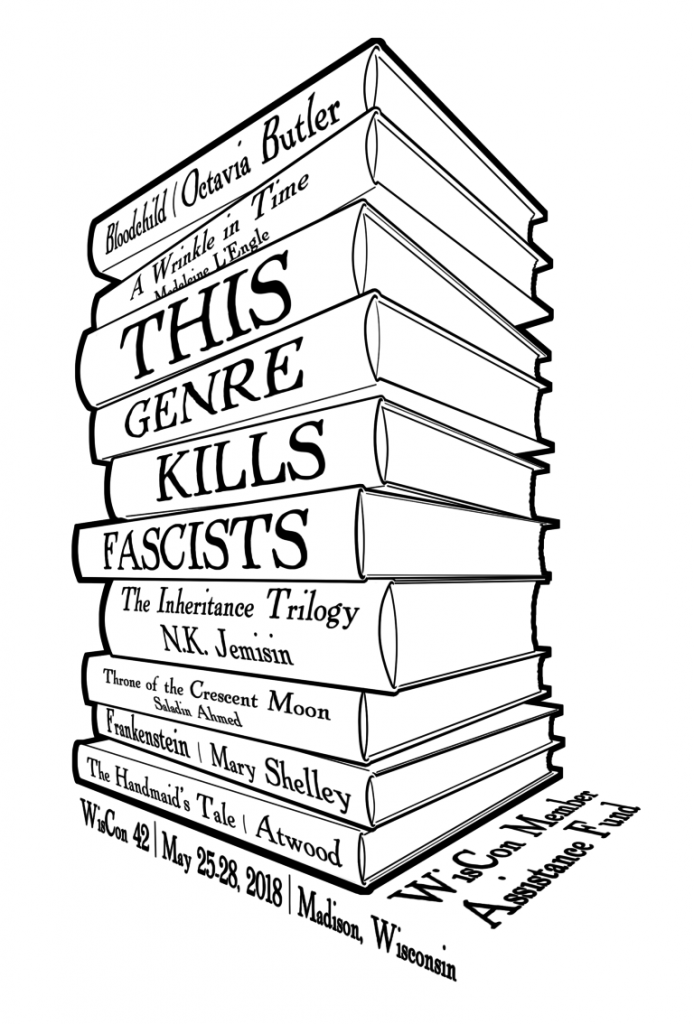 You've always been able to support the WMAF via our Donate page, during the Registration process, or by using our direct Paypal link.

But now you can take care of your own need for clothing and benefit the WMAF at the same time! Sam Haney Press has designed artwork based on an idea from Nicasio Andres Reed (inspired by Woodie Guthrie) and we're making it available on t-shirts! (And on a tote bag, which you will probably need to…carry the multiple t-shirts you are going to want to buy.)
Buy shirts at this link.
(3) UNRECOGNIZED. Scott Bradfield explains why pop culture fame eludes Clark Ashton Smith in "The Bard of Auburn: Getting Weird in the Long Valley" for LA Review of Books.
WHEN IT COMES to being underrated, Clark Ashton Smith has long been a quadruple-threat. For more than a century, Smith has been unfairly disregarded as a poet, a short story writer, a painter, and even a sculptor; had he perhaps enjoyed just a little professional good fortune during his lifetime, he might have gone on to spend his twilight years being unfairly disregarded in numerous additional endeavors: prose poetry, novel writing, drama, screenwriting, you name it. Instead, he spent those last decades as a gardener and handy-man, never achieving the recognition of his friends and fellow Weird Tales contributors, H. P. Lovecraft and Robert E. Howard. Almost unforgivably, no proper biography has yet been published about Smith — only a scattering of bibliographies and essays from small (but resolute) specialty presses.

In many ways, this ponderous, multi-generational neglect of Smith isn't hard to understand. Unlike Howard (the stylish creator of Conan and Solomon Kane), Smith never wrote filmable series characters that could be played by the likes of Arnold Schwarzenegger and Vin Diesel….
(4) BOFFO B.O. Looper tells "Why Black Panther Blew Everyone Away At The Box Office."
(5) AS SANDS THROUGH AN HOURGLASS. "Dune reboot will span two movies, take at least two years, says Denis Villeneuve" reports SyFy Wire.
We've known for a while that Denis Villeneuve is working on a reboot for Dune, Frank Herbert's landmark sci-fi novel famously adapted for the big screen by David Lynch all the way back in 1984. But now we're learning that Villeneuve has no plans to try to cram everything from the sprawling source material into just one movie.

Via The Playlist, Villeneuve recently told a crowd gathered for a Montreal film event that his adaptation of the 1965 novel "will probably take two years to make," with a goal of making "two films; maybe more." That bomb drop reaffirms Villeneuve's long-haul commitment to what's long been a passion project.
(6) WIKIMYSTERY. A scholarly paper posits the automatic generation of adventure games from open data such as Wikipedia articles, OpenStreetMap, and images from Wikimedia Commons: "Who Killed Albert Einstein? From Open Data to Murder Mystery Games".
Every WikiMystery game revolves around the murder of a person with a Wikipedia article and populates the game with suspects who must be arrested by the player if guilty of the murder or absolved if innocent. Starting from only one person as the victim, an extensive generative pipeline finds suspects, their alibis, and paths connecting them from open data, transforms open data into cities, buildings, non-player characters, locks and keys and dialog options. The paper describes in detail each generative step, provides a specific playthrough of one WikiMystery where Albert Einstein is murdered, and evaluates the outcomes of games generated for the 100 most influential people of the 20th century.
(7) CARTOON NETWORK. The Hollywood Reporter tells readers: "Cartoon Network Unveils Largest-Ever Slate of Content for 2018-19".
Among the new shows is Diego Molano's Victor and Valentino, a supernatural comedy about a pair of half-brothers who spend the summer with their grandmother in a mysterious town where Latin American folklore comes to life, and Owen Dennis' Infinity Train, which has already developed a passionate following through the network's Artist Program, about a girl who tries to find her way home from a train full of infinite worlds. Victor and Valentino is slated to release this year, while Infinity Train will reach viewers in 2019.

Other new Cartoon Network shows include buddy-comedy Apple & Onion, set in a world of anthropomorphic food; the surrealist animal adventure Summer Camp Island; and adventure comedy Craig of the Creek, which follows the expeditions of a group of best friends across a neighborhood creek.
And that's not all!
(8) THE DORKEST HOUR. There's something you don't see every day — "Winston Churchill dancing like James Brown, played by Gary Oldman."
(9) SHARKE WATCH. Shadow Clarke jury convenor Dr. Helen Marshall provides "A Means of Escape: A Round-Up of Our Posts So Far".
As we eagerly await the end of the snows and the release of the submissions list, which will launch the first major phase of the Arthur C. Clarke jury's deliberations, I thought it would be useful to pause for a moment and reflect upon the major threads introduced by our jury members so far. In assembling the jury, Maureen and I wanted to draw together reviewers from different backgrounds and with different ideas of what criticism might mean and what it ought to do. I've been delighted to see the range of approaches offered so far as well as the questions they open up. What follows then are my own impressions of some of the major threads that connect these approaches.
(10) SF ENCYCLOPEDIA CREATOR. Here's the text of Peter Douglas Nicholls' death notice that appeared in The Age of Melbourne on March 9.
Science fiction critic, encyclopedist, bon vivant, and pontificator. Died on 6th March 2018, aged 78, surrounded by family. Inspired adoration and exasperation in equal measure. Remembered with enormous love by his sister, Meg; children, Sophie, Saul, Tom, Jack, and Luke; grandchildren, Pia, Cassia and Uma; and his wife, Clare Coney.

My brain tells stories to itself
While I'm asleep. Last night
I smoked and talked, the dead replied
A party in my dreams.
What fun!

– Peter Nicholls
(11) TODAY IN HISTORY
March 10, 1972 — Silent Running premiered
March 10, 1997 — The Warner Brothers (WB) television network airs the inaugural episode of Joss Whedon's, Buffy the Vampire Slayer.
(12) ELLISON. Damien Walters posted his 2013 interview with Harlan Ellison last October, and linked to it on Facebook today.
DW: You famously described sci-fi fandom as an "extended family of wimps, twinks, flakes and oddballs." But don't the geeks kind of run the world now?

HE: I am a steadfastly 20th-century guy. I've always been pathologically au courant. Even today I can tell you the length of Justin Bieber's hair. But it has now reduced society to such a trivial, crippled form, that it is beyond my notice. I look at things like Twitter and Facebook, and "reality TV"?—?which is one of the great frauds of our time, an oxymoron like "giant shrimp"?—?and I look at it all, and I say, these people do not really know what the good life is. I look at the parched lives that so many people live, the desperation that underlies their every action, and I say, this has all been brought about by the electronic media. And I do not envy them. I do not wish to partake of it, and I am steadfastly in the 20th century. I do not own a handheld device. Mine is an old dial-up laptop computer, which I barely can use?—?barely. I still write on a manual typewriter. Not even an electronic typewriter, but a manual. My books keep coming out. I have over 100 books published now, and I've reached as close to posterity as a poor broken vessel such as I am entitled to reach.
(13) PETS WHO SLEEP NEAR WRITERS. Mark-kitteh made sure we didn't miss "13 Of The Most Adorable Pets Owned By Famous Writers" at Buzzfeed.
J.K. Rowling's endearing West Highland terrier named Bronte:
Every 5 minutes. #amtryingtowrite #LethalWhite pic.twitter.com/AIK1NxXIUW

— J.K. Rowling (@jk_rowling) March 1, 2018
(14) DO THE LOCOMOTION. A BBC video shows a "Rollerskating robot to the rescue" (video)
Researchers in Zurich are teaching a robot how to balance on wheels attached to its four legs.

The goal is to help it complete search and rescue missions and other tasks in less time.
(15) BOOM, JAMES BOOM. The volcano used in You Only Live Twice is throwing off ash, lava and rocks – but no rocket launch parts: "Mount Shinmoedake: Warning over Japan's James Bond volcano".
(16) PURPLE HAZE? When they're done, they have an educated guess: "Alien atmospheres recreated on Earth".
"Clouds and hazes determine the temperature and the chemistry of the atmosphere, and also how deep we can look into a planet's atmosphere," explained Dr Helling.

"Exoplanet clouds can be made of sparkling minerals, in addition to the photochemical hazes just produced in the lab."

While clouds form from the continuous cycling of material, much like the hydrological cycle on Earth, the process of producing hazes is "more of a one way trip" according to Dr Hörst.

The solid particles then remain in the planet's atmosphere, where they can scatter light and affect the surface temperature, or travel to the surface via precipitation.
(17) ROBOTS BEHAVING BADLY. CNN Money gives a video demonstration: "Watch this robot get attacked by ransomware".
Ransomware is not only a threat on phones or computers. It's coming for robots, too. Researchers at security firm IOActive successfully conducted a ransomware attack on a SoftBank Robotics robot
(18) MOVIE THEOLOGY. The Washington Post's Michelle Boorstein finds Coco opens the way for a decreasingly religious America to discuss the idea of an afterlife for loved ones: "How the Oscar-winning 'Coco' and its fantastical afterlife forced us to talk about death".
There is little solid data on the wide range of beliefs Americans have about post-death existence and how those views are changing. Much of what there is has to do with the words "heaven" and "hell" — amorphous for many. Seventy-two percent of Americans say they believe in heaven, and 58 percent in hell — numbers very slightly down since about a decade ago, according to the Pew Research Center.

People who work with the dying say these beliefs are fluid.

"Death opens you up," said Aram Haroutunian, a longtime hospital and hospice chaplain in Denver. "And death is the great unknown. People are more open. And especially at the very end, they are very open."

Haroutunian said he doesn't think hammering out theology around the afterlife is a particularly common priority for the dying. However, he said, a common experience among hospice workers is hearing people who are dying start to speak of the deceased — long-dead family or friends — in the present tense, "like they've been talking with them." Metaphors about travel are extremely common, he said: I'm getting on a train, taking a bus ride, packing my bags. "It's uncanny," he added.
(19) PRODIGY. Alex Haughey and Brian Vidal's Prodigy, to be released March 13, is available for pre-order at iTunes.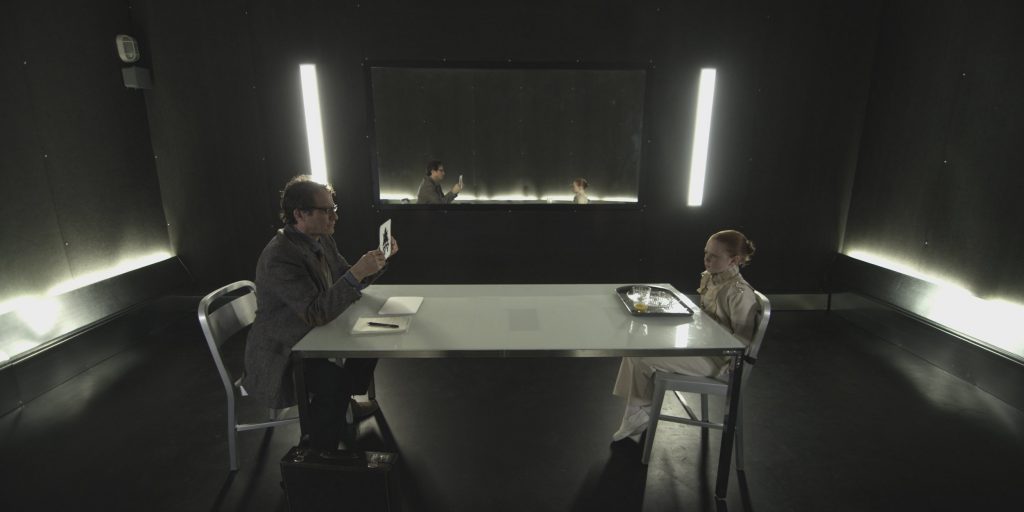 Prodigy follows Dr. Fonda, a psychologist with a mysterious new patient. After being searched and issued warnings, he is taken to a cell where he finds Ellie, a young girl strapped in a straitjacket. Ellie immediately begins dissecting Fonda, revealing her genius-level intellect. Fonda holds fast, only faltering when Ellie claims to have killed her own mother. The team observing this interaction suggest Ellie is more dangerous than Fonda knows. She possesses "gifts" they wish to analyze — a process which will result in Ellie's death. With the execution scheduled for the next day, Fonda must alter his strategy. He engages Ellie in a battle of wits, which results in Ellie's telekinetic "gifts" revealing themselves. Objects hover, furniture topples, the foundation of the building quakes, but Fonda continues chipping away at Ellie's tough facade. His methods begin to win over the experts, but he will need drastic results to prove the monster they see is actually a child worth saving.
[Thanks to Martin Morse Wooster, Cat Eldridge, JJ, John King Tarpinian, Bruce Gillespie, Andrew Porter, Mike Kennedy, Chip Hitchcock, Mark Hepworth, and Carl Slaughter for some of these stories. Title credit goes to File 770 contributing editor of the day Kendall.]