(1) DANGEROUS COVER REVEALS. J. Michael Straczynski today posted in social media links to the Amazon pre-order pages showing the covers of of Dangerous Visions and Again, Dangerous Visions coming out from Blackstone Publishing next year.
JMS added that, "What's not noted in this description is that this edition of Dangerous Visions the book has two new introductions, one by me, and one by Patton Oswalt."
Dangerous Visions, Blackstone Publishing; Hardcover edition (March 26, 2024)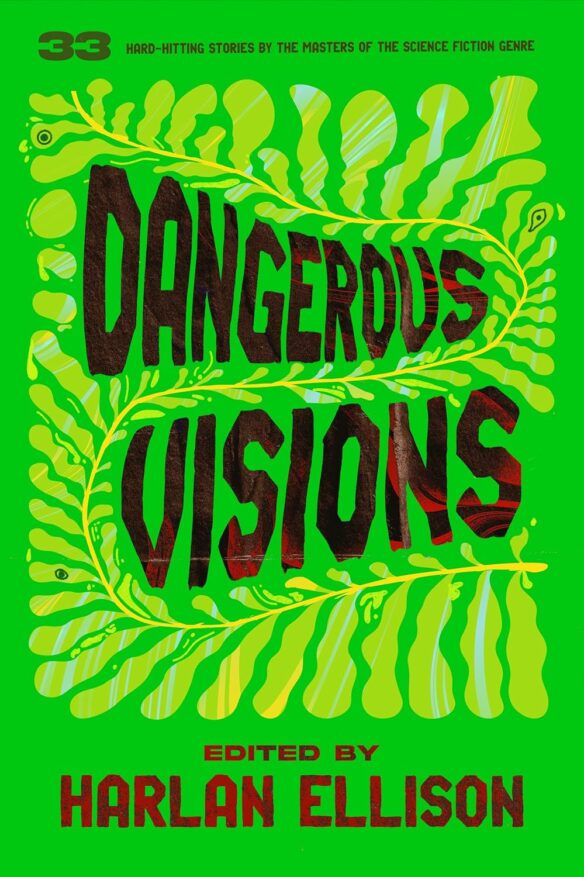 Again, Dangerous Visions, Blackstone Publishing; Unabridged edition (June 1, 2024)
(2) SERGEY LUKYANENKO PROMOTES CHENGDU WORLDCON BOOK. This is news because it's the first time this year that Sergey Lukyanenko's blog has mentioned the Chengdu Worldcon, where he was a no-show guest of honor. On October 31 he promoted the book published for the con containing stories by the three GoHs.
A collection of stories by honored guests of WorldCon 2023 (Chengdu, China): "The Stars Echo" Authors: Sergey Lukyanenko, Liu Cixin, and Robert Sawyer
His blog includes several photos from a Chinese promotional event for the book (none of them showing the other two GoHs).
(Interestingly, his next blog post announced a scheduled appearance by Vladimir Putin at the Public Chamber of Russia, of which Lukyanenko is a member. He and 39 others were appointed members by Putin in April.)
(3) KGB. Fantastic Fiction at KGB reading series hosts Ellen Datlow and Matthew Kressel present Cadwell Turnbull and Victor Manibo on Wednesday, November 8, 2023. The event begins at 7:00 p.m. Eastern in the KGB Bar, 85 East 4th Street, New York, NY 10003 (Just off 2nd Ave, upstairs)
Cadwell Turnbull
Cadwell Turnbull is the award-winning author of The Lesson and No Gods, No Monsters. His short fiction has appeared in The Verge, Lightspeed, Nightmare, Asimov's Science Fiction and several anthologies, including The Best American Science Fiction and Fantasy 2018 and The Year's Best Science Fiction and Fantasy 2019. His latest novel We Are the Crisis is available now from Blackstone Publishing.
Victor Manibo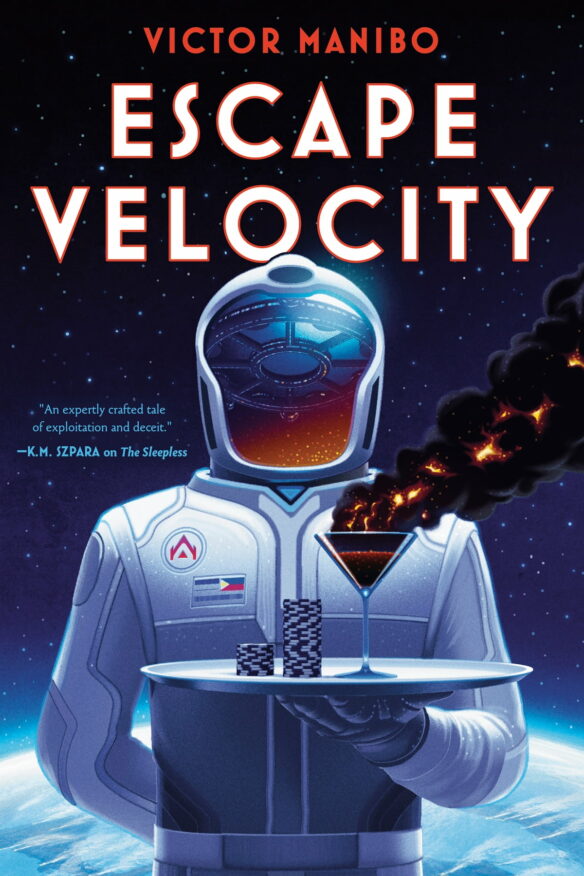 Victor Manibo is a Filipino speculative fiction writer living in New York. A 2022 Lambda Literary Emerging Voices Fellow, he is the author of the science fiction noir novel The Sleepless. His next novel, Escape Velocity, is forthcoming from Erewhon Books in Spring 2024. Aside from fiction, he also spins fantastical tales in his career as a lawyer. He lives in Queens with his husband, their dog, and their two cats.
(4) CHENGDU WORLDCON ROUNDUP. [Item by Ersatz Culture.]
The Tibet SF table in the fan area
(Note: I am of course aware that the status of Tibet is a controversial subject, to put it mildly.  For better or worse, this item focuses solely on the content in the linked article.  Also, given that this item is based on a machine translation of a Chinese-language article that in turn uses many Tibetan names, I'm sure there is a very high chance of mistranscribed or mistranslated names and titles, for which I can only apologize.)
This WeChat/Weixin article covers the Tibet SF table that was present in the fan area at the Worldcon. Some extracts, via Google Translate, with manual edits:
The crowd in the hall was bustling and noisy, and the schedule of activities was full. However, many details were not satisfactory. The entire convention was not planned like a free and easygoing party, but more like a well-regulated exhibition. After all, the fan area was located in the lobby on the first floor, in a corner space.

I wandered around the exhibition area… and a line of familiar and unfamiliar fonts attracted my attention. They read "In this way, Tibetans are a people with a long history. A nation with a history of science fiction literature and a great influence on various science fiction works in the world; Tibet is a treasure trove of science fiction decorated with faith and curiosity, as well as romance and enthusiasm."

Are there actually elements of science fiction in the plateau tradition that I have lived with for many years? …

The table area was not large, and it was filled with Tibetan books with traditional bindings and modern designs. Two "roll-up banners" were placed at each side, displaying the text "Introduction to Tibetan Science Fiction Works" in Tibetan, Chinese and English, and a huge background board stood against the wall. Under the huge bilingual title "Tibetan Science Fiction Works", there were posters for two film and television works, "2012" and "The Nine Billion Names of God". Between the posters, an exquisite painting was hung…

[The author of the article in conversation with one of the people staffing the table]

Cang Gou: Could you name a traditional science fiction literary work that you think is representative [of Tibetan SF]?

Yun Dan: Yes, for example, I think the ancient Tibetan book "Semi", which dates back more than a thousand years, is one of the earliest works with science fiction elements. It is a biography of a character, written in poetic form. It is written in a physical style, but it includes the science fictional element of exploring the universe. There is a phrase in the book: "The world is incredibly infinite." It mentions other forms of civilization beyond the earth, showing the insignificance of human beings. What we see is not the world as it is, and that many worlds are beyond our vision and understanding. Tibetan culture not only recognizes the existence of intelligent life on other planets, but also that some of the planets are much more civilized than the Earth we live on.

Cang Gou: This is a very interesting interpretation. Are there any works in traditional Tibetan literature that we would be more familiar with?

Yun Dan: Of course, the world-famous "Epic of King Gesar" also contains elements of science fiction. Not only is it a "living epic" that is still being worked on, but it also mentions a lot of technological things. For example, the story "Conquering the Snowy Mountains and Crystal Kingdom", created around the 17th century, describes a wooden aircraft that could seat 15 people . This aircraft was powered by an internal iron engine, allowing soldiers to fly long distances. "House Tales" records the legend of how a team of carpenters, blacksmiths and other craftsmen made an aeroplane that successfully flew into the sky. Other stories also mention "modern" equipment such as ships, wires, and rockets. Most modern scholars believe that the Epic of King Gesar was created around the 11th to 13th centuries, so the "future" objects mentioned above could not really exist in that era, but from another perspective, they reflect traditional Tibetan literary works, with an extraordinary imagination…

Cang Gou: So are there any science fiction works in contemporary Tibetan literature?

Yun Dan: Yes, for example, there is a story called "The End of the Moon" in Thondup Tsering's novels, in which in a future world, a child asks his grandfather, why is there no moon in the sky? His Grandpa explains that a long time ago, due to the development of industrialization, humans destroyed the Earth's environment, and furthermore, because of uncontrolled selfishness and greed, they then set their sights on the moon. In order to obtain mineral deposits, they chose to blow up the moon, regardless of [the impact on] future generations. Such science fiction stories also have strong realistic criticism and warning significance. In addition, there are also science fiction poems such as "Ping" and "Home" in my own "Collected Poems of Gao Yun", and other authors have published [SFnal work] in "Gongga Mountain", "Tibetan Literature", "Zhangchar" and other publications, but overall the number is relatively small…

Cang Gou: What do you think of the current situation of Tibetan science fiction?

Yun Dan: In actuality, Tibetans are a very imaginative nation, and there are a lot of science fiction genes in their traditional culture. However, we have not done enough research, organization and development in this area. The older generation may not understand it well. What does science fiction mean? Young people don't have many opportunities to be exposed to science fiction works. Many people also don't know how to rediscover and apply traditional culture from the perspective of science fiction. Therefore, the audience for science fiction works is very small, and the science fiction atmosphere in Tibet is very weak compared to China and overseas.

Cang Gou: How do you think we can promote the development of Tibetan science fiction?

Yun Dan: First of all, we need to discover more Tibetan science fiction elements in traditional culture, so that more young generations can like science fiction and develop a science fictional mindset. Secondly, we need a larger number of writers to participate in the creation, translation and dissemination of science fiction works. Thirdly, the government and the private sector should provide more support for science fiction creation and the dissemination of science fiction culture, and cultivate the science fiction cultural atmosphere in Tibet.

Zhimalam aka Zhuo'er

Illustration from a 1982 edition of King Gesar

Books with Tibetan themes or elements

From left to right: Danzhi Zhouma; Yun Dan (aka Gao Yun), Luo Wu Zerang, Zhimalam (aka Zhuo'er)
Articles about Hai Ya from a finance newsletter and his employer
This article from a financial news organization is a couple of weeks old, but I hadn't got around to posting it before now. It's a fairly standard piece about the Best Novelette Winner, which came to my attention via a bilingual finance blog. That has some extracts which I imagine are better translated than the Google Translate-sourced material that has been published here. It also links to another interview with Hai Ya, which seems to be by the account of his employer, and which perhaps veers a little into advertorial territory in places.
There was also a Xiaohongshu post from his employer's account.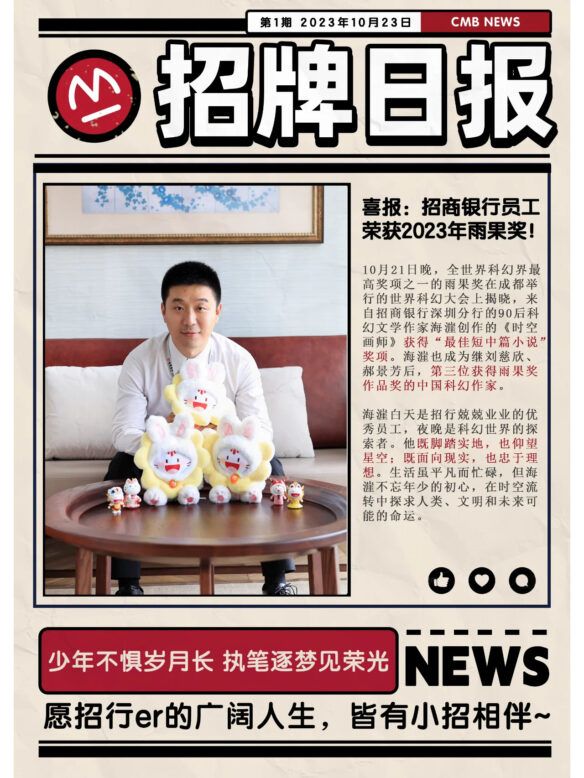 Miscellaneous Xiaohongshu galleries
This one has a photo that shows the organizers were steadfastly refusing to acknowledge the reality that Lukyanenko wasn't going to be at the con. (As an aside, I've also seen post-con promotional material for the Liu/Sawyer/Lukyanenko anthology that refers to all three as Guests of Honour.)
Several Western attendees are pictured in this image set, posted by one of the con staff.
And finally a slightly random set of images. I'm not sure which hotel some of these were taken in; maybe the Wyndham rather than the Sheraton close to the venue?
(5) GOT ONE JOE, GET SOME MORE. Justin Caravoulias shared "An incredibly Brief History Of G.I. Joe Action Figures" in the Heritage Auctions newsletter.
…The original G.I. Joe line was released in 1964 with soldiers representing the 4 branches of the military, each with clothing, gear, and weapons that were interchangeable. Additional outfits and gear were available in accessory kits sold separately as well. From 1964 to 1969, Hasbro released many different Military figures and expanded to international soldiers as well with their Soldiers of the World which included German, Japanese, British, French, and Australian fighters. Hasbro even released a fire truck with Crash Crew figure, a Canadian Mounty, and a female Nurse figure which is highly sought after today.

In 1969 as the Vietnam War became increasingly unpopular, G.I. Joe steered away from military toys and released adventure sets. By 1970, the "Adventure Team" G.I. Joe figures were no longer about military but about accomplishing special missions. This also mis when the "Kung-fu Grip" and "Lifelike Hair" were introduced. My first G.I. Joe as a child was a 12 Inch Adventure Team Land Adventurer that my mother purchased at a local yard sale. I still vividly recall playing with him among the planters in the living room next to our burgundy red 1960's foam-cushioned couch….
(6) STEPPING INTO THE ANCIENT. "In search of strange and sacred sites – the UK's weirdest walks" – the Guardian is tracking them down.
… And then, in the closing hours of the 20th century, came Julian Cope's The Modern Antiquarian, a landmark practical tome for the would-be site-seeker, served up in its own mud-proof slipcase, synthesising archaeology, folklore, grid references, helpful full-colour maps, parking advice and a small smidgeon of Cope's own eccentric interpretations, often later validated by reluctantly admiring academics. The stones were stages! Rock and roll! It was a game-changer, and Cope opened up the crack in the Devil's Grave of our folkloric landscape to all, like the wizard of Alderley Edge.

But Weird Walk is not The Modern Antiquarian. If anything, the three Weird Walkers, whoever they may be, have returned the love of folk tales, ancient sites and the perambulations that lead one to their locations even more defiantly to the realm of the gentleman and gentlewoman amateurs who first documented them. The sensibly shod 17th-century parson, mapping the megaliths between funerals and marriages, and the aristocratic antiquary, pleading with some Cornish farmer to spare the collapsed burial chamber whose capstone he had earmarked for a pigsty, would recognise the Weird Walkers as kindred spirits. No one knows who they are, or what they are doing.

And yet, in their costly boots and cagoules, they seem to have stumbled into something. They walk the landscape in the shadows of the seasons as we used to experience them before they blurred, reminding us of how we once measured out the increments of our humanity, and etched it into rock and earth, in the annual cycles of rotting and rebirth. When we lose this knowledge, we are lost. We're probably lost anyway to be honest, but fuck it, let's go down drunk and walking weird.

Fernworthy Forest, Dartmoor, Devon

Dartmoor is a weird place; temporal dislocation comes with the territory. Wayfinding is not easy among this gorse, these rambling tors and secluded brooks. And when an autumn mist descends, you can be transported: a bronze age farmer to your left, a medieval tin miner to your right, and up ahead the lord of the manor has antiquarian ambitions. He's just repositioned those stones. The earth gnomes don't approve.

The stretch of moor between the storied Warren House Inn and the foreboding interwar plantation of Fernworthy Forest is classic Dartmoor; the grasses are thick underfoot and marshy ground emerges without warning, saturated by the capricious weather. Long ago, the moorland here would have rolled uninterrupted and Fernworthy's ancient monuments would have been as exposed as their neighbours at Merrivale or the Grey Wethers. Now, the break with the moor is absolute, and dark evergreens offer up an entrance out of a Grimm's tale. Once inside, the silent monoculture can provide even the warmest October day with an eerie chill.

Near the edge of the forest sits Assycombe double stone row, Fernworthy's planters helpfully leaving a gap between the saplings for the stones to breathe. Although little known, it is a remarkable monument that seems to tumble down its grassy hill, the irregular miniliths descending like a dragon's spine from an initial menhir to a large blocking stone at the foot of the slope.

Assycombe is one of the many stone rows on Dartmoor thought by early antiquarians, such as Richard Polwhele, to be "Druid ways". They are scattered across the landscape, sometimes barely discernible, but always potent in their imaginative value. Walking these ancient lines creates an access point, a connection to those who walked them long ago….
(7) LEARNEDLEAGUE. [Item by David Goldfarb.] More LearnedLeague specials.
You can find twelve questions about vampires here. (I got eleven right.)
And twelve more about "Haunted New England" here. (Only eight of these.)
(8) TODAY'S BIRTHDAYS.
[Compiled by Cat Eldridge.]
Born November 6, 1907 — Catherine Crook de Camp. Author and editor. Most of her work was done in collaboration with her husband L. Sprague de Camp, to whom she was married for sixty years. Her solo work was largely non-fiction. Her Science-Fiction Handbook was nominated for Retro Hugo at Noreascon 4, and Dark Valley Destiny: The Life of Robert E. Howard was nominated for a World Fantasy Award. Heinlein in part dedicated Friday to her. It is worth noting that she has been depicted in works by several authors, usually together with her husband. I'll single out she appears in S. M. Stirling's In the Courts of the Crimson Kings and Paul Malmont's The Astounding, the Amazing, and the Unknown. (Died 2000.)
Born November 6, 1936 — Edmond G Addeo, 87. Author with Richard M Garvin of The FORTEC Conspiracy, a late Sixties SF novel set at Roswell that the X-Files could've used for source material. The Roswell conspiracy fanatics thought it was actually fact.
Born November 6, 1948 — Michael Dirda, 75. Currently book critic for the Washington Post. His connection to genre is a fascinating work entitled On Conan Doyle; or, The Whole Art of Storytelling which won the Edgar Award for Best Critical / Biographical Works in 2012 and which looks at his SF work as well. Also worth bringing to your attention is Browsings: A Year of Reading, Collecting, and Living with Books which y'all should naturally be interested in reading.
Born November 6, 1951 — Gary Ruddell, 72. Illustrator whose cover artwork for Dan Simmons's Hyperion novel was nominated for the Hugo Award for Best Original Artwork at ConFiction. I'm also fond of the work he did on the Liavek and Thieves' World covers.
Born November 6, 1955 — Catherine Ann Asaro, 68. She is best known for her books about the Ruby Dynasty, called the Saga of the Skolian Empire. When I wrote up this Birthday originally four years ago, I said, "I don't think I've read them, so if you've read them, please do tell me about them." Since then I've read The Jigsaw Assassin and it's quite excellent indeed. The Quantum Rose won a Nebula as did "The Spacetime Pool" novella. And I would argue strongly that her magnificent "Ancient Ages" song is definitely genre in content. It's available from the usual musical digital sources with her books available from the usual digital suspects.
Born November 6, 1965 — Sandra Newman, 58. She has two genre novels, both of which did well as mainstream fiction as well: The Country of Ice Cream Star, a near future dystopian feminist novel and The Heavens which may or may not involve time travel back to Elizabethian times. She also co-authored with Howard Mittlemark, How Not to Write a Novel: 200 Classic Mistakes and How to Avoid Them–A Misstep-by-Misstep Guide.
(9) COMICS SECTION.
Tom Gauld gives this model a day of rest, but not of arrest.
(10) FROM MCU TO MCFILMS. The New York Times review of MCU: The Reign of Marvel Studios by Joanna Robinson, Dave Gonzales and Gavin Edwards shows "Why You Can't Spell Hollywood Without Marvel".
Hollywood doesn't believe in immortals. From Mary Pickford to the MGM musical, Golden Age cowboys to teenage wizards, the city worships its gods only until their box-office power dims. So it feels audacious — if not foolhardy — to open "MCU: The Reign of Marvel Studios" and find its authors, Joanna Robinson, Dave Gonzales and Gavin Edwards, declaring that it's difficult to imagine a future where the Disney-owned superhero industrial complex "didn't run forever." Even Tony Stark, better known as Iron Man, has yet to engineer a perpetual motion machine.

Yet the three veteran pop culture journalists behind this detailed accounting of the company's ascendancy have the numbers to support it. The Marvel Cinematic Universe, a constellation of solo superhero tales mixed with all-star team-ups, including four installments of "The Avengers," is Hollywood's most successful movie franchise of all time — 32 films that have grossed a combined $29.5 billion. By comparison, the book points out that the "Star Wars" series, Marvel's nearest rival, has notched only 12 films and $10.3 billion.

Turning the pages — which are devoid of the usual, and unnecessary, glossy photo spreads — one realizes that superheroes are an X-ray lens into the last decade and a half of Hollywood disruption. Every upheaval gets a mention: corporate mergers; profit-losing streaming services; Chinese censorship; digitally scanned actors; social media cancellations; #MeToo and #OscarsSoWhite; the resurgence of a production-to-distribution vertical pipeline that hadn't been legal since the 1948 Paramount Decree. Pity there's no room to examine each in depth.

First, the origin story. In the '90s, the former overseer of Marvel Enterprises, Ike Perlmutter (let's give him the comic book nickname "The Pennypincher"), empowered his entertainment division to license its biggest stars for cheap, scattering Spider-Man, Hulk and the X-Men across other studios in service of selling more toys. ("MCU" familiarizes us with the marketing term "toyetic.")…
(11) IF YOU WANT TO BE AN ACTOR, SEE MISTER FACTOR. "'Stranger Things' Producer Says Season 5 Won't Use AI To De-Age Actors" reports Deadline.
The final season of Stranger Things is still on pause, but even as the principal cast gets older, executive producer Shawn Levy doesn't think the team will need to go to any extreme lengths to de-age them.

Levy, who also directed two pivotal Season 4 episodes, recently suggested that the producers would do whatever they could to make the kids' aging seem less apparent, because it will have been several years since the previous season wrapped production.

However, in an interview with Deadline, he clarified that he didn't mean to suggest any computer-generated assistance….
(12) A SHOW WITH A FUTURE. "'Futurama' Renewed For Two More Seasons By Hulu" – Deadline has the story.
Hulu has ordered two more seasons of the adult animated series Futurama.

The streamer revived the series in 2022 with a 20-episode order. Season 11 premiered July 24 on Hulu on and was on Nielsen's Top 10 originals series list for six weeks.

Season 12 is expected to debut on Hulu in 2024. The 20-episode latest order is for Seasons 13 and 14…
(13) VIDEO OF THE DAY. Ryan George shows the way things would have gone differently "If Ouija Boards Had Been Invented Today".
[Thanks to Mike Kennedy, Andrew Porter, Ersatz Culture, David Goldfarb, John King Tarpinian, Chris Barkley, Cat Eldridge, and SF Concatenation's Jonathan Cowie for some of these stories. Title credit belongs to File 770 contributing editor of the day Jayn.]