(1) FINALLY! MAX TO RUN FINAL HALF-SEASON OF DOOM PATROL. [Item by Daniel Dern.] According to Gizmodo, the long-overdue final half of the final season (Season 4) of Doom Patrol on MAX (aka HBO MAX, originally on DC's streaming platform, yeesh) — the first half finished showing back in January — with, according to Gizmodo, "two episodes October 12, followed by a weekly drop through November 9."
(While this is the first time actual drop dates have been announced, I'll believe this is real only after I've seen 'em.)
Doom Patrol has been among my short-list favorites for comics-based live-action superhero/sf shows/movies:
Reason 3, history: I've been a DP fan since the group debuted back in June 1963, in DC's My Greatest Adventure #80, for the modest price of twelve cents.
While I missed some issues/runs during the 1970s (when I thought I was done reading comics), I de-gafiated in time for fabulous mind-blowing runs starting with Grant Morrison, followed by Rachel Pollack, and others.
(Here's the cover.)
The initial team consisted of Rita "Elastigirl" Farr, Larry "Negative Man" Trainor, and Cliff "Robotman" Steele, led by doctor/scientist-in-a-wheelchair Niles "The Chief" Calder.
(As opposed to Marvel's X-Men, who started in their eponymous comic dated September 1963. (Reminder, comic issue dates often weren't the same as "when released.") (The DP Wikipedia page discusses some of the "plagiarism? coincidence" questions.)
Reason 2, respectful faithfulness to canon, versus teeth-gnashing gratuitous/disrespectful changes. The characters and plots come from all eras, heroes (and villains), and plots arcs, going back to Mento, Beast Boy, General Immortus, the Brain & Monsieur Mallah, and Garguax, through Flex Mentallo, Crazy Jane, Danny The Street, Coagula, and Casey "Space Case" Brinke.
That said, the creators haven't hesitated to explore and extend characters' backstories and development. Our heroes (and villains) bring a lot of baggage, and it gets unpacked.
Reason 1, this is a mind-blowingly great show. Plots, acting, visuals, ideas, and dialogue. A lot of heart. And a great cast, including Timothy Dalton, Alan Tudyk, Matt Bomer, Brendan Fraser, Diane Guerrero (to name the ones I'm familiar with).
Note, a fair amount of "adult language." (Not at the level of The Boys, though.) Given the predicaments, all justified.
Plus the flying vampire butts, who we've previously seen singing/performing "Shipoopi" (from The Music Man).
I'm excited.
(2) CHENGDU WORLDCON UPDATES. [Item by Ersatz Culture.]
I think this needs someone more versed than me in Chinese culture/cuisine/promotional merchandise to fully explain… As far as I can tell, for 158 yuan – around $21 USD – you get a gift box containing two jars of different types of bean paste, a mecha-panda figurine, a mobile phone ring holder (?) and 2 ribbons.
The branding is mainly associated with "the 6th Chengdu International SF Convention", which seems like it was due to be held in November 2021, but got cancelled due to the pandemic, and hasn't been rescheduled. However, the packaging does also say "A Tribute to the 2023 Chengdu World Science Fiction Convention" and "Originating from the 2023 Chengdu World SF Convention site", but I don't think that it's official Worldcon merchandise.
Estimated shipping date is 10th October; there's a link to a purchase page at the Weibo link.
Two posts about the SF-themed tunnels that lead to the SF museum/con venue
One of these was mentioned in the 2023-09-15 Scroll, but it turns out there are three newly constructed SF-themed tunnels leading to the con venue, although currently only one is open to traffic, with the other two due to open in October.
Red Star News has a couple of posts about them; yesterday they had an article going into detail about them [Chinese only], and today they posted a video: "Red Star Video: In Chengdu Drive into the 'tunnel' and look up at the 'starry sky'".
(3) TRIO OF WARNINGS. At Writer Beware, Victoria Strauss posts three "Cautions: Babelcube, Barnes & Noble Book Order Scams, Audiobook Order Scam (Featuring a Fake Non-Profit)". Here's an excerpt of the third warning:
Audiobook Order Scam (Featuring a Fake Non-Profit)

This one comes courtesy of 20/Twenty Literary Group, a fake literary agency with a roster of imaginary agents that does all the things that real agencies don't, and none of the things they do.

Its latest gambit: an audiobook order scam.

The author is contacted by one of 20/Twenty's imaginary agents with an offer to re-publish the author's book–for a fee, naturally. Shortly afterward…surprise! The author gets a call from a Jennifer Lim, who claims to represent a society for the blind. Jennifer wants to order 5,000 audiobooks to be distributed to the society's members! Naturally, 20/Twenty can oblige. The cost is steep–but oh, those royalties!…
(4) IS THEIR LOVE REAL? "Is The Creator the best science fiction movie of 2023 – or is AI controlling the hype?" – the Guardian's Ben Child raises suspicions.
…Ahead of any official reviews of the AI-centric piece, studio 20th Century has allowed select critics to tweet their opinions, and the consensus seems to be that this could be the discerning sci-fi fan's movie of the year. To reach that level for me, Edwards would have to deliver a film on a par with Neill Blomkamp's District 9 (2009), Alex Garland's Ex-Machina (2014) or Grant Sputore's I Am Mother (2019). These films were full of vim and verve and imagined future worlds so rich and detailed that you can imagine never-ending sequels spinning off into infinity – perhaps the mark of all great celluloid sci-fi….

…Are studios using artificial intelligence to handpick journalists who are statistically more likely to provide positive hype? If it's not happening already, it almost certainly will be soon. In the meantime, let's hope Edwards' film really is the zeitgeist-defining AI flick we've all been waiting for. If mankind is going down, the least we can expect is to do so while drinking in the finest tech-inspired entertainment human civilisation has ever delivered….
(5) GENRE CONTENT INDEED. Fascinating article: "I'm a fake brand, in a fake world: The secrets behind designing a great fictional brand for TV and film" at It's Nice That.
Duff Beer, Dunder Mifflin Paper, Wonka Candies, Barbie merchandise… We've seen countless made-up brands transcend seamlessly from the screen into the real world. So what's the key to their success? We chat to the graphics team behind the Barbie film, Wes Anderson's go-to graphic designer, motion designer and 3D artist Lorenzo Bernini, and Adult Swim's president Michael Ouweleen….

…When it comes to the make-up of fictional brands, Erica notes how, if done correctly, they can make the stylised world feel like a real place, and can become a playground for the characters to fully express themselves within the storyline. In Asteroid City, for instance, all of the roadside cafes have menus written on the facade, because cars don't have time to stop for a menu. "The cafe is the canvas of the menu board," she says. Additionally, one of the characters named Shelly constantly carries a book entitled Invisible Spectrum Elemental Surface Atomic Spectroscopy. There's also a Girl Scout character who's always walking around with her Jam Krispies. "Often the brands have a purpose for existing in the script. It's about understanding what the purpose of that action prop is, and what they're trying to say about a particular character."…
(6) EATING THE FANTASTIC. Scott Edelman invites listeners to join Hildy Silverman for a Georgian feast in Episode 207 of the Eating the Fantastic podcast.
My guest this time around is Hildy Silverman, perhaps best known for having been the Editor-in-Chief of Space and Time Magazine from 2005 through 2018. But she's also a writer of science fiction, fantasy, horror, and the interstitial spaces between. Her short stories have appeared in such anthologies as The Dystopian States of America, Bad Ass Moms, Release the Virgins, Baker Street Irregulars, and most recently, Three Time Travelers Walk Into.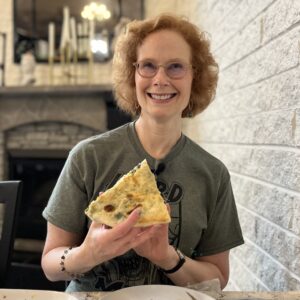 In 2013, her short story "The Six Million Dollar Mermaid," which appeared in the anthology Mermaids 13: Tales from the Sea, was a finalist for the WSFA Small Press Award. In 2020, she joined the Crazy 8 Press authors collective, which publishes novels and anthologies by its membership. She is a past president of the Garden State Speculative Fiction Writers and has frequently pontificated with me on the science fiction convention circuit.

We discussed the kindergarten incident which taught her all she ever wanted to do was write, how to keep writing when the whole world is telling you to stop, what she learned early on from such literary lions as Sue Miller and Jayne Anne Phillips, the lunch that changed her life, why she loves writing for themed anthologies (and how to do it right), what made her decide to take over as editor and publisher of Space and Time magazine, how to beat the odds of the slush pile, the ways being an editor helped her become a better writer, how she's managed to collaborate without killing her writing partner, and so much more.
Scott Edelman is raising money to upgrade his podcasting equipment. Between auctions and listener donations, he's at about the 60% mark. Plenty of fun stuff still up on eBay here.
(7) TENTACLED TEASER. Variety fills readers in about the forthcoming series: "Squid Game The Challenge Trailer; Netflix Sets November Premiere". November 22, to be precise.
…"Squid Game: The Challenge" will see 456 contestants from around the world battle it out through various challenges based on the Korean game show in the scripted series, as well as introducing some new games.

Only one winner will take home the $4.56 million cash prize….
(8) TODAY'S BIRTHDAYS.
[Compiled by Cat Eldridge.]
Born September 22, 1917 — Samuel A. Peeples. Memory Alpha says that he's the person that gave Roddenberry the catch phrase he used to sell Trek to the network: "[As] fellow writer Harlan Ellison has credited him with the creation of one of the most famous catch phrases in Star Trek-lore, '[Gene Roddenberry] got "Wagon Train to the stars" from Sam Peeples. That's what Gene said to me. They were at dinner and Sam Peeples, of course, was a fount of ideas, and Gene said something or other about wanting to do a space show and Sam said, "Yeah? Why don't you do Wagon Train to the stars?"'" (Died 1997.)
Born September 22, 1939 — Edward A. Byers. Due to his early death, he has but two published novels, both space operas, The Log Forgetting and The Babylon Gate. EOFSF says "Byers was not an innovative writer, but his genuine competence raised expectations over his short active career." There's no sign his double handful of stories was collected, though his two novels are in-print. (Died 1989.)
Born September 22, 1954 — Shari Belafonte, 69. Daughter of Harry Belafonte, I first spotted her on Beyond Reality, a Canadian series that showed up when I was living in upstate Vermont. You most likely saw her as Elizabeth Trent in Babylon 5: Thirdspace as that's her most well-known genre performance.
Born September 22, 1957 — Jerry Oltion, 66. His Nebula Award-winning Abandon in Place novella is the beginning of the Cheap Hyperdrive sequence, a really fun Space Opera undertaking. Abandon in Place was nominated for a Hugo at LoneStarCon 2 (2013). The Astronaut from Wyoming was nominated for a Hugo at Chicon 2000
Born September 22, 1971 — Elizabeth Bear, 52. I'm only going to note the series that I really like but of course you will add the ones that you like. First is her White Space series, Ancestral Space and Machine, which I've read or listened to each least three times. Next up is the sprawling Promethean Age series which is utterly fascinating, and finally The Jenny Casey trilogy which came out at the usual suspects several years ago.
Born September 22, 1982 — Billie Piper, 41. Best remembered as the companion of the Ninth and Tenth Doctors, she also played the dual roles Brona Croft and Lily Frankenstein in Penny Dreadful. She played Veronica Beatrice "Sally" Lockhart in the BBC adaptation of Philip Pullman's The Ruby in the Smoke and The Shadow in The North.
Born September 22, 1985 — Tatiana Maslany, 38. Best known for her superb versatility in playing more than a dozen different clones in the TV series Orphan Black which won win a Hugo for Dramatic Presentation (Short Form), for its "By Means Which Have Never Yet Been Tried" episode, She received a Best Actress Emmy and more than two dozen other nominations and awards. She's playing She-Hulk in a Marvel series.
(9) COMICS SECTION.
Bizarro illustrates a tangled legal phrase.
Dork Tower shows us the kind of letter a warrior writes, just before a big battle. Big franchise alert.
The Argyle Sweater finds a crew member with a complaint about a Star Trek photo booth.
(10) EPIC COSPLAY PHOTOS. Bored Panda arrays "105 Of The Best Cosplay Costumes We've Ever Seen". See photos at the link.
Includes an example of extreme dedication – the black plastic suit of "#7 My Catwoman Cosplay From 1992 'Batman Returns'".
SaintElena added: "I experience almost everything the same as Michelle [Pfeiffer], unfortunately. If I spend more than 2 hours in this suit actively moving, then I can get heat stroke. If I'm not moving very actively, then I can break the stay in the suit up to 4 hours."
(11) POLICE ROBOTS IN NYC ARE NOW A REALITY. [Item by Francis Hamit.] This isn't what Asimov envisioned when he wrote the Three Laws but it's close. I invested in Knightscope in 2017 for several reasons. Reading science fiction led me to make Robotics one of my beats as a trade magazine journalist. I was once the West Coast Editor for ROBOTX News. Economic circumstances made me transition from Real Estate broker to Security Captain, a temp gig that became a 20 years career while also continuing to be a professional writer. So I understood instantly what Knightscope's robots could add to the equation. They extend the range and presence of human guards. Security has never been a well-respected business, sort of the Rodney Dangerfield of corporate life but that's changing because of all of the flashmob thieving and mass shootings. It has evolved to a very serious part of corporate life with a strong moral center, led by a new generation of military and police veterans.
Knightscope is now a public company and trades under KSCP on the NASDAQ. The share price has been under attack by trolls and short sellers for most of that time. That gave me the opportunity of increasing my shares by a factor of ten at a very low price this year. So I'm not claiming to be objective. It's a very high risk investment but this NYPD trial is a tipping point.
(12) FEAR REVERED. The Chicago Sun-Times' Richard Roeper looks back to the beginning: "'The Exorcist' at 50: Some things to look for in the classic that elevated horror".
…When I'm asked about the scariest movie I've ever seen, there's no asterisk, no hesitation, no wavering: It's "The Exorcist." I've never been as mesmerized, as terrified, as ain't-no-way-you're-sleeping-tonight shocked, as I was when I first saw William Friedkin's demonic, head-turning, supernatural horror film at the Dolton Theater in the spring of 1974. (Warner Bros. actually released the film on Dec. 26, 1973 — the day after Christmas, how about that — but I had to wait for a second-run showing with the more user-friendly $1 admission price.)…

"The Exorcist" became the first pure horror film to be nominated for the best picture Oscar and continues to be a major influence on the genre to this day.In memory of Friedkin's death last August and in anticipation of the 50th anniversary of the film, we're getting a theatrical re-release and a 4K Ultra HD Blu-Ray and Digital edition of "The Exorcist" that includes the Original Theatrical Version and the Extended Director's Cut, which incorporates 11 extra minutes of footage and ends with a certain exchange that offers a slightly more hopeful note.
(13) TRAIN UP ON THIS TOOL FOR WRITERS. "Decoding the Submission Grinder" is a $20 course offering at Reach Your Apex. Scheduled for Saturday, September 23 at 2:00 p.m. Eastern.
This class will show you how to use The Submission Grinder—the donation-supported web app for writers—to enhance your submission process. Find new publishers for your work that meet your criteria, track your submissions, track your income and expenses, set reminders for yourself, and more. This course will help beginners and intermediate users get the most out of the tool to enhance their submission process. This course will be taught by David Steffen; co-founder, owner, data administrator, and developer of The Submission Grinder.
(14) WHO HYPE. "Doctor Who shares new pics of David Tennant's Doctor reunited with Donna" – Radio Times makes sure we don't miss them.
…The BBC has released some exciting new stills from the upcoming Doctor Who 60th-anniversary specials – showing David Tennant's Doctor reunited with Catherine Tate's Donna Noble….
[Thanks to Chris Barkley, Cat Eldridge, SF Concatenation's Jonathan Cowie, Steven French, Daniel Dern, Ersatz Culture, Lise Andreasen, Francis Hamit, Mike Kennedy, Andrew Porter, and John King Tarpinian for some of these stories. Title credit belongs to File 770 contributing editor of the day Cat Eldridge.]