(1) UNREAL/UNFIT/UNFINISHED. Yoon Ha Lee observed that Unreal / Unfit magazine, which aroused the ire of writers by listing and scoring their rejected submissions, continues to respond defensively (or offensively) to complaints. Thread starts here.
David Steffen of Diabolical Plots tweeted another observation: "Convenient that comments posted on thinkerbeat from writers who dont like the practice mysteriously disappeared!"
(2) FURRY AWARD LOSES LEADER. Mary E. Lowd resigned as chair of the Cóyotl Awards in January. The awards are given for excellence in anthropomorphic literature.
After a great deal of soul searching, I must regretfully step down from chairing the Cóyotl Awards. I apologize for the awkwardness of this timing with awards season at hand. Unfortunately, until the season arrived, I didn't realize how much the newer commitments in my life (among others, editing the furry e-zine Zooscape and a 3-book deal for a space opera trilogy) had conspired to take up every last minute of my time for the foreseeable future, extending into the next few years.

The Cóyotl Awards have survived awkward transitions before. The year when I took over, we held voting for two years' worth of awards at once and hosted a double awards ceremony to cover the previous year that had been missed. So, even if this transition is rocky, it is survivable.
(3) THE HISTORIC RECORDS. Fanac.org has posted video of Dave Kyle being interviewed by Joe Siclari in 2012.
Dave Kyle was an enthusiastic and productive science fiction fan and professional, with an 80+ year tenure.

In this 2012 interview conducted at Philcon 2012, Dave talks about how fandom started, the first Worldcon, fandom in the 1930s (and 40s and 50s and …), the Science Fiction League, decades of controversies, Gnome Press, chairing his Worldcon and much, much more.

The interviewer, Joe Siclari, is an able and knowledgeable fan historian, and asks all the right questions.

Thanks to Philcon 2012 and Syd Weinstein for providing the video.
(4) AN AMAZING EDITOR. At First Fandom Experience, wonderful artwork illustrates "Palmer's Ascension: A True Story From Early Fandom".
Raymond A. Palmer began his pioneering work in science fiction fandom in 1928 at age 18. In 1938, his amateur accomplishments as a club organizer, fanzine publisher, author, editor and promoter of science fiction launched his professional career when he became editor of the iconic pulp magazine Amazing Stories. This is his story, an excerpt from The Visual History of Science Fiction Fandom, Volume One: The 1930s.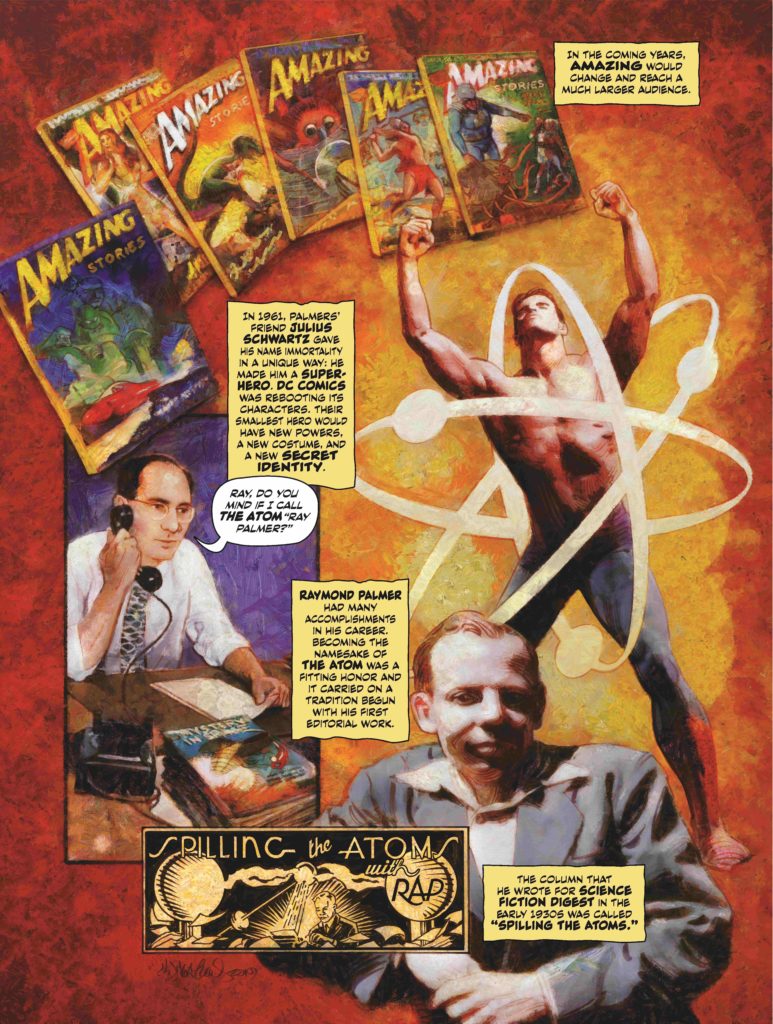 (5) SKY HIGH LID. Alasdair Stuart's "The Full Lid for 28th February 2020" is all about the high frontier.
In New Model Astronauts we take a look at how Hollywood's perception of the astronaut as mythical figure has changed and continues to do so. Our other main story, Boldly Going, takes a look at how what we remember something as being and what it was changes over time and what that means for us as viewers in a modern age.

This week's Women in Horror Month spotlights directors, including Karyn Kusama, Chelsea Stardust, Julia DeCourneau and Issa Lopez.

This week's Signal Boost includes Zinequest 2 by Kickstarter. You can find them here. Also this excellent piece by Dave Jeffrey from the always-great Ginger Nuts of Horror on the way horror fiction deals, or too often fails to deal, with mental illness. We've also got Better Than IRL, a collection of writing about what it's like to find your chosen family online. and TG Shepherd going through the John Wick movie fight scenes 30 seconds at a time. Then there's Dominion: An Anthology of Black Speculative Fiction, and the Princess World RPG and live plays and podcasts from Haggis and Dragons.We also have John Miereau's Serving Worlds and an excellent new Magnus Archives fan project. lilnan's work is amazing and this is going to be something special.

Finally, the brilliant Tim Niederriter has work in a StoryBundle right now. Do check it out and fellow Word Make Gooder, Kat Fowler is part of a really fun D&D livestream you should check out. They're on Twitch and YouTube..
(6) AT THE BOTTOM OF THE STAIRS. Darcy Coates knows her readers because she knows herself: "Don't Go Into the Basement! (Let's Be Honest, We're Going Into the Basement)" at CrimeReads.
…Inadvisable behavior is a well-known trope in horror films and fiction, whether it's investigating strange noises in the basement, or splitting up, or ignoring enormous neon warning signs.

But how do real humans react in those situations? How would I, someone who writes horror fiction for a living and who is in possession of a long list of rational and irrational fears, react?

Not much differently, as it turns out….
(7) NEGATORY, GOOD BUDDY. Snopes is called upon to answer the question "Is the 'Umbrella Corporation' Logo Oddly Similar to a Wuhan Biotech Lab's?"
Claim

The fictional "Umbrella Corporation" from the game "Resident Evil" shares a logo with a biotech lab in Wuhan, Hubei Province in China, where a new coronavirus is believed to have originated….
(8) TODAY IN HISTORY.
March 1, 1978 — The Crime Traveller series premiered on BBC. It was produced by Carnival Films for the BBC. The premise being of time travel for the purpose of solving crimes. It was created by Anthony Horowitz, and starred Michael and Chloë Annett. It would last but eight episodes being caught in the change of guard in the BBC Head of Drama position. You can watch the first episode here.
March 1, 1991 — Abraxas, Guardian Of The Universe premiered. directed by Damian Lee and starring Jesse Ventura and Sven-Ole Thorsen, with a cameo by James Belushi. premiered. It directed by Damian Lee. It starred Jesse Ventura and Sven-Ole Thorsen, with a cameo by James Belushi. Critics used the words "cheesy, low budget, shoddy effects and dreadful acting" to describe it. The audience rating at Rotten Tomatoes reflects that at 19%. You can see it here.
(9) TODAY'S BIRTHDAYS.
[Compiled by Cat Eldridge.]
Born March 1, 1885 — Lionel Atwill. He had the lead roles in Thirties horror films Doctor X, The Vampire Bat, Murders in the Zoo and Mystery of the Wax Museum but his most remembered role was the one-armed Inspector Krogh in Son of Frankenstein which Kenneth Mars parodied in Young Frankenstein. He would appear in four subsequent Universal Frankenstein films. (Died 1946.)
Born March 1, 1915 — Wyman Guin. Ok, occasionally doing these Birthdays results in me being puzzled and this is one of those times. In 2013, he was named as recipient for the Cordwainer Smith Rediscovery Award at ReaderCon 24. When I look him up, I find that he wrote a single novel and seven stories according to the folks at ISFDB. I've not read him. So, was he that good? Should I seek out his novel, The Standing Joy,and add it to my reading list? His short stories are available at the usual digital publishers but the novel isn't. (Died 1989.)
Born March 1, 1918 — Roger Delgado. The first Master in the Doctor Who series. He would appear only with the Third Doctor as he died in car crash in Spain. Other genre appearances were Quatermass II, Danger Man, The Mummy's Shroud and First Man into Space. (Died 1973.)
Born March 1, 1923 — Andrew Faulds. He's best remembered as Phalerus in Jason and the Argonauts in which he was in the skeleton fight scene that featured model work by Ray Harryhausen. He appeared in a number of other genre films including The Trollenberg Terror, The Flesh and the Fiends and Blood of the Vampire. He had one-offs on Danger Man and One Step Beyond. Oh, and his first acting gig was as Lysander in A Midsummer's Night Dream. (Died 2000.)
Born March 1, 1938 — Michael Kurland, 82. The Unicorn Girl which he pennedis the middle volume of the Greenwich Village trilogy by three different authors, the other two being by Chester Anderson and T.A. Waters. Kurland has also written other genre novels including Ten Little Wizards and A Study in Sorcery, set in the world of Garrett's Lord Darcy. His other genre novels are Ten Years to Doomsday (written with Chester Anderson), Tomorrow Knight, Pluribus and Perchance.
Born March 1, 1941 — Martin Greenberg. Founder of Gnome Press who's not to be confused with Martin H Greenberg. My research for this Birthday note shows that he's definitely not on Asimov's list of favorite people despite being the first publisher of the Foundation series. Not paying authors is a bad idea. (Died 2011.)
Born March 1, 1946 — Lana Wood, 74. She's best remembered as Plenty O'Toole in Diamonds Are Forever. She was in The Wild Wild West as Vixen O'Shaughnessy in "The Night of the Firebrand" and Averi Trent in "The Night of the Plague" episodes. She was in both up the CBS televised Captain America films playing Yolanda, and she was still active in the genre as little three years ago playing a character named Implicit in Subconscious Reality. It's very suspicious that all the Amazon reviews of the latter are five stars. 
Born March 1, 1954 — Ron Howard, 66. Director of Cocoon and Willow. Also responsible for the truly awful thing that is How the Grinch Stole Christmas. And opinions are I believe are definitely divided on Solo: A Star Wars Story. As a producer only, he's responsible for Cowboys & Aliens and The Dark Tower.
(10) COMICS SECTION.
The way Rich Horton sees it, "Olivia Jaimes takes a bit of a swipe at epic fantasy/cyberpunk in today's Nancy. (Perhaps it's affectionate, but I confess I took a bit umbrage.)" But he adds, "That said, Sluggo's strategy for reading at school seems like a good one!"
(11) BAKED BOOKMARK. Does Cambridge make library users take an oath, like the Bodleian does? If so, I guess they better add a prohibition about snacks: "Librarians stunned after opening 500-year-old Tudor manuscript and finding a half-eaten 50-year-old biscuit" reports The Sun.
LIBRARIANS opened a rare Tudor manuscript yesterday — and found a half-eaten biscuit stuck between pages.

The find stunned staff and academics at Cambridge University.

It is believed a clumsy schoolboy dropped what appears to be a chocolate chip cookie while leafing through the book more than 50 years ago.

The manuscript — which dates back almost 500 years — was given to the university by a grammar school in 1970.

The 1529 volume from the complete works of St Augustine is stored inside the university's rare books archive, where no food, drink or even pens are allowed.

Emily Dourish, deputy keeper of rare books and early manuscripts, discovered the biscuit….
(12) GETTING READY FOR ST. AQUIN. "Catholic leaders call for ethical guidelines around AI" – Axios has the story.
Catholic leaders presented Pope Francis with a broad proposal for AI ethics, education and rights on Friday as part of an AI conference at the Vatican in Rome.

Why it matters: Algorithms are already starting to replace human decision-making, but ethicists and activists say now is the time to speak up on the values those algorithms should embody.
Driving the news: Members of the Pontifical Academy for Life, a group of scholars that studies bioethics, are calling for AI to be developed in a way that protects the planet and safeguards "the rights and the freedom of individuals so they are not discriminated against by algorithms."
IBM executive vice president John Kelly and Microsoft president Brad Smith are signing the "Rome Call for AI Ethics" on behalf of the two tech companies.
The group outlined ethical principles related to transparency, access and impartiality — what they call an "algor-ethical" framework.
It is a "first step toward awareness and engagement" with other companies and international institutions for a public debate about AI ethics, a spokesperson for the Academy told Axios in an email.
(13) EIGHT ARMS GOOD? "The Tentacle Bot" — some short videos.
Octopus-inspired robot can grip, move, and manipulate a wide range of objects

Of all the cool things about octopuses (and there's a lot), their arms may rank among the coolest.

Two-thirds of an octopus's neurons are in its arms, meaning each arm literally has a mind of its own. Octopus arms can untie knots, open childproof bottles, and wrap around prey of any shape or size. The hundreds of suckers that cover their arms can form strong seals even on rough surfaces underwater.

Imagine if a robot could do all that.

Researchers at the Harvard John A. Paulson School of Engineering and Applied Sciences (SEAS) and Beihang University have developed an octopus-inspired soft robotic arm that can grip, move, and manipulate a wide range of objects. Its flexible, tapered design, complete with suction cups, gives the gripper a firm grasp on objects of all shapes, sizes and textures — from eggs to iPhones to large exercise balls.
(14) A LITTLE MEME THINGY.
(15) OFF BROADWAY. Last night on Saturday Night Live the sketch "Airport Sushi" has the Phantom of LaGuardia emerging to warn someone boarding a flight at LaGuardia airport that he really shouldn't eat the airport sushi.
(16) LEAP YEAR LEFTOVER. Comicbook.com frames the next item:
Reynolds owns Aviation Gin, and the recent ads for the alcohol company have been nothing short of hilarious… Now, Reynolds' latest ad, which features his voiceover, is celebrating Leap Day, which happens every four years in February. Of course, that means folks born on February 29th have an especially interesting birthday. In the new ad, Reynolds enlists a woman who was born on Leap Day 84 years ago, which means tomorrow is technically her 21st birthday.
[Thanks to JJ, John King Tarpinian, Mike Kennedy, Martin Morse Wooster, Chip Hitchcock, Andrew Porter, Cat Eldridge, Rich Horton, Brian Z., and Michael Toman for some of these stories. Title credit goes to File 770 contributing editor of the day Peer.]