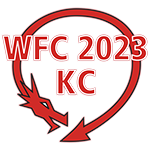 (1) WORLD FANTASY CON UPDATE. The World Fantasy Convention is in Kansas City, MO from October 26-29 at the Sheraton Crown Center. They are getting very close to the event.
The deadline for online registration and tickets for the awards banquet is October 12. People can still pay for memberships on the day, but it will be more expensive. More details on their website.
They have also posted the Tentative Schedule (subject to change).
(2) WIKI HELP WANTED. Scott Edelman quite reasonably thinks the Wikipedia page for prolific sff creator Robert Reed (author) should have a photo of Reed, and not him. It once did. Can any editor fix it?
After I accepted a Hugo Award for Robert Reed at the Yokohama Worldcon, someone swiped in my photo on his wikipedia page. It was corrected after I made a public complaint, but checking his page on his birthday today, I see — I'm back! And blurry, too! Could one of your readers who has editing privileges toss in an actual picture of Bob?
And would you know — today is Robert Reed's birthday. See the listing below.
(3) CHENGDU WORLDCON ROUNDUP. [Item by Ersatz Culture.]
Ben Yalow arrives in China
The Worldcon co-chair's arrival in China received coverage from Red Star News. Via Google Translate (with minor manual edits):
At 14:37 noon, Ben Yalow's plane flew from Hong Kong, China to Chengdu Tianfu International Airport. He specially wore a panda badge from this World Science Fiction Convention on his front. He also received a special gift just after getting off the plane — the mascot "Kemeng" of the 2023 Chengdu World Science Fiction Convention. Ben Yalow couldn't put it down: "It's so cute, I love it!"

This is Ben Yalow's third visit to Chengdu. He said: "When I came to Chengdu before, the plane landed at Chengdu Shuangliu Airport, and this time it landed at Tianfu International Airport. The airport is bigger and the facilities are more beautiful. What has[n't?] changed is that everyone is still so enthusiastic, and so many friends came to pick me up."
Red Star News also posted a short video to the Bilibili video site.
Test run of the Worldcon-branded train this Friday
Further to the item yesterday, there will be a test run event of the Worldcon branded train this coming Friday (13th) morning. Applications to be part of the event have to be in by the end of Wednesday the 11th; SF fans, traditional dress wearers and cosplayers are specifically named as being welcome to apply, so I imagine there'll be plenty of photos taken and published.
Who's sponsoring the Chengdu Worldcon?
Section B.10 of the recently released Business Meeting Agenda has a short "Sponsorship List" section near the bottom of page 31, listing two sponsors:
Chengdu Technology Innovation New City Investment and Development Co., Ltd
Chengdu Media Group
This seems inconsistent with reporting on the June 12th Brand Conference, which stated that there would be eight sponsors, although only one was named at that event. Selected paragraphs via Google Translate:
On June 12, the 2023 Chengdu World Science Fiction Convention global brand launch conference was held in Chengdu, and invitations were issued to brand partners around the world.

The "2023 Chengdu World Science Fiction Conference Market Development Cooperation Plan" was released on site, and a signing ceremony of intent with the first sponsor company, China Telecom, and the first batch of eight franchise companies was held….

…During the event, Liang Xiaolan, full-time chairman of the 2023 Chengdu World Science Fiction Conference and vice president of the Chengdu Science Fiction Association, and Cheng Hong, deputy secretary of the party committee and deputy general manager of China Telecom Chengdu Branch, signed the first sponsoring enterprise intention contract. Sun, vice chairman of the 2023 Chengdu World Science Fiction Conference Yue signed intention cooperation agreements with representatives of the first eight franchise companies….

…According to the relevant person in charge of the 2023 Chengdu World Science Fiction Convention, the World Science Fiction Convention will hold seven high-profile main activities. By fully participating in the activities, companies can fully display their brands at the main venue of the conference and other online and offline official scenes, and use their products. Interact with fans around the world and bring massive exposure to corporate brands through the media communication matrix….
To the best of my knowledge, these sponsorships have never been acknowledged in any of the media released on the Chengdu Worldcon's various channels (website, social media accounts, etc), in either English or Chinese.  I'm unaware of any of the other sponsors being named since that original announcement in June.  On the positive side, I don't recall seeing any sponsor logos being displayed on any of the photos I've seen of the convention venue or surrounding area, or in any of the magazines that have run features on the con, so maybe some of the things mentioned in that news report never came to pass?
(I've attached what I think are the 5 most pertinent images from the linked sina.cn news story.) 
More Xiaohongshu photo posts
A gallery of several photos ; A transit stop ; A bus stop (second photo)
There have been a handful of posts with photos of signage, transit stops, billboards, etc related to the Worldcon. Part of the text of of the first of the above links says (via Google Translate):
More than 800 sets of science fiction conference road flags are hung on 15 main and secondary roads in the city. With the theme of "Meeting the Future in Chengdu", 21 themed landscape sketches are set up around the science fiction museum, on the connection and support lines and at major nodes in the city, and use back streets and alleys. The courtyard walls, bus stops and other carriers integrate sci-fi elements such as Nebula and the mascot "Ke Meng" with the characteristics of Pidu City.
(3) GRRM'S ANSWER. A bit of Chinese advertising researched by Ersatz Culture led me to check with George R.R. Martin whether planned to go to the Worldcon. GRRM replies that he's neither going nor participating virtually.
"I am not involved in this year's Worldcon. Either in person or via zoom. Have way too much to do here at home."
(4) COLLECTING PODCAST. Heritage Auctions sponsors The Stuff Dreams Are Made Of, a collecting podcast hosted by showrunners and "writer-collectors" David Mandel (Seinfeld, Curb Your Enthusiasm, Veep) and Ryan Condal (House of the Dragon).
Every week, David and Ryan explore the far reaches of the thrilling world of collecting TV and movie memorabilia. They have dedicated much of the current season to covering the once-in-a-lifetime event that is the Greg Jein Collection. They provide everything from a three-part, deep-dive into the auction catalog, going literally page by page through Greg's incredible collection to an entire episode to finding out who Greg Jein was as a human.
Here are links to episodes of the podcast:
There are also several YouTube videos:
(5) THEY'RE NOT ALL STINKERS. "Every Isaac Asimov Movie & TV Adaptation Ranked (Including Foundation)" at ScreenRant.
…Apple TV+'s Foundation has been a recent success for Asimov adaptations, as TV networks have been working to bring fantasy/sci-fi novels to the screen. The success of Game of Thrones changed the television landscape, and every network has wanted to bring sprawling book universes to life, paving the way for Foundation. The Foundation series, with Robots and Empire books included, is Asimov's most expansive work. If it can be adapted, anything else is possible too. Attempts have been made at bringing the author's novels and novellas into feature films, though so far few have been successful or faithful adaptations….
There are seven items on their list – this is the first one they didn't hate.
5. The End Of Eternity (1987)

The End of Eternity is a 1987 adaptation of Isaac Asimov's novel of the same name. The sci-fi film has elements of mystery and thriller and actually proves to be a well-made and faithful adaptation of the time travel novel. The film, which was released episodically for television, may have some pretty niche appeal for fans of the novel. For readers who love the story, the film is definitely worth a watch.
(6) FRIENDS, ROMULANS, COUNTRYMEN. The Commandant of Starfleet Academy announces "Due to Falling Enrollments, We Will No Longer Offer Courses in Romulan at Starfleet Academy" at McSweeney's Internet Tendency.
… But despite living in a post-scarcity utopia, in which all of our material needs are satisfied by replicators and the infinite energy supplied by dilithium reactors, recent increases in the price of antimatter, declining domestic enrollments, and intensifying competition for intergalactic students mean that we are facing some tough economic headwinds.…
(7) ANTHONY HICKOX (1959-2023). [Item by Steve Green.] British screenwriter, actor, director Anthony Hickox died October 9, 2023, aged 64. Most of his movies were within the horror genre — Waxwork (1988), Waxwork II: Lost in Time (1992), Sundown: The Vampire in Retreat (1989), Hellraiser III: Hell on Earth (1992), Full Eclipse, Warlock: The Armageddon (both 1993) — but he also adapted the comic strip Prince Valiant for the big screen in 1997. Son of director Douglas Hickox (Theatre of Blood, 1973).
(8) TODAY'S BIRTHDAYS.
[Compiled by Cat Eldridge.]
Born October 9, 1900 — Harry Bates. Writer, Editor, and Member of First Fandom. Editor from 1930 to 1933 of the new pulp magazines Astounding Stories of Super-Science (which later became Astounding Stories, then Analog) and Strange Tales of Mystery and Terror. His Retro Hugo finalist novelette "Farewell to the Master" was the source of the classic science fiction film The Day the Earth Stood Still. He wrote a number of other stories under his own name and under various pseudonyms. In 1976 he was inducted into the First Fandom Hall of Fame. (Died 1981.)
Born October 9, 1948 — Ciaran Carson. Northern Ireland-born poet and novelist who is here, genre wise at least, for his translation of the early Irish epic Táin Bó Cúailnge, which he called simply The Táin. I'm also going to single him out for penning the finest book ever written on Irish traditional music, Last Night's Fun: About Time, Food and Music. It's every bit as interesting as Iain Banks' Raw Spirit: In Search of the Perfect Dram is. (Died 2019.)
Born October 9, 1949 — Jim Starlin, 74. Comics artist and illustrator. If you've seen Guardians of the Galaxy, you've seen the characters Thanos and Drax the Destroyer which he created. He would also work for DC and other companies over the years. Starlin and Bernie Wrightson produced Heroes for Hope, a 1985 one-shot designed to raise money for African famine relief and recovery. Genre writers such as Stephen King, George R. R. Martin, Harlan Ellison, and Edward Bryant would contribute to this undertaking. He's written a number of genre novels co-written with his wife Daina Graziunas.
Born October 9, 1964 — Jacqueline Carey, 59. Author of the long-running mildly BDSM-centered Kushiel's Legacy Universe which also includes the Moirin Trilogy. (Multiple Green Man reviewers used this phraseology in their approving reviews.) Locus in their December 2002 issue did an interview with her called "Jacqueline Carey: Existential BDSM". She did several stand-alone novels including the intriguingly entitled Miranda and Caliban.
Born October 9, 1961 — Matt Wagner, 62. The Grendel Tales and Batman / Grendel are very good as is Grendel vs. The Shadow stories he did a few years back. His run on Madame Xanadu was amazing too. Oh, and I'd suggest both issues of House of Mystery Halloween Annual that he did for some appropriate Halloween reading. And let's not forget his long run on the Sandman Mystery Theatre.
Born October 9, 1965 — Robert Reed, 68. Extremely prolific short story writer with at least two hundred tales so far. And a number of novels as well such as the superb Marrow series. He won a Hugo at Nippon 2007 for his "A Billion Eves" novella. And he was nominated for the Astounding Award for Best New Writer as well.
(9) COMICS SECTION.
The Argyle Sweater has a monstrous religious experience.
Thatababy shows how an ordinary phrase sounds ominous when it's also a movie reference.
(10) READY TO BE STRANGER AGAIN. "A Georgia Town Where 'Stranger Things' Is Shot Yearns for Production to Return" — the New York Times pays a visit.
Liz Bowman, who was a special effects artist for "Stranger Things" before the strikes began, has since been giving tours of locations from the show in Jackson. Ga.Kendrick Brinson for The New York Times

Before a hole could pierce open a parallel dimension, unleashing murderous creatures like a Demogorgon into the placid existence of Hawkins, Ind., there needed to be another invasion.

Hawkins, the fictional home of "Stranger Things," had to take over the small town in Georgia where the hit Netflix show has been set since it debuted in 2016.

The old county courthouse in the center of Jackson, Ga., was turned into the Hawkins Library. An empty storefront became Melvald's General Store. On the other side of the town square, a marquee was added to the front of a restaurant, transforming it into Hawkins's movie theater.

But lately, Jackson has just been Jackson. "Stranger Things" retreated, along with most of the other movies and television shows filmed in Georgia, as the writers' strike that began in May and the actors' strike that followed in July reached far beyond Hollywood. The writers reached a tentative deal with studios in late September, and a ratification vote is underway. But actors are still negotiating with entertainment companies, keeping most TV and film production shut down….
(11) KEEP DRINKING TIL YOU SEE NESSIE. Are you in the market for a "Scotch Ness Critter (Chilling Stone)"?
Looming far into the Scottish Highlands, the Scotch Ness Critter roams around its habitat in secrecy. Its long neck and strong nose are drawn to only the finest scents: toasted oak, dried fruits, or even a wisp of peat. No matter how shallow or deep the glass, you might be the lucky one to keep it sticking around…are you ready?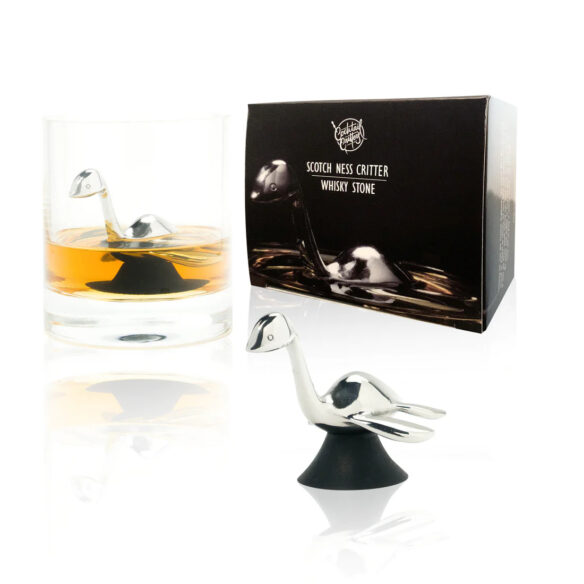 (12) THE SHADOW KNOWS…DO YOU? One of these three contestants on a 1974 episode of To Tell The Truth is the real Walter Gibson, creatof of The Shadow: "To Tell The Truth (June 6, 1974)".
(13) FANTASTIC VOYAGERS. "The Future of Medicine: Artificial Life Forms" at SciTechDaily.
Creating artificial life is a recurring theme in both science and popular literature, where it conjures images of creeping slime creatures with malevolent intentions or super-cute designer pets. At the same time, the question arises: What role should artificial life play in our environment here on Earth, where all life forms are created by nature and have their own place and purpose?

Associate professor Chenguang Lou from the Department of Physics, Chemistry, and Pharmacy, University of Southern Denmark, together with Professor Hanbin Mao from Kent State University, is the parent of a special artificial hybrid molecule that could lead to the creation of artificial life forms.

They have now published a review in the journal Cell Reports Physical Science on the state of research in the field behind their creation. The field is called "hybrid peptide-DNA nanostructures," and it is an emerging field, less than ten years old.

Potential Applications of Artificial Life

Lou's vision is to create viral vaccines (modified and weakened versions of a virus) and artificial life forms that can be used for diagnosing and treating diseases.

"In nature, most organisms have natural enemies, but some do not. For example, some disease-causing viruses have no natural enemy. It would be a logical step to create an artificial life form that could become an enemy to them," he says….
(14) POINT NEMO. BBC Future takes you to "The Soviet spacecraft cemetery in the Pacific".
…The area is not routinely used for any other human activity, such as shipping or fishing – in fact, the nearest humans are often a very different kind of explorer: astronauts aboard the International Space Station (ISS), who are just 415km (258 miles) away when they pass overhead. This is known as the Oceanic Pole of Inaccessibility, otherwise known as Point Nemo.

To find Point Nemo on a globe, you can simply look for the vast swathe of unbroken blue between New Zealand and southern Chile – it's roughly halfway. For a more exact location, triangulate between an uninhabited atoll, Ducie Island – part of the Pitcairn Islands – in the north, Antarctica's Maher Island in the south, the Chatham Islands in the west and Chile in the east. This is a place of superlatives: the most lonely, isolated and lifeless part of the ocean … even the seafloor is some 13,000ft (2.5 miles) from the surface.

But there is another link between the icy, empty waters of this desolate place and the void of space besides the ISS: it's famous as the centre of a spacecraft cemetery – an expansive, scattered rubbish dump for obsolete items in Earth's orbit.

Between 1971 and 2018, global space powers, including the United States, Russia, Japan and Europe, crashed more than 263 space objects in the uninhabited region of the ocean around Point Nemo. The list includes the Soviet-era Mir space station and six craft from the country's Salyut programme, as well as 140 Russian resupply vehicles, six cargo transfer vehicles launched by Japan, and five from the European Space Agency (Esa). More recently, this oceanic dump is thought to have received part of a SpaceX capsule rocket. And coincidentally, its closest neighbour, the ISS, is expected to splash-land at this remote spot in just eight years.

How do spacecraft end up at Point Nemo? What twisted, broken remains are currently lurking in its inky depths? And what might future archaeologists make of it all?…
[Thanks to Mike Kennedy, Andrew Porter, Ersatz Culture, Steve Green, Kathy Sullivan, JeffWarner, Karen Fishwick, Steven French, John King Tarpinian, Chris Barkley, Cat Eldridge and SF Concatenation's Jonathan Cowie for some of these stories. Title credit belongs to File 770 contributing editor of the day Bill.]