(1) DANGER MAN. Max Gladstone holds forth about "The Wolfeman" at The Third Place.
Gene Wolfe is a tricky writer to discuss.

For a certain type of reader (generally but not exclusively a reader of science fiction), he is The Author. He is axiomatically intelligent and referential. His texts are not merely without flaw—they are without accident, each element load-bearing. If any piece of text (or elision) in a Gene Wolfe novel could be read to suggest vast churning implications invisible to the casual reader, it has definitely been read that way by someone on the internet. The terrifying thing is that many of these readings are not wrong. They're not even generous. They are sometimes, even often, the readings that most account for the facts of the text.

And this is why talking about his books and stories feels dangerous. To discuss, say, Wolfe's PEACE, which I recently finished re-reading, one must put forth some theories about what PEACE is, what's happening both in the book and between the lines of this book. This raises two risks.

First, one risks short-circuiting another reader's tremendous and eerie process of discovery. (Even as I write this very general description, I worry: am I doing the literary equivalent of recommending a movie by saying it "has a great twist"? But PEACE isn't about twists. It's about the experience of realizing how much attention one should pay. More on this in a bit.)

Second, when one puts forth a theory, one risks being wrong….
(2) CAN*CON LEADERSHIP CHANGE. Derek Künsken is stepping down after nearly 11 years as Co-Chair of Can*Con, Ottawa's literary scifi and fantasy conference. The conference has won Canadian national awards and is the major con in Eastern Canada. Marie Bilodeau, currently co-chair, will assume the chair role solo. "A Message from Derek Künsken, Programming Co-Chair: Don't worry, I left Marie the Keys, or Hayden was right again".
… Marie will lead the conference to its next successes and glories. She's got a great team, great ideas and she's a community leader I would follow anywhere. I'll remain a member of the board of directors, and I'll suggest panel ideas from time to time and I'll apply to be on programming and see if they take me…
(3) MASKED AND UNMASKED IN ABUNDANCE. "Fans Come Roaring Back to New York Comic Con 2022" – Publishers Weekly gives its assessment.
New York Comic Con returned to the Javits Center October 6-9 at full strength for 2022. The event drew 200,000 attendees, according to a spokesperson for ReedPop, the show organizer.

The show floor was crammed with enthusiastic fans of media and with cosplayers, who enjoyed elaborate displays from mostly manga and toy companies. However, the show floor was not crammed with mask-wearing attendees. Despite a mandate from ReedPop that masks would be required—and volunteers handing them out at the door—enforcement was lax, with less than 50% of the crowd wearing one at many times. Compliance was similarly mixed among booth workers and creators who set up displays. Although some booth workers were vocal on social media and in-person about their alarm over the lack of Covid masking protocols, many workers behind tables were unmasked most of the time as well.

Whether NYCC will be another super spreader event, like some recent pop culture events, remains to be seen, but it was clear that the general public anxiety over Covid is receding in this new and more complacent era….
(4) A LEARNEDLEAGUE THROWBACK. Courtesy of David Goldfarb.
Question 2 of match day 18 of LearnedLeague season 87, in December of 2020 asked us:
Kindred, the Parable/Earthseed series, and Bloodchild and Other Stories are well-known works of what Hugo and Nebula Award-winning American author, a "godmother of Afrofuturism" who became in 1995 the first science fiction author to be granted a MacArthur fellowship?
The answer of course is Octavia E. Butler. 32% of players got this right league-wide, with the most common wrong answer being Ursula K. LeGuin (perhaps some people confused "Earthseed" with "Earthsea").
(5) GET IT ON THE CALENDAR. The winner of the 2022 Ursula K. Le Guin Prize for Fiction will be named on October 21 in a virtual event hosted by actor and author Anthony Rapp. There will be readings from the authors of the nine shortlisted books before they reveal the inaugural prize winner.
(6) GENRE SHOPPING. Netflix merch can be bought here: "Vecna comes to the Grove as Netflix debuts pop-up store" in the Los Angeles Times.
A life-sized version of Vecna from the popular sci-fi series "Stranger Things " and Queen Charlotte's throne from drama "Bridgerton" are coming to the Grove.

The photo opportunities are part of Netflix's new store opening Thursday at the L.A. shopping center.

Inside the 10,000-square-foot space, fans will be able to buy merchandise related to popular Netflix shows including the dollhouse from "Gabby's Dollhouse," Funko collectible figures from "Squid Game" and "Stranger Things"-related clothing, such as a Hellfire Club raglan shirt or Palace Arcade hoodie.

The store will be open from Thursday until Jan. 6….
(7) TAKE THE CASH AND LET THE CREDIT GO. AbeBooks shared the 15 "Most expensive sales from July to September 2022". There are many sf and fantasy works among them.
#4 — The Dark Tower by Stephen King – $24,000

No introductions are necessary for Mr King, who released a new novel called Fairy Tale in September. These are the nine volumes of King's Dark Tower fantasy series published by Donald M. Grant, and they have all been signed by the author and their respective illustrator. The nine volumes are Dark Tower: Gunslinger (published in 1982), The Drawing of the Three (1987), The Wastelands (1991), Wizard and Glass (1997), Wolves of the Calla (2003), Song of Susannah (2004), The Dark Tower (2004), The Little Sisters of Eluria (2008), and The Wind Through the Keyhole (2012). All copies are first editions.

#6 — Do Androids Dream of Electric Sheep by Philip K Dick – $21,275

This is the 1968 US first edition of Do Androids Dream of Electric Sheep published by Doubleday. First editions of this influential science fiction book, which inspired the Blade Runner movies, are scarce.

This book was sold with an original letter to Venom Magazine typed and signed by Philip K Dick. In the letter, which was also published in The Selected Letters of Philip K. Dick 1980-1982, Dick asks if he can review his own work. The third part of this sale is Dick's typed humorous review of his own book, The Divine Invasion.

#7 — A Journey to the Center of the Earth by Jules Verne – $20,000

An 1874 first American edition of A Journey to the Center of the Earth, published by Scribner Armstrong and Co, with a laid-in author signature. Verne's novel imagines an underground world inhabited by prehistoric creatures where travel is possible via volcanic tubes.

#9 — Twenty Thousand Leagues Under the Seas by Jules Verne – $17,500

An 1873 first edition of Twenty Thousand Leagues Under the Seas published by James R. Osgood. This underwater adventure story first appeared in serial form in a French periodical in 1871. Verne's depiction of the Nautilus correctly foresaw the impact that submarines would have on the maritime world, starting in World War I when both Germany and Britain used submarines to sink naval and merchant shipping.

#11 — Harry Potter and the Philosopher's Stone by J.K. Rowling – $12,500

A 1997 Bloomsbury first edition fourth printing of the first Harry Potter book, signed by J.K. Rowling on the front free endpaper with its original dust jacket. This copy includes a rare Harry Potter postcard signed by the author.

#13 — A Christmas Carol by Charles Dickens – $12,000

An 1843 first edition first printing published by Chapman & Hall bound in half maroon morocco letter. A Christmas Carol was published on December 19 in 1843 and became an instant bestseller. A novella, this book helped craft the modern version of Christmas with its focus on family, food, and giving. Scrooge has entered the lexicon for anyone who is tight-fisted. AbeBooks sold another first edition of this book, accompanied by a Dickens letter, earlier in 2022 for $20,000.
(8) ROBBIE COLTRANE (1950-2022). The Scots actor Robbie Coltrane, famed as Hagrid in the Harry Potter movies, who also starred in the British crime drama Cracker, died October 14 at the age of 72. The cause of death was not disclosed. The Hollywood Reporter's profile includes more genre roles.
…Coltrane's early TV credits include Flash Gordon, Blackadder and Keep It in the Family. His other comedy credits included series like A Kick Up the Eighties, The Comic Strip and Alfresco as he became a mainstay on British TV screens.

Coltrane's breakout role was playing Dr. Edward "Fitz" Fitzgerald, an anti-social criminal psychologist with a gift for solving crimes, in Jimmy McGovern's Cracker series, which ran over 25 episodes between 1993 and 2006.

That BAFTA-winning performance led Coltrane to roles in two James Bond films as he played Valentin Zukovsky in GoldenEye and The World Is Not Enough….
(9) MEMORY LANE.
1983 — [By Cat Eldridge.] Something Wicked This Way Comes film (1983)
Look, it's Autumn, isn't it? Therefore shouldn't we talk about one of the Autumnal fantasy films that got done? So let's converse about Something Wicked This Way Comes which came out thirty-nine years ago though I admit not at this time of year as inexplicably the Mouse released it in April.
It was based as you know upon the Ray Bradbury novel that Simon & Schuster published twenty-one years previously with a cover by Gray Fox. To my utter amazement, it won absolutely no Awards. Pity that. It has however been continuously in print ever since. Yes, I think it's a spectacular piece of writing perfectly suited to the season.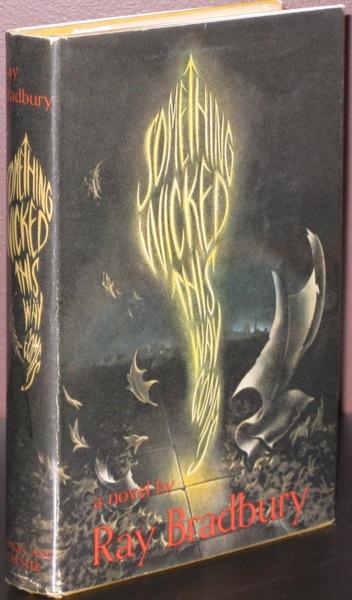 Usually I find films based on works I loved somewhat of letdown but not here as Bradbury wrote the script and a decent amount of his script survived the Mouse mangling it. Yes Bradbury and Mouse became the Kilkenny Cats rather quickly.
It was directed by Jack Clayton whose only previous film I recognize is The Great Gatsby which was a phenomenal movie. He was a British film director and producer who specialized in bringing literary works to the screen such as The Innocents, so Something Wicked This Way Comes wasn't really in his wheelhouse. 
It had an amazing cast of these adults: Jason Robards, Jonathan Pryce, Diane Ladd and Pam Grier, plus Vidal Peterson and Shawn Carson as the most important characters here, the boys.
If you haven't read or seen it, a deep boo on you as I'm not discussing the story. Let's just say Bradbury did a wonderful job of moving it from text to video even if the Mouse messed with it which they did. Bad Mouse..
Bradbury explains in Zen in the Art of Writing that it started as 'The Black Ferris' a 3,000-word story, published in Weird Tales (1948), about two youngsters who suspect there is something peculiar about the carnival that comes to town. The story became a seventy-page screen treatment, Dark Carnival (1958), a project for Gene Kelly to direct. Unproduced, the treatment became a novel, Something Wicked This Way Comes (1962); the novel, a screenplay (1971), then a second screenplay (1976), and… at last, a film.
Bradbury wanted either Peter O'Toole and Christopher Lee to play Mr. Dark. Lee I can see, but O'Toole? However, the Mouse went as cheap as possible and cast someone who wasn't well known, so hence Jonathan Pryce. This was five years before he shows up in The Adventures of Baron Munchausen.
It bombed at the box office earning just eight million against a twenty million budget. Ouch.
The film was nominated for a Hugo at L.A. Con II where Return of the Jedi won.
Oddly enough it is not streaming on Disney +.
(10) TODAY'S BIRTHDAYS.
[Compiled by Cat Eldridge.]
Born October 14, 1927 — Roger Moore. Bond in seven films 1973 to 1985, a long run indeed. And he played Simon Templar in The Saint for most of the Sixties, an amazing one hundred eighteen episodes. Let's not forget that he was in the Curse of the Pink Panther as Chief Insp. Jacques Clouseau! He even got to play Sherlock Holmes in Sherlock Holmes in New York. He wasn't a bad Sherlock either. (Died 2017.)
Born October 14, 1946 — Katy Manning, 76. She was Jo Grant, companion to the Third Doctor. She also appeared in that role with the Eleventh Doctor on the Sarah Jane Adventures in a two-part story entitled "Death of the Doctor". She appears as herself in the The Five(ish) Doctors Reboot.
Born October 14, 1949 — Crispin Burnham, 73. And then there are those who just disappear. He was the founder, writer and publisher of Dark Messenger Reader / Eldritch Tales from 1975 to 1995 as the publisher Yith Press. He was also a prolific essayist from 1973 to 1995, his final essay being a reflection on the life and career of Robert Bloch. There's nothing to show him active after 1998 when the final part of his "People of The Monolith" was published in Cthulhu Cultus #13. Then he vanishes without a trace.
Born October 14, 1953 — Richard Christian Matheson, 69. Son of the Richard Matheson that you're thinking of. A very prolific horror writer mostly of short stories, he's also no slouch at script writing as he's written for Amazing Stories, Masters of Horror, The Powers of Matthew Star, Splatter, Tales from the Crypt, Knight Rider (the original series) and The Incredible Hulk. Wiki claims he wrote for Roger Zelazny's The Chronicles of Amber but IMDB shows no such series or show. The usual suspects have a goodly number of story collections available for him.
Born October 14, 1953 — Greg Evigan, 69. TekWar, one of Shatner's better ideas, starred him as Jake Cardigan. I really liked it. Yes, Shatner was in it. He also shows up in DeepStar Six as Kevin McBride, as Will South in the horror film Spectre aka The House of The Damned, as Marcus Cutter in Cerberus: The Guardian of Hell, and on the Alfred Hitchcock Presents as David Whitmore in "In the Driver's Seat".
Born October 14, 1963 — Lori Petty, 59. Rebecca Buck – "Tank Girl" in that film. She was also Dr. Lean Carli in Cryptic, and Dr. Sykes in Dead Awake. She had one-offs in The Hunger, Twilight Zone, Star Trek: Voyager, Brimstone, Freddy's Nightmares and Alien Nation, and voiced quite well Livewire in the DCU animated shows.
Born October 14, 1968 — Robert C. Cooper, 54. He was an executive producer of all the Stargate series. He also co-created both Stargate Atlantis and Stargate Universe with Brad Wright. Cooper has written and produced many episodes of Stargate series as well as directed a number of episodes. I'm really impressed.
(11) COMICS SECTION.
Drabble has an unexpected definition of a horror movie.
Heart of the City shows friends arguing which date in October deserves to be celebrated.
(12) BACKSTORY IS A DISH BEST SERVED COLD. [Item by Mike Kennedy.] More than 3-1/2 decades after the release of Aliens, one badass Latinx is getting their backstory told. "Pvt. Vasquez from 'Aliens' gets her own story in new novel" at Axios.
Pvt. Vasquez, the fictional Latina member of the U.S. Colonial Marine Corps in the 1986 hit sci-fi movie "Aliens," is getting a backstory in a new novel.

The big picture: The November U.S. release of "Aliens: Vasquez" by Violet Castro comes as writers and artists of color increasingly reimagine minor characters of color from popular sci-fi films.

Background: Castro, a Mexican American writer from San Antonio, Texas, who now lives in London, told Axios she pitched the idea for the book a few months ago after thinking about the big influence the character had in such a small role.
"It was one of the few depictions that kind of broke the mold of a domestic worker, farm worker, or gangbanger," Castro said.
"I saw her and I was like, wow, look at this brown woman. She has this bandana and she's unapologetic about who she is."…
The intrigue: Castro said that, for her book, she reimagined Vasquez as someone linked to the soldaderas — the women who took up arms during the Mexican Revolution….
(13) STRANGE CHOW. [Item by Scott Edelman.] Astro Doughnuts & Fried Chicken is now selling Stranger Things-themed doughnuts. They have locations in Washington, D.C. and Falls Church, VA.
(14) JEOPARDY! On tonight's episode of Jeopardy!, the Final Jeopardy category was "Authors."
Answer: Featuring a statue of a man escaping his grave, his tomb in Amiens contrasts with the title of his 1864 adventure novel.

Wrong questions: Who is Dumas (two contestants) and Who is Lovecraft?

Correct question: Who is Jules Verne?
Andrew Porter, who sent this item, says he remembers the image from a 1920s issue of Amazing Stories.
(15) TRAIL BLAZER. In Science, "Fireball is traced to far edge of Solar System". "Rocky meteor suggests distant cloud of comets also contains asteroids."
….Even if the Oort Cloud is just 1% rocky, explaining how these objects got there from the asteroid belt will challenge theorists, says Alan Jackson, a planetary astronomer at Arizona State University, Tempe. He says the finding could lend support to one hypothesis called the Grand Tack, which suggests that just 3 million years after the Solar System's birth, Jupiter swooped inward toward the Sun, nearly to Earth's orbit, before moving back out to near to its current position…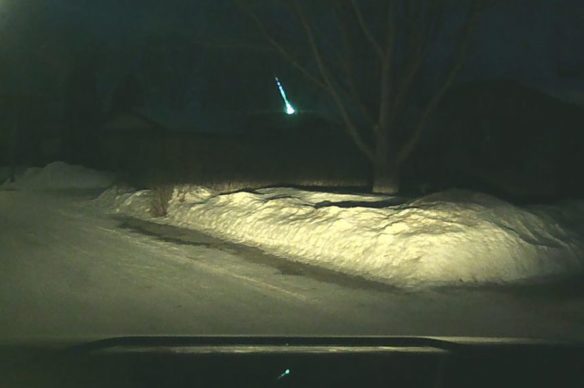 (16) THERE'S NO PLACE LIKE HOLMES. Netflix dropped this new trailer for Enola Holmes 2.
Fresh off the triumph of solving her first case, Enola Holmes (Millie Bobby Brown) follows in the footsteps of her famous brother, Sherlock (Henry Cavill), and opens her own agency — only to find that life as a female detective-for-hire isn't as easy as it seems. Resigned to accepting the cold realities of adulthood, she is about to close shop when a penniless matchstick girl offers Enola her first official job: to find her missing sister. But this case proves to be far more puzzling than expected, as Enola is thrown into a dangerous new world — from London's sinister factories and colorful music halls, to the highest echelons of society and 221B Baker Street itself. As the sparks of a deadly conspiracy ignite, Enola must call upon the help of friends — and Sherlock himself — to unravel her mystery. The game, it seems, has found its feet again!
(17) VIDEO OF THE DAY. [Item by Martin Morse Wooster.] "In Harry Potter and The Deathly Hallows Part 2 Pitch Meeting," Ryan George says the producer thinks they can split the second Deathly Hallows Movie in Half, and split it again, but the producer convinces him that is a very bad idea. Once again, the writer says, "when the story demands it, Harry Potter gets visions" that move the story forward. And when Harry Potter gets another narrow escape, the producer says, "these are kind of weird movies, aren't they?"
[Thanks to JJ, John King Tarpinian, Andrew Porter, Scott Edelman, Derek Künsken, David Goldfarb, SF Concatenation's Jonathan Cowie, Chris Barkley, Michael Toman, Cat Eldridge, Mike Kennedy, and Martin Morse Wooster for some of these stories. Title credit belongs to File 770 contributing editor of the day Daniel Dern.]