By Jeff Schalles: I had the pleasure of being friends with Steve for 44 years. When he, sadly, left us, much too soon, I at least had the pleasure of helping pull together the print version of Steve's epic anthology of his life's work, The Return of Hyper Comics, 164 pages of his fabulous art and uniquely droll brand of writing. Steve had been working on this book, the second Hyper Comics volume, for many years.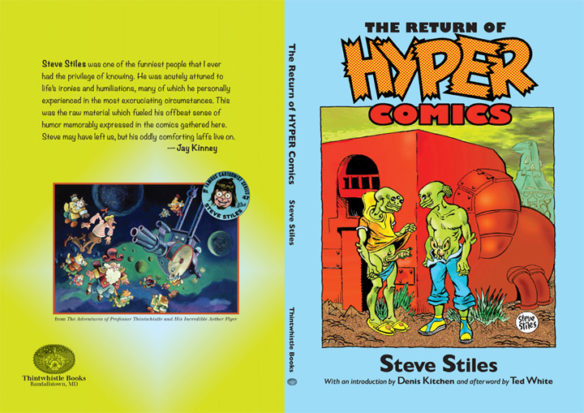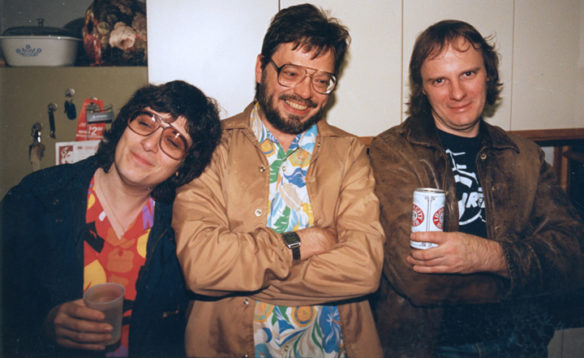 Michael Dobson took on the business side of the project, as well as art direction and proofreading. We both have been designing books for many years. I did all of the layout and typesetting, and I did a lot of research among Steve's various web nooks and crannies, hunting for images of his art and tracking down his blog essays. The huge assortment of art I gathered came in handy when Michael was proofreading, because he found two duplicated comic pages that I'd missed, buried deep in the book. So much to look at!
I found 6 or 7 essays and chose two to add to the one Steve had already placed in his working draft: My First Orgy. Elaine Stiles provided us with Steve's Hyper Comics files, mainly one huge folder with 134 pages of art. He'd thoughtfully named each file by its intended page number, and I simply followed his numbering. What you see is truly Steve's vision, we merely picked-up where he left off.
Steve and I were good friends, and I generally carry a camera, which is why I had so many photos of him over a wide span of years to put in the book. I particularly love the wedding shot, near the back. I shot all of the photos, except for the two provided by John O'Halloran from the night Steve finally won his Hugo in 2016. Chris Couch and I were sitting together in the audience when Steve was announced the winner. I bruised my hands applauding and hurt my throat shouting with excitement!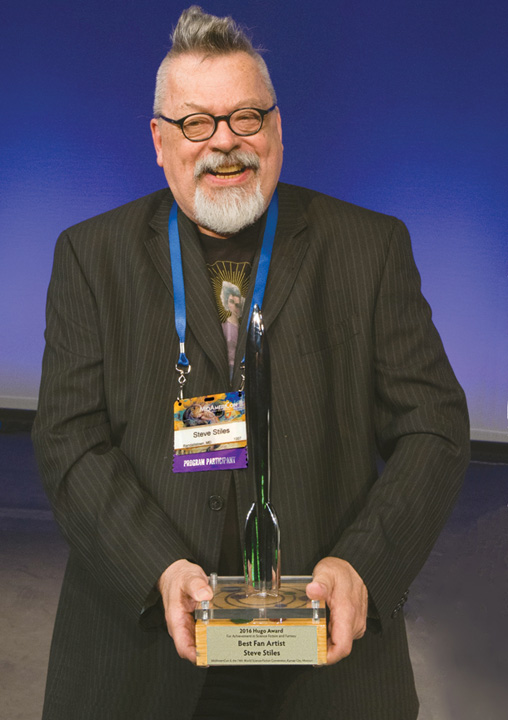 When Steve and I shared an apartment in Arlington, Virginia, in 1981, he was drawing the Thintwhistle strip for Ted White, editor of Heavy Metal Magazine at the time. Steve also painted a large color Thintwhistle painting, intended for a future cover or splash page. One sunny day we took the painting outside and I shot color slides of it. 39 years later, while pondering the Hyper cover design, I realized I had those slides, and even knew where they were. I scanned the archival Kodachrome 25 slide, still sharp, still saturated with color, and placed it on the back cover.
---
The Return of Hyper Comics
Created by Steve Stiles Foreword by Denis Kitchen
Afterword by Ted White
Thintwhistle Books
Randallstown, Maryland
Print: ISBN 9-798-6457-2936-3
150 pages b&w, color wraparound cover, 7"x10" SRP: $18.95
Digital edition available