(1) LAST NIGHT'S DOCTOR WHO. [Item by SF Concatenation's Jonathan Cowie.] Last night we had the annual BBC Children in Need which is an annual charity TV marathon (which to date has raised over £1 billion). And in the mix Doctor Who was there.  
(2) BBC RADIO DISCUSSES BUTLER. [Item by SF Concatenation's Jonathan Cowie.] The Exploding Library on BBC 4 looked at Octavia Butler with a lot of focus on the Parable of the Sower. It was superb. "The Exploding Library, Parable of the Sower, by Octavia E. Butler".
Comedian Desiree Burch unravels Octavia Butler's visionary 1993 novel Parable of the Sower and its sequel Parable Of The Talents, an eerily-prescient dystopian portrait of society in collapse after being torn apart by climate change and corporate greed – with a populist demagogue US president who rides to power with the slogan "Make American Great Again".

Oh, and the story – pure fantasy of course, imagined by Butler three decades ago in the early 1990s – is set initially in 2024.

Now this all seems to Desiree just a little bit too close to reality for comfort. But is there hope – even optimism – beneath the surface of this chillingly bleak vision?
(3) TUBI OR NOT TUBI. Should be an easy question to answer now: "Tubi is Adding Every Episode of BBC's Classic Doctor Who for Free" according to Cord Cutters News.
The Tardis has landed on Tubi. Viewers in the U.S. and Canada can now watch every episode of Classic Doctor Who and Classic Doctor Who: The Animated Lost Stories on the free ad-supported service.

If you plan to watch Classic Doctor Who in its entirety, be prepared to put in a lot of time. Doctor Who is the longest running action-adventure series in the world. Classic Doctor Who aired from 1963 to 1989 and has over 600 episodes. Tubi created a "New to Who" collection to ease in new 'Whovians' — a term coined by the sci-fi show's legion of fans….
(4) CANCELLATIONS LEAVE FANS IN UPROAR. "Backlash as Netflix cancels five shows at once including its 'best series'" – The Independent has the story.
…Now the Hollywood strikes are over, networks and streaming services are having to make decisions about their existing properties, with it being expected that many might fall foul of an untimely axing due to rising costs after production on all projects was stalled while the writers and actors protested for fairer compensation.

Days later, Netflix has gone ahead and culled five shows, one of which was a number one hit and had a fervent fanbase that campaigned for a season renewal: Shadow and Bone.

While the first season of the fantasy series, adapted from Leigh Bardugo's Grishaverse novels, did big business for Netflix – even spawning a video game spin-off – season two struggled to break through in a major way, which is believed to have led to the service's decision considering the show's large budget.

Other shows that will no longer return include animated shows Agent Elvis and Captain Fall as well as Kim Cattrall-starring series Glamorous and sci-fi comedy Farzar.
(5) THOSE WERE THE DAYS MY FRIEND. "Don't let anybody diss L.A.'s reading habits. This was and is a bookstore boomtown" says a defensive LA Times.
It's late 1937, and you're F. Scott Fitzgerald, the once-celebrated writer, and you're getting paid $1,000 a week, which, especially during the Depression, and even for the gilded coffers of MGM, isn't toy money.

From your place at the Garden of Allah apartments on Sunset, in what is now West Hollywood, you might decide to amble the couple of miles to Hollywood Boulevard, to the Stanley Rose Book Shop, knuckled right up against Musso and Frank. There, you might find other scribblers, with names like Saroyan and Steinbeck, to share a convivial drink nearby; some of Hollywood Boulevard's many bookshops are open almost as late as the bars.

Or you're Ray Bradbury, and on a late April day in 1946 — April the 24th, if you must know — you head downtown, to Booksellers Row, centered on 6th Street between Hill and Figueroa. You'd get there by bus or Red Car, or on your bicycle, because you do not drive, not even one single block, not since you saw that gory accident about 10 years earlier.

You walk into Fowler Brothers bookstore, which opened in 1888 as a church supply shop, and by the time it would close its doors for good in 1994, it was the oldest surviving bookstore in the city. On that day, a brilliant and fetching book clerk named Maggie McClure caught his attention; Bradbury caught hers because she thought he was shoplifting books into his vast trench coat. They married not quite 18 months later…..
(6) CARTOON TRIVIA. Ranker harkens back to "Things We Learned About Nostalgic Cartoons In 2021". (Which despite the title is a new 2023 post.)
From details about the voice actors, to insights into plot devices and influences – and even a few answers to enduring questions – here are a batch of facts we learned about nostalgic cartoons in 2021. Vote up the ones that are perfectly Smurfy!
Number One on the list:
Paul Winchell, The Voice Of Gargamel On 'The Smurfs,' Invented And Patented The First Artificial Heart

Actor and comedian Paul Winchell was a man of many talents; he was a ventriloquist and also an inventor, building and patenting a mechanical heart in 1963.

Winchell began voice acting for Hanna-Barbera during the late 1960s, notably appearing in Winnie-the-Pooh featurettes. As the voice of Tigger, Winchell won a Grammy for Winnie the Pooh and Tigger Too in 1974. When The Smurfs first aired in 1981, he provided the voice for the antagonist, Gargamel.

While Winchell navigated acting and performing, he simultaneously invented and patented dozens of devices. His artificial heart design, which he donated to the University of Utah, was fundamental in developing the model that was used in 1982 for the first artificial heart transplant.
(7) KICKSTARTER FOR VARLEY ADAPTATION. John Varley encourages fans to support Jean-Paul Tetu's Kickstarter: "Thémis – The Next Frontier".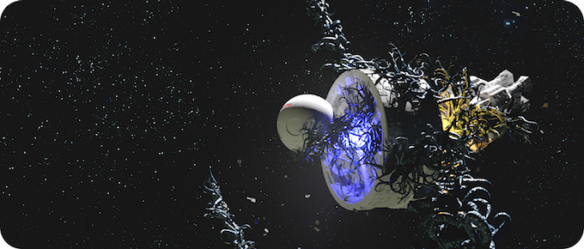 Jean-Paul Tetu… has a small CGI company and is a fan of my work. He had been tinkering with scenes from my novel Titan, and you can see the results here.

I think it's pretty impressive. Since this is a crowdfunding site you probably can see where I'm going with this. If you are interested in seeing my most popular work turned into a 6-part TV series, you can contribute.
As of this writing, $5,882 of the $65,502 goal has been pledged with 32 days remaining.
(8) WESTON OCHSE (1965-2023). Weston Ochse died November 18, his wife announced on X.com. A recent update to his Patreon suggests he was waiting for a new liver.
Ochse won the Bram Stoker Award for his first novel, Scarecrow Gods, in 2005 and subsequently received additional nominations, Redemption Roadshow (2009 finalist for the Bram Stoker Award for Long Fiction); The Crossing of Aldo Ray (2010 finalist for the Bram Stoker Award for Short Fiction); Multiplex Fandango (2012 finalist for the Bram Stoker Award for Collection); and Righteous (2013 finalist for the Bram Stoker Award for Short Fiction). He also won four New-Mexico Arizona Book Awards.
(9) TODAY'S BIRTHDAYS.
[Compiled by Cat Eldridge.]
Born November 18, 1939 — Margaret Atwood, 84. Well, there's that work called The Handmaid's Tale that's garnering a lot of discussion now. (Not my my cup of Tea, Earl Grey, hot.) There's the excellent MaddAddam Trilogy which I wholeheartedly recommend, and I've heard good things about The Penelopiad. What else do you like of hers?
Born November 18, 1946 — Alan Dean Foster, 77. There's fifteen Pip and Flinx novels?!? Well the first five or so were superb. They're on Audible so I may give the three a re-listen. Spellsinger series is tasty too. Can't say anything about his SW work beyond the most excellent Splinter of the Mind's Eye which was the first Star Wars novel authorized by George Lucas. 
Born November 18, 1950 — Michael Swanwick, 73. I will single out The Iron Dragon's Daughter and Jack Faust as the novels I remember liking the best. Between 1999 and 2003, he had nine stories nominated for the Hugo Award and won at Aussiecon 3, ConJosé, and Torcon 3. His short fiction is obviously superb and I see the usual suspects have the most excellent Tales of Old Earth collection with this lovely cover.
Born November 18, 1952 — Doug Fratz. Long-time fan and prolific reviewer for the New York Review of Science Fiction and Science Fiction Age who also published a number of zines including the superbly titled Alienated Critic. He was nominated for Best Fanzine Hugo four times. Mike has a remembrance of him here. (Died 2016.)
Born November 18, 1961 — Steven Moffat, 62. Showrunner, writer and executive producer of Doctor Who and Sherlock Holmes. His first Doctor Who script was for Doctor Who: The Curse of Fatal Death, a charity production that you can find here and I suggest you go watch now. He also co-wrote The Adventures of Tintin: The Secret of the Unicorn, a most excellent animated film. He has deservedly won four Hugo Awards, all for Doctor Who.
Born November 18, 1953 — Alan Moore, 70. His best book is Voice of the Fire which admittedly isn't genre. Though the first volume of The League of Extraordinary Gentlemen is very close. Pity about the film which surprisingly has a forty-four percent rating among audience reviewers at Rotten Tomatoes. Have they no sense of good film making? I'm also fond of The Ballad of Halo Jones and Swamp Thing work that he did as well. And let's not forget that The Watchmen won a well-deserved Hugo at Nolacon II.
(10) COMICS SECTION.
Tom Gauld adds a touch of Bergman here.
(11) TEXT COVERAGE OF SPACEX'S "SUCCESS". [Item by Mike Kennedy.] "SpaceX launch attempt ends in loss of most powerful rocket ever built" at CNN.
… after months of rebuilding following an explosive initial launch in April, SpaceX made a second attempt at launching its deep-space rocket system Starship, but not all went according to plan.

The uncrewed Starship spacecraft launched aboard the most powerful rocket ever built on Saturday morning, but both were lost shortly after liftoff.

The Super Heavy rocket booster ignited its 33 massive engines and Starship experienced a safe liftoff. SpaceX tried "hot staging" for the first time, essentially a step in which the spacecraft separated from the rocket booster by blunt force trauma.

After hot staging, the rocket booster exploded in a fireball over the Gulf of Mexico. Starship initially continued on just fine before SpaceX lost the spacecraft's signal and triggered the system's software to terminate the flight so it didn't veer off course.

Starship was intended to fly nearly a lap around the planet before returning to Earth, but data from this second test flight will be used to determine SpaceX's next steps in making humanity "multiplanetary."
The New York Times was also very kind: "SpaceX Starship Launch Highlights From the 2nd Flight of Elon Musk's Moon and Mars Rocket".
SpaceX, Elon Musk's spaceflight company, launched its Starship rocket from the coast of South Texas on Saturday, a mammoth vehicle that could alter the future of space transportation and help NASA return astronauts to the moon.

Saturday's flight of Starship, a powerful vehicle designed to carry NASA astronauts to the moon, was not a complete success. SpaceX did not achieve the test launch's ultimate objective — a partial trip around the world ending in a splashdown in the Pacific Ocean.

But the test flight, the vehicle's second, did show that the company had fixed key issues that arose during the earlier test operation in April. All 33 engines in the vehicle's lower booster stage fired, and the rocket made it through stage separation — when the booster falls away and the six engines of the upper stage light up to carry the vehicle to space….

… According to SpaceX's "fail fast, learn faster" approach toward rocket design, successfully avoiding a repeat of past failures counts as major progress.

However, the second flight revealed new challenges that Mr. Musk's engineers must overcome.

Soon after stage separation, the booster exploded — a "rapid unscheduled disassembly," in the jargon of rocket engineers. The upper-stage Starship spacecraft continued heading toward orbit for several more minutes, reaching an altitude of more than 90 miles, but then SpaceX lost contact with it after the flight termination system detonated….
(12) BLINDED BY THE LIGHT. [Item by Bruce D. Arthurs.] A post on Mastodon from Shannon Coffey linked to an Eye article reviewing Wheels of Light: Designs for British Light Shows 1970-1990 written by Kevin Foakes, about the tech and artists behind the light shows popular at music events back in the day. Besides being a pretty cool subject all on its own, the article also mentions one artist who created some of the color wheels through which projections were made was David Hardy, who I recognize much more readily for his many examples of space art. "The fantastic light trip" at Eye Magazine.
Kevin Foakes' Wheels of Light: Designs for British Light Shows 1970-1990 is book nine in Four Corners' Irregulars series, intended to present 'a visual history of modern British culture', writes John L. Walters. The arcane tale begins in the 1960s, when artists and designers such as Mark Boyle (Boyle Family), Keith Albarn, Five Acre Lights and Barney Bubbles made shows that would accompany performances in venues such as UFO and Middle Earth in London.

As underground music became more visible (and profitable) a small number of entrepreneurs started supplying the demand for light shows at gigs and discos. The companies they started – Optikinetics, Pluto, Orion, Light Fantastic – and their visual archives are at the core of this book, drawing heavily on the collection and recollections of Optikinetics' Neil Rice.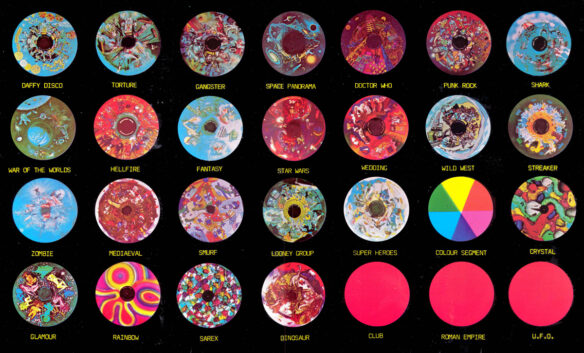 (13) ONE-WAY TRIP TO THE HEAVENS. "Their Final Wish? A Burial in Space." The New York Times interviews seven people to ask why.
There are two ways to contemplate the question Where do we go when we die? One is philosophical, ultimately unanswerable; the other is logistical. Humans, being human, have tended to see them as being intertwined: The many traditions we've devised for handling our remains are meant to honor the selves that left those bodies behind.

The seven people pictured here have chosen to send their ashes, or in some cases a sample of their DNA, into outer space. They have contracted with Celestis, one of a handful of companies offering such services. Celestis has launched 17 of these so-called memorial spaceflights since 1994. Some will rocket straight up and descend, some will orbit Earth, some will be sent to the surface of the moon and some will simply hurtle into space and keep on going. (Celestis sends its cargo on spacecraft undertaking unrelated scientific and commercial missions. Packages start at around $2,500.)…
(14) SURVEILLANCE CULTURE. [Item by SF Concatenation's Jonathan Cowie.] "Campus surveillance: students and professors decry sensors in buildings" in Nature. "Privacy campaigners fear that the devices could be used for disciplinary purposes, and some universities have deactivated them after protests."
Lengthy debates are talking place on many university campuses in many countries. A number of universities are installing 'sensors' ('cameras') in university labs and offices. A number of these were originally installed in 2020/1 to ensure CoVID regs were being adhered to. Now, it seems that the reason is to ensure that university facilities are being used efficiently. However some feel that the reason is more sinister and that evidence could be gathered for disciplinary purposes. Others still say that some offices are empty for many days/weeks in a year because staff are out in the field, often in other countries, getting samples and data, so using the cameras for university space efficiency can be misleading.
The end of the article says…
Cory Doctorow, a digital-privacy campaigner who advises the Electronic Frontier Foundation, argues that you do not need be a COVID-19 conspiracy theorist to be concerned about surveillance creeping into the workplace. "During lockdown, we saw this fantastic acceleration of disciplinary technologies across all sorts of domains from employment to leisure. I am vaccinated, I have a QR code showing this on my phone and I believe in contact tracing, but I also think that it's completely reasonable to worry about all this," he says.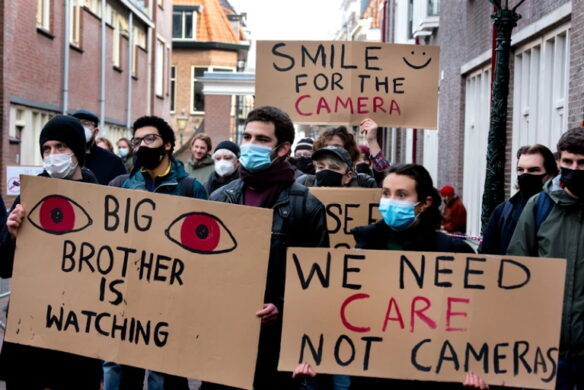 (15) BOOK LOVERS. "Is Reading the Hottest Thing You Can Do as a Single Person?" The New York Times went to meet some people who might answer yes.
One of the first questions men ask Angela Liu on dating apps is "What are you reading?" The question is a softball for Ms. Liu, a self-proclaimed lover of literature. "I really care about the human condition and emotions and stuff," she said.

What she has noticed, however, is that many men aren't into those kinds of books, and a question that may have been intended to screen her often ends up backfiring.

"I can't stand dudes who just read self-help books or things specifically related to the job that they're doing and that's all they read," Ms. Liu, 27, said on Friday at a book club for singles in Manhattan.

There's something flirty and magnetic about a physical book that tablets and smartphones can't really capture — the idea of meeting someone in a library, in the aisle of a bookstore or while reading on the subway, for instance, remains stubbornly high on the list of many people's romantic fantasies. Although there might be more romantic activities a single person could do on a Friday night in New York City, very few beat potentially stumbling into your next bibliophile boo while surrounded by shelf after shelf of sweet prose.

"I love when people have bookshelves, because I just go there immediately and stare at what they have," Ms. Liu said.

At a meeting of McNally Jackson's new After Hours Book Club (tag line: "Read, flirt, sip"), single attendees including Ms. Liu gathered at the bookseller's location in South Street Seaport, a former maritime hub turned shopping district in Lower Manhattan, for an evening of wine, beer and discussion about "Dogs of Summer," a novel by Andrea Abreu….
[Thanks to SF Concatenation's Jonathan Cowie, Mike Kennedy, Andrew Porter, Bruce D. Arthurs, Dann, John King Tarpinian, Chris Barkley, and Cat Eldridge for some of these stories. Title credit belongs to File 770 contributing editor of the day Lise Andreasen.]