(1) LOCUS OPENS CROWDFUNDING APPEAL. At Tor.com LP Kindred declares "Locus Magazine Is Essential to the SFF Community" which is why you should support its Indiegogo appeal. Donors have responded by giving $17,064 of the $75,000 flexible goal on the first day.
… After 54 years of speculative fiction journalism, we are in danger of losing Locus Magazine. With the rising costs of physical publishing, the mass exodus toward digital, and the rising costs of living, the margins at Locus narrow from month to month. And if no one takes action, we could lose this resource in less than a year.

Contributing reviewers return to publishing reviews for free. The six full-time staff members lose their salaries and benefits. Our community loses the Locus Awards and the honor of the Recommended Reading List. We lose a breadth of speculative journalism including short story and book reviews, spotlights, interviews, acquisition announcements, cover reveals, press releases, articles, essays for, by, and about people in speculative fiction.

I won't pretend I had a Locus subscription when I got this news. To the contrary, I thought I had time. I thought that was something you acquired when you were farther along in your career. But it's become clear that if we don't start contributing to speculative fiction institutions, they might not be here when we think we're ready for them and they definitely won't be around for the generations of writers behind mine.

The brass at Locus is dreaming up new ways to be of service to the community at the same time that it's searching for ways to sustain. By the time you're reading this, the Indiegogo campaign will be live. There's a subscription drive in the offing as well as an auction.

In the same way that readership and fundraising are the lifeblood of so many magazines we aspire to and love to read as fiction readers and writers, this journalistic institution needs you and I to help it keep its pages open. It is an archive of science fiction past and present, and Locus needs us to help it carry us into the future.
(2) BACK TO THE FUTURE. Martin Wisse says he is ready to march "Into the glorious future of blogging made possible by Elon Musk – Wis[s]e Words (cloggie.org) at Wis[s]e Words.
Due to the glorious future Twitter is being dragged kicking and screaming into thanks to the inspired leadership of Elon Musk, suupergenius, UI thought it was time to give the ol' blog a bit of attention again. Not that I haven't been blogging semi-regularly, but whereas a decade ago I'd hit a post a day fairly regularly, the past couple of years I've lucky to get into double digits in a given month. Mostly focused on anime too, as for political and other writing Twitter was just too handy. But if Twitter is going away, will blogs make a comeback?…
(3) SFWA STORYBUNDLE. The SFWA Magical Mysteries StoryBundle of novels with characters that ask "What Am I Doing Here?" is available for through November 30.
The Magical Mysteries StoryBundle features ten fantasy books that have protagonists shaking their heads and wondering how the heck they got into this, whether "this" is discovering a dragon in a coal mine or that they've found themselves in a nightmarish game of chess. Join us for tales of burgeoning magic, portal fantasies, strange creatures and … you guessed it: characters who have no idea what's going on.

SFWA StoryBundles are collections of ebooks curated by the SFWA Indie Authors Committee and offered at a discounted price. Readers decide what price they want to pay. For $5 (or more, if they're feeling generous), they get the core bundle of four books in any ebook format available—WORLDWIDE!
The Dragon's Playlist by Laura Bickle
Jester by Geoff Hart
Dragon Dreams by Chris A. Jackson
Ritual of the Ancients by Roan Rosser
If they pay at least $20, they get all four of the core books, plus six more books, for a total of ten!
The Sister Paradox by Jack Campbell
Sorrow and Joy by D.R. Perry
Revise The World by Brenda W. Clough
The Year's Midnight by Rachel Neumeier
Pawn's Gambit by Darin Kennedy
Spindled by Shanna Swendson
Readers will gain a rich library of fantasy ebooks and can opt to donate part of their purchase price to support SFWA's ongoing work to promote and support speculative fiction genres and writers.
(4) SKEPTICISM. The Guardian's Ismene Ormonde asks "Inspirational passion or paid-for promotion: can BookTok be taken on face value?"
BookTok, the nickname for TikTok videos in which books are discussed, analysed, cried about and turned into "aesthetic" moodboards, began as a small group of the app's users who wanted a place to talk about books. It has since grown into a hugely influential community that has the power to pluck authors out of relative obscurity and propel them into the bestsellers charts.

Earlier this month it was named FutureBook Person of the Year, an accolade which recognises digital innovation and excellence across the book trade. According to James Stafford, Head of Partnerships and Community at TikTok, BookTok is a community of "creative people around the world with a shared passion for literature". Publishers, creators and writers have generally agreed that this corner of the platform has had an overwhelmingly positive effect, having led to huge increases in book sales and the discovery of new writers. The Bookseller even recently called it "the last safe place on the internet"….
(5) IMAGINARY PAPERS. The ASU Center for Science and the Imagination has published the latest issue of Imaginary Papers, their quarterly newsletter on science fiction worldbuilding, futures thinking, and imagination.
The issue features an essay by the artist, researcher, and critic Zoyander Street on the 2017 BBC utopian film Carnage, and another on Adolfo Bioy Casares' 1940 novel The Invention of Morel, by writer, podcaster, and lawyer Jason Tashea, who works on the future of criminal justice. There's also a brief writeup of Vice Motherboard's anthology Terraform: Watch/Worlds/Burn.
Carnage (2017)

The year is 2067. A diverse polycule of androgynous young people, wearing what appears to be glittering eye makeup, walk hand in hand through a sunny field, glass pyramids shining on the horizon. Comedian Simon Amstell narrates: "Though we rarely think about it, Britain is now raising the most peaceful and happy humans ever. Violence has been defeated with compassion, depression cured with intimacy."

Carnage is a feature-length mockumentary written and directed by Amstell, and published on the BBC's iPlayer in March 2017. In its utopian future, British people now live in harmony with nature and do not eat meat or animal products. Audiences are invited to reflect on Britain's history of "carnism," a term adopted to refer to the archaic practice of eating animals and animal-derived products. Their history is our present, so the film is a darkly comic appraisal of intergenerational trauma in the making. Characters represent the perspectives of different generations: millennial seniors undergo group therapy to process their shame at having participated in a system of abuse, while the generation reaching adulthood in the 2060s tries to make sense of the atrocities committed by their parents and grandparents….
(6) MEMORY LANE.
1951 — [By Cat Eldridge.] Strangers on a Train
Seventy-one years ago, Strangers on a Train premiered. It's a classic film noir which was produced and directed by Alfred Hitchcock.
It was based on the Strangers on a Train novel by Patricia Highsmith that she had written just the previous year. Hitchcock secured the rights to the novel for only $7,500 since it was her first novel. As per his practice, he kept his name out of the negotiations to keep the purchase price low. Naturally she was quite angry when she later discovered who bought the rights for such a pitiful amount.
IF YOU DON'T LIKE SPOILERS, MAY I SUGGEST YOU GO TO THE BAR NOW?
On a train, two strangers meet and swap the idea of murders — Bruno, who is actually a psychopath, suggests he kill Guy's wife Miriam and Guy kill Bruno's hated father. Each will murder a stranger, with no apparent motive, so neither will be suspected. The perfect murders. Or so they think oh so smugly.
Apparently they vary out the murders, or do they? Miriam shows up alive, Guy actually has no attention of killing Bruno's father which leads to, of all things a fight between them on carnival wheel that mortally wounds .Bruno
I've no idea why the psychopath didn't kill his victim, nor does Hitchcock give us a clue.
Sometime later, another stranger on a train attempts to strike up conversation with Guy in the same way as had Bruno with Guy, about Anne, the daughter of the US Senator he wants to marry (which is why he wants to kill his still alive wife — don't think about that too long) but Guy turns and walks away from him.
ENJOY YOUR DRINK IN THE BAR? COME ON BACK.
Hitchcock hated the leads, Farley Granger as Guy Haines, Ruth Roman as Anne Morton and Robert Walker as Bruno, as the Studio which paid for the production would be the one that choose the performers. He openly scorned Ruth Roman throughout the production saying she was "lacking in sex appeal".
(Warner Bros. wanted their own stars, already under contract, cast wherever possible. All studios did this because it was considerably cheaper than hiring freelancers. Hitchcock of course thought money was no object and bitterly complained.)
Though critics at the time were at best lukewarm, audience reviewers at Rotten Tomatoes are giving it a ninety eight percent rating. And it did great at the box office — the production costs were just one point six million dollars and it made seven million in its initial run. Very impressive.
(7) TODAY'S BIRTHDAYS.
[Compiled by Cat Eldridge.]
Born November 15, 1877 — William Hope Hodgson. By far, his best known character is Thomas Carnacki, featured in several of his most famous stories and at least partly based upon Algernon Blackwood's occult detective John Silence. (Simon R. Green will make use of him in his Ghost Finders series.) Two of his later novels, The House on the Borderland and The Night Land would be lavishly praised by H.P. Lovecraft. While serving as a Lieutenant in the army, he was killed by the direct impact of an artillery shell at the Fourth Battle of Ypres in April 1918. (Died 1918.)
Born November 15, 1879 — Lewis Stone. He was Lord John Roxton in The Lost World which premiered here in 1925 making it one of the earliest cinematic adaptations of the Sir Arthur Conan Doyle novel. If you define Treasure Island as genre, that's his only other genre role where he's Captain Smollett. (Died 1953.)
Born November 15, 1929 — Ed Asner. Genre work includes roles on Alfred Hitchcock Presents, The Outer Limits, Voyage to the Bottom of the Sea, The Girl from U.N.C.L.E., The Invaders, The Wild Wild West, Mission: Impossible, Shelley Duvall's Tall Tales & Legends, Batman: The Animated Series and I'll stop there as the list goes on for quite awhile. (Died 2021.)
Born November 15, 1933 — Theodore Roszak. Winner of the Tiptree Award for The Memoirs of Elizabeth Frankenstein (1995), and the rather excellent Flicker which is well worth reading. Flicker is available at the usual suspects, and his only other available fiction is his Japanese folktales. Odd. (Died 2011.)
Born November 15, 1934 — Joanna Barnes. Genre work includes roles on Planet of the Apes TV series and Fantasy Island. (Died 2022.)
Born November 15, 1942 — Ruth Berman, 80. She's a writer of mostly speculative poetry. In 2003, she won the Rhysling Award for Best Short Poem for "Potherb Gardening", and in 2016 for "Time Travel Vocabulary Problems". She was the winner of the 2006 Dwarf Stars Award for her poem "Knowledge Of". She's also written one YA fantasy novel, Bradamant's quest. In 1973, she was a finalist for the first Astounding Award for Best New Writer. She edited the Dunkiton Press genre zine for a decade or so. She was nominated for Best Fan Writer Hugo at Baycon (1968). Impressive indeed.
Born November 15, 1972 — Jonny Lee Miller, 50. British actor and director who played Sherlock Holmes on the exemplary Elementary series, but his first genre role was as a nine year-old with the Fifth Doctor story, "Kinda". While he's had a fairly steady stage, film, and TV career across the pond since then, it's only in the last decade that he's become well-known in the States – unless, like JJ, you remember that twenty-three years ago he appeared in a technothriller called Hackers, with another unknown young actor named Angelina Jolie (to whom he ended up married, until they separated eighteen months months later). Other genre appearances include a trio of vampire films, Dracula 2000, Dark Shadows, and Byzantium, the live-action Æon Flux movie, and the lead in the pseudo-fantasy TV series Eli Stone. (JJ)
(8) NO NEWS MAY BE GOOD NEWS. J. Michael Straczyski told Twitter "'Babylon 5′ reboot could still happen, if we're patient" reports SYFY Wire.
It's been a little more than a year since news of a potential reboot of Babylon 5 surfaced over at The CW. Since then things have stalled in a big way, and remained stalled as The CW goes through major changes after its purchase by Nexstar Media Group. So, what does all that upheaval mean for our chances at more B5? According to creator J. Michael Straczynski, it means we wait, and it's as simple as that….
(9) THE UPSIDE DOWN. If you're in LA and have a few extra bucks, you can enter into "Stranger Things: The Experience".
EVER WANTED TO BE THE PROTAGONIST OF A STRANGER THINGS ADVENTURE?

Your chance has arrived. Stranger Things: The Experience throws you headfirst into your favorite show —join Eleven, Dustin, Mike, Lucas, Max, and Will for a very special episode starring… you! Venture inside Hawkins Lab for a 45 mins. immersive experience featuring a brand-new Stranger Things storyline, then explore an 80's-themed Mix-Tape medley with food & drinks, special merchandise, photo ops, and much more.
(10) THEIR COPYEDITOR MUST BE MY COUSIN. [Item by Daniel Dern.] From a tech PR email pitch:
Subject: Hackers using stenography for malware attacks – expert source
Daniel Dern adds, "They did get the term correct within the text – 'steganography' – and their response to my politely noting the hiccup, was as I expected, 'Damn autocorrect!'"
(11) A GAME THAT TEACHES BIODIVERSITY PROTECTION. Nature Kin is a collaborative card game to help young people and families cultivate ecological literacy. The game puts players in charge of an open space where they and their friends race to find a home for 28 different native plants, animals, and insects.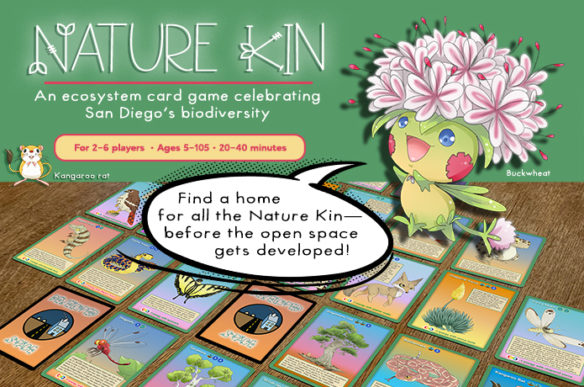 Patrick Coleman (assistant director, Clarke Center) created the game with the help of his two young daughters, who adore the abundant nature we have in San Diego County: one of the top ten biodiversity hotspots in the country.

They have launched an Indiegogo campaign to help bring that game to the world and as of today it has raised $783 of the $1500 flexible goal.

Also, for every set purchased during the Indiegogo campaign, they will donate one set to a young person through a school or community outreach program, doubling your impact, and donate $5 to Project Wildlife (part of the San Diego Humane Society), a wildlife rehabilitation program that gives injured, orphaned, and sick wild animals a second chance at life.
(12) LOCAL STONES. Here's a flyby comparison of all the moons of Uranus and Neptune – except the flyby is set above a familiar cityscape for real impact. I never knew how many moons look more like potatoes than billiard balls.
All known moons of the planets Uranus and Neptune, arranged in order of size. Uranus has 27 moons discovered so far and Neptune has 14. Some moons are known with Triton, Miranda or Titania, but there are many more smaller moons that are little known.
[Thanks to JJ, John King Tarpinian, Chris Barkley, Joey Eschrich, Rich Lynch, Andrew Porter, Michael Toman, Cat Eldridge, and Mike Kennedy for some of these stories. Title credit belongs to File 770 contributing editor of the day Andrew (not Werdna).]