(1) CHIP IN. In North Hollywood, CA the "Iliad Bookshop needs help recovering from arson" and a GoFundMe is gathering donations.
On the evening of Thursday, November 3rd, around 11:30 pm, someone piled the Iliad Bookshop's free books up against the store's main doors and set fire to the stack. They taped flyers on the store's walls; the flyers are incoherent but indicate this was a deliberate act of arson.

We were very lucky: neighbors saw the flames and flagged down a passing firetruck; had the firefighters arrived mere moments later, the entire store would probably have gone up. As it is, we suffered heavy damage to the main entry. The doors (which are metal) are still functional, but will need to be either replaced or fixed. We lost lighting fixtures, signage, and wood framing; we also suffered damage to the mural on the right side of the doors. Smoke filled the interior of the store, but we were able to rescue our two cats Zeus and Apollo and we're hopeful that the damage to the books and fixtures is minimal.

We have high insurance deductibles so we need to cover the cost of replacing the exterior lights, sign, and trim, and touching up the mural…
Lisa Morton, a bookseller at Iliad, wrote this update yesterday:
(2) FREE READ. Sunday Morning Transport's Julian Yap and Fran Wilde have posted a new fantasy story from Elsa Sjunnesson, "The Found Recollections of Revalor's Last Oracle".
The Queen of Revalor appreciates how I always have the right answer, sometimes before she even knows the question….
(3) RINGWEIRD. In a New York Times "By the Book" interview we learn that "Kevin Wilson Likes Books That Mix Tenderness With Weirdness".
Are there any classic novels that you only recently read for the first time?

Griff and I read Larry Niven's "Ringworld" and it was so utterly confounding that it was a kind of otherworldly experience. Griff would ask me to clarify all these things about physics and hyperspace, and I would say, "Let's just read on and maybe it'll make sense," and then we'd hit some bizarre sex scene in zero gravity and I'd say, "Good lord, let's get back to the talking about the tensile strength of the shadow squares."

You're organizing a literary dinner party. Which three writers, dead or alive, do you invite?

Oh, I cannot imagine a thing more difficult for me to handle. What would we eat? How in the world would I keep the conversation going? Could I ask the dead ones about being dead and what comes next? Would they want to play a board game? Could we watch episodes of "Seinfeld" and just talk about that?

But I feel like I'd choose Carson McCullers, Shirley Jackson and Octavia Butler. I love their work and would like to ask them about it, they all seem open to weirdness and wouldn't mind that I'd burned the food, and I just have this feeling that they'd be up for watching "Seinfeld" and playing canasta while we ordered pizzas.
(4) OKAY TO KEEP SOCKING IT TO DOBBY. According to NPR, "A memorial to Dobby can stay on a Welsh beach, but fans have to stop leaving socks".
…The proposal to relocate the gravesite to a "suitable publicly accessible location" elicited mixed responses at the time, with some people saying it would be pointless to move the memorial and others questioning the need for having one for a fictional character at all….
(5) WORK IS LIFE. "Lynn Caponera on the Wild and Wonderful Legacy of Maurice Sendak" at Literary Hub.
The typical question when calling the Sendak house was "Is he working?"

And the typical answer was "Yes!"

Friends knew that for Maurice work was a sort of life support. And those in his circle, we who loved him, strove to create an atmosphere conducive to that work that kept him alive.

Maurice found comfort in a rigorous schedule: up at 9:00 am, green tea and English muffin spread with just the right amount of orange marmalade, freshly squeezed orange juice and two hours of reading the New York Times, sprinkled with the hilarious, ridiculous commentary that he swore, of course, he was reading in the paper. 11:00 am answer or return phone calls; 12 noon shower and dress, then an hour walk with one of his beloved dogs.

It was during his walk time that guests could visit if they liked. But it was walk and talk and a quick bite for lunch then off you go. If you weren't too demanding of his time, you might be asked to sit in the studio while he worked.
(6) MEMORY LANE.
2014 — [By Cat Eldridge.] Seanan McGuire's Ghost Roads series
They have good beer here, these routewitches do, and their grill is properly aged, old grease caught in the corners, the drippings of a hundred thousand steaks and bacon breakfasts and cheeseburgers scraped from a can and used to slick it down before anything starts cooking. The plate they bring me groans under a triple-decker cheeseburger and a pile of golden fries that smell like summer nights and stolen kisses—and they smell, even before the platter hits the table. — Rose telling about a diner on one of the ghost roads.
Y'all comfortable? Shall we begin?
I have on this Autumn evening come to praise what I consider the best urban folklore ghost story ever told, Seanan McGuire's Ghost Roads series which started in 2014 and had the latest novel published last year. Indeed within the sub-genre that it is, that of the girl that is killed and is forever making her way home as a hitchhiker, it is simply the best ever written.
GHOSTLY WHISPERS OF A STORY BEING TOLD ARE HERE, YOU ARE FOREWARNED
She is telling her stellar ghost story in the Ghost Roads series which, like her novel Indexing, was originally a series of short stories published through The Edge of Propinquity, starting in January of 2010 and ending in December of that year. It appears they've been somewhat revised for this telling of her ghostly narrator's tale but I can't say how much as I've not read the original versions.
This is the story of Rose Marshall, who was the first victim of the man called Bobby Cross, although she was unfortunately not his last. Bobby killed her on Rose's way to her senior prom by driving her off the side of Sparrow Hill Road.
Unlike most dead, she didn't pass on to whatever comes next but rather lives on—both in the ghost roads that exist between the living and the great unknown, and in the mortal world. In the latter, if she's hitchhiking as a ghost, someone sees her standing there, picks her up, and gives her their jacket as she always looks cold, she becomes flesh for a while.
As she says, 'The best thing about having a jacket is the way it makes me live again, at least until the sun comes up the next morning—dawn to dawn, that's the longest a borrowed life can last.'
WE ARE DONE TALKING TO THE DEAD, SO YOU CAN COME BACK
There are currently three novels here — Sparrow Hill Road, The Girl in Green Silk Gown and Angel of the Overpass. McGuire does a very excellent job of advancing Rose's story from novel to novel and the reader will find that McGuire had created a complex world quite unlike anything I've encountered before. 
As I said when I started this review, it is by far the best ghost story I've read and certainly the Ghost Roads series will be one series that I read again. Oh the audio version narrated by Amy London is quite excellent listening as well.
And no, I'm not telling you any more of the story beyond what I've said above as that would spoil you learning what happens here for yourself! It's an excellent story told by a remarkable author.
The series had one nomination in 2019, the Endeavour Award given to a science fiction or fantasy book written by a Pacific Northwest author or authors. It was for The Girl in the Green Silk Gown.
Oh, I should mention before I leave you that the author, who is herself a musician, notes that "Music plays a large part in the story of Rose Marshall, and Rose herself has been the topic of several songs … some more accurate than others." All the songs, I have been told, have been recorded by McGuire.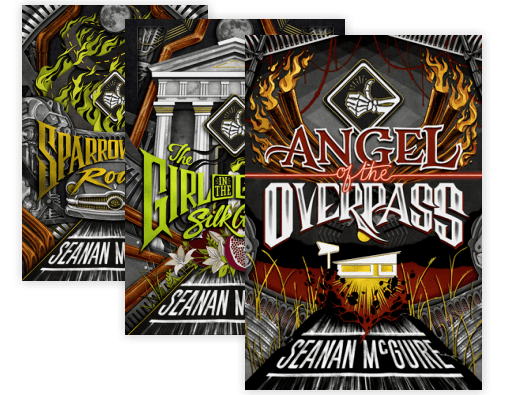 (7) TODAY'S BIRTHDAYS.
[Compiled by Cat Eldridge.]
Born November 6, 1907 — Catherine Crook de Camp. Author and editor. Most of her work was done in collaboration with her husband L. Sprague de Camp, to whom she was married for sixty years. Her solo work was largely non-fiction. Heinlein in part dedicated Friday to her. It is worth noting that she has been depicted in works by several authors, usually together with her husband. I'll single out she appears in stellar S. M. Stirling's In the Courts of the Crimson Kings and Paul Malmont's The Astounding, the Amazing, and the Unknown. (Died 2000.)
Born November 6, 1914 — Jonathan Harris. The deliciously not-to-be-trusted Doctor Zachary Smith, of course, on Lost in Space. He was somewhat typecast as a villain showing up as such as Mr. Piper on Land of the Giants, The Ambassador on Get Smart and the voice of Lucifer on the original Battlestar Galactica. He did play lighter roles such as Johann Sebastian Monroe on Bewitched in the "Samantha on the Keyboard" episode, and the voice of Professor Jones, the second Butler of Freakazoid on the series of that name. (Died 2002.)
Born November 6, 1948 — Michael Dirda, 74. Currently book critic for the Washington Post. His connection to genre is a fascinating work entitled On Conan Doyle; or, The Whole Art of Storytelling which won the Edgar Award for Best Critical / Biographical Works in 2012 and which looks at his SF work as well. Also worth bringing to your attention is Browsings: A Year of Reading, Collecting, and Living with Books which y'all should naturally be interested in reading.
Born November 6, 1955 — Catherine Ann Asaro, 67. She is best known for her books about the Ruby Dynasty, called the Saga of the Skolian Empire. I don't think I've read them, so if you've read them, please do tell me about them. She won Nebula Awards for The Quantum Rose novel and "The Spacetime Pool" novella. And the Analog readers really like her, having voted her three An-Lab awards for Best Novella, "Aurora in Four Voices", "A Roll of The Dice" and "Walk in Silence".
Born November 6, 1965 — Jeffrey Wright, 57. Felix Leiter in the James Bond films Casino Royale and Quantum of Solace which I rather liked, Beetee in The Hunger Games films which I've not seen, and played the real-life Sidney Bechet in The Young Indiana Jones Chronicles, a series I adored.
Born November 6, 1965 — Sandra Newman, 57. She has two genre novels, both of which did well as mainstream fiction, too: The Country of Ice Cream Star, a near future dystopian feminist novel and The Heavens which may or may not involve time travel back to Elizabethian times. She also co-authored with Howard Mittlemark, How Not to Write a Novel: 200 Classic Mistakes and How to Avoid Them–A Misstep-by-Misstep Guide.
Born November 6, 1972 — Rebecca Romijn, 50. Played Mystique in the X-Men film franchise but my favorite role for her is as Eve Baird, The Guardian of the Library that crosses all realities in The Librarians series. She also was a regular playing Roxie Torcoletti in Eastwick, yet another riff the John Updike novel. She is now Number One on Discovery.
Born November 6, 1979 — Jennifer Carpenter, 43. Ok, she got a nomination for her work as Emily Rose in The Exorcism of Emily Rose. It was the MTV Movie Award for Best Scared-As-Shit Performance. It later got renamed to Best Frightened Performance. She's apparently only got two other genre credits, both voice work. One is as Black Widow in Avengers Confidential: Black Widow & Punisherwhich is a horridly-done anime film that I do not recommend; the other is as Selina Kyle aka Catwoman in Batman: Gotham by Gaslight, the animated version of the Mike Mignola Elseworld series which I strongly recommend. Possibly the Limitless series she was in is genre, possibly it isn't…
(8) COMICS SECTION.
Alley Oop debates whether ancient humans are ready for alien visitors.
(9) VINTAGE KING Q&A. The Paris Review has allowed their 2006 Stephen King interview to escape the paywall. "The Art of Fiction No. 189".
INTERVIEWER

When you accepted the National Book Award for Distinguished Contribution to American Letters, you gave a speech defending popular fiction, and you listed a number of authors who you felt were underappreciated by the literary establishment. Then Shirley Hazzard, that year's award winner in fiction, got on stage and dismissed your argument pretty flatly.

KING

What Shirley Hazzard said was, I don't think we need a reading list from you. If I had a chance to say anything in rebuttal, I would have said, With all due respect, we do. I think that Shirley, in a way, has proven my point. The keepers of the idea of serious literature have a short list of authors who are going to be allowed inside, and too often that list is drawn from people who know people, who go to certain schools, who come up through certain channels of literature. And that's a very bad idea—it's constraining for the growth of literature. This is a critical time for American letters because it's under attack from so many other media: TV, movies, the Internet, and all the different ways we have of getting nonprint input to feed the imagination. Books, that old way of transmitting stories, are under attack. So when someone like Shirley Hazzard says, I don't need a reading list, the door slams shut on writers like George Pelecanos or Dennis Lehane. And when that happens, when those people are left out in the cold, you are losing a whole area of imagination. Those people—and I'm not talking about James Patterson, we understand that—are doing important work.
(10) OUT FOR A BITE. [Item by Martin Morse Wooster.] In the Washington Post, Jada Yuan reports from the 34th Anne Rice Vampire Ball in New Orleans where Rice's fans cosplay as their favorite characters and party all night. "Anne Rice is gone, but her New Orleans vampire ball lives on".
Way down St. Charles Avenue, beneath ancient oaks, in a 19th-century mansion, the vampires who love Anne Rice were gathering for a masquerade ball Saturday to celebrate the woman many said had changed their lives and opened up their worlds.

So much silk taffeta! So many feathers, towering curled wigs and black goat horns! Spiked headpieces the size of a small sun! Oh so many custom-made fangs! It was no mere costume party. It was universe-creation.
(11) BOOK LOVER'S PICKS. S.A. Barnes, also writing as Stacey Kade is a High School librarian by day, science fiction horror writer by night, and weekends. She obviously loves books. Her latest novel DEAD SILENCE is available here. She's interviewed by Moid at Media Death Cult. Her top SF/horror book pics are:
Dead Space – Kali Wallace
Dark Matter – Blake Crouch
The Hollow Places – T. Kingfisher
Ninth House – Leigh Bardugo
All Systems Red (Murderbot) – Martha Wells
(12) VIDEO OF THE DAY. "How Stranger Things Should Have Ended" from HISHE.
[Thanks to Martin Morse Wooster, JJ, John King Tarpinian, Chris Barkley, SF Concatenation's Jonathan Cowie, Andrew Porter, Michael Toman, Cat Eldridge, and Mike Kennedy for some of these stories. Title credit belongs to File 770 contributing editor of the day Cat Eldridge.]