(1) HORROR HUMBLE BUNDLE. "The Tales of Horror Humble Bundle" is now up with horror anthologies edited by Ellen Datlow (Darkness, Nightmares, Lovecraft's Monsters), also: The Ultimate Werewolf, The Ultimate Undead, and The Ultimate Dracula, plus books by Lisa Goldstein, Ellen Klages, Nancy Kress, Kelley Armstrong, and Joe R. Lansdale. Plus graphic novels like From Hell, by Moore/Campbell, Parasyte by Hitoshi Iwaaki, Devil's Line by Ryo Hanada, Until Your Bones Rot by Yae Utsumi, Locke & Key Vol. 1: Welcome To Lovecraft by Joe Hill and Gabriel Rodriguez, and others.
(2) PATTINSON IN SPACE. The BBC's Claire Davis reviews Robert Pattinson in High Life: 4 stars, but won't please nearly everyone.
Robert Pattinson, sci-fi and sex in outer space – if ever the audacious, brilliant French director Claire Denis were making a bid for a mainstream audience, High Life would seem to be it. It turns out, the reverse is true. Before and especially after his Twilight years, Pattinson has sought out roles in smaller, artistic films, apparently on a mission to establish himself as a serious actor. The plan is working….

High Life, Denis' first film in English, is set on a spaceship full of prisoners sent on an almost certain suicide mission to explore a black hole.
(3) ROSSUM'S UNIVERSAL TWEETERS. A lot of Twitter bot activity preceded and followed Chuck Wendig's firing by Marvel says Bethan Lacina:
Updated data on Twitter before/after @ChuckWendig being fired from @Marvel/@StarWars. The new part is the number of bots (fully automated accounts) tweeting about Wendig. I'm amazed by how many bots there were. pic.twitter.com/SIfpYynvVx

— Bethany Lacina (@bethany_lacina) October 18, 2018
(4) AT THE FRONT. Cedar Sanderson has quite a bit of interest to say about book covers in "7 Rules for Cover Design" at Mad Genius Club.
It's not just that I'm an artist and designer and I enjoy the process of book creation. It's that even though people will say they don't care about a book cover, they actually do. They will totally judge your book by it's cover. And your book cover signals a lot about your book, whether you are conscious of it, or not. Every little choice, from font to color focus, says something about the book. I think by now everyone reading this knows the cardinal rule of a book cover: cover art is a marketing tool, not a scene from the book.
(5) TOMORROW'S THE FIFTH. Happy fifth anniversary, Galactic Journey!
[Oct. 20, 1963] For our fifth birthday, the Journey returns to its roots: Satellites and the November 1963 Fantasy and Science Fiction!https://t.co/Rii6W37M6i pic.twitter.com/PLVMibQHjh

— Galactic Journey (@journeygalactic) October 20, 2018
In "[October 20, 1963] Science Experiments (November 1963 F&SF and a space update)", The Traveler celebrates the occasion —
Five years ago tomorrow, I created the Journey to detail the day-by-day adventures of a science fiction magazine fan who just happened to also be a space journalist.  In the passage of five circuits around the sun, the scope of this project has expanded tremendously to cover books, movies, tv shows, comics, politics, music, fashion, and more.  The Journey has grown from a solo project to a staff of twenty spanning the globe.  Two years ago, we won the Rod Serling Award, and this year, we were nominated for the Hugo.
(6) DINOBITES. BBC finds "Jurassic-era piranha is world's earliest flesh-eating fish".
"We were stunned that this fish had piranha-like teeth," says Martina Kölbl-Ebert, of Jura-Museum Eichstätt, who led the study.

"It comes from a group of fishes (the pycnodontids) that are famous for their crushing teeth. It is like finding a sheep with a snarl like a wolf. But what was even more remarkable is that it was from the Jurassic.

"Fish as we know them, bony fishes, just did not bite flesh of other fishes at that time. Sharks have been able to bite out chunks of flesh but throughout history bony fishes have either fed on invertebrates or largely swallowed their prey whole. Biting chunks of flesh or fins was something that came much later."
(7) PERSONS OF INTEREST. Steve Shives investigates who did it —
(8) TOLKIEN LETTER OFFERED. A rare bookdealer is offering a long letter from JRRT for $48k. That's not news — people can list their property for any price they like. But the listing includes images of all four pages, so you can read it in its entirety — "J.R.R. Tolkien. Autograph Letter Signed" at The Manhattan Rare Book Company.
-insists that The Lord of the Rings is "in no way an 'allegory'", but "mythical-historical" based on "deeply rooted 'archetypal' motifs"

-reveals his motivations for writing The Lord of the Rings ("I merely tried to write a story that would be 'exciting' and readable, and give me a scope for my personal pleasure in history, languages, and 'landscape'")

-bemoans certain analyses of The Lord of the Rings that focus on symbolism ("they miss the point and destroy the object of their enquiry as surely as a vivisectionist destroys a cat or rabbit")
(9) SELF-PUBBERS ARE LEARNING. At Writer Beware, Victoria Strauss charts "The Continued Decline of Author Solutions". Strauss observes, "costly and often deceptive 'assisted self-publishing' services that proliferated in the early days of digital publishing are gradually being supplanted by better options."
What I want to focus on, though, is Author Solutions–where ISBN output is a useful measure of overall activity, since all AS publishing packages include ISBN assignment.

In previous posts, I've followed AS's steady decline, from an all time high of 52,548 ISBNs in 2011 (one year before Pearson bought it and folded it into Penguin), to less than half that in 2015 (the same year that Penguin unloaded it to a private equity firm called Najafi Companies*).

In the latest version of Bowker's report, that slide continues. 2016 did see a small post-Najafi uptick, from 24,587 to 30,288; but in 2017 the freefall resumed, with ISBNs dropping to 25,971–just slightly above 2015's output. A few of the individual imprints do show negligible increases, but for the most part they all go down (by four figures in the case of AuthorHouse).
(10) CALL FOR BOOKSTORE ACTIVISM. Electric Literature points readers to Lexi Beach's Twitter thread which tells "Why Buying Books Will Not Save Our Beloved Bookstores" and what to do instead. The thread starts here.
So what can you do? Talk to your hyper local elected officials. Community board, city council. Tell them how these locally owned, independently run businesses make your life in their district so much better.

— Lexi Beach (@lexiatwork) October 9, 2018
(11) BOL OBIT. Little Free Library creator Todd Bol died October 18 — "Todd Bol, creator of the Little Free Library movement, dies at 62".
Todd Bol hammered together the first Little Free Library. Then he built a movement around it.

Bol believed the now-ubiquitous little boxes of books — and the neighbors who cared for them — could change a block, a city, the world. So he brought them to front yards all over, often installing them himself. Known for his wild optimism and keen business sense, the Little Free Library founder died Thursday morning, just weeks after he was found to have pancreatic cancer.

…Bol set a goal of 2,150 — to beat the number of Carnegie Libraries in the country. Less than a decade later, more than 75,000 dollhouse-size libraries have sprouted on front lawns in 88 countries…
(12) TODAY IN HISTORY
October 20, 1965 — Village Of The Giants showed that size does matter.
(13) TODAY'S BIRTHDAYS.
[Compiled by Cat Eldridge and JJ.]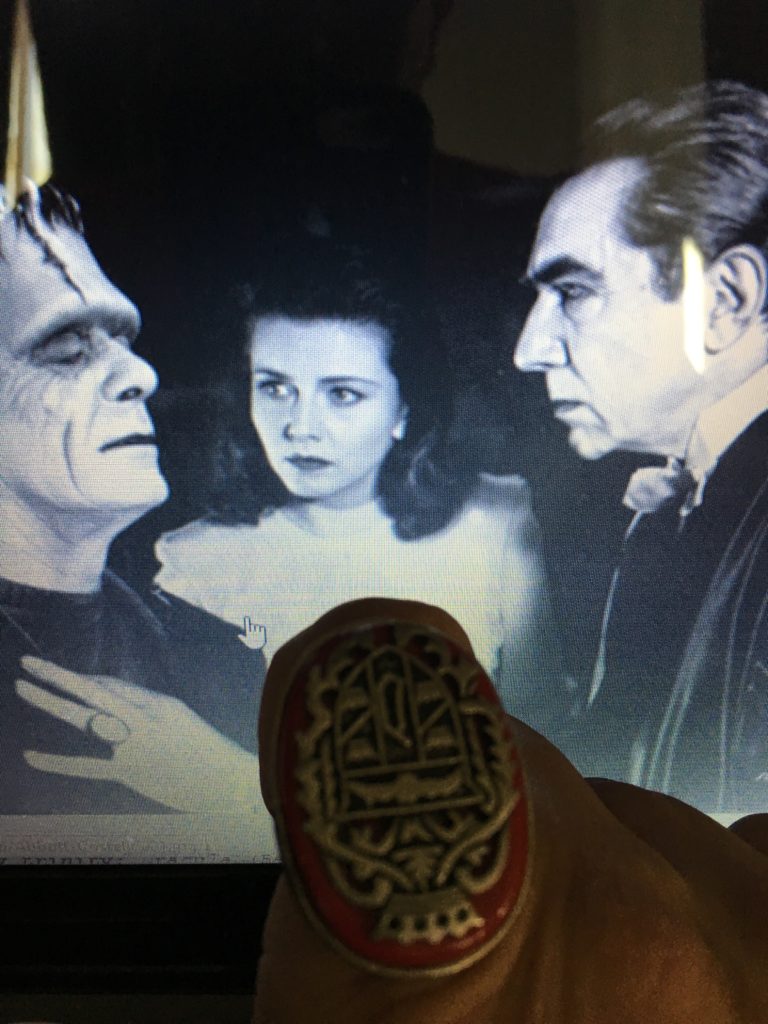 Born October 20, 1882 – Bela Lugosi, Actor from Hungary who appeared in many Hungarian and German silent films, but first became famous for portraying Count Dracula in the 1931 film of that name, a role he had previously played on Broadway. Other genre roles included the films Island of Lost Souls, Mark of the Vampire, Night Monster, White Zombie, and countless Frankenstein movies. He never really made it as a major performer, and his last film was Plan 9 from Outer Space.
Born October 20, 1923 – Erle M. Korshak, 95, Attorney, Publisher, Conrunner, and Member of First Fandom who discovered SF in 1934 with the August Astounding magazine and became a very serious collector. By 1939, he was a well-known fan and one of the leaders of the Moonstruck Press publishing house which was formed to create a bibliography of all fantasy books. He was a co-organizer for the second Worldcon in 1940, and served as chair pro tem when the con chair fell ill on the first day. He later founded a publishing house whose first major work was Everett F. Bleiler's The Checklist of Fantastic Literature, a pioneering work of SF bibliography. This was followed by major works by Heinlein, Bester, Fredric Brown and other SF authors. He was absent from fandom from the late 50s through late 80s, but rejoined fandom and has attended cons with his children.
Born October 20, 1934 – Taku Mayamura, 84, Writer and Haiku Poet from Japan who is well-known in that country for his science fiction stories, which have earned him two Seiun Awards. He is also a young adult fiction writer whose works have been adapted into TV drama, film, and anime. He was named an honorary member of the Science Fiction and Fantasy Writers of Japan.
Born October 20, 1934 – Michael Dunn, Actor who was probably best known for his recurring role on The Wild Wild West series as the villain Dr. Miguelito Loveless, but is better known to Star Trek fans as Alexander, the court jester, in the original series episode "Plato's Stepchildren". He also had roles in episodes of Night Gallery, Tarzan, and Voyage to the Bottom of the Sea. He died far too young at the age of 38 in his sleep, from congenital health issues related to dwarfism.
Born October 20, 1949 – George Harris, 69, Actor born in the West Indies who emigrated to England. His acting debut was in The Gladiators, the 1969 Swedish predecessor to The Hunger Games. His face is well-known to genre fans from his character roles in Flash Gordon, Raiders of the Lost Ark, and several Harry Potter movies; he also had parts in Riders of the Storm, Danny Boyle's National Theatre Live: Frankenstein, and a recurring role on the series Starhunter and Starhunter ReduX.
Born October 20, 1955 – Thomas Newman, 63, Oscar-nominated Composer of film scores who has provided songs and soundtracks for numerous genre films, including the Hugo- and Oscar-winning WALL-E, The Green Mile, Meet Joe Black, Finding Nemo, Finding Dory, Lemony Snicket's A Series of Unfortunate Events, The Adjustment Bureau, Passengers, Real Genius, and The Lost Boys.
Born October 20, 1956 – Peter Morwood, 62, Writer and Fan from Ireland who has written novels in several series, as well as contributing a couple of novels in the Star Trek universe. A frequent SFF con attendee in the UK, he was introduced by Anne McCaffrey to his wife Diane Duane at a convention, and the two were married at the 1986 Worldcon in Atlanta. He has been Guest of Honor at numerous conventions and, with Duane, was Toastmaster at the 1995 Worldcon in Glasgow.
Born October 20, 1958 – Lynn Flewelling, 60, Writer best known for works featuring LGBTQ characters and touching on issues of gender. Novels in her Nightrunners series have received Compton Crook and Spectrum Award nominations, and her work has been published in 13 countries, including Japan.
Born October 20, 1966 – Diana Rowland, 52, Writer who has an eclectic list of past professions as a bartender, a blackjack dealer, a pit boss, a street cop, a detective, a computer forensics specialist, a crime scene investigator, and a morgue assistant. In the last 10 years, she has produced at least 14 novels in two series, as well as a short work set in the Wild Cards universe. She is a graduate of the Clarion West Writer's Workshop, received the Phoenix Award (lifetime achievement award) from Southern Fandom, and has been Toastmaster and Guest of Honor at several conventions.
(14) APRIL FOOLISHNESS. Gábor Takacs sff-related April's fools prank is in Hungarian, but you can enjoy the covers of these fictitious upcoming books, e. g. a Culture-novel by Alastair Reynolds and Peter F. Hamilton, and so on. With covers!
(15) ANOTHER ONE BITES THE DUST. A second superhero series marked for death: "Netflix cancels 'Luke Cage' a week after dropping 'Iron Fist'".
When Marvel and Netflix announced Iron Fist wouldn't return for a third season, there were reports Luke Cage was close to being renewed. That is not the case, however, as they announced tonight that the show will end after two seasons, even though additional seasons for Jessica Jones and The Punisher are already on order. In a statement, the companies said "Unfortunately, Marvel's Luke Cage will not return for a third season. Everyone at Marvel Television and Netflix is grateful to the dedicated showrunner, writers, cast and crew who brought Harlem's Hero to life for the past two seasons, and to all the fans who have supported the series."
(16) FIRST PERSON. Saga tells it all to The Guardian: "I pulled a 1,500-year-old sword out of a lake".
I was crawling along the bottom of the lake on my arms and knees, looking for stones to skim, when my hand and knee felt something long and hard buried in the clay and sand. I pulled it out and saw that it was different from the sticks or rocks I usually find. One end had a point, and the other had a handle, so I pointed it up to the sky, put my other hand on my hip and called out, "Daddy, I've found a sword!"

I felt like a warrior, but Daddy said I looked like Pippi Longstocking. The sword felt rough and hard, and I got some sticky, icky brown rust on my hands. It started to bend and Daddy splashed up to me, and said I should let him hold it. It was my sword and now he was taking it away! I gave it to him in the end.
(17) NEED GAS. Brian Gallagher, in "So Can We Terraform Mars Or Not?" at Nautilus, argues the question of whether or not terraforming Mars will be successful depends on how much carbon dioxide is stored in the Martian rocks, with NASA arguing that there isn't enough carbon dioxide to do the job, while Robert Zubrin argues that NASA dramatically underestimates that amount of carbon dioxide that would be available.
This is where, to Zubrin and McKay, Jakosky seems to contradict the known data. 0.5 bar of atmospheric CO2 loss is a fair—even if not conclusive—assessment, McKay and Zubrin told me. (McKay: "There is some debate if they are actually measuring CO2 loss or just O2 loss." Zubrin: "That claim is controversial, but we'll let it pass because at least in that case [Jakosky] is arguing from data.") What they disagree with is Jakosky's carbon isotope analysis. Zubrin said it is impossible for the 0.5 bar of atmospheric CO2 loss to represent 75 percent or more of Mars' original atmospheric total because, "based on the available data on liquid water on ancient Mars, Mars must have had at least 2 bar of CO2" enveloping the planet (the ground-based amount at that time is unknown). If so, contrary to Jakosky, there would be well over a bar left in shallow ground deposits somewhere—enough to trigger a runaway greenhouse effect if vaporized.
(18) STILL READING RICE. Princess Weekes, in "Why Our Love for Anne Rice's Vampires Is Undying" at The Mary Sue, explores why people still read Anne Rice's The Vampire Chronicles 40 years after Interview with the Vampire was first published.
The desire to be loved, to understand what it means to be human when your humanity is stripped away from you, those are beautiful themes and questions to raise in a novel about vampires. Rice showed the poetry in the genre and also gave women a stronger place in vampire literary lore. She wrote vampires for a female audience while creating a brutal and dark novel with Interview, but it was dark not just through violence but through emotion—and that is why the series means so much to people even now.
(19) MAKING OF THE EMPIRE STRIKES BACK. Polygon spotlights the rediscovery: "The Empire Strikes Back's long-lost making-of documentary surfaces on YouTube".
The Making of the Empire Strikes Back, a documentary partially referenced on the internet but otherwise believed incomplete and lost, has made it to YouTube in full.

The film lingers on the special effects required for the Hoth battle opening the 1980 flick, but also includes backstage interviews with Mark Hamill, Harrison Ford and the late Carrie Fisher. At this point in history, all three were bought into the love triangle set up in the original Star Wars, before everyone figured out Luke's parentage — and then Leia's, as well.
(20) KILLER MOVES AND KILLER TUNES. The second trailer for Anna and the Apocalypse.
A zombie apocalypse threatens the sleepy town of Little Haven – at Christmas – forcing Anna and her friends to fight, slash and sing their way to survival, facing the undead in a desperate race to reach their loved ones. But they soon discover that no one is safe in this new world, and with civilization falling apart around them, the only people they can truly rely on are each other.
[Thanks to Martin Morse Wooster, Cat Eldridge, JJ, Chip Hitchcock, Mike Kennedy, John King Tarpinian, Carl Slaughter, Soon Lee, and Andrew Porter for some of these stories Title credit goes to File 770 contributing editor of the day Paul Weimer.]