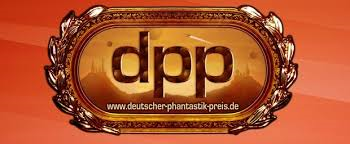 The Deutscher Phantastik Preis 2018 winners were announced October 20 at the German Comic Con in Berlin.
The award honors speculative fiction published for the first time in German language during the previous year.
Deutscher Phantastik Preis
Bester deutscher Roman / Best German Novel
Die Krone der Sterne — Kai Meyer — FISCHER Tor
Bestes deutschsprachiges Romandebüt / Best debut novel in German
Izara – Das ewige Feuer — Julia Dippel — Planet!
Bester internationaler Roman / Best international novel
Das Lied der Krähen [Six of Crows]– Leigh Bardugo — Knaur
Beste deutschsprachige Kurzgeschichte / Best German short story
Der geheimnisvolle Gefangene — Gerd Scherm — Reiten wir! – Phantastikautoren für Karl May — Edition Roter Drache
Beste Original-Anthologie/Kurzgeschichten-Sammlung / Best anthology/story collection
The U-Files – Die Einhorn Akten — Sandra Florean — Talawah Verlag
Bestes deutschsprachiges Hörspiel/Hörbuch / Best German Language Radio Play / Audiobook
Der Totengräbersohn 1 — Sam Feuerbach — Robert Frank — Audible Studios
Beste deutschsprachige Serie / Best German Language Series
Die Phileasson-Saga — Bernhard Hennen & Robert Corvus — Heyne Verlag
Bester deutschsprachiger Grafiker /Best German-speaking Graphic Artist
Prinzessin Insomnia & der alptraumfarbene Nachtmahr — Walter Moers, Oliver Schmitt & Lydia Rode — Albrecht Knaus Verlag
Bestes deutschsprachiges Sekundärwerk / Best German Language Secondary Work (i.e., Related Work)
Nautilus – Abenteuer & Phantastik — Abenteuer Medien
Bester deutschsprachiger Comic / Best German Language Comic
Die Stadt der Träumenden Bücher – Buchhaim | Florian Biege | Aalbrecht Knaus Verlag
[International title identifications follow those posted by Europa SF.]