(1) MAKING MAUS AVAILABLE. Shelf Awareness says one Tennessee bookseller is crowdfunding the means for local students to read Maus in the wake of a school board decision: "Tenn. Comic Shop's Maus Fundraiser Garners $90K".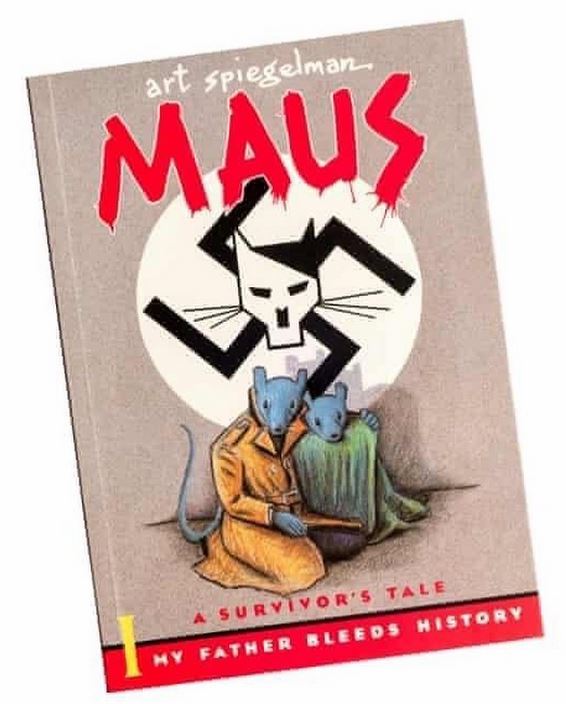 After the McMinn County Board of Education in Tennessee voted to ban Art Spiegelman's graphic novel Maus, about the Holocaust, from its eighth-grade curriculum last week, Nirvana Comics in Knoxville, Tenn., started a GoFundMe campaign to provide students with free copies of the graphic novel.

… The [Jewish Telegraphic Agency] reported that Penguin Random House negotiated a deal to sell 500 additional copies of Maus to Nirvana at a reduced price to give away to students. Actor Wil Wheaton shared Nirvana's story on social media, and "that's when it really, really exploded," Davis said.

The GoFundMe campaign opened on January 28 with a goal of $20,000; as of this morning it had raised more than $90,000, from more than 2,800 donors. Although Nirvana Comics initially had planned to provide copies to local students, they will now donate copies to students anywhere in the U.S.

Students can request a copy of Maus from the store on Facebook or Instagram.
(2) AFROFUTURISM IN LEGO. CNN Style invites you to "Meet the Ghanaian Canadian Lego sculptor building a Black universe". (The Official LEGO Shop also has a feature on the same artist in "Celebrate Black Creators".)
…In his "Building Black: Civilizations" series, Nimako reimagines medieval sub-Saharan African narratives. His "Kumbi Saleh 3020 CE" piece, which is made up of around 100,000 Lego bricks and can be found in the Aga Khan Museum in Toronto, is named after the capital city of a medieval Ghanaian kingdom. The artist explores medieval West Africa and reimagines what it would look like 1,000 years in the future.

Nimako hopes for an "inclusive future" that acknowledges the history of anti-Black racism and how "utterly disruptive" it is, and recognizes the role of Afrofuturism in allowing people to "envision a better world."

"My wife always says, 'all movements of resistance are rooted in that imagination.' You have to imagine the freedom, the emancipation. You have to imagine this struggle being over. You have to project that in order to rise up, in order to resist. What else are you resisting for, if not for that Promised Land?" he said. "Even art is a form of resistance and it's been used as a form of resistance for a very long time."…
(3) BEST PUNISH THE WORLDCON HUGO. What do you think about "An Anti-Raytheon Protest Vote at This Year's Hugos?" Doris V. Sutherland is working to make it happen.
…Before I should go on, I should mention that the practice of nominating short, emotive pieces like acceptance speeches or angry blog posts in Best Related Work — thereby taking spots that could have gone to longer works which took time, effort and research to construct and will better stand the test of time — is itself controversial. My views are conflicted. I would generally agree with this stance (my personal solution would be to split Best Related Work into long-form and short-form categories) but I have considerably stronger feelings about the deal with Raytheon. So, while I would like to see this Best Protest Vote practice to end, I don't beleive that 2022 is the right year for it to end. I would like to see a Hugo ballot this year that includes an uncompromising renunciation of last year's Raytheon sponsorship….
(4) LASFS HISTORY ZOOM. Fanac.org's "Spring History Zoom" schedule is now up here. The first session is "Death Does Not Release You – LASFS Through the Years" with Craig Miller (M), Tim Kirk, Ken Rudolph and Bobbi Armbruster, on February 26, 2022, at 4:00 p.m. To RSVP, or find out more about the series, please send a note to [email protected].
LASFS is unique – in its history and impact on fandom. LASFS has a clubhouse, a long list of professional writers that have been members, and has had an incredibly active fan group over the decades. Los Angeles area fandom has produced innumerable fanzines, six Los Angeles Worldcons (and many other conventions). Join us for a session with our real world AND fannishly accomplished participants – convention runners (including a Worldcon chair), a noted fan and professional artist, and a fanzine editor, all past or present LASFS members – in conversation about Los Angeles fandom from the inside.
(5) A READY PLAYER. On Twitter, Ira Alexandre is ramping up the campaign to get the Worldcon to add a Best Video Game category. They foreshadow "a full-length, more detailed explanation" forthcoming on Lady Business. Thread starts here.
(6) PIECES OF EIGHT. Cora Buhlert posted a new Fancast Spotlight today, this time for Octothorpe, which is created by John Coxon, Alison Scott, and Liz Batty: "Fancast Spotlight: Octothorpe".
Alison: I have been wanting to do a podcast ever since the very beginning of podcasts, but it turns out that if you want to do a podcast, you have to find someone who's daft enough to do the editing for you. Because otherwise podcasts don't happen, do they? So if you want to run your own podcast the core thing you need is somebody who's up for doing the editing.

Liz: I didn't have any desire to be on a podcast, or to start a podcast, or really to do any work around a podcast. But John had asked me "Do you want to do a podcast?" and I said, "Maybe?" And then there was a coronavirus, and now I literally have nothing else that I need to be doing on a Sunday afternoon, so let's do a podcast! And I am just constantly amazed that we have made it almost 50 episodes, and there appear to be at least ten people actually listening.
(7) KANE ADAPTATION ANNOUNCED. [Item by Cora Buhlert.] According to The Hollywood Reporter, there is an adaptation of Karl Edward Wagner's Kane novels and stories in the works: "Action Fantasy 'Kane' Adaptation in the Works From Vertigo". Personally, I'd be happy if there was a decent print edition of the Kane novels and stories available again. Also, my inner pedant bristles at calling the Kane stories epic fantasy, because they're sword and sorcery.
Kane is very able for producers Roy Lee, Andrew Trapani and Steven Schneider.

The trio has secured the adaptation rights to the long-sought-after series of Kane fantasy novels and short stories by cult fantasy author Karl Edward Wagner.

…Kane's adventures take place in a visceral world steeped in ancient history, with bloody conflicts and dark mysteries. Wagner wove gothic horror elements into this pre-medieval landscape, taking Kane on fantastic sagas involving war, romance, triumph and tragedy.
(8) ONE READER'S APPROACH. Tika Viteri tells "How I'm Decolonizing My Sci-Fi Reading" at Book Riot.
… One of the ways I am working to decolonize my science fiction reading is to diversify it. White cisgender male authors are vastly over-represented in science fiction, and they come from the dominant gender and race of the English-speaking world, whether they are consciously buying into the narrative or not. A good way to mitigate that narrative is to read it from different perspectives, and those perspectives are usually written by authors who are either non-white and/or not male.

If you haven't yet read the Binti trilogy of novellas by Nnedi Okorafor, it is an excellent place to start. As an author, she specifically identifies with Africanfuturism, which is a genre (along with Afrofuturism) that has been regularly blowing my mind since I was introduced to it. Our heroine, Binti, has been accepted at a prestigious university off-planet, but her journey is interrupted when her ship is attacked and she is the only survivor. The series handles interspecies biases, what it means to broker peace, and what happens when the fate of worlds rests on the shoulders of one young woman. Reviews are full of phrases like "ground-breaking" and "unique," and I wholeheartedly agree….
Another of Viteri's recent articles for Book Riot is "Literary Scandals: Who Was the Real-Life Dracula?"
… [Bram] Stoker famously kept to himself, editing his public image ruthlessly. In contrast to [Oscar] Wilde, and perhaps in reaction to what he perceived to be Wilde's recklessness regarding his sexual exploits, he retreated farther and farther into the closet, going so far as to say in 1912 that all homosexuals should be locked up — a group that definitely, in retrospect, included himself.
(9) MEMORY LANE.
1971 — [Item by Cat Eldridge] Fifty-one years ago at Noreascon where Robert Silverberg was Toastmaster and Clifford D. Simak (pro) and Harry Warner, Jr. (fan) were Guests of Honor with Tony Lewis as the Chair, Larry Niven won the Hugo for Best Novel for Ringworld. It was published by Ballantine Books in October of 1970.
Other nominated workers were Poul Anderson's Tau Zero, Robert Silverberg's Tower of Glass, Wilson Tucker's The Year of the Quiet Sun and Hal Clement's Star Light.
It would also win the Locus, Nebula and Ditmar Awards. Locus would later include Ringworld on its list of All-Time Best SF Novels before 1990.
Algis Budrys found it in his Galaxy Bookshelf column to be "excellent and entertaining, woven together very skillfully and proceeding at a pretty smooth pace."
It would spawn three sequel novels with The Ringworld Engineers nominated for a Hugo at Denvention Two which was the year Joan D. Vinge's The Snow Queen won and a prequel series, Fleet of Worlds which was co-written with Edward M. Lerner. (I really like the latter.) One film and three series have been announced down the decades but none to date have been produced. Indeed Amazon announced this as a series along with Neal Stephenson's Snow Crash and Greg Rucka's Lazarus five years ago but none got developed.
(10) TODAY'S BIRTHDAYS.
[Compiled by Cat Eldridge.]
Born February 1, 1884 — Yevgeny Zamyatin. Author of We, a dystopian novel. He also translated into into Russian a number of H.G. Wells works and some critics think We is at least part a polemic against the overly optimistic scientific socialism of Wells. The Wiki writer for the Yevgeny Zamyatin page claims that We directly inspired Nineteen Eighty-Four, The Dispossessed and Brave New World. No idea if this passes the straight face test. What do y'all think of this claim? (Died 1937.)
Born February 1, 1908 — George Pal. Producer of Destination Moon (Retro Hugo at Millennium Philcon), When Worlds Collide, The War of the Worlds (which I love), Conquest of Space, The Time Machine, Atlantis, the Lost Continent, Tom Thumb, The Time Machine, Atlantis, the Lost Continent, The Wonderful World of the Brothers Grimm, 7 Faces of Dr. Lao (another I love)and his last film being Doc Savage: The Man of Bronze which is not so great. Can we hold a George Pal film fest, pretty please? (Died 1980.)
Born February 1, 1942 — Terry Jones. Member of Monty Python who was considered the originator of the program's structure in which sketches flowed from one to the next without the use of punchlines. He made his directorial debut with Monty Python and the Holy Grail whichwas nominated for a Hugo at MidAmeriCon, which he co-directed with Gilliam, and also directed Life of Brian and The Meaning of Life. He also wrote an early draft of Jim Henson's 1986 film Labyrinth, though little of that draft remains in the final version. Let's not forget Lady Cottington's Pressed Fairy Book by Brian Froud and him which won a Hugo at Intersection for Best Original Art Work. (Died 2020.)
Born February 1, 1942 — Bibi Besch. Best remembered for portraying Dr. Carol Marcus on The Wrath of Khan. Genre wise, she's also been in The Pack (horror), Meteor (SF), The Beast Within (more horror), Date with an Angel (romantic fantasy) and Tremors. She died much, much too young following a long battle with breast cancer. (Died 1996.)
Born February 1, 1946 — Elisabeth Sladen. Certainly best known for her role as Sarah Jane Smith on Doctor Who. She was a regular cast member from 1973 to 1976, alongside the Third Doctor (Jon Pertwee) and Fourth Doctor (Tom Baker), and reprised her role down the years, both on the series and on its spin-offs, K-9 and Company (truly awfully done including K-9 himself) and The Sarah Jane Adventures (not bad at all). It's not her actual first SF appearance, that honor goes to her being a character called  Sarah Collins in an episode of the Doomwatch series called "Say Knife, Fat Man". The creators behind this series had created the cybermen concept for Doctor Who. (Died 2011.)
Born February 1, 1954 — Bill Mumy, 68. He's had a much longer career in the genre than even I knew. And I probably overlooked something. His first genre roles were at age seven on Twilight Zone, two episodes in the same season (Billy Bayles In "Long Distance Call" and Anthony Fremont in "Its A Good Life"). He makes make it a trifecta appearing a few years later again as Young Pip Phillips in "In Praise of Pip".  Next for him he played an orphaned boy in an episode of Bewitched called "A Vision of Sugar Plums" and then Custer In "Whatever Became of Baby Custer?" on I Dream of Jeannie, a show he revisited a few years as Darrin the Boy in "Junior Executive". Ahhh his most famous role is up next as Will Robinson in Lost in Space. It's got to be thirty years since I've seen it but I still remember and like it quite a bit. He manages to show up next on The Munsters as Googie Miller in "Come Back Little Googie" and in Twilight Zone: The Movie In one of the bits as Tim. I saw the film but don't remember him.He's got a bunch of DC Comics and Marvel roles as well — Young General Fleming in Captain America, Roger Braintree on The Flash series and Tommy Puck on Superboy. He's Lennier, one of the most fascinating and annoying characters in all of the Babylon 5 Universe. Enough said. I hadn't realized it it but he showed up on Deep Space Nine as Kellin in the "The Siege of AR-558" episode. Lastly, and before our gracious Host starts grinding his teeth at the length of this Birthday entry, I see he's got a cameo as Dr. Z. Smith in the new Lost in Space series. 
Born February 1, 1965 — Brandon Lee. Lee started his career with a supporting role in Kung Fu: The Movie, but is obviously known for his breakthrough and fatal acting role as Eric Draven in The Crow, based on James O'Barr's series. Y'll know what happened to him so I'll not go into that here except to say that's it's still happening and damn well shouldn't be happening, should it? (Died 1993.)
(11) STAND BY FOR NEW. "DC is re-writing all of its major events since the '80s with a stunning reveal in Justice League Incarnate #4" – GamesRadar+ broadcasts the warning.
If you've read any of the big DC Comics superhero events from 1985's Crisis on Infinite Earths to now, everything you know is about to change.

In February 1's Justice League Incarnate #4, DC's de facto chief writer Joshua Williamson and co-writer Dennis Culver have re-contextualized the major events in DC multiversal history from the '80s to now. Although this Justice League Incarnate limited series has been a story unto itself, it continues to move pieces around on DC's 'big picture' chessboard towards another Crisis-level event in the very near future.

Anything more we could say on Justice League Incarnate #4 would be spoilers, so…
(12) THE PANELS THROUGH TOMORROW. Jared Shurin has harnessed the power of modern computing to spew forth the commonest denominators in convention programming since the A-bomb went off. Thread starts here.
(13) MOST POPULAR VIEWS. While we're waiting for someone to produce Sanctuary Moon, here's what people are enjoying according to JustWatch.
Top 10 Sci-Fi Movies and TV Shows in the US in January (01.01.-31.01.22)
| | | |
| --- | --- | --- |
| Rank* | Movies | TV shows |
| 1 | Ghostbusters: Afterlife | Station Eleven |
| 2 | Dune | A Discovery of Witches |
| 3 | Free Guy | Resident Alien |
| 4 | Spider-Man: Homecoming | Peacemaker |
| 5 | Spider-Man: Far From Home | The Book of Boba Fett |
| 6 | Eternals | Archive 81 |
| 7 | Don't Look Up | Ghosts |
| 8 | The Amazing Spider-Man | Snowpiercer |
| 9 | Spider-Man | The Expanse |
| 10 | Venom: Let There Be Carnage | Doctor Who |
*Based on JustWatch popularity score. Genre data is sourced from themoviedb.org
(14) LOOK OUT BELOW. "Nasa reveals how it will destroy International Space Station at the end of its life" reports MSN.com.
…The plan assumes that lifespan will come to an end in January 2031. But the work to do so could start a year or more in advance, when the International Space Station's orbit starts to fall towards the Earth.

Because of the ISS's vast size, it will not burn up in the atmosphere, and so its descent will have to be precisely controlled in order to be safe. Nasa hopes to do so by gradually manoeuvring the spacecraft so that it drops down to Earth.

Those manoeuvres will be done partly by using the propulsion built into the ISS, as well as by the vehicles that visit. Nasa says that it has already examined the visiting vehicles for whether they would be able to provide enough thrust to help with the de-orbit – and found that a number of them do, with work continuing to expand that list further.

Eventually, the track of the space station's fall will be lined up so that the space station will fall towards what it calls the "South Pacific Oceanic Uninhabited Area", or SPOUA. That area is known as the "oceanic pole of inaccessibility" since it is the part of Earth furthest from land – and it is so remote that often the closest human beings are the International Space Station's astronauts as they float overhead.

Nasa will aim for a specific region known as "Point Nemo", which is not only remote but almost entirely uninhabited….
(15) LOFTY CONCERNS. Here's something else you don't want to be under if it drops out of the sky. WIRED's Rhett Allain is worried about "What Happens If a Space Elevator Breaks".
…OK, back to the space elevator. If we can't build a tower from the ground up, we can hang a 36,000-kilometer cable from an object that's in a geostationary orbit. Boom: That's the space elevator.

To get this to work, you would need a large mass in orbit—either a space station or a small asteroid. The mass has to be large so that it doesn't get pulled out of orbit every time something climbs up the cable.

But perhaps now you can see the problem with a space elevator. Who wants to make a 36,000-kilometer-long cable? For a cable that long, even the strongest material, like kevlar, would have to be super thick to prevent it from breaking. Of course, thicker cables means more weight hanging down below, and that means the higher parts of the cable have to be even thicker to support the cable below. It's a compounding problem that seems essentially impossible. The only hope for the future of space elevator construction is to figure out how to use some super strong and lightweight material like carbon nanotubes. Perhaps we will make this work someday, but that day is not today.

What About a Falling Elevator Cable?

In the first episode of Foundation, some people decide to set off explosives that separate the space elevator's top station from the rest of the cable. The cable falls to the surface of the planet and does some real damage down there.

What would a falling space elevator cable look like in real life?….
(16) SHIELDS UP! Here's a clip of what 2021's Dune would look like with 1984 technology. Which, if you're as old as I am, you maybe thought you'd already seen. From the Corridor Crew.
(17) VIDEO OF THE DAY. [Item by Martin Morse Wooster.] In "Honest Trailers: The Witcher, Season 2," the Screen Junkies say that there's a lot of grunting and deep signs in season 2 of "The Witcher," but characters are obsessed with how bad they smell (tying into that Old Spice ad!) and much of the series has "a plot line as boring as the phrase 'elf migration crisis' would imply." The narrator is bothered by the character growth in the show because "I haven't grown since eighth grade!"
[Thanks to John King Tarpinian, Andrew Porter, Michael Toman, Rob Thornton, Soon Lee, N., Chris Barkley, Daniel Dern, Will R., Brian Z., Cora Buhlert, Cat Eldridge, Mike Kennedy, Martin Morse Wooster, and JJ for some of these stories. Title credit belongs to File 770 contributing editor of the day Jon Meltzer.]