(1) LOSCON THIS WEEKEND. Loscon 49, a gathering of writers and fans of all ages, with common interests in Fantasy, Science Fiction, Cosplay, Film, Art and Music takes place this Thanksgiving weekend, November 24-26, at the Los Angeles Airport Marriott on Century Blvd.

Author and screenwriter Peter S. Beagle is the Writer Guest of Honor. Generations of readers have enjoyed his magic of unicorns, haunted cemeteries, lascivious trees and disgruntled gods. His best-known work is "The Last Unicorn"

Echo Chernik, the Artist Guest of Honor, is commercial artist and instructor of digital media, specializing in art nouveau-influenced design art and illustration.

Fan Guest of Honor is Elayne Pelz. She has worked at Worldcons, Loscon, Gallifrey One, Anime cons, SFWA Nebula Conference, and many more, as an essential staff member for decades.

Loscon will partner with Nerd Mafia Group for a cosplay contest on Saturday evening.

Submissions will be accepted for the Losconzine49 onsite, at a fan table stocked with paper and various writing implements. They will also take emailed submissions until Dec 3rd via [email protected] These will be compiled and shared electronically with all those who submit and an online post will be shared with the public.

Weekend passes are $75, day rate is $40. Parking with validation is $20 per day.

For more information, check out Loscon 49.
(2) FOR YOUR EARS. Audible.com has posted 20 books on its list of The Best Audiobooks of 2023, two of them of genre interest. And there are additional lists of —
(3) YOUR FAVORITE BOOK MAY ALREADY HAVE WON – IT'S UP TO YOU. Christopher Ruz has a solution to the surfeit of literary awards – make it bigger! "Announcing the 2023 Rando Awards".
The Randos are a highly prestigious* genre fiction award, judged by a team with over a century of combined experience** in fantasy, science fiction, horror, crime, and more. Founded by me, because I felt like it, the Randos is a way of sharing our love of genre fiction and recognising the authors who made our year great. Our judging panel of Randos will come together at the end of the year to decide on their favourite reads of 2023. Each winning author—one per judge—will be awarded a coveted Rando trophy***.

*this is a lie

**if you add up the time we've all spent reading then it's probably a hundred years? Maybe?

***I mean, I'd covet them pretty hard

Can I Be a Judge?

Here's the thing about the Randos: anyone can be a Rando, and find some way to recognise and appreciate their favourite authors. You can shoot me a message and join our team in time for the 2023 awards! All you need is to cover the costs of the trophy and international postage for your chosen winner. Or, you can find your own way to let your fave author know that you appreciated their work and that they enriched your life with their stories.

There are no downsides to sharing that love….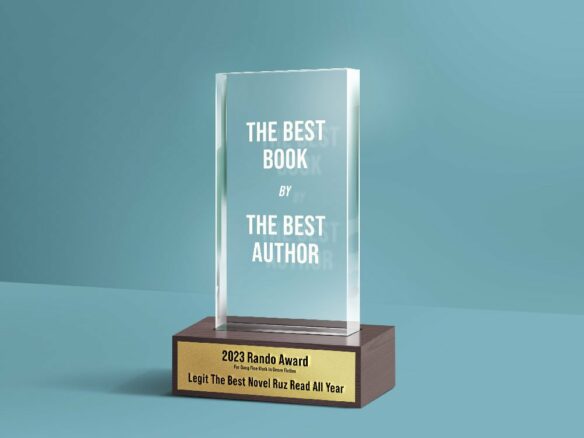 (4) TOO CLOSE TO HOME. Author Max Florschutz says his mother survived the mudslide in his hometown of Wrangell, Alaska but his father is still missing: "It's All Gone". Sad and alarming news.
Guys, I … I barely know how to write this. The last thirty-six hours have been a nightmare that is still ongoing.

If you've seen the news and heard a story about Wrangell Alaska, then you've heard part of what I'm about to tell you.

Monday night at 9 PM, a landslide hit my hometown. It was 450 feet across by the time it hit the highway, after it completely demolished my parent's property and home (here's a picture of the size of the slide).

It continued down across the highway and into the bay, destroying another home along the way before ending up in the bay.

My mother pulled herself from the wreckage of her home and walked to the search and rescue teams across a still-shifting mudslide.

My father is still missing, and just typing this hurts. Search and rescue teams are trying to get to what's left of their home to locate him. We have no idea if he's alive or dead. Everything that can be done is being done….
(5) INDOPANTHEOLOGY OPENS TO SUBMISSIONS. Oghenechovwe Donald Ekpeki has put out a call for "Indopantheology: Stories from the Spiritual Margins" at OD Ekpeki Presents. Deadline to submit is March 31, 2024. Full details at the link.
Do you have stories that go beyond the realms of the physical world? We, the editors, are asking for your spirit-fiction.

This volume will explore the theme of Indopantheology, analogous to the Afropantheology of Oghenechovwe Ekpeki's Between Dystopias: The Road to Afropantheology, published October 2023 by OD Ekpeki Presents, as an installment of the Pantheology projects

For us, Indopantheology maps the realm of the spiritual imagination, comprising all soul-matters from the most worldly of dreams to the most numinous of visions. If that is what you wish to explore, then this call is for you. We want stories from the wilder thickets of the spiritual world, the old places, the cultures and peoples that have been looted, disrespected and forgotten.

We want tales of the vast borderlands between life and death, where dreamers walk and ghosts and gods converse. Too often it seems that, in our current age of bigotry, exploitation and violence, the 'spiritual' is wielded as a weapon, designed to shame and exclude anyone of whom the wielder does not approve. We want to showcase stories that stand against this trend, and that go beyond the traditional binaries into the slippery truths of the shadow realms.

While the focus of this volume will be on South Asia and its many spiritual streams that defy the categories of organised religion, we are willing to accept spirit-stories from anyone in the wider Indoasian world. Please note that there are volumes currently in progress for other geographical regions with relations to South Asia, such as Africa, the Caribbean, etc.

We see this as a decolonising project, since the spirit world has historically been hijacked and weaponised by oppressors of various hue. We believe that new storytelling can cure this wound. And we especially want stories from, and about, people who are on the various spectrums: gender, neurological, mental and physical….
(6) RED WOMBAT DEAL. Orbit Books has acquired T. Kingfisher's Saint of Steel series and Swordheart. Four of these were self-published, and now will get tradpub reprints.
Helen Breitwieser at Cornerstone Literary Agency sold UK and Commonwealth rights in five of T. Kingfisher's books to Nadia Saward, Commissioning Editor at Orbit. The ebooks of Paladin's Grace, Paladin's Strength, Paladin's Hope and Swordheart are on sale now from Orbit, with Paladin's Faith publishing in early December. Orbit will be redesigning the covers and will be releasing paperbacks of all five books in Spring 2025.
(7) VARIABLE GOALS. We've heard a thousand times about AUTHORS GETTING PAID, but publisher Steven Radecki tells readers of the SFWA Blog that's not the only way to keep score: "The INDIE FILES: Measuring Your Success As an Author".
During the more than a decade that I have been involved in indie publishing, I have worked with more than three hundred authors. One thing I have discovered is that, just as publishing is not a one-size-fits-all process, neither is how individual writers conceive of their success. Managing your own goals and expectations and why you have them can go a long way toward understanding your feelings of success as an indie author.

Just getting your work published is probably your primary goal—whether it be a short story, novella, or epic trilogy. Few writers, particularly newly published ones, give much advance thought to what happens after they achieve that goal: what it will mean to feel successful as an author once their work has been published.

Having clear goals helps you in the effective promotion of your work. Discussing your goals early in your relationship with your agent or publisher can help you determine whether you are the right fit for each other in helping you achieve your goals. Defining goals will also help you in your decision on whether to go the traditional publishing, small publishing, or self-publishing route.

Some of the ways you might measure your success as an author include:
income earned
number of books or stories sold
number of engaged readers
public displays of your work
(8) PLAINTIFF HITS STUMBLING BLOCK IN AI LAWSUIT. [Item by Nina Shepardson.] The Hollywood Reporter has a new article out on Sarah Silverman's lawsuit against Meta alleging that its generative AI program infringes her copyright as an author. "Sarah Silverman Hits Stumbling Block in AI Lawsuit Against Meta".
A judge has dismissed most of the claims in Silverman's lawsuit. He called the claim that the AI model itself is an infringing derivative work "nonsensical." He also found that Silverman didn't provide sufficient evidence that the outputs of the model are "recasting, transforming, or adapting" her books. He said that, "To prevail on a theory that LLaMA's outputs constitute derivative infringement, the plaintiffs would indeed need to allege and ultimately prove that the outputs 'incorporate in some form a portion of' the plaintiffs' books." Apparently, there's a "test of substantial similarity" that's used in copyright cases to determine whether a work is similar enough to the original to likely be infringing. It sounds like the judge doesn't think Silverman has provided evidence that the outputs of Meta's AI program are substantially similar to her original work.
(9) MEMORY LANE.
1987 – [Written by Cat Eldridge.]
Emma Bull's War for The Oaks is a lovely novel. So we take our Beginning from it this time.
Since some of you might because of your extreme poor fortune not have read it yet so I'll talk not about it and spoil it for you. Well I'll at least put SPOILER ALERT up if I do.
War for The Oaks was first published by Ace in softcover in 1987 with the first cover art below by Pamela Patrick. The novel's setting is based upon Minneapolis where she and her husband Will Shetterly were living at the time.
The novel was, by Ace, printed once and declared out of print. It took Emma almost a decade-and-a-half to get back rights to the novel from Ace. Tor then printed a hardcover edition which never officially got released. It got released in a trade paper edition that had exactly the same cover. I like the Tor art by Jane Adele Regina as shown in the second cover image better than the Ace illustration as I think it captures the darker aspect of the novel.
SPOILER ALERT FOR A MINUTE.
Eddi also plays songs written by herself – in actuality of course, written by the author, Emma Bull. Some of these (including "Wear My Face" and "For It All") were performed by the band Cats Laughing (of which Emma Bull is a member), and are on their second album Another Way To Travel whose cover art is by Terri Windling of a hearse and the band in front of it.
When the trailer for War for The Oaks was filmed with funding meant first Will's run for the Governorship of Minnesota, this music was supplemented by some by Boiled in Lead as well. In the trailer, Emma plays the Fairy Queen and a fine one she does make!
That trailer is here. Don't watch it if you've not read the novel. Really don't or the Unseelie Queen will curse you. If you do and you were in Minneapolis in the large Eighties, let be note that a lot of the actors are from fandom.
END OF SPOILER ALERTS
And now our Beginning…
Prologue
By day, the Nicollet Mall winds through Minneapolis like a paved canal. People flow between its banks, eddying at the doors of office towers and department stores. The big red-and-white city buses roar at every corner. On the many-globed lampposts, banners advertising a museum exhibit flap in the wind that the tallest buildings snatch out of the sky. The skyway system vaults the mall with its covered bridges of steel and glass, and they, too, are full of people, color, motion.
But late at night, there's a change in the Nicollet Mall.
The street lamp globes hang like myriad moons, and light glows in the empty bus shelters like nebulae. Down through the silent business district the mall twists, the silver zipper in a patchwork coat of many dark colors. The sound of traffic from Hennepin Avenue, one block over, might be the grating of the World-Worm's scales over stone.
Near the south end of the mall, in front of Orchestra Hall, Peavey Plaza beckons: a reflecting pool, and a cascade that descends from towering chrome cylinders to a sunken walk-in maze of stone blocks and pillars for which "fountain" is an inadequate name. In the moonlight, it is black and silver, gray and white, full of an elusive play of shape and contrast.
On that night, there were voices in Peavey Plaza. One was like the susurrus of the fountain itself, sometimes hissing, sometimes with the little-bell sound of a water drop striking. The other was deep and rough; if the concrete were an animal, it would have this voice.
"Tell me," said the water voice, "what you have found."
The deep voice replied. "There is a woman who will do, I think."
When water hits a hot griddle, it sizzles; the water-voice sounded like that. "You are our eyes and legs in this, Dog. That should not interfere with your tongue. Tell me!"
A low, growling laugh, then: "She makes music, the kind that moves heart and body. In another time, we would have found her long before, for that alone. We grow fat and slow in this easy life," the rough voice said, as if it meant to say something very different.
(10) TODAY'S BIRTHDAYS.
[Compiled by Cat Eldridge.]
Born November 22, 1918 — Walter Kubilius. Quoting John Clute in SFE, "US editor and author involved in American Fandom from as early as 1932, when he was a founder member of the Edison Science Club; by the end of the 1930s, after serving on the committee that created the first Worldcon in 1939, he helped form the Futurians." He wrote a fair amount of short fiction but it's never been collected as near as I can tell. (Died 1993.)
Born November 22, 1925 — Arthur Richard Mather. Australian cartoonist, illustrator, and novelist. He was the artist who and later wrote of one of Australia's most successful comics series, Captain Atom. It was published from 1948 to 1954, with 64 issues. No relation to the by Charlton Comics character of that name who became the DC Comics character. After the Australian comics business declined in the Fifties, we become a writer and churned out seven works, all thrillers and crime novels with elements of science fiction. (Died 2017.)
Born November 22, 1938 — William Kotzwinkle, 85. Fata Morgana might be his best novel though Doctor Rat which he won the World Fantasy Award for is in the running for that honor as well. Did you know Kotzwinkle wrote the novelization of the screenplay for E.T. the Extra-Terrestrial? And his short stories are quite excellent too. The usual digital suspects are well stocked with his books now, a change from five years ago.
Born November 22, 1940 — Terry Gilliam, 83. He's directed many films of which the vast majority are firmly genre. I think I've seen most of them though I though I've not seen The Man Who Killed Don Quixote, Tideland, The Zero Theorem or The Imaginarium of Doctor Parnassus. I've seen everything else. Yes, I skipped past his start as the animator for Monty Python's Flying Circus which grew out of his for the children's series Do Not Adjust Your Set which had staff of Eric Idle, Terry Jones, and Michael Palin. Though he largely was the animator in the series and the films, he did occasionally take acting roles according to his autobiography, particularly roles no one else wanted such those requiring extensive makeup. He's also co-directed a number of scenes. Awards? Of course. Twelve Monkeys is the most decorated followed by Brazil with two and Time Bandits and The Fisher King which each have but one. My favorite films by him? Oh, the one I've watched the most is The Adventures of Baron Munchausen followed by Time Bandits.
Born November 22, 1949 — John Grant. He'd make the Birthday list solely for being involved in the stellar Hugo Award winning Encyclopedia of Fantasy which also won a Mythopoeic Award. And he did win another well-deserved Hugo Award for Best Related Work for The Chesley Awards for Science Fiction and Fantasy Art: A Retrospective. Most of his short fiction has been set in the Lone Wolf universe, though I see that he did a Judge Dredd novel too. (Died 2020.)
Born November 22, 1957 — Kim Yale. She was a writer whose first work was in the New America series, a spin-off of Truman's Scout series. With Truman, she developed the Barbara Gordon Oracle character, created the superb Manhunter series, worked on Suicide Squad, and was an editor at D.C. where she oversaw such licenses as Star Trek: The Next Generation. Married to John Ostrander until 1993 when she died of breast cancer. For First Comics, she co-wrote much of Grimjack with her husband. (Died 1997.)
(11) COMICS SECTION.
Eek! shows someone big and green bringing a veggie to the Thanksgiving feast. No, not the jolly one.
Tom Gauld thinks about silencing the feedback.
Elsewhere, Tom Gauld teases scientists.
(12) DOCTOR WHO MEMORIES. "'John Hurt and I swapped wine tips': stars share their best Doctor Who moments – part three" in the Guardian.
Ben Aaronovitch (writer of episodes featuring the Seventh Doctor, 1988-1989)

My first real memory of a complete story is The Green Death, and my favourite memory is of this large slug sneaking up on Jo Grant. I was literally watching it from behind the sofa. From working on the show, I remember that the anti-terrorist squad in Remembrance of the Daleks was scrambled to Waterloo station because we'd blown a great big hole in it. I used to have a photo of a group of Daleks with fire engines coming down and stopping and looking at the road blocked by a group of Daleks. God knows what they thought!
(13) COSMIC INSIGHT. Adam Roberts after reading the science news….
(14) VIDEO OF THE DAY. Ryan George is "Talking About The Apocalypse In 2023". What, him worry?
[Thanks to Chris Barkley, Cat Eldridge, SF Concatenation's Jonathan Cowie, Nina Shepardson, Steven French, Mike Kennedy, Andrew Porter, and John King Tarpinian for some of these stories. Title credit belongs to File 770 contributing editor of the day Jayn.]