(1) BUTTIGIEG INTERVIEWS SIR PAT. "Recently unemployed" Mayor Pete Buttigieg guest-hosted The Jimmy Kimmel Show. Due to public health concerns over the coronavirus, they cancelled their studio audience. Sir Patrick Stewart was a guest on the show.
Sir Patrick talks about Mayor Pete's huge "Star Trek" fandom, civil disobedience, Sir Ian McKellen performing the multiple marriage ceremonies he had to his wife, and he surprises Mayor Pete with one of his original scripts from "Star Trek."
They also did a sketch about "a Star Trek trivia game show for the ages called 'Who's the Captain Now?'" hosted by LeVar Burton.
(2) HELIOSPHERE CANCELLED. Heliosphere, which was to have been held April 3-5 in Tarrytown, NY has been called off. The committee has not yet decides whether to try and hold it later this year.
Unfortunately, due to the coronavirus, HELIOsphere 2020 will not be running as scheduled for April 3-5. At this time, we don't know whether we will be postponing or simply cancelling for this year. We will keep you posted as we work out the details with the hotel.
(3) STOKERCON STATUS. The Horror Writers Association's annual StokerCon is scheduled to be held in the U.K. next month. HWA President John Palisano gave this update to Facebook readers today:
At this time, more than two-thirds of attendees are based in the U.K., you should all be aware that the political situation has been changing by the hour. Only in the last 24 hours has travel in Europe (with the exception of the U.K.) been generally banned. The U.K. may take a similar step, or the U.S. may prohibit travel to and from there. So it's a very real possibility that in the next few days, the decision of whether to hold the Con may be taken out of our hands. We don't want to cancel the event unnecessarily, because that could cause severe financial hardship to many of our attendees and volunteers. On the other hand, we want to be respectful of individual decisions about whether or not to travel. We ask for you to be patient for a few more days while we try to sort out various options, including streaming the Bram Stoker Awards ceremony.

Meanwhile, our Librarians Day event, scheduled for May 7th of this year in Chicago, is still a go at this point. The organizers are also carefully watching this pandemic and are working on contingencies should the issues stretch that far into the future. They will have an announcement tomorrow.

Know that heading my first StokerCon as President of the HWA carries no small weight, and that my main priority is and will remain our members' safety and well-being as we navigate these treacherous and unmapped waters.
(4) UP IN THE AIR. Fans inquiring about the status of Minicon 55, planned for April 10-12 in Minneapolis, have been told there's a committee meeting this weekend and an announcement one way or the other may follow.
(5) MORE COVERAGE. Tor.com's Andrew Liptak is also tracking the status of sff events. "Coronavirus: The Sci-Fi/Fantasy Conventions Canceled So Far".
Those events include major science fiction, fantasy, and gaming conventions, as well as adjacent events like conferences. We've compiled a list of major and regional events that have been postponed, canceled, or which are as of now still running.
(6) SMITHSONIAN'S OPEN ACCESS IMAGE COLLECTION. We ought to be able to do a lot with this: "Smithsonian Releases 2.8 Million Images Into Public Domain".
Culture connoisseurs, rejoice: The Smithsonian Institution is inviting the world to engage with its vast repository of resources like never before.

For the first time in its 174-year history, the Smithsonian has released 2.8 million high-resolution two- and three-dimensional images from across its collections onto an open access online platform for patrons to peruse and download free of charge. Featuring data and material from all 19 Smithsonian museums, nine research centers, libraries, archives and the National Zoo, the new digital depot encourages the public to not just view its contents, but use, reuse and transform them into just about anything they choose—be it a postcard, a beer koozie or a pair of bootie shorts.

And this gargantuan data dump is just the beginning. Throughout the rest of 2020, the Smithsonian will be rolling out another 200,000 or so images, with more to come as the Institution continues to digitize its collection of 155 million items and counting.
When I searched "science fiction" lots more photogenic things came up – from lunch boxes to C3PO – but I was intrigued by this 1951 Astounding advertising rate card:
(7) SCIENCE IN THE HOUSE. That's candidate Brianna Wu's latest appeal:
Media has focused on the dangers of Coronavirus. Brianna Wu speaks with Geneticist Frank Wu about the possible treatments and vaccines being developed by the biotech industry
(8) ANOTHER WORLD. Henry Lien posted this thought experiment on Facebook.
WHAT WOULD THE WORLD BE LIKE IF EVERYONE WERE LIKE YOU?
I used to play a game and ask people what the world would be like if everyone were like you. Here are some features of my world.
1. Restaurants would be filled with constant people traffic as everyone went to wash their hands after touching the menu and after touching cash.
2. Doorknobs, elevator buttons, light switches, hotel TV remotes, and ATM interfaces would all be redesigned for elbows.
3. There'd be no shoes in the house and people would bow instead of shaking hands.
4. Everyone would be at home on Friday, Saturday, and Sunday nights happily writing, making music, reading, or playing Nintendo.
5. No one would get a cold more than once every ten years.
6. Extroverts and free-spirited folks would be miserable.
(9) SPEAKER IN THE HOUSE. Cat Rambo shares her experience in "How to Stay Sane and Productive While Working at Home". One of her eight main headings is —
Exercise is good. You may not be able to get to the gym — I'm currently avoiding it, myself — but you will be happier and healthier if you are doing something. For me, that's walking, because I'm lucky enough to live in a great area for it. I also have a standing desk that I got from Ikea years back. Your mileage may (literally) vary, but at least stretch when you can and be mindful of your back.
(10) TODAY IN HISTORY.
March 13, 1927 — Metropolis premiered in Germany. It was directed by Fritz Lang. It was written by Thea von Harbou in collaboration with Lang. It stars Gustav Fröhlich, Alfred Abel, Rudolf Klein-Rogge and Brigitte Helm. The film's message is encapsulated in the final inter-title of "The Mediator Between the Head and the Hands Must Be the Heart." In 2001 the film was placed upon UNESCO's Memory of the World Register, the first film so distinguished. It is considered one of the greatest films ever made, and has a 92% rating among audience members at Rotten Tomatoes. You can see it here.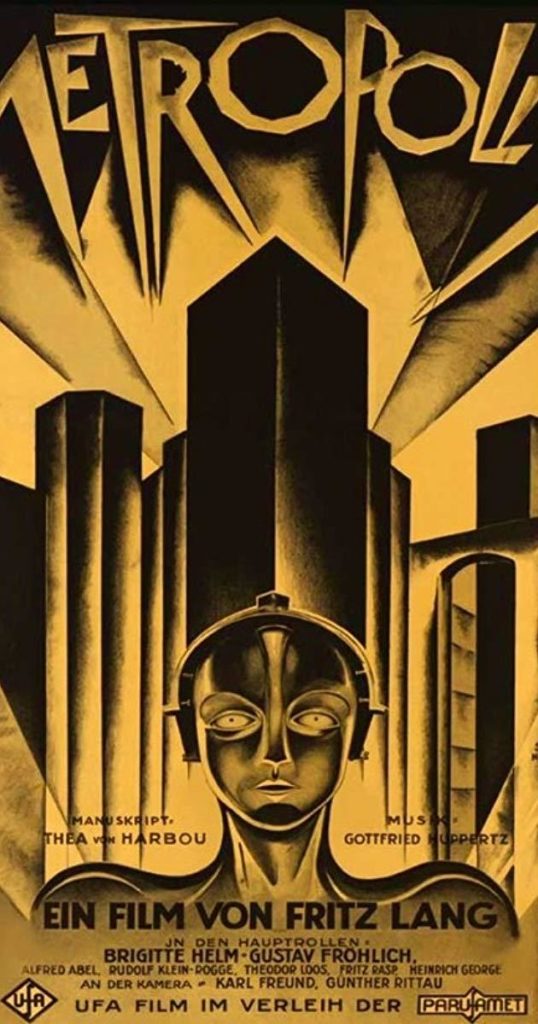 (11) TODAY'S BIRTHDAYS.
[Compiled by Cat Eldridge.]
Born March 13, 1911 — L. Ron Hubbard. Ok I'll admit that I tried reading Battlefield Earth and really didn't like it. Some of his early pulp fiction is actually quite good. So what do y'all think of him as a genre writer? (Died 1986.)
Born March 13, 1928 — Douglas Rain. Though most of his work was as a stage actor, he was the voice of the HAL 9000 for 2001: A Space Odyssey and its sequel. He's in Sleeper a few years later as the voices of the Evil Computer and Various Robot Butlers. (Died 2018.)
Born March 13, 1932 — Richard Lawrence Purtill. He's here because EoSF list him as the author of Murdercon, a1982 novel where a murder is discovered at a SF Convention. I've not heard of it but was wondering if y'all had heard of this work. (Died 2016.)
Born March 13, 1938 — David McKail, 82. He was Sergeant Kyle in the Fourth Doctor story, "The Talons of Weng-Chiang". He also was Sir Henry Roscoe in Beatrix: The Early Life of Beatrix Potter, and was in the adaptation of Iain Banks' The Crow Road which I know is neither genre or genre adjacent but it had Peter Capaldi in it.
Born March 13, 1950 — William H. Macy Jr., 70. I'll start his Birthday note by noting that he was in the superb Pleasantville as George Parker. He's shown up in a lot of genre works including but limited to Somewhere in Time, Evolver, The Secret of NIMH 2: Timmy to the Rescue, The Night of the Headless Horseman, Jurassic Park III, Sahara and The Tale of Despereaux.
Born March 13, 1956 — Dana Delany, 63. I've come today to praise her work as a voice actress. She was in a number of DCU animated films, first as Andrea Beaumont in Batman: The Mask of The Phantasm, then as Lois Lane in Superman: The Animated Series, Superman: Brainiac Attacks and Justice League: The Flashpoint Paradox. (That's not a complete listing.) Remember that Wing Commander film? Well there was an animated series, Wing Commander Academy, in which she was Gwen Archer Bowman.
Born March 13, 1966 — Alastair Reynolds, 54. As depressing as they are given what they lead up to, The Prefect Dreyfus novels are my favorite novels by him. That said, Chasm City was fascinating. The only ones by him that I absolutely failed to get any enthusiasm for is his Revenger Universe series.
Born March 13, 1967 — Lou Anders, 53. Hugo-winning Editor. He's has been editorial director of Prometheus Books' SF imprint Pyr since its launch fifteen years ago. He's a crack editor of anthologies. I've very fond of his Live Without a Net, Sideways in Time and FutureShocks anthologies. I note that he has a fantasy trilogy, Thrones and Bones, but I've not heard of it til now.
Born March 13, 1968 — Jen Gunnels, 52. Writer and genre theater critic, the latter a rare thing indeed. She does her reviews for Journal of the Fantastic in the Arts, Foundation: The Review of Science Fiction and New York Review of Science Fiction. With Erin Underwood, she has edited Geek Theater: Anthology of Science Fiction and Fantasy Plays.
(12) KGB TO STREAM. The Fantastic Fiction at KGB reading series with Daniel Braum and Robert Levy has been converted to a livestream. Hosts Ellen Datlow and Matthew Kressel invite everyone to see it here on YouTube on March 18 at 7:00 p.m. Eastern.
We will, for the first time in our history, be live-streaming readings from both of our authors on YouTube. We hope you will join us for this historic event.

UPDATE March 13, 2020: For the safety and well-being of our readers and guests, we have decided to cancel this month's in-person Fantastic Fiction at KGB reading with guests Daniel Braum & Robert Levy.

Instead, we will be hosting a YouTube Live event with both authors, who will be reading their work. Anyone with YouTube access can watch.
(13) PIKE PEEK. We Got This Covered confirmed "Captain Pike Star Trek Spinoff Series Reportedly In Development".
… Of course, there've been calls for CBS to move ahead with such a spinoff for the past couple of years. EP Alex Kurtzman has addressed the possibility in the past, refusing to rule it out and commenting that they're trying to find ways to bring these characters back. True, they did all appear in a few episodes of the Short Treks anthology series, but this didn't fully satiate our appetite to see more of Pike and his crew.

As Discovery itself addressed, Pike is fated to meet a tragic end. As detailed in an episode of TOS, he's eventually left paralyzed and confined to a wheelchair after rescuing Starfleet cadets from a delta ray radiation leak. Our intel says that this spinoff show will build up to that fate, properly filling the gap between TOS' pilot, "The Cage," and his return in "The Menagerie."
(14) WEEKEND NEWS BACKDATE. Galactic Journey's John Boston has a 1965 news flash: "[March 12, 1965] Sic Transit (April 1965 Amazing]".
The big news, previously rumored, is that Amazing and its stablemate Fantastic are to change hands. The April Science Fiction Times just arrived, with the big headline " 'AMAZING STORIES' AND 'FANTASTIC' SOLD TO SOL COHEN." Cohen is the publisher of Galaxy, If, and Worlds of Tomorrow, but will resign at the end of next month to take up his new occupation.

Why is this happening? Probably because circulation, which had been increasing, started to decline again in 1962 (when I started reviewing it!). The SF Times article adds, tendentiously and questionably, that "the magazine showed what appeared to be a lack of interest by its editors." Read their further comment and draw your own conclusions on that point.
(15) ACROSS THE DIVIDE. Law & Liberty's Brian A. Smith, in "Ursula Le Guin and the Persistence of Tragedy", looks at The Dispossessed from the right.
At least when their authors avoid offering a thesis, novels acquire peculiar value in deranged times. They allow us to see cracks in our political and social foundations from another perspective, and as a result, open paths to conversation and thought that might otherwise remain closed. Lots of genres can unsettle us, but one peculiarity of science fiction is that its authors have the freedom to create worlds.

At the genre's most stereotypical, this license to invent lends itself to both ham-fisted allegories and didacticism. But if the author happens to be coming from the "right" direction, so to speak, and has some real talent, it's relatively easy to take an imaginative leap into their world. Reaching beyond one's own tribe may present a challenge, however. It is difficult to read David Drake, Iain Banks, China Miéville, Robert Heinlein, or John Varley without observing how they view human nature, what they think family means, or the political order they endorse—and a lot more besides.

Critics often complain that such novels fail precisely because they think the author is stacking the deck in favor of their pet ideas. It's easy for partisans to forgive this because such novels entertain while also fortifying our opinions against a hostile world. And it's not surprising that sci-fi readership so often divides along partisan lines.

The Work of Sympathy

It is harder to name many great works of science fiction that offer a definitive point of view, while also presenting us with unresolvable tensions and latent anxieties that no attentive reader can quite escape. Neal Stephenson's best work probably qualifies. Arguably Frank Herbert's Dune or Dan Simmons' Hyperion Cantos also do this. We need the sympathy and broadening of horizons that such novels can cultivate more than ever, and for the present moment, the most compelling book of this kind remains Ursula Le Guin's The Dispossessed.
(16) STANDING UP. "Disney promises LGBT 'commitment': 'We want to represent our audience'".
Disney has promised to continue making films and TV shows with "an increased commitment" to diversity in its output, according to its boss Bob Chapek.

"We want to represent our audience," he said at a meeting for the company's shareholders this week.

"We want to tell stories that our audience wants to hear, that reflects their lives."

He was responding to a question about LGBT characters in their films and pride events at theme parks.

There will be a transgender character in a future Marvel film, and upcoming superhero movie The Eternals will introduce Marvel's first openly gay lead character to cinema screens.

…At the shareholder's meeting, Disney CEO Bob Chapek was asked a question by Catholic campaigner Caroline Farrow, who represents conservative group Citizen Go.

As part of her question, she asked: "Is it perhaps time to reconsider what you can do to make Disney more family friendly, to make it safe for people around the world, not just one particular minority?"

She also claimed a petition which asks Disney not to hold gay pride events in its parks was signed by "almost 700,000 people"
(17) CLIMB EV'RY MOUNTAIN – NOT. From the BBC — "Mount Everest: Nepal's government shuts off mountain amid virus outbreak".
Mount Everest has shut down for the rest of the expedition season because of the coronavirus outbreak.

Nepal's government announced that it would cancel all climbing permits from 14 March until 30 April.

China had already cancelled expeditions from the northern, Chinese-controlled, side of the mountain.

According to the Kathmandu Post, Nepal earns $4m (£3.1m) by issuing Everest climbing permits every year, aside from wider tourism revenue.
(18) THAT IS NOT DEAD… "Marine pollution: Russian fly spray and 1800s shoes among beach litter".
Russian fly spray, US prohibition-era rum, shoes from the 1800s and a council bin have been among the stranger items to have washed up on British shores.

To highlight pollution, the National Trust has revealed the oddest objects to wash up on beaches it manages.

The 19th Century shoes, Russian insect spray and an aerosol from Saudi Arabia were all found at Orford Ness, Suffolk.

The National Trust saidit illustrated the "deluge" of marine litter and how long items such as plastic could last.
(19) NO PICTURES! They tore it out by the roots: "Christmas Island: 'A giant robber crab stole my camera'" — video, including some impressively mangled equipment and a crab walking off with a coconut.
Researcher Annabel Dorrestein set up a thermal imaging camera to study flying foxes, or bats, at night on Australia's Christmas Island.

But when she returned one morning to collect the camera, she discovered it had been stolen – almost certainly by the island's famous robber crabs.
[Thanks to Dann, JJ, Chip Hitchcock, Andrew Porter, John King Tarpinian, Michael Toman, Mike Kennedy, Martin Morse Wooster, Olav Rokne, Andrew Liptak, and Cat Eldridge for some of these stories. Title credit goes to File 770 contributing editor of the day Brian Z.]