(1) REACHING OUT. Kate Elliott distills her sff experience into a Twitter thread, which starts here.
(2) COWBOY BEBOP. [Item by Ben Bird Person.] Science fiction author Wesley Chu (The Lives Of Tao, The Walking Dead: Typhoon) posted this "hot take" on Twitter:
He followed it up with a link to the petition "Save the live action Cowboy Bebop" posted in yesterday's Pixel Scroll: "Make me a prophet, friends! Sign the petition to save Cowboy Bebop." The petition now has over 2,000 signatures.
(3) IN AND OUT OF FLUX. Camestros Felapton, in "Review: Doctor Who Flux", assesses how nu-Who's thirteenth season with the Thirteenth Doctor wrapped up. Beware spoilers!
…So where does that leave Flux and why was it not so terrible despite all that? As I've joked before, it was a shaggy-dog story where lots of things happen but most of it doesn't really matter. Events strung together but without a substantial narrative arc can be entertaining. These kinds of "just a bunch of stuff that happened" plots make millions when they are Fast & Furious movies. I don't know what the first big example of this approach is but I suspect that is the James Bond film You Only Live Twice which makes not a bit of sense but has so many memorable fragments that it feels like it has a story there. F&F is worse to some degree because that narrative fragmentation splits over multiple films i.e. I can remember lots of scenes from those movies but I have to actively think about elements to work out which film it was from (at least from about F&F5)….
(4) SIGNING OFF. "Nichelle Nichols Appears for Final Comic-Con Events in L.A. amid Conservatorship Battle" reports Yahoo!
…Nichelle Nichols, one of the stars of the original Star Trek series and a pioneering recruiter of women and minorities for America's space program, made her final convention appearance before her many fans as part of a three-day farewell celebration at L.A. Comic-Con over the weekend.

Best known for playing communications officer Nyota Uhura aboard the starship Enterprise, the iconic actress, singer and dancer — who turns 89 on Dec. 28 — signed autographs, posed for photos and attended an early birthday celebration, where she briefly but joyfully kicked up her heels and danced. Nichols was also the subject of tribute panels throughout the convention, though she did not make any public statements.

An active figure on stage, TV and music since the early 1960s, Nichols' public and professional life has been slowed since she was diagnosed with dementia in 2018, and she has also been at the center of a conservatorship battle. However, she was all smiles during her many appearances on her retirement tour at Comic-Con LA. Nichols was seen waving, blowing kisses and flashing Star Trek's famous Vulcan salute to the many fans who turned out to bid her farewell….
(5) FROM THE ARCHIVES. [Item by Bill.] Metafilter just finished a series of posts over the last week in which highlighted "short speculative fiction stories published by online magazines that are no longer publishing, or that are on hiatus, but whose interesting archives remain online" — Posts tagged with magazinearchives / MetaFilter.
(6) PRAISING WITH FAINT DAMS. Is James Davis Nicoll's Young People Read Old SFF panel impressed by this Lafferty Hugo-winner? Please…stop laughing.
This month's Young People Read Old Hugo Winners presented me with a dilemma. "Eurema's Dam" by R. A. Lafferty shared the 1973 Hugo for Best Short Story with "The Meeting" by C. M. Kornbluth and Frederik Pohl. How to choose between two works the voters found worthy? The answer, it seems, was in having read "The Meeting", which is about commandeering a developmentally deficient child's body so the body can house the brain of a superior child. Since I don't actively dislike my Young People, I went with the story I didn't remember anything about, a story that only might annoy them, rather than the story I remembered all too well and was absolutely certain would enrage them.

R. A. Lafferty was a beloved author of whimsical fantasies. My brain lacks the proper receptors and I don't see the appeal. I am aware I am in the minority here. Perhaps my Young People will see the virtues in Lafferty's writing to which I am blind. Let's find out!
(7) TIME AFTER TIME. The latest episode of CSI Skill Tree, a series on videogames, worldbuilding, storytelling, and possible futures, is focused on the 2019 game Outer Wilds, about unraveling the mysteries of a solar system caught in a time loop. The guests are game director and designer Randy Smith (Thief series, Waking Mars, JETT: The Far Shore) and Luc Riesbeck, a space policy and research analyst at Astroscale U.S.
(8) FUTURE SEASON'S GREETINGS. The Bristol Board has copies of the original space-themed covers by Frank R. Paul for the Christmas issues of Forecast, Hugo Gernsback's radio and electronics magazine of the Fifties and Sixties. Here's an example.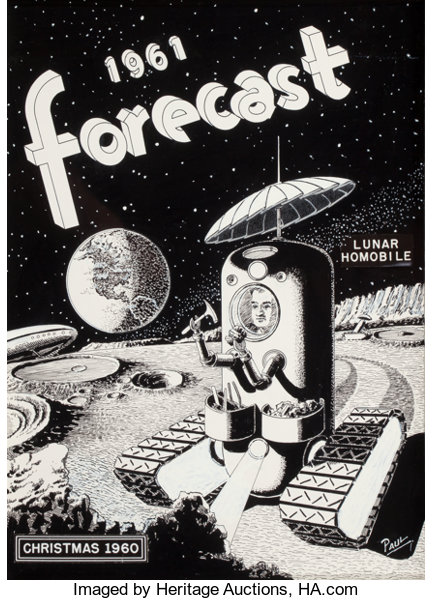 (9) THANKS FOR THE MEMORY HOLE. "Feminist retelling of Nineteen Eighty-Four approved by Orwell's estate" – the Guardian has the story.
The estate of George Orwell has approved a feminist retelling of Nineteen Eighty-Four, which reimagines the story from the perspective of Winston Smith's lover Julia.

… Publisher Granta said that Julia understands the world of Oceania "far better than Winston and is essentially happy with her life". As Orwell puts it in Nineteen Eighty-Four, "in some ways she was far more acute than Winston, and far less susceptible to Party propaganda … She also stirred a sort of envy in him by telling him that during the Two Minutes Hate her great difficulty was to avoid bursting out laughing. But she only questioned the teachings of the Party when they in some way touched upon her own life. Often she was ready to accept the official mythology, simply because the difference between truth and falsehood did not seem important to her."

"She has known no other world and, until she meets Winston, never imagined one. She's opportunistic, believing in nothing and caring not at all about politics. She routinely breaks the rules but also collaborates with the regime whenever necessary. She's an ideal citizen of Oceania," said Granta. "But when one day, finding herself walking toward Winston Smith in a long corridor, she impulsively hands him a note – a potentially suicidal gesture – she comes to realise that she's losing her grip and can no longer safely navigate her world."

Orwell's estate said it had been "looking for some time" for an author to tell the story of Smith's lover, and that Newman, who has previously been longlisted for the Women's prize and shortlisted for the Guardian first book award, "proved to be the perfect fit"…
(10) WHO DREW. [Item by Ben Bird Person.] Artist Colin Howard who did book and VHS covers for Doctor Who in the 1980s-1990s has announced a new art book: Timeslides: The Doctor Who Artwork of Colin Howard.
Colin Howard's art graced the covers of around thirty VHS releases, and for the first time ever, they're collected together in Timeslides: The Doctor Who Art of Colin Howard.

Join Colin as he opens his personal archive and takes you on a tour of his Doctor Who universe – from iconic videos to book covers, from illustrations to private commissions. Featuring original sketches, unpublished designs, and a fascinating commentary, Timeslides takes you further behind the scenes than ever before.
(11) MEDIA BIRTHDAY.
1992 — [Item by Cat Eldridge.] Twenty-nine years ago, The Muppet Christmas Carol premiered as directed by Brian Henson (in his feature film directorial debut) from the screenplay by Jerry Juhl. Based amazingly faithfully off that story, it starred Michael Caine as Ebenezer Scrooge with a multitude of Muppet performers, to wit Dave Goelz, Steve Whitmire, Ed Sanders, Jerry Nelson, Theo Sanders, Kristopher Milnes, Russell Martin, Ray Coulthard and Frank Oz. I must single out Jessica Fox as the voice of Ghost of Christmas Past.
Following Jim Henson's death in May 1990, the talent agent Bill Haber had approached Henson's son Brian with the idea of filming an adaptation. It was pitched to ABC as a television film, but Disney ended up purchasing it instead. That's why it's only available on Disney+ these days.
Critics in general liked it with Roger Ebert being among them though he added that it "could have done with a few more songs than it has, and the merrymaking at the end might have been carried on a little longer, just to offset the gloom of most of Scrooge's tour through his lifetime spent spreading misery." (Those songs were by Paul Williams, another one of his collaborations with the Jim Henson Company after working on The Muppet Movie.) Box office wise, it did just ok as it made twenty-seven million against production costs of twelve million, not counting whatever was spent on marketing. And audience reviewers at Rotten Tomatoes currently give it a rather ungloomy rating of eighty-eight percent.
(12) TODAY'S BIRTHDAYS.
[Compiled by Cat Eldridge.]
Born December 11, 1926 — Dick Tufeld. He's best known, or at least best recognized, as the voice of the Robot on Lost in Space, a role he reprises in the feature film. The first words heard on Voyage to the Bottom of the Sea are spoken by him: "This is the Seaview, the most extraordinary submarine in all the seven seas." He's been the opening announcer on Spider-Man and His Amazing Friends, Spider-Woman, Thundarr the Barbarian, Fantastic Four and the Time Tunnel. (Died 2012.)
Born December 11, 1945 — Zienia Merton. She's best remembered for playing Sandra Benes in Space: 1999. She played Ping-Cho during a series of First Doctor stories. She had roles on Dinotopia, the Sarah Jane Adventures and Wizards vs. Aliens. (Died 2018.)
Born December 11, 1944 — Teri Garr, 77. A long history of genre film roles starting in Young Frankenstein as Inga before next appearing in Close Encounters of the Third Kind as Ronnie Neary. Next is the horror film Witches' Brew where she was Margaret Lightman. She voices Mary McGinnis in Batman Beyond: The Movie, a role she has does on a recurring basis in the series. Series wise, shows up uncredited in the Batman series in the "Instant Freeze" as the Girl Outside the Rink. And of course, she's Roberta Lincoln in Star Trek's "Assignment Earth" episode. (I once found a site that the spin-off series had actually been made.) She has a number of other genre roles, none as interesting as that one. 
Born December 11, 1954 — Richard Paul Russo, 67. Winner of two Philip Dick Awards, first for Subterranean Gallery, and later for Ship of Fools. Subterranean Gallery was also nominated for a Clarke Award. He apparently stopped writing genre fiction quite some time ago. 
Born December 11, 1957 — William Joyce, 64. Author of the YA series Guardians of Childhood which is currently at twenty books and growing. Now I've no interest in reading them but Joyce and Guillermo del Toro turned the early ones into in a rather splendid Rise of the Guardians film which I enjoyed quite a bit. The antagonist in it reminds me somewhat of a villain later on In Willingham's Fables series called Mr. Dark. 
Born December 11, 1959 — M. Rickert, 62. Short story writer par excellence. She's got three collections to date, Map of Dreams which won a World Fantasy Award, Holiday and You Have Never Been Here. Her two novels The Little Witch and The Shipbuilder of Bellfairie are most excellent, and are available from the usual digital suspects.  Her collections unfortunately are not. 
Born December 11, 1962 — Ben Browder, 59. Actor of course best known for his roles as John Crichton in Farscape and Cameron Mitchell in Stargate SG-1.  One of my favorite roles by him was his voicing of Bartholomew Aloysius "Bat" Lash in Justice League Unlimited called "The Once and Future Thing, Part 1". He'd have an appearance as sheriff in the Eleventh Doctor story, "A Town Called Mercy", a Weird Western of sorts.
Born December 11, 1965 — Sherrilyn Kenyon, 56. Best known for her Dark Hunter series which runs to around thirty volumes now.  I realize in updating this birthday note that I indeed have read this first several of these and they were damn good. She's got The League series as well which appears to be paranormal romance, and a Lords of Avalon series too under the pen name of Kinley MacGregor. She has won two World Fantasy Awards, one for her short story, "Journey Into the Kingdom", and one for her short story collection, Map of Dreams. 
(13) COMICS SECTION.
(14) FOR YOUR WISHLIST. Connie Willis wrote a long Facebook post hawking her American Christmas Stories collection.
…Stefanie Peters and David Cloyce Smith and the other editors at Library of America did all the heavy lifting, scouring all sorts of obscure books and magazines, finding thousands of stories for us to choose from, and getting all the necessary permissions and releases. All I did was read a bunch of stories, suggest some stories they'd missed, and write the introduction.)

Between us, we found mysteries, horror stories, Westerns, science-fiction stories, ghost stories, police procedurals, and fantasies, stories by famous authors like Bret Harte and John Updike and stories by writers you've never heard of, like Pauline Hopkins and John Kendrick Bangs. Stories by African-American authors writing in the post-Civil War South, by Chinese-American authors writing about California's Chinatown, by authors of vastly different backgrounds writing about Alaskan and Puerto Rican and Nebraska Christmases.

And we found stories written in all different keys, from cynicism to sentimentality, from nostalgia to urban angst. And comedy. So many Christmas collections focus solely on serious or uplifting stories, but humor's been a staple of the American Christmas story since Mark Twain and William Dean Howells, and I was really happy we were able to include humorous stories by Shirley Jackson, Robert Benchley, Leo Rosten, Joan Didion, and Damon Runyon.

(Especially Damon Runyon. We would have included all his Christmas stories if we'd had room, and all of O. Henry's, but alas, there were length constraints–and permissions we weren't able to get. And in addition, we didn't want this collection to be a carbon copy of every other Christmas anthology we'd ever read. Which is why O. Henry's "Gift of the Magi" and the "Christmas won't be Christmas" piece by Louisa May Alcott aren't in the book. Sorry. But they've been reprinted virtually everywhere, and if we included them, we'd have had to leave out stories by both O. Henry and Alcott that you might not have read before.).

We also included lots of other wonderful stories, like Langston Hughes' wistful "One Christmas Eve" and Edna Ferber's "No Room at the Inn" and Ben Hecht's "Holiday Thoughts" Jacob Riis's "The Kid Hangs Up His Stocking" and Jack London's "Klondike Christmas" and Dorothy Parker's "The Christmas Magazines and the Inevitable Story of the Snowbound Train."

For you science-fiction, fantasy, and horror fans, there's Cynthia Felice's "Track of a Legend," Mildred Clingerman's "The Wild Wood," Steve Rasnic Tem's "Buzz," Ray Bradbury's "The Gift,"and Raymond E. Banks's "Christmas Trombone."" (And a story of mine that they chose, "Inn.")…
And don't forget to register for the Library of America's American Christmas Stories conversation with Connie Willis, Nalo Hopkinson, and Penne Restad on December 15 at 6:00 p.m. Eastern.
(15) I READ YOU FIVE BY FIVE. Two more of James Davis Nicoll's thematic look-back posts at Tor.com.
… Perhaps some fictional examples are in order, since historical examples would no doubt set the comments on fire (so let's please avoid that)….

Wild Seed by Octavia E. Butler (1980)

No person works as hard to find and gather humanity's psionic adepts as Doro. Doro has invested millennia tracking down, gathering, and breeding mutants to ensure that they survive and flourish. Thanks to Doro's endless work, the genes for psionic talents have been concentrated and encouraged to flourish.

However, this long-standing project had nothing to do with any particular concern for mutant-kind or a belief in orthogenesis. Doro is a psychic predator. Mutant minds are tasty and their appropriated bodies provide him with comfortable temporary accommodation. Worse, the psychics are quite aware of Doro's appetites. They simply lack the means to resist him. The best that shape-shifting immortal Anyanwu can do is to play a weak hand as well as she can, using Doro's desire for a peer to limit the damage he does to her kin.
… But pessimism is nothing new, of course. Olden time SF authors were enormously pessimistic, producing works every bit as sour and gloomy as the most morose works penned by today's authors. Don't believe me? Here are five intensely depressing SF novels from the long, long ago. I recommend each and every one of them, if only to cast your current circumstances in a more favourable light….
(16) GALACTIC OPPORTUNITY. Space Cowboy Books will host an online reading and interview with Janice L. Newman, author of "At First Contact," on December 14. Register here.
Join us for a reading and interview with Janice L. Newman about her new book At First Contact, a touching trio of romances in a speculative vein. From the edge of space, to the shadows of the paranormal, to the marvels of the mystical.
(17) BANK ON IT. Seneca Falls goes all-in on It's A Wonderful Life. "This New York Town Is Honoring A Beloved Holiday Movie's 75th Anniversary" at Forbes.
… "We also say that we don't think that Frank Capra intended Bedford Falls to be one place," said Law. "It is every place that people hold dear to our hearts."

Regardless, Law noted that Seneca Falls has welcomed actress Karolyn Grimes, who played Zuzu Bailey, since her first visit there in 2002.

"She has introduced us to other cast members, relatives of cast members and others associated with the film," said Law. Other visiting actors have ranged from Jimmy Hawkins, who played Tommy Bailey, to Jeanine Roose, who played younger Violet Bick.

Grimes also helped to make the It's A Wonderful Life Museum a reality, after being talked to about the need for a place where film fans can reminisce and honor its meaning….
Here's the link to The Seneca Falls It's A Wonderful Life Museum website.
It's a Wonderful Life was filmed entirely in California, as were most movies at that time.

However, Seneca Falls has long believed itself to be the inspiration for Bedford Falls…
(18) GHASTLY TIMING. The New York Ghost Story Festival started December 11 and continues online. It's free. Watch live on You Tube, or view any time later.
See the December 11 event with Kathe Koja, Brian Evenson, Rudi Dornemann and Jeff Ford:
Still to come —
Tuesday, December 14, 8:00 p.m. Eastern with David Surface, Brenda Tolian, Pat Wehl, and Joshua Rex here
Friday, December 17, 8:00 p.m. Eastern with Kevin Lucia, Jo Kaplan, and Eric Guijnard here.
Saturday, December 18, 7:00 p.m. Eastern with Sarah Langan, Kevin Brockmeier, John Langan, and Angela Slatter here
(19) W76 WOULD LIKE ITS $4K BACK. Twitter shut down Jon Del Arroz' account under his own name, but he's started another. Think about how good his lawyer must be that he was able to defend Jon against allegations of being a racist.
(20) MARTIAN MUD. "China's Mars Rover Has Amassed Reams Of Geological Data" reports Nature.
Some surface features, such as possible sedimentary material and mud volcanoes, hint at the past flow of water, so scientists are looking for clues that there was once water or ice below the surface. This is "of great scientific interest" because it might provide evidence of an ancient ocean, says Bo Wu, a planetary scientist at the Hong Kong Polytechnic University.
(21) ON YOUR HEAD BE IT. "The Sorting Hat Tells All In The Harry Potter Reunion" on The Late Show With Stephen Colbert.
On another night last week Jennifer Lawrence appeared on The Late Show With Stephen Colbert. Near the end of their second segment, they discussed genre movies. After the 3:00 mark, Colbert gets a little flustered when Lawrence reveals how little she knows about the Lord of the Rings movies. Nominally, the main topic of the interview is Lawrence's to-be-released movie Don't Look Up, which definitely has a genre premise.
[Thanks to JJ, John King Tarpinian, Andrew Porter, Bill, Ben Bird Person, Chris Barkley, Joey Eschrich, SF Concatenation's Jonathan Cowie, Michael Toman, Cat Eldridge, Mike Kennedy, and Martin Morse Wooster for some of these stories. Title credit belongs to File 770 contributing editor of the day Steve Davidson, part of "The Hugo Pixel Scroll Winners" series.]