(1) OUT OF BOUNDS. Priya Sridhar analyzes the ethical and professional issues related to the Susan Meachen story in "'Death Is Not A Marketing Tool' And Other Sentences We Shouldn't Have To Say" at Medium. (Via Cat Rambo.)
Trigger Warning: This article does talk about death by suicide, specifically people faking their suicides. You have been warned.

I cannot believe I am writing about this in 2022. You would think that people would have learned by now. There are some things that we cannot forget. And I don't feel well talking about this. The Daily Beast has all the details.

People faking their death is a hot button for me. Specifically, people faking suicide is something that will anger me forever. I feel a sickness in my stomach, and shaking anger. And an author has done this, someone that has earned revenue from this decision. They now have made the Internet very confused, especially within indie romance….
(2) DERAILED. Entertainment Weekly reports "Snowpiercer's fourth and final season scrapped at TNT despite completing production". But is all lost? Perhaps not.
… "We can confirm that TNT will not air season four of Snowpiercer," a network spokesperson said Friday in a statement to EW. "This was a difficult decision, but our admiration for the talented writers, actors and crew who brought Snowpiercer's extraordinary post-apocalyptic world to life remains strong. We have been working collaboratively with the producers since last year to help the series find a new home where fans can continue to enjoy the compelling story and exceptional visual experience. We look forward to working with them on future projects."

It may not be the end of the world, though. Producer Tomorrow Studios says it hopes to find a new partner for the series "shortly" in order to get the final episodes to fans. Deadline Hollywood reports that the ultimate goal is to build a franchise, including a prequel and sequel….
(3) EXOURBAN. "Alien Cities" at Black & White, an art blog by Anne Nydam focused on block prints and children's fantasy.
Today I have a few strange and alien cities to share with you. In each case the artist's style is radically different from anything I do, and yet in the first two cases I, too, have made a piece that I think reveals a bit of the same curiosity, fascination, and imagination at work. First up is Toward the Sky by Yoshida Toshi (Japan, 1911-1995). This has a wonderfully doodly sensibility, which reminds me of my own City I and City II (about which you can read more in prior post Cities of Dreams). Yoshida's piece has a playful vibe somewhere between mid-century atomic and psychedelic, which isn't so surprising given that it was made in 1965….
(4) TO BOLDLY GO. Sistahscifi is hosting a free online book launch for To Boldy Go: Nichelle Nichols, Star Trek, & Civil Rights on Wednesday, January 18 from 5:00-6:00 p.m. Pacific. Reserve your spot at the link.
To Boldly Go tells the true story of Nichelle Nichols and how she used her platform on Star Trek to inspire and recruit a new generation of diverse astronauts and many others in the space and STEM fields.
(5) NAACP IMAGE AWARDS. There are many items of genre interest among the nominees for the NAACP Image Awards 2023 – click the link to see all the categories. The awards will be presented February 25. The awards are notable for including Literary categories. This category has two well-known genre nominees:
The Outstanding Work – Literary Fiction
Africa Risen: A New Era Of Speculative Fiction edited by Sheree Renée Thomas, Oghenechovwe Donald Ekpeki and Zelda Knight
The Keeper – Tananarive Due, Steven Barnes (Abrams Books)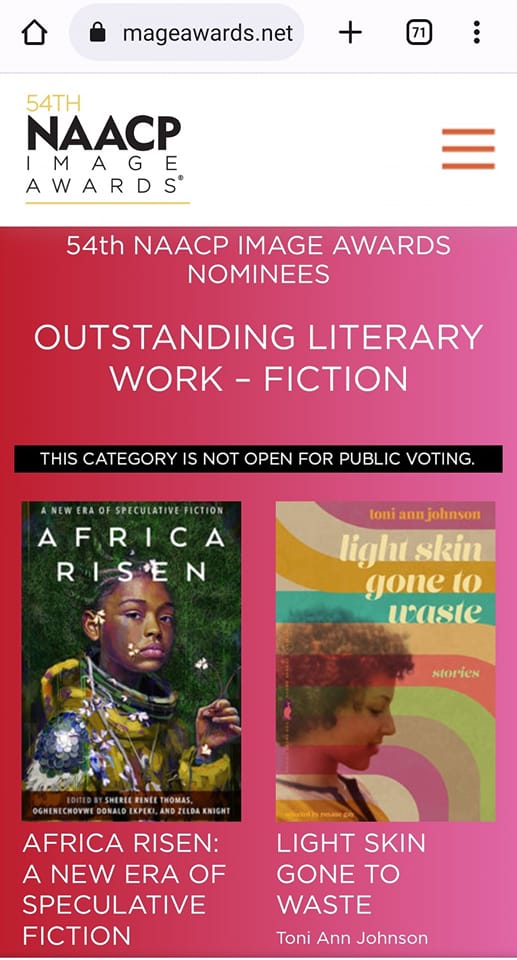 (6) CHINESE NEBULA AWARDS TAKING ENTRIES. The 14th Chinese Science Fiction Nebula Award is open for entries until January 31. The eligibility year for the Nebulas is 2021. For the Rising Star Award, which for authors who published their first science fiction novel, the eligibility period is between January 1, 2020 and December 31, 2022.
(7) AURORA AWARDS CREATING LATEST ELIGIBILITY LIST. [Item by Danny Sichel.] The Aurora Awards (which have moved from PrixAuroraAwards.ca to CSFFA.ca) are currently in Phase 1: gathering a list of everything eligible from last year. Eligibility lists close on February 25, 2023.
(8) VEGAS FANDOM NEWS. Alan White has a report on Facebook about fanzine fan Arnie Katz, who would welcome visitors at his North Las Vegas care home. See details in comments at the post.
(9) MEMORY LANE.
1954 — [Compiled by Cat Eldridge.]
You didn't think I was done with quotes of hobbits eating, did you? If you did, you really don't know me as I'm very, very fond of hobbits and the world that Tolkien created for them. Tolkien describes them in the prologue to The Fellowship of the Ring as "an unobtrusive but very ancient people" who find their many of their delights in "peace and quiet and good tilled earth". Here's one of my favorite passages about hobbits and food.
Of Herbs and Stewed Rabbits, The Lord of the Rings: The Two Towers
They were washed and in the middle of good deep mugs of beer when Mr. Butterbur and Nob came in again. In a twinkling the table was laid. There was hot soup, cold meats, a blackberry tart, new loaves, slabs of butter, and half a ripe cheese: good plain food, as good as the Shire could show, and homelike enough to dispel the last of Sam's misgivings (already much relieved by the excellence of the beer).
One or two other hobbits belonging to the farm-household came in. In a short while fourteen sat down to eat. There was beer in plenty, and a mighty dish of mushrooms and bacon, besides much other solid farmhouse fare. The dogs lay by the fire and gnawed rinds and cracked bones.
`Now, now! ' said Sam. `Each to his own fashion. Our bread chokes you, and raw coney chokes me. If you give me a coney, the coney's mine, see, to cook, if I have a mind. And I have. You needn't watch me. Go and catch another and eat it as you fancy – somewhere private and out o' my sight. Then you won't see the fire, and I shan't see you, and we'll both be the happier. I'll see the fire don't smoke, if that's any comfort to you.'
After so long journeying and camping, and days spent ¤n the lonely wild, the evening meal seemed a feast to the hobbits: to drink pale yellow wine, cool and fragrant, and eat bread and butter, and salted meats, and dried fruits, and good red cheese, with clean hands and clean knives and plates. Neither Frodo nor Sam refused anything that was offered, nor a second, nor indeed a third helping. The wine coursed in their veins and tired limbs, and they felt glad and easy of heart as they had not done since they left the land of Lórien.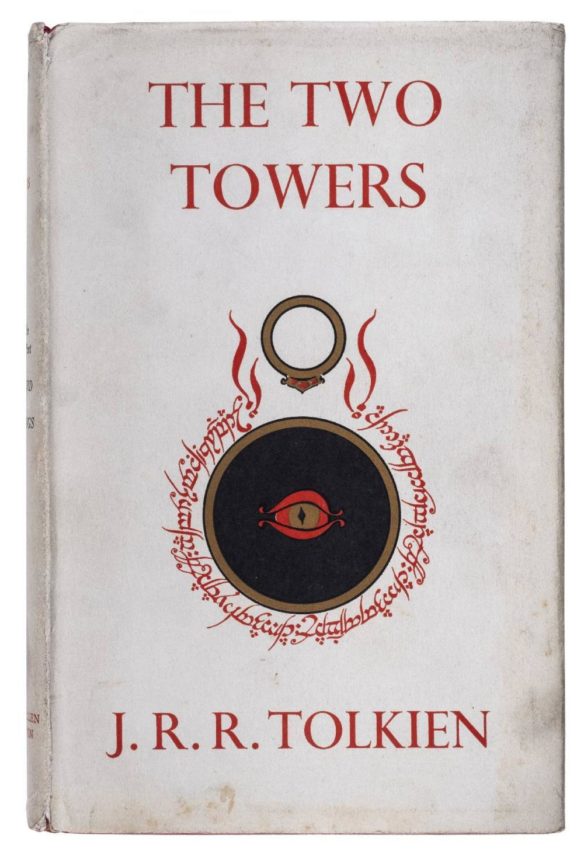 (10) TODAY'S BIRTHDAYS.
[Compiled by Cat Eldridge.]
Born January 14, 1924 — Guy Williams. Most remembered as Professor John Robinson on Lost in Space though some of you may remember him as Don Diego de la Vega and his masked alter ego Zorro in the earlier Zorro series. (Is it genre? You decide. I think it is.) He filmed two European genre films, Il tiranno di Siracusa (Damon and Pythias) and Captain Sinbad as well. (Died 1989.)
Born January 14, 1943 — Beverly Zuk. Ardent fan of Trek: TOS who wrote three Trek fanfics, two of them on specific characters: The Honorable Sacrifice (McCoy) and The Third Verdict (Scotty). Let's just say that based on her artwork that I found I'd not say these are anything less than R rated in places such as her naked Kirk. She was a founding member of the Trek Mafia though I'm not sure what that was, but I'm betting one of y'all can tell me. (Died 2009.)
Born January 14, 1948 — Carl Weathers, 75. Most likely best remembered among genre fans as Al Dillon in Predator, but he has some other SFF creds as well. He was a MP officer in Close Encounters of the Third Kind, General Skyler in Alien Siege, Dr. Artimus Snodgrass in the very silly comedy The Sasquatch Gang and he voiced Combat Carl in Toy Story 4. And no, I'm not forgetting he's currently playing Greef Karga on The Mandalorian series. I still think his best role ever was Adam Beaudreaux on Street Justice but that's very much not SFF.
Born January 14, 1949 — Lawrence Kasdan, 74. Director, screenwriter, and producer. He's best known early on as co-writer of The Empire Strikes Back, Raiders of the Lost Ark and Return of the Jedi. He also wrote The Art of Return of the Jedi with George Lucas which is quite superb. He's also one of the writers lately of Star Wars: The Force Awakens and Solo: A Star Wars Story.
Born January 14, 1965 — Jemma Redgrave, 58. Her first genre role was as Violette Charbonneau in the "A Time to Die" episode of Tales of the Unexpected which was also her first acting role. Later genre roles are scant but include a memorable turn as Kate Lethbridge-Stewart, daughter of Brigadier Lethbridge-Stewart on Doctor Who including an appearance with the forthcoming Fourteenth Doctor.
Born January 14, 1964 — Mark Addy, 59. He got a long history in genre films showing up first as Mac MacArthur in Jack Frost followed by the lead in The Flintstones in Viva Rock Vegas (why did anyone make this?), Roland in A Knight's Tale (now that's a film), Friar Tuck In Ridley Scott's Robin Hood (has anyone seen this?) and voicing Clyde the Horse in the just released Mary Poppins Returns. Television work includeseere Robert Baratheon on Games of Thornes, Paltraki on a episode on Doctor Who, "The Battle of Ranskoor Av Kolos", and he was Hercules on a UK series called Atlantis.
Born January 14, 1967 — Emily Watson, 56. Her first genre appearance is in Equilibrium as Mary O'Brien before voicing Victoria Everglot in Tim Burton's Corpse Bride. Next is she's Anne MacMorrow in the Celtic fantasy The Water Horse: Legend of the Deep. She also was in a Nineties radio production of The Wolves of Willoughby Chase.
(11) TIME TO CONCATENATE. [Item by Jonathan Cowie.] SF2 Concatenation has just posted its spring edition (northern hemisphere academic year spring). Full contents below:
v33(1) 2023.1.15 — New Columns & Articles for the Spring 2023
(All archived annual film charts are indexed here)
v33(1) 2023.1.15 — Science Fiction & Fantasy Book Reviews
v33(1) 2023.1.15 — Non-Fiction SF & Science Fact Book Reviews
(12) SHAKE & BAKE – LET'S NOT. [Item by Mike Kennedy.] The Soyuz spacecraft currently docked at the International Space Station—which took crew of three to the ISS—has sprung a leak in its coolant system. Earthbound testing plus visual inspections by ISS crew has led the Russians to believe that the damage is from a micrometeorite (as opposed to, say, a bit of human-made space debris, which would have been traveling too slowly for the damage observed).
Since this would lead to unacceptably high temperature and humidity for a crewed return, a plan has been developed to send the next Soyuz up empty and use it to return the three crewmembers. Planners are carefully not calling this a rescue mission. "NASA and Roscosmos share ISS Soyuz leak findings" at Popular Science.
… But on December 14, the MS-22 began leaking coolant from a radiator system. Visual inspection of the spacecraft, modeling, and experiments on the ground in Russia using a hyper-velocity gun suggest the damage came from a micrometeorite about 1 millimeter in diameter, Krikalev told reporters Wednesday. Roscosmos officials believe it was a tiny chunk of rock and not a piece of space debris, he explained, because the material was traveling at an estimated 4.3 miles per second—too fast to have maintained an orbit shared by the ISS.

Without a functioning radiator system, Krikalev said, temperatures within the Soyuz spacecraft could rise to as high as 104 degrees Fahrenheit during the roughly six hours necessary for a normal reentry process in Earth's atmosphere. That heat, along with high humidity, is considered too risky to bring astronauts home….
(13) THERE CAN BE ONLY ONE. [Item by Mike Kennedy.] What marks the beginning? When did humanity literally make a mark on the geological record that future geologists will point to and say there began the time those extinct upright apes become the dominant "geological superpower"? Via Wired, we have the story first appearing in the Guardian. "When Did the Anthropocene Actually Begin?"
… They could decide the start is marked with a bang, thanks to the plutonium isotopes rapidly blasted around the planet by the hydrogen bomb tests that began in late 1952, or with a shower of soot particles from the surge in fossil-fuel power plants after the Second World War.

Or they may choose the postwar explosion in artificial fertilizer use and its profound impact on the Earth's natural nitrogen cycle. Microplastics, chicken bones, and pesticide residues may also be among the eclectic signs used to bolster the definition of the Anthropocene. Other possible signs may be found in lake beds in the US and China, Australian corals, a Polish peat bog, the black sediments beneath the Baltic Sea, and even the human debris accumulated under Vienna….

…An international team of almost 40 scientists, who have been commissioned by the official guardians of the geological timescale, must select a place where layered deposits show the clear transition from the previous age to the new one. The team has come up with a short list of 12 sites that have now begun a series of votes—but there can be only one winner. Humanity has unquestionably changed the Earth far beyond the stability of the Holocene, the 11,700-year period during which all civilization arose, and which will end with the declaration of the Anthropocene….
(14) KEEP WATCHING THE SKIES. At CNN — "Video: Hear the details of a new UFO report released by US government".
The Office of the Director of National Intelligence released a new report about UFO sightings in the United States. The US government has received over 350 UFO sighting reports since March 2021, half of which remain unexplained….
(15) VIDEO OF THE DAY. "Marvel's Moon Girl and Devil Dinosaur Official Trailer". Available on Disney Channel 2/10/23 and Disney+ 2/15/23.
Marvel's Moon Girl and Devil Dinosaur, based on Marvel's hit comic books, follows the adventures of 13-year-old super-genius Lunella Lafayette and her 10-ton T-Rex, Devil Dinosaur. After Lunella accidentally brings Devil Dinosaur into present-day New York City, the duo works together to protect the city's Lower East Side from danger.
[Thanks to Michael Toman, Cat Eldridge, Bruce Arthurs, SF Concatenation's Jonathan Cowie, Danny Sichel, Mike Kennedy, John King Tarpinian, Chris Barkley, and Andrew Porter for some of these stories. Title credit belongs to File 770 contributing editor of the day Dan'l Danehy-Oakes.]