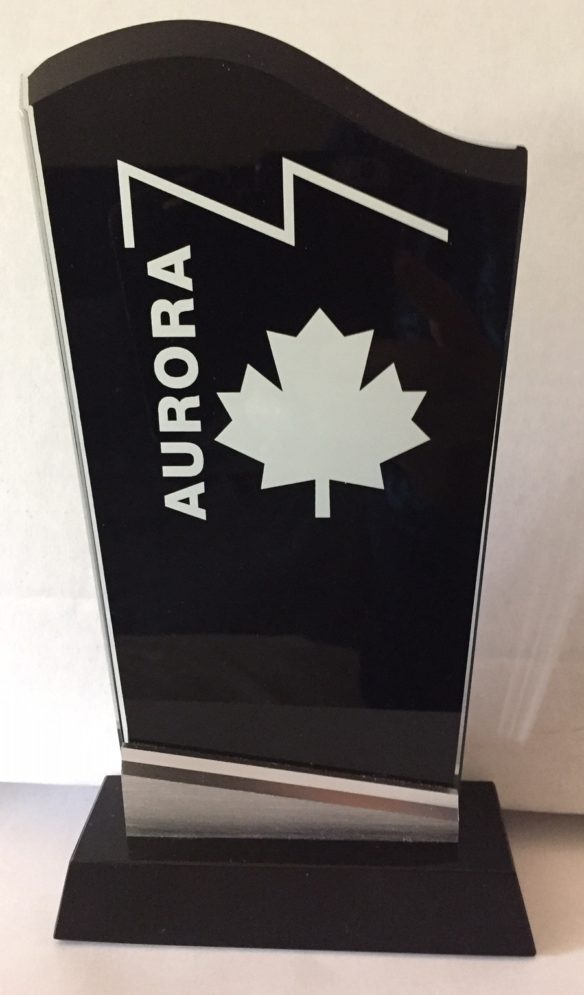 The 2021 Aurora Awards finalists have been announced. The awards are nominated by members of the Canadian Science Fiction and Fantasy Association, for Science Fiction / Fantasy works done in 2020 by Canadians. The top five nominated works were selected. Additional works were included where there was a tie for fifth place.
Voting will take place between July 31 and September 4. A virtual awards ceremony will be hosted by Can-con on October 16.
A voters' package with most of the nominees' written works will be available before the end of May. Only CSFFA members can vote or download the voters' package. Annual memberships are open to all Canadian citizens or permanent residents for $10 – see create new account.
Best Novel
Beneath the Rising, Premee Mohamed, Solaris
A Connecticut Gumshoe in King Arthur's Court, Randy McCharles, Tyche Books
Mexican Gothic, Silvia Moreno-Garcia, Random House Publishing Group
The Oppenheimer Alternative, Robert J. Sawyer, Red Deer Press
A Stitch in Time, Kelley Armstrong, KLA Fricke
Best Young Adult Novel
Dragon Assassin, Arthur Slade, Scholastic Canada
Flights of Marigold, Susan Forest, Laksa Media Groups Inc.
The Gryphon's Lair, Kelley Armstrong, Puffin Canada
Hollow, Rhonda Parrish, Tyche Books
Return to Atlantis, J.M. Dover, Evil Alter Ego Press
Wall of Wishes, Suzy Vadori, Old Vines Press
Best Novelette/Novella
"Go Fish", Ian Rogers, Tor.com
"The Immolation of Kev Magee", L.X. Beckett (pseudonym for A.M. Dellamonica), Clarkesworld, Issue 167, Aug
"An Important Failure", Rebecca Campbell, Clarkesworld, Issue 167, Aug
"The Joy in Wounding", Charlotte Ashley, The Magazine of Fantasy and Science Fiction, Nov/Dec
"How Quini the Squid Misplaced His Klobucar", Rich Larson, Tor.com
"To Sail the Black", A.C. Wise, Clarkesworld, Issue 170, Nov
"Tool Use by the Humans of Danzhai County", Derek Künsken, Asimov's Science Fiction Magazine, July/Aug
Best Short Story
"All Cats Go to Valhalla", Chadwick Ginther, Swashbuckling Cats: Nine Lives on the Seven Seas, Tyche Books
"The Bone-Stag Walks", KT Bryski, Lightspeed Magazine, Issue 123, August
"Breathe", Calvin D. Jim, Prairie Gothic, Prairie Soul Press
"Grass Gods", Elizabeth Whitton, Prairie Gothic, Prairie Soul Press
"Night Folk", Barb Galler-Smith, Galaxy's Edge Magazine, Issue 47, November
"So You Want to be a Honeypot", Kelly Robson, Uncanny Magazine, March/April
Best Graphic Novel/Comic
Crash and Burn, Kate Larking and Finn Lucullan, Astres Press
Goblins, Ellipsis Hana Stephens, Goblins Comic
Gothic Tales of Haunted Futures, edited by S.M. Beiko, Renegade Arts Entertainment
It Never Rains, Kari Maaren, webcomic
Krampus is My Boyfriend!, S.M. Beiko, Webtoon
Northwest Resistance, Katherena Vermette, illustrated by Scott B. Henderson, Highwater Press
Best Poem/Song
"Arachnoid Cyst", Dominik Parisien, This Magazine, March/April
"Back Story", David Clink, Strange Horizons, Issue 21, September
"The Death of the Gods", Leah Bobet, Uncanny Magazine #32
"Electra", Y.M. Pang, Arsenika
"Hamilton Harbour", Lynne Sargent, A Refuge of Tales, Renaissance Press
"he scores", Beth Cato and Rhonda Parrish, Star*Line, Summer
"Masquerade", Colleen Anderson, On Spec, Issue 115, vol 31 no 1
"Nidhog", Jo Walton, The Book of Dragons, Harper Voyager
Best Related Work
Augur Magazine, Issues 3.1 and 3.2, published by Kerry C. Byrne, Alexander De Pompa, and Lawrence Stewen
Disfigured: On Fairy Tales, Disability, and Making Space, Amanda Leduc, Coach House Books
On Spec Magazine, Diane L. Walton, Managing Editor, The Copper Pig Writers Society
PodCastle edited by Jen R. Albert and Cherae Clark, host Setsu Uzumé, and producer Peter Adrian Behravesh, Escape Artists Inc.
Prairie Gothic, edited by Stacey Kondla, Prairie Soul Press
Swashbuckling Cats: Nine Lives on the Seven Seas, edited by Rhonda Parrish, Tyche Books
Best Visual Presentation
Don't Text Back, Kaye Adelaide and Mariel Sharp, Fantasia Film Festival
Murdoch Mysteries, Season 13, episodes 10-18, Christina Jennings, Scott Garvie, Peter Mitchell, Yannick Bisson, and Hélène Joy, Shaftesbury
Trickster, episodes 1-6, Michelle Latimer and Tony Elliott, Streel Films, Sienna Films, and CBC
The Umbrella Academy, Steve Blackman, Netflix
Wynonna Earp, Season 4, episodes 1-6, Emily Andras, Seven24 Films Calgary
Best Artist
Lorna Antoniazzi, covers for Augur Magazine Issues 3.1 and 3.2
Samantha M. Beiko, cover for Flights of the Marigold, Laska Media Group
Swati Chavda, art, maps, and covers for multiple publications
Dan O'Driscoll, cover for Corona Burning
Maia Kondla-Wolf, cover for Prairie Gothic, Prairie Soul Press
Best Fan Writing and Publication
BCSFAzine, Issues #538 to #547, edited by R. Graeme Cameron
Clubhouse, weekly column in Amazing Stories Magazine, R. Graeme Cameron, online
Polar Borealis, Issues #13 to #16, edited by R. Graeme Cameron
Random Musings, Issue #539 to #547 in BCSFAzine, Robert J. Sawyer
Travelling TARDIS, Jennifer Desmarais, JenEric Designs
Young People Read Old SFF, edited by James Davis Nicoll, online
Best Fan Related Work
2020 Aurora Awards Ceremony, Mark Leslie Lefebvre and Liz Anderson, online event
AugurCon, Kerry C. Byrne and Terese Mason Pierre, Augur Magazine Literary Society
ephemera reading series, KT Bryski and Jen R. Albert, ephemera Collective, online
Speculating Canada: Canadian Horror, Science Fiction, and Fantasy, Derek Newman-Stille
When Words Collide, Randy McCharles, chair, online festival
NOTE: Due to Covid-19, works normally in Fan Organizational are in the Fan Related Work category.
[Thanks to James Davis Nicoll and Paul Weimer for the story.]
Update 05/11/2021: Aurora Awards administrator Clifford Samuels announced "We have just been informed that, 'The Joy in Wounding' by Charlotte Ashley, The Magazine of Fantasy and Science Fiction, Nov/Dec was originally published in 2019 not 2020.  For this reason, we unfortunately have had to remove it from the 2021 Aurora Award ballot." // Subsequently another correction was announced in the YA Novel category. Dragon Assassin by Arthur Slade had been published earlier in 2019 as three  novellas and was later combined and published by Scholastic.  It is the work's first publication that defines which year it is eligible, therefore Slade's book is disqualified. Its place on the ballot has been taken by Return to Atlantis, J.M. Dover, Evil Alter Ego Press.   Update 06/24/2021: The administrator removed Kelly Robson's short story "So You Want to be a Honeypot" from the ballot on grounds that it is not sff.