Actress Nichelle Nichols, who played Star Trek's iconic Lt. Uhura in the original series and in movies, died of natural causes on July 30 at the age of 89.
She began her career as a singer and stage actor in the 1961 musical Kicks & Co. She also appeared in the role of Carmen for a Chicago stock company production of Carmen Jones and performed in a New York production of Porgy and Bess. On the West Coast, she appeared in The Roar of the Greasepaint and For My People and the James Baldwin play Blues for Mister Charlie. She toured as a singer with the Duke Ellington and Lionel Hampton bands. Her first film role was as an uncredited dancer in Otto Preminger's Porgy and Bess (1959.)
Nichols initially crossed paths with Star Trek creator Gene Roddenberry when she was cast in a 1964 episode of his earlier TV series The Lieutenant, her first television role. The two had a fleeting romance that turned into a longtime friendship. She was brought in to audition for Star Trek (after the second pilot) – originally reading for Spock, as the Uhura character she would ultimately play had not yet been written.
However, by the end of the first season of filming the original Star Trek series, having been worn down by repeated slights and indignities and having been offered a role in a musical that would be Broadway bound, Nichols gave Gene Roddenberry her resignation. Roddenberry asked her to reconsider over the weekend, during which she met "her biggest fan," Martin Luther King, at an NAACP fundraiser, who told her in no uncertain terms that she could not quit the show. 
"Yes, Ms. Nichols, I am that fan. I am your best fan, your greatest fan, and my family are your greatest fans…. We admire you greatly ….And the manner in which you've created this role has dignity…."

I said "Dr. King, thank you so much. I really am going to miss my co-stars." He said, dead serious, "What are you talking about?" I said, "I'm leaving Star Trek," He said, "You cannot. You cannot!"

I was taken aback. He said, "Don't you understand what this man has achieved? For the first time on television we will be seen as we should be seen every day – as intelligent, quality, beautiful people who can sing, dance, but who can also go into space, who can be lawyers, who can be teachers, who can be professors, and yet you don't see it on television – until now…."

I could say nothing, I just stood there realizing every word that he was saying was the truth. He said, "Gene Roddenberry has opened a door for the world to see us. If you leave, that door can be closed because, you see, your role is not a Black role, and it's not a female role, he can fill it with anything, including an alien."

At that moment, the world tilted for me. I knew then that I was something else and that the world was not the same. That's all I could think of, everything that Dr. King had said:  The world sees us for the first time as we should be seen.
What is popularly believed to be TV's first interracial kiss—between Nichols and William Shatner—also occurred on Star Trek, although earlier examples exist. 
She reprised her character in Star Trek: The Motion Picture (promoted to Lt. Cmdr.), Star Trek II: The Wrath of Khan (now a full Commander), Star Trek III: The Search for Spock, Star Trek IV: The Voyage Home, Star Trek V: The Final Frontier and Star Trek VI: The Undiscovered Country.
Nichols also voiced Lt. Uhura on Star Trek: The Animated Series. Her other voice work included the animated series Gargoyles and Spider-Man. She also voiced herself on Futurama.
Other film SF roles included Ruana in Tarzan's Deadly Silence with Ron Ely as Tarzan, High Priestess of Pangea in The Adventures of Captain Zoom in Outer Space, Oman in Surge of Power: The Stuff of Heroes and Mystic Woman in American Nightmares. Nichols played a recurring role on the second season of the NBC TV drama Heroes. 
Nichols became the first African American to have her handprints immortalized at the TCL Chinese Theatre. The ceremony also included other members of the original Star Trek cast.
In 1976, along with the other cast members from the original Star Trek series, she attended the christening of the first space shuttle, Enterprise, at the North American Rockwell assembly facility in Palmdale, California.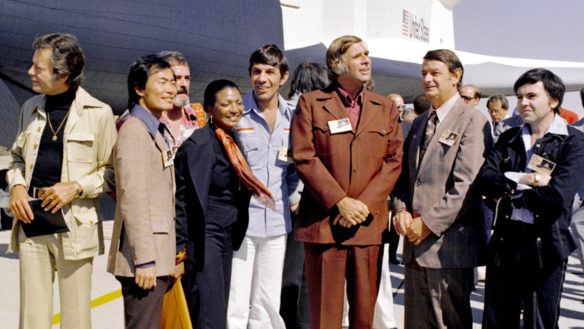 In response to her criticism of NASA's lackluster efforts to include women and minorities in the Astronaut Corps, NASA contracted Nichols to undertake major recruitment blitz. The recruitment drive she led in 1977 drew applications from more than 2,600 women and minority astronaut hopefuls. Among those hired from the diverse applicants were two trailblazers: the first American woman astronaut to travel into space, Sally Ride, and the first African-American astronaut to do so, Guion "Guy" Bluford.
Asteroid 68410 Nichols is named in her honor.
Nichols was one of the original Trek cast who got a close personal look at The Final Frontier when she rode with the SOFIA telescope to the edge of space in 2015.
Surprisingly, this flight was made only months after she recovered from a stroke.
In 1994, Nichols published her autobiography Beyond Uhura: Star Trek and Other Memories. She also authored two sf novels, Saturn's Child and Saturna's Quest.
She was one of the women to whom Robert A. Heinlein dedicated his 1982 novel Friday. Paintings once owned by Robert and Virginia Heinlein and displayed in their home included a portrait of Nichols as Star Trek's Lt. Uhura, by Kelly Freas.
Nichols married twice, first to dancer Foster Johnson — they were married in 1951 and divorced that same year. Johnson and Nichols had one child together, Kyle Johnson. She married Duke Mondy in 1968. They divorced in 1972. A brother, Thomas Nichols, died in the 1997 mass suicide of the Heaven's Gate cult at Rancho Santa Fe, near San Diego.
In early 2018, Nichols was diagnosed with dementia, and subsequently announced her retirement from convention appearances, although that did not take effect until later. She participated in the San Diego Comic-Con in July 2018 where she received an Inkpot Award.
She was the subject of a contested conservatorship proceeding between her manager, a friend, and her son. The conservatorship was finally granted to her son Kyle Johnson. Today he wrote on Uhura.com – Official Site of Nichelle Nichols:
Last night, my mother, Nichelle Nichols, succumbed to natural causes and passed away. Her light, however, like the ancient galaxies now being seen for the first time, will remain for us and future generations to enjoy, learn from, and draw inspiration.

Hers was a life well lived and as such a model for us all.

I, and the rest of our family, would appreciate your patience and forbearance as we grieve her loss until we can recover sufficiently to speak further. Her services will be for family members and the closest of her friends and we request that her and our privacy be respected.

Live Long and Prosper.